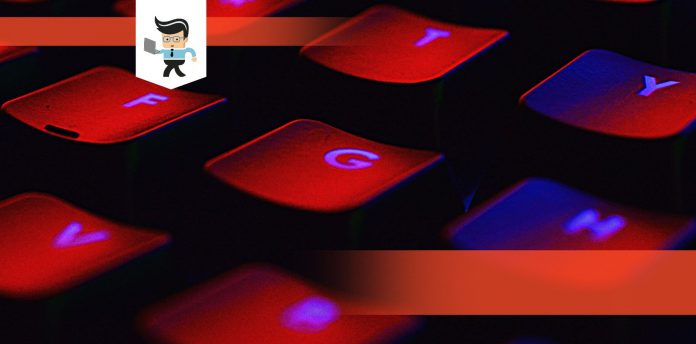 It's not uncommon to state that a TKL mechanical keyboard is an essential part of modern-day computers. If you're building a rig at home, getting one is part of the process. It sure helps since functions become easier to complete.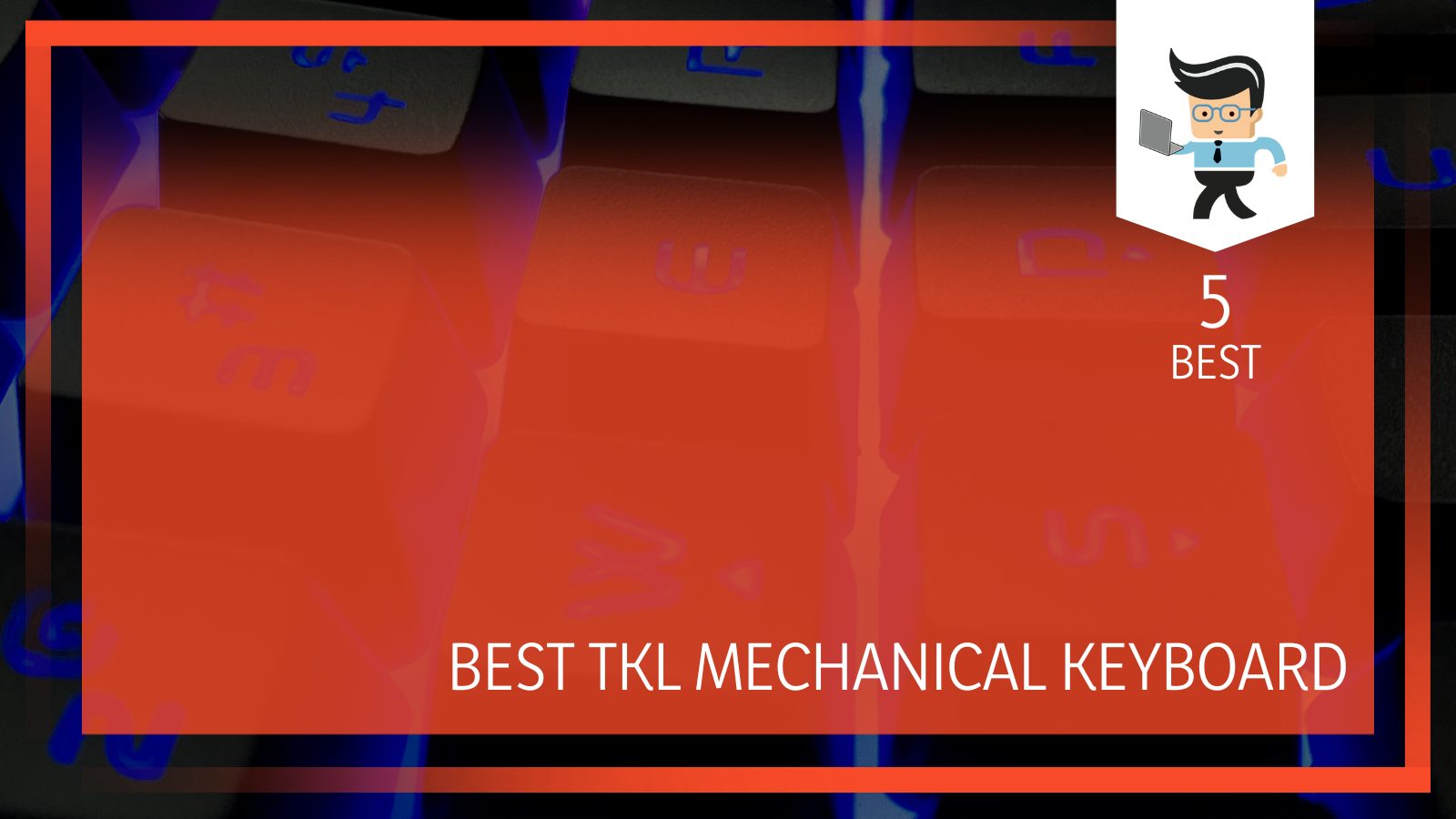 This article will highlight, compare, and contrast the features and functionalities of the top TKL mechanical keyboards and pick out the best from among them.
Best TKL Mechanical Keyboard Specifications at a Glance
Name
Key Features and Specifications
Razer Huntsman TE

Linear optical behavior
Programmable macros
Sturdy PBT plastic design

Durgod Taurus K320

Doubleshot PBT design
Programmable macros
Impressive MX Brown and Space Grey switches

PICTEK TKL

Splash resistant
RGB LED backlighting
Fantastic Doubleshot injection molded design

BlackWidow Lite TKL

LED backlighting
Impressive Orange key switches
Sturdy PBT and ABS design

Razer BlackWidow TE Chroma

Highly customizable macros
Sturdy PBT and ABS build
RGB LED backlighting feature
The Best Ten-Keyless Mechanical Keyboard
A keyboard is a device essential for the operation of a computer. Presently, many models are being churned out with gamers forming the bulk of the target market. As such, there are accessories, features, and more upgrades aimed at catching the eye of regular users.
Things like modern switches, RGB and LED lighting, and the frame of the keyboards are constantly changing. Now, there's a great demand for compact TKL mechanical keyboards. This is because they feature only important parts useful for typing and gaming.
For this reason, it has become essential to come up with only the best. This article is a great guide to help you pick out the best.
Choosing your best TKL mech keyboard requires you to go through many options. Some of them come with unnecessary accessories and features you don't need. Others make up for their high price by sporting cool and important qualities.
For instance, most have optimum switches underneath their keycaps. Others have the best ABS and PBT plastic materials to keep components secure. Still others are coated with aluminum.
If you want a compact TKL keyboard, you're in the right place. We'll review the best feature quality, responsive parts, and faster speeds. This way, you can perform many different functions on your keyboard even if that's on a wireless ten-keyless keyboard.
Product Reviews
Pros
• Optical switch with half-trigger actuation
• Light and compact design
• Premium ABS plastic keycaps
• Detachable USB cable
Cons
• Very light actuation can lead to many errors
The Huntsman Tournament Edition (TE) is one of the best TKL keyboards out there.
It has a compact design which feels comfortable and easy to reposition. As a result, it takes only the slightest of touches for keys to register. This can mean two things: either it helps you gain superior accuracy while typing or gaming, or you commit too many errors.
It's built to help you feel quick on the trigger on every keystroke. At 1.5 by 14.2 by 5.5 inches, you get enough base to support all the keys.
The compact make of this keyboard isn't just for show, and that is evident in its name: Tournament Edition, meaning you can take it anywhere for gaming.
Again, it sports a USB Type-C port in which you can fit a detachable cable, which further adds to its unique portability. If you're always on the move, this ten-keyless gaming keyboard will suit you.
Further, Razer points out that its Linear Optical Switch allows for faster actuation. This is the case even when you press the same key multiple times.
According to this brand, such a feature limits long-term wear and tear. This is because each key requires fewer moving parts in comparison to typical mechanical switches.

The Huntsman TE is typically built for regular gamers, and all its features and advantages point to this fact. It is very portable and delivers top speed for every typing and gaming activity.
Moreover, it's not as costly as other keyboards. This makes it great for gamers on a budget.
Pros
• Better traction and form control
• Quiet key registration
• Faster response on key presses
Cons
• Limited customization of the backlight
The Durgod Taurus K320 is another easy-to-use and compact mechanical keyboard. It has some customizable features to bring more gaming life to your computer. As such, it is designed with a cable management system.
This way, you can have key peripherals without dealing with extra cords. At the base of the keyboard is a foldable stand. This will help you to place your keyboard at the perfect angle, and as such, you gain increased comfort while typing or playing games.
The keys are amazing to use and pack a lot of quality. They're quiet and responsive thanks to the Cherry MX switches in them. In line with that, you get 2mm actuation and response after a keypress.
While such features are good, a certain downside is worth mentioning. The texture at the top of the keycaps is a little bit too smooth. As a result, your activities could slow down when combining keys in complicated game movements.
Further, customizing the backlights present some challenges. You're quite limited in trying to make them unique to you.

This keyboard will suit individuals who want some form of control. It's compact and generally fit for gaming uses, yet you can't have it all by way of customizations, at least, not with the RGB backlight feature
Pros
• Easy to clean the keyboard
• Durable materials
• Good value for money
Cons
• Minimal accessories
The PICTEK ten-keyless keyboard offers great value for the money. It comes with a good construction made up of high-grade materials and other components.
For instance, the base of the keyboard and the keycaps are made with sturdy materials. The ABS double-shot plastic has proven credentials in the computer world. As such, this keyboard is great if you want something built for the long term.
Unlike most TKL keyboards, PICTEK does not feature any number pad, but if you do need one, you can buy them separately.
Also, there are no noteworthy accessories, as basic stuff like the mouse and extra cords have to be bought separately. While getting them means more money, this is still a relatively cheap mechanical keyboard.
Further, there's the fact that it can comfortably withstand day-to-day usage. Even when you're playing or typing a document, you can rest your weight on it.
The components won't break down. What's more, it has anti-ghosting features. If you press down multiple keys, each will register differently. In all, it is long-lasting and easy to maintain.

We think this is a superb keyboard to have, even if you need a bit more space to set it up. Other than that, it will appeal to individuals who are on a tight budget.
They say you get what you pay for, but this keyboard more than delivers. The comfortable style and quality features stand out.
Pros
• Detachable USB cable
• Lightweight and portable
• Excellent typing experience
• Durable
Cons
• A bit expensive
• Can't customize the backlight
There's a lot you can accomplish with the BlackWidow Lite Keyboard. At least, the office-formal look suggests so. Also, with the Orange switch from Razer, you'll have a quiet time using it.
In addition, it offers strong tactile feel users will appreciate. Even if this product doesn't have great bells or whistles, it delivers on the work front.
In all, it's as portable and compelling as they come. Further, the Lite design means it will fit into a host of places such as office spaces and different types of firms.
The matte-black keys give off a white backlight, which some users may not like. However, it has programmable macros which can help you assign roles to specific keys. The detachable cord means that this keyboard is tournament-ready. This means you can pack it up and head to any destination without stress.

The Razer BlackWidow Lite will offer a great typing experience to many users. Along with its design, it's mainly built for portability, which allows users to move as they like.
The light weight also provides adequate support for its components. If you love typing, the 80 million keystrokes guaranteed by this keyboard are worth it.
Pros
• Comes with a magnetic wrist rest
• Satisfying clicky keys
• Detachable USB cable
• Quality configuration software
Cons
• Loud key clicks
• More expensive
We have already established that a keyboard is a valuable addition to any computer, but the Razer BlackWidow TE Chroma takes it to another level.
Thanks to a slick appearance, mechanical switches, and more, Razer BlackWidow TE Chroma stands tall as one of the best gaming keyboards in the market. Sure, the price can put you off, but the quality build and programmability are worth it.
This keyboard sports an ergonomic downward angle and finish. There's a front edge with integrated magnets, which allow it to connect to the magnetic wrist rest that comes with the keyboard.
As a result, users can get some comfort for their sore hands. It is a feature people in office settings will appreciate if they spend long hours typing.
The Chroma further has a 16.8-million-color backlighting to allow for more aesthetic appeal. The detachable cable helps as well. It comes braided and boosts the durability of your keyboard. Imagine having to go out with a cable connected. The feeling is awkward and impedes portability.

In case you're wondering whether this is a great mechanical keyboard, it is in almost every aspect, but it has its downside, too.
The price is often a sticking point, but you get the ability to customize a lot of features. Overall, it is well designed and suitable for those who want to game and use it for other purposes.
Buying a TKL Keyboard: Factors to Consider
Whether you want an RGB ten-keyless mechanical keyboard or something else, you have to consider some important factors. This way, you don't pay for a keyboard that doesn't have the necessary value.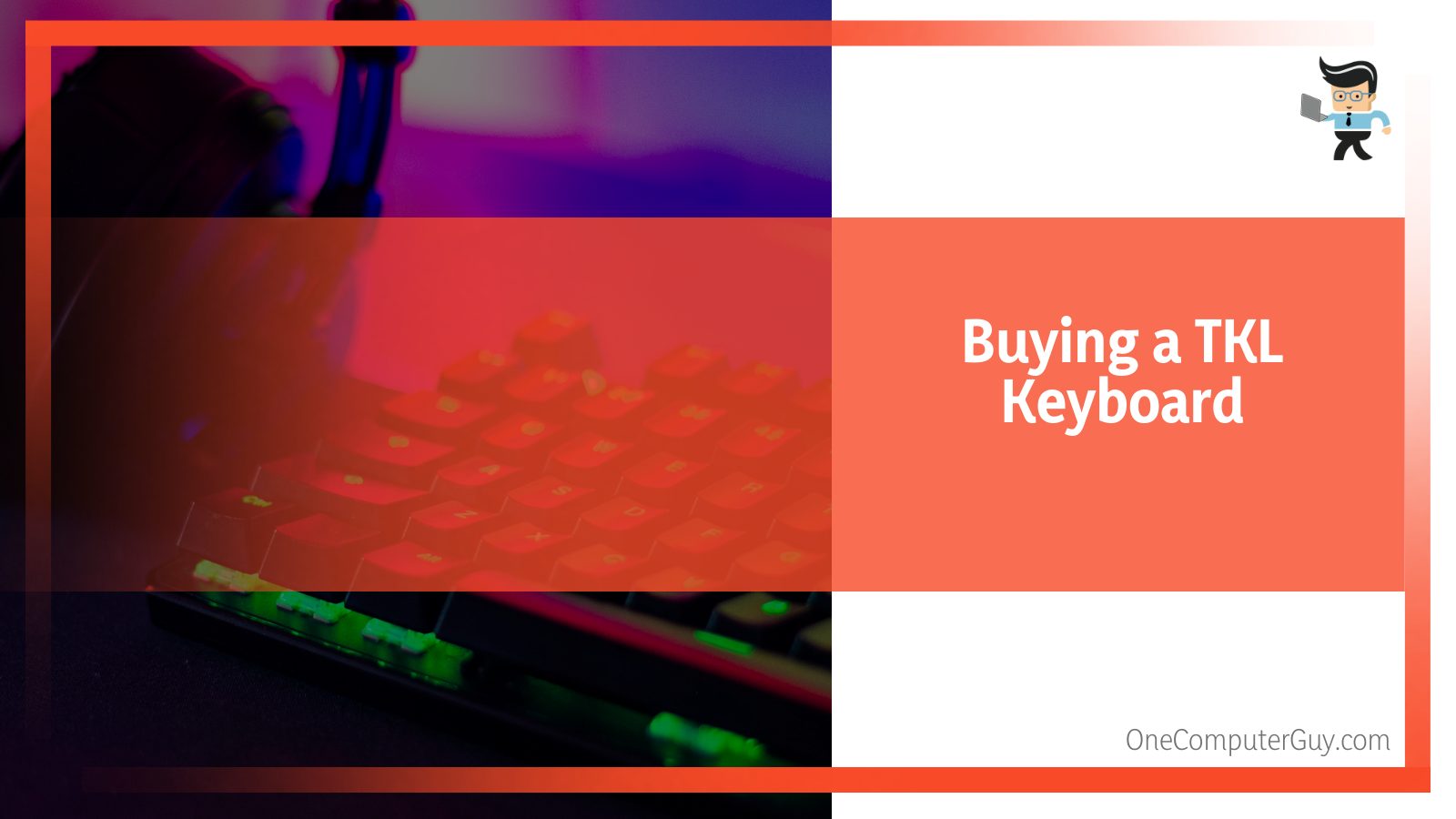 Here are a few considerations.
– Choosing a Mechanical or Membrane Contactor
If you're not making use of a membrane keyboard, then it's mechanical. They are two of the most popular types of keyboards around. Each has ardent fans who swear by their capabilities. Whatever the case, you're going to pick one.
For mechanical keyboards, there are a lot on the market to choose from. They boast more reactions and add certain physicality to their contactors when pressed.
Membranes may not be as widely used, but they have their unique advantages. They are much lower in terms of noise. Moreover, they have a good reaction but still have some way to go. One thing membrane keyboards have going for them is being cheaper.
– Choosing to go Full Width, TKL, or 60%
If you're building a top-quality computer, you'd want the best keyboard around. That is why you have to ask about the brand and size you intend to buy, as there are quite a number of them.
For instance, you have a full-width keyboard which comes with all keys intact or at least four keys fewer than the conventional 109 keys.
TKL or ten-keyless is a compact keyboard with less volume and control, which makes it easy to carry around. Also, some varieties leave out some components. For example, they may be without a Numpad or the roll of function keys.
The 60% variety is much smaller if you don't want the previous two. They're great for players and typists who want to go straight to the point, but those are few and don't make up key parts of the keyboard market.
– The Key Switch
This is one of the major components which define the performance of any keyboard, and it is available in different types.
• The dome switch comes with most budget keyboards. These rubber dome switches often need a lot of force applied to them. However, they're very easy and inexpensive to manufacture. Dome switches don't last as long. Most of them can only work for five million keystrokes at their peak.
• Mechanical switches are much better and offer a real, physical presence. What's more, pressing down on the keycaps brings faster responses, which is due to a spring pushback mechanism that registers the keypresses.
The parts of a mechanical switch are more than those obtained in domes. For this reason, they have a longer lifespan. On average, many of them last for between 50 and 100 million keystrokes per switch.
While typing on mechanical switches, there's more engagement. Because of the hardware involved, such a keyboard can be thicker and somewhat heavier than dome switches. Overall, they have more quality, even if they cost more.
Linear, Tactile, or Clicky?
• Linears are the type of switches that focus on producing a smooth and consistent actuation without any tactile feedback. Linear switches are great for people who don't like the small bump that comes from tactile switches or the loud noises of their clicky counterparts.
• As for tactile switches, they are a type of switch that focuses on producing a tactile bump. Also, they have a relatively quiet audible click with each keystroke.
Tactile switches offer great feedback when typing or gaming. This way, you know by the sound and feel that everything is working as it should, and all of your keystrokes are getting logged. Generally, they provide great experiences.
• Clicky switches are a type of switch that focuses on producing a tactile bump and have a loud audible click on every keypress.
These switches further offer great feedback when typing. You know by the sound produced that everything is working properly. Depending on what your needs are, their loud noise could be fun to use.
– Key Features
There are other features to consider. They include macros, anti-ghosting, RGB, and much more. These features help to give you a great time while using your computer.
Understanding macros is easy.
Through software, you can choose a series of keys or assign certain combinations to specific keys. When you press them, the key combination will execute on its own. This is a handy feature to have for gamers. If you're a typist and don't want to lose time, it will help.
For anti-ghosting and N-key rollover, your keyboard can respond to multiple keypresses. It registers each keypress without any defects or misinterpretation. This will help to put a stop to key activations without pressing them. Many modern keyboards, including some mentioned here, have this feature.
N-key rollover is a little bit different from anti-ghosting. Here, you can press several keys at the same time without locking up the keyboard.
Pressing multiple keys at once is a habit most gamers and typists fall into. With a feature like this, you don't have to worry about repeating key presses.
RGB lighting and other modes help to add aesthetic appeal to the keyboards. Moreover, you can use the software macros to customize the lights.
– Longevity
If you're going to spend money on a mechanical keyboard, you're going to want something that will last. It should also work reliably in the long run. Just like how switches are guaranteed to last, you need a keyboard with sturdy materials like aluminum, PBT, and ABS plastics.
Frequently Asked Questions
Why is the TKL keyboard much in demand?
This type of mechanical keyboard has a lot of advantages. The main advantage is that a TKL keyboard requires less space on your desk and is more portable. Full-sized keyboards are not as easy to move around, nor are they as compact.
TKL keyboards also weigh less than the full-sized mechanical keyboards. You can put them in your bag and head out to any location. Also, you can use them with just about any computer. Further, with the kind of switches underneath their keycaps, you can personalize a lot of features. A good example is the backlit ten-keyless mechanical keyboard.
What does TKL stand for in keyboards?
TKL stands for "Tenkeyless," which means the keyboard lacks the numeric keypad commonly found on the right side of full-sized keyboards. A TKL keyboard offers a more compact design, making it more portable and often preferred by gamers and people who don't frequently use the numeric pad.
Why choose a TKL mechanical keyboard over a full-sized one?
There are several reasons someone might prefer a TKL mechanical keyboard over a full-sized one. Firstly, the compact size allows for more desk space and easier portability. For gamers, the absence of a numeric keypad can place the mouse closer, reducing the arm's lateral movement and potentially increasing comfort. Additionally, many people find that they rarely use the numeric keypad, so the TKL design provides a more efficient use of space.
What are the key benefits of a mechanical keyboard?
Mechanical keyboards offer several advantages over traditional membrane keyboards. They often provide tactile feedback, which many users find satisfying and conducive to typing. Their durability tends to be superior, with individual switches often rated for tens of millions of keypresses. They also allow for greater customization, both in terms of keycap replacement and sometimes in switch types. Lastly, many users appreciate the audible "click" sound some mechanical switches produce, though switch types and sounds can vary.
Are TKL mechanical keyboards more expensive than full-sized ones?
Not necessarily. The price of a mechanical keyboard is influenced by several factors, including brand, build quality, switch type, additional features (like RGB lighting), and materials used. While some high-end TKL mechanical keyboards can be pricey, there are also affordable options available. Generally, the absence of a numeric keypad doesn't significantly impact the cost, and both TKL and full-sized keyboards can be found in a wide price range.
Conclusion
The best TKL mech keyboards are compact and straightforward to use. The lack of a number pad is not a drawback. Rather, it gives the key layout more room. This way, you can conserve your desk space and enjoy your keyboard at the same time.
Also, if you're looking for a portable keyboard option, then a ten-keyless is the ideal choice for you. That is why it is popular among many gamers and general computer users.
Going by the features of the products reviewed here, it is pretty easy to make a choice. However, we suggest the Razer BlackWidow TE Chroma for your use, as it includes some of the best features you can ever wish for in a TKL keyboard.
Apart from its slick design and ergonomic build, it is durable, comfortable, and highly customizable. Sure, you'll have to pay some money to get it, but the value you get is more than enough compensation.