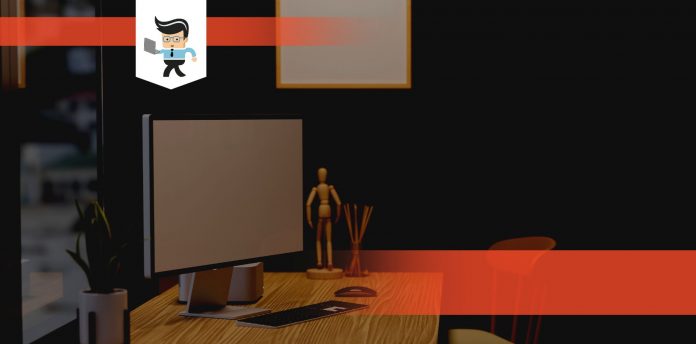 Are you looking for the best monitors under $300? For the competitive gamer, the monitor can make all the difference. We've tested many computer monitors under $300 to bring you the very best quality.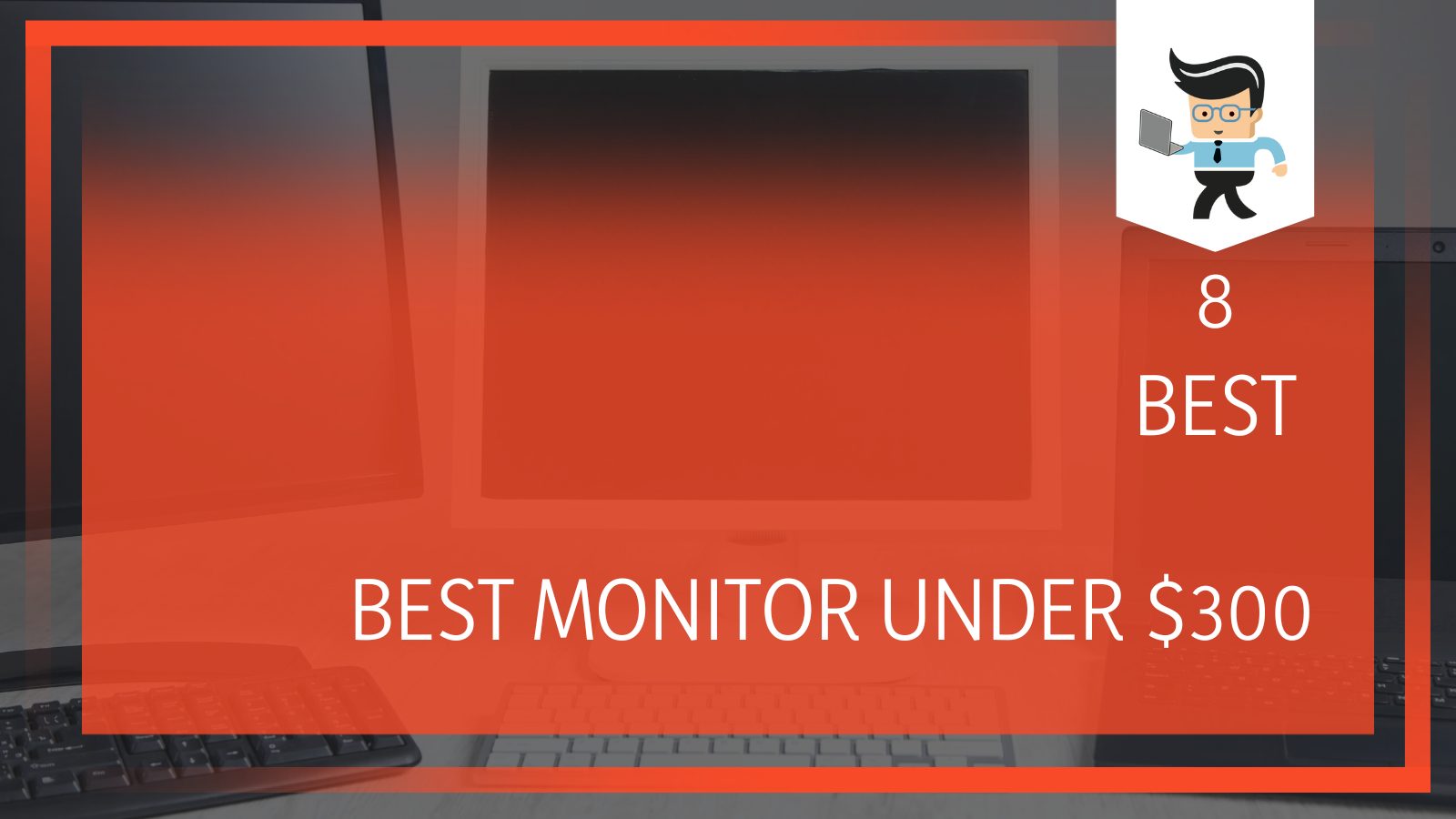 This article will share these options with you and help you make the best decision on the right one for you.
Overview of the Best Monitor Under 300$
Pros
● Supports FreeSync
● Thin bezels
● Low input lag
Cons
● Moderate ghosting in fast-paced games
● Low peak brightness
The AOC CQ27G1 is a fantastic 144hz monitor under 300. The colors are better than those of any TN panel display. Although it is not as bright and clear as what IPS panels offer, it is perfect for the price category. This monitor is ideal for gamers who prefer a higher contrast.
Another benefit of this monitor is its AMD Free-Sync technology. FreeSync achieves the highest frame rates and smoothest display possible, so you end up with fast gameplay. This feature helps to eliminate tearing and stuttering. This monitor's highest refresh rate is 144hz, which means better results.
AMD FreeSync technology gives you the smoothest display and the highest framerate possible. It's perfect for when you're racing through blasts or driving around sharp corners.
The AOC CQ27GQ has a three-sided frameless design with ultra-narrow borders. It can be wall-mounted for a better view, and it is VESA compatible. This 1800 curved monitor immerses you into the gaming experience. With a rapid 1ms response time, there is little to no lag or buffering in gaming.
The AOC CQ27G1 has a QHD 2K 2560×1440 resolution. Quad HD gives you four times the standard 720p HD resolution, meaning four 720p HD videos can fit on the screen simultaneously.
Quad HD on a 27" widescreen enables you to see more detail with better spacing. It gives you fresh and bright visuals, whether you're watching movies or editing videos or photos. The AOC CQ27G1 gives you precision with quality on a widescreen.
The frameless design (with narrow border) offers minimal bezel distraction. This design makes it easier to do a multi-screen setup. The computer monitor is steady and reliable with wide and angular feet. Red accents adorn the plastic base and the bottom of the screen.
The most significant disadvantage of VA Panels displays in the pixel response time speed. However, manufacturers claim 4ms grey to grey pixel transition time for VA panels.
It's slower when transitioning to very dark pixels.
This slowness creates noticeable black smearing with fast-moving objects in swift games. It can be irritating, especially if you are a hardcore gamer. For casual gaming, it's not that bad and hardly noticeable unless you are looking for it.
The AOC CQ27G1 features flicker-free technology and AOC blue light mode technology. This technology is wonderful for smooth gaming and video play. The monitor also features 1x DisplayPort and 2x HDMI 2.0 connections.
This computer monitor's ergonomics stand is adjustable in height for your absolute comfort. It is metal and sturdy. It features extra thin bezels and two HDMI Ports, DisplayPort 1.2, and a headphone jack.
This monitor features a VA panel, so its most vital point is the high contrast ratio of 3000:1. In comparison, TN and IPS panels only have a rate of 1000:1.
The 3000:1 contrast ratio causes deep blacks and bright whites and a more pronounced relationship between the dark and the light shades. This situation improves the viewing experience, especially in dark rooms.
VA panels also offer decent color reproduction. The colors are brighter than that of TN panels, but still not as great as what you can find on IPS models.
The AOC CQ27G1 utilizes a broad color gamut background. It covers 122 percent of the SRGB color space. For more saturated and life-like colors. This closes the gap between the IPS and VA. When it comes to color quality, IPS is still better to color accuracy and consistency.
The peak luminance of this gaming monitor features 250 nits maximum. It sounds low, but under ordinary viewing conditions, it would be more than enough.
The AOC CQ27G1 features a shadow boost. It improves the visibility of objects in shadows and different color saturation presets. It has recalibrated picture presets such as FPS and RTS.

The design of the AOC CQ27G1 is excellent, considering its price. It is an outstanding gaming monitor under 300$. It has thin bezels that make the screen appear more prominent and a low input lag for smooth gaming.
Pros
● LED and VESA Compatible
● Two speakers
● 1 ms response time
● Frameless design
● 90% pivot Ergonomics Stand
Cons
● Low refresh rate compared to other monitors in the same price range.
The Acer XF250Q is a great gaming monitor under 300. This Full HD resolution monitor is G-sync compatible and can keep up with your gameplay. The Acer XF250Q is smooth. Tear-free gameplay gives you more of what you desire in the gaming experience.
The Acer XF250Q has a refresh rate of 260Hz and a maximum brightness of 400 cd/m2. It accommodates G-sync and Free-Sync technology, and its aspect ratio is 16:9.
The Acer designed this monitor to unleash gaming to its full potential. It also provides richer colors.
Acer has packed the Acer XF250Q with some of the best features on the market. It is a perfect choice for office work or graphic designers.
With the Acer XF250Q, you can game without the lag thanks to a 1ms response time. Its refresh rate is 240 Hz, and it supports AMD Free-Sync technology. The enhanced gaming features, TN (Twisted Nematic) panel, features a 1920 x 1080 resolution. It also features a 400 cd/m² brightness rating and support for up to 16.7 million colors.
This monitor features Flicker-Free Technology. You can say goodbye to flickers and hello to smooth screen-play.
This monitor's aspect ratio is 16:9, making movies more realistic and writing more clear. The Acer XF250Q viewing angles are 170 degrees horizontal and 160 degrees vertical.
The Acer has coated the XF250Q with a non-reflective, matte covering. This feature helps to get rid of light reflections off the screen. The bezels of this monitor are skinny, and it has a superb ergonomics magnetic stand.
Another benefit of the Acer XF250Q is its 8-Bit (16.7 Million Colors). This feature will enhance the color accuracy of gaming and performance. The includes a USB cord,
HDMI 2.0 Input, HDMI 1.4 Input and DisplayPort Input, and the power cord. The power switch is at the rear of the monitor.
The Acer XF250Q is easy to assemble and comes with an instruction manual. The ergonomics stand is adjustable, and you can position it to your comfort. The monitor has a height adjustment of 5.91" / 15.01 cm. It has a swivel adjustment of 120 degrees and a tilt adjustment of -5 to 35.
With the stand the Acer XF250Q has a dimension (Weight x Height x Distance) of 22.0 x 20.8 x 9.6″ / 55.9 x 52.8 x 24.4 cm. Without stand it has a dimension(Weight x Height x Distance) of 22.0 x 13.1 x 2.8″ / 55.9 x 33.3 x 7.1 cm. This monitor weighs 15.0 lbs. / 6.80 kg with the stand and 9.5 lbs. / 4.31 kg without it. The overall package weight is 18lbs.
For a computer monitor under $300, a 260 Hz maximum refresh rate is excellent, unlike other computer monitors with a 144Hz refresh rate. It improves the smoothness of gaming and overall performance. This feature is terrific for competitive gamers.
We recommend this monitor for intensive gaming. Acer has equipped it with G-Sync and Free-sync. It has thin bezels that will make any gamer feel right on the battlefield. You can game without the lag thanks to a 1 ms response time.

The Acer XF250Q is one of the best gaming monitors under 300. It has an excellent refresh rate and good color accuracy, and it comes with a stable 260 Hz refresh rate. Think about getting this monitor if you are a gamer.
Pros
● Built-In Speakers
● Good Image Quality
● Fast refresh rate
Cons
● Backlight bleed
● Small ergonomics stand
● Low pixel density
The Sceptre C305B-200UN is an ultrawide monitor under 300 made for gaming. The contrast ratio of this gaming monitor is high for bright whites and deep blacks. Its 200Hz refresh rate and AMD FreeSync ensure smooth performance.
The C305B-200UN has a 30-inch screen and is 21×9 ultrawide with a 2560×1080 resolution. It has a lower pixel density of 94.19 PPI (pixel per inch).
A 34″ ultrawide, so details and text won't be as sharp and clear. Compared to IPS ultrawide, the colors are not as vibrant or accurate. Still, they're more than radiant enough under typical viewing conditions.
This monitor is as tall as a conventional 23″ 16:9 screen. It may take time to get accustomed to it. It also appears broad for its height.
The C305B-200UN includes a stand that offers a decent range of tilt. It only requires three screws to install. The monitor comes with a few hand flits, a display port cable, the power adapter, and the signature Sceptre screwdriver. The Sceptre screwdriver comes with a safety tip.
This monitor has excellent image quality. It is brighter than other computer monitors under 300. It has minimal backlight bleed in the corners.
The Sceptre C305B-200UN is a great monitor for office work but is excellent for gaming.
With a phenomenal 200Hz, it would give any gamer an incredible experience. The 30-inch screen will have any gamer feeling right in the game.
This monitor gives gamers a great Esports feel. It was more accurate for picking up kills than enjoying the scenery. A taller stand would've enhanced the Sceptre C305B-200UN.
The ergonomics stand is shorter than that of most monitors. This height can be uncomfortable for some gamers. The length and weight of the monitor might've been the reason for a shorter stand. Yet it could have been one or two inches taller because it seems shorter than three inches.
The Sceptre C305B-200UN is a beautiful gaming monitor. At $300, it fits within most budgets. It has a 29.5 vertical alignment panel with a static contrast ratio of 300:1. It has a peak brightness of 250-nits, 8-bit color depth support, and 90 percent SRGB color gamut.
In comparison to IPS Ultrawide, you don't get as vibrant or accurate colors. But the contrast ratio is higher. It makes for deeper blacks. It also gives a more distinct relationship between the brightest and darkest shades.
You can get a 34 3440×1440 ultrawide monitor under $300. These displays cost more, and they also tax your CPU/GPU a lot more.
The pixel response of this monitor surprised us. We expected smearing from this cheap 200Hz VA panel, but it was nothing like that.
Many people expect bad response times from VA panels. They sometimes lag when trying to transition dark pixels. This lag results in significant black smearing of fast-moving objects.
You have the option to set this monitor to 144Hz. You'll get less ghosting at this refresh rate.
Depending on the game you want to play and your FPS rate, you can find the ideal settings.
You can exploit the entire refresh rate of 200Hz for gaming. If there's too much trailing, you can put it back to 144Hz.
The input lag on this monitor is under 5ms. It makes for slight delays even when it's at 200Hz.
At 200Hz, you'll get visible trailing behind fast-moving objects. It is more noticeable when the images have dark pixels, but it's tolerable.

Sceptre C305B-200UN offers the perfect balance between screen resolution and size. This monitor is an attractive choice for competitive gamers. It features a maximum 200Hz refresh rate. It's a first-rate budget option for those who cannot afford more expensive models.
Pros
● Free-Sync Support
● Great Ergonomics Stand
● AMD – Support
● Fast 1-ms response
Cons
● No saturation or gamma adjustment
● Poor speaker quality
ViewSonic XG2402 has many great features that any gaming fan would love. It features a minimum response rate of 1ms and a low input lag rate. Destroying your attackers before they strike you is now your advantage. This screen is an excellent choice for any hardcore gamer.
The XG2402 brings an extraordinary screen performance. It works well, even in scenes with a lot of graphics. Its maximum response rate is 3.5ms, and it has a fast 1ms minimum response, which gives a winning competitive advantage. Although it's a TN display, this monitor has vivid images and colors. The XG2402 comes with a total of three USB connectors, including a built-in USB hub.
Another advantage of the XG2402 is its two times 2w built-in speakers. These speakers improve your computer monitor's sound capability.
The XG2402 also has Level 22 black stabilization and a blue light filter. These features make games more competitive by lifting the dark scenes. In that way, you get an edge over your competition.
For the price of the ViewSonic XG2402, its TN display is exceptional. It's terrific for any gamer who doesn't spend loads of money. Casual gamers who play for fun can still appreciate this monitor.
The XG2402 provides accurate contrast and colors. It has an astounding 146Hz refresh rate, which means it can refresh itself 146 times per second. The ViewSonic XG2402 removes screen tearing and buffering for smooth gameplay. It is a great benefit and can be useful during expedient action scenes.
This monitor can refresh itself 144 times per second. It is a Free-Sync panel that will give you ultra-smooth framerates. The ViewSonic XG2402 features very fast non-ghosting. High refresh rate panels are now made affordable with the ViewSonic XG2402.
The ViewSonic XG2402 has a plastic base and has a nice full brushed finish. So, scratching wouldn't look horrible on this monitor. It has a good stand, and the ergonomics are gamer-influenced. You can adjust it to a more enjoyable viewing position.
The price is perfect for gamers with lower budgets. This monitor can tilt and swivel at wide ranges. It provides you with absolute comfort at your viewing preference. It has a fair amount of height adjustability.
The stand of the ViewSonic XG2402 attaches to the center without any tools. It's also easy to remove by pressing on the plastic button at the bottom. The monitor has a VESA mount if you want to use an alternative stand or a mounting system.
This model is very responsive, and its image quality is good. It puts its panel to perfect use. ViewSonic XG2402 also has a vertical height adjustment, giving you the swivel, tilt, and high frame rates. This monitor also has a 16:9 aspect ratio, which is excellent.
The brightness level of the ViewSonic XG2402 is 350 cd/m2, and it has a dynamic contrast ratio of 120M: 1. It's also user-friendly, with easy-to-find on-screen display controls. These controls are on the right-hand side of the ViewSonic XG2402 monitor. The buttons are also easy to access. The back of the XG2402 has a red decor light that you can turn on and off at your discretion.
Inside of the ViewSonic XG2402 package, you'll receive the power cord. You'll also get the USB type B cable, a display port cable, and the monitor. If you don't need to use your headphones, you can hang them on the hook provided at the monitor's top. The bottom has space for cable management. So, you can keep the cables out of the way.
The ViewSonic XG2402 is not as vivid as other monitors but has a reasonable 1000: 1 contrast ratio. The panel is TN, which isn't so great. The flashy colors with vertical and horizontal angles are neat. Yet, they're dull compared to VA and IPS panels.
TN panels are standard in gaming monitors since they get higher refresh rates. The ViewSonic XG2402 has excellent TN panels. These panels are as good or, in some areas, even better than IPS/VA. They're only deficient when it comes to the viewing angle.
At 24Hz, the low adaptive refresh rate on the ViewSonic XG2402 is excellent. With its short response times, you can compare it to an IPS panel.
The ViewSonic XG2402 comes with a VESA mount. You can use it to place the monitor on the wall for an elevated view. The monitor has a density of 91 pixel-per-inch, which gives you accurate picture quality.

The ViewSonic XG2402 is a great monitor to buy for a reasonable price. It gives an incredible gaming experience. The design is gamer themed and brings the mood for a winning streak. It features FreeSync technology so that gamers can have smooth gameplay and no interruptions.
Pros
● Affordable
● Frameless design
● Great viewing angles
Cons
● Limited color options available
● A limited number of external ports available
The Asus VA27EHE is an outstanding IPS monitor under $300 that features a 27-inch screen with full HD 1920 x1080 resolution. The monitor provides a 178 degree wide viewing angle panel and vivid image quality.
The Asus VA27EHE has HDMI and D-sub (VGA) ports. It features a VESA wall mount so that you can enjoy gaming in comfort. It has an ergonomic tilt of -5 degrees and +23 degrees so that you can adjust to your preferred viewing angle.
The Asus VA27EHE has a refresh rate of 75Hz, which isn't the best compared to other gaming monitors under 300. If you are looking for a sole gaming monitor, this may not be the best option because of its low refresh rate. If you're looking for a monitor to add to your dual monitor setup, I would suggest the Asus VA27EHE.
It works great as a secondary monitor where you can use for discord or chat for twitch streams. It works better for these than for gaming, although you can use it for gaming.
The Asus VA27EHE features Quick Fit, which helps with previewing. It also helps with aligning your photos and documents. However, this monitor doesn't feature 4k, so if you are a competitive gamer, 144Hz is better.
The Asus VA27EHE is affordable. This monitor is a good option in the under 300 dollars category.
Asus features a Blue Light Filter that protects your eyes from the harmful blue light. It features a frameless screen design. This feature aids in the beautiful experience of gaming.
The Asus features Adaptive-sync technology to eliminate smearing, tearing, and motion blur, giving you smooth gaming experience.
The Asus VA27EHE features Flicker-Free technology. This feature reduces flicker and protects your eyes from permanent damage. Not all monitors feature the Low blue light, so it is essential to find one that does. Too much time in front of a bare screen can be dangerous for your eyes. The Asus VA27EHE has undergone strict performance testing to be flicker-free and to emit low blue light levels.
Adaptive-Sync technology to get rid of screen tearing and choppy frame rates. This technology gives you seamless visuals and smooth gameplay. You get the advantage of first-person shooters, real-time strategy, racing, and sports titles.
The Asus VA27EHE is consistent and has accurate color at any viewing angle. This monitor minimizes the color shift and promises for a better viewing experience.

Asus VA27EHE is a great monitor for an affordable price. It features Flicker-free technology to stop tracing and ensure crisp and clear video playback. Asus VA27EHE features Low Blue Light technology, which protects your eyes from the monitor's harmful light.
Pros
● Thin bezels
● Good image quality
● Great sound quality
Cons
● Does NOT have VESA Mount
The Dell SE2719H LED backlight LCD monitor has an aspect ratio of 16:9 and a contrast ratio of 100:1. It features IPS, which enhances image accuracy and brightness. The Dell SE2719H has a response time of 8ms (grey-to-grey normal) and 5ms (grey to grey fast).
The Dell SE2719H runs at 60Hz full HD and has 2 HDMI inputs only. It also has a 3.5 mill head jack for your headphones. The monitor includes two 5 watt audio speakers.
This computer monitor has a nice silver stand and a three-sided borderless display with a glossy black finish. It gives the monitor a professional office look.
The Dell SE2719H has a semi-glossy display and gives off an unwanted glare. This monitor has a tilt adjustment only. It doesn't have a height, pivot, or rotating adjustment, which might be uncomfortable for some gamers.
The Dell SE2719H screen size is 27 inches and has a wide 178°/178° viewing angle, all thanks to in-plane switching technology. It features a built-in power supply unit that further reduces the clutter. The stand is 10% smaller and frees up desk space without compromising sturdiness.
You can tilt the monitor to get the right viewing angle. Regardless of where you sit, colors stay accurate and consistent. The thin bezels give it a sleek, modern look that complements any space.
The Dell SE2719H is easy to assemble, and it comes with a manual to aid your assembling. The menu settings are on the left and are easy to use
The Dell SE2719H protects your eyes. It minimizes the harmful blue light with Dell's ComfortView feature. It optimizes eye comfort and minimizes distractions thanks to a flicker-free, anti-glare screen.
With the Dell SE2719H, you can stay organized between emails and windows on one screen using Dell EasyArrange.
The Dell SE2719H includes HDMI and VGA input connectors, and it does not have VESA Mount.
On the menu, you have display settings, input source, brightness, and contrast. You can adjust the volume levels, but it can get pretty loud. In terms of the personalizing option, you can customize the keys is to get information about the display.
The Dell SE2719H comes with internal speakers, and it gets loud at max audio. The max audio is a definite plus that adds a better depth to the music. It gives a better base punch as well. The sound increases in terms of depth, and the nits are boosted.
The Dell SE2719H does a fantastic job of image quality. The colors pop out, and the contrast ratio is what you'd expect from an IPS panel. The monitor doesn't need any form of calibration. It's pre-calibrated from the factory, giving you less work to adjust calibration.
This monitor is is excellent for video viewing and editing. However, Dell didn't create this monitor for gaming as it has a low refresh rate.

Dell SE2719H is a good monitor for editing and office work. It has excellent image quality and sound. It's not for the gaming industry. But, you can still use it for gaming. For competitive gamers, I would recommend a higher refresh rate monitor.
Pros
● Fast response time
● Vesa Wall Mount
● Great Image Quality
● Features LED backlight technology.
Cons
● Blacks appear grey
The Acer G276HL is a 27-inch screen monitor with full HD 1920 x 1080 response time of 4ms and a 0.311millimeter Pixel Pitch. The Acer G276HL monitor has a super-slim profile with an X-shaped stand that fits in spaces of any size.
The Acer G276HL is one of the most popular in the 27-inch category.
The monitor comes with a stand that goes at the bottom of the monitor. Its x shaped and sleek design would make a great addition to the monitor for office work.
This monitor also features a Vesa mount. Gamers can play on the battlefield from a higher view. The Vesa mount is standard 100x 100, and the monitor's standard refresh rate is 60Hz.
The Acer G276HL uses white LED backlight technology to minimize environmental impact. Also, it offers superior performance and durability.
Its performance and smart use of energy complement the sleek design, all while staying well within budget.
The monitor comes with a VGA, DVI, and power cable. It also comes with a manual and driver desk. The Acer G276HL has over 16.7 million colors, a brightness of 300 nits. It also has an aligned panel technology.
The Acer G276HL is easy to arrange and set up. The monitor has excellent suitability for productivity and multimedia tasks. If you are transitioning from a 30Hz computer monitor, then you may see a difference. The smoothness is better.
The Acer G276HL is an excellent choice for users who want a nice looking panel for their setup. This monitor is right for you if you don't care about the image quality as you would with a VA or IPS panel display. If you are looking for great response times, this may be a great choice.
The color appears a bit more grey than black. The image quality isn't as distinct as other monitors in this price range. The gaming features are excellent on this monitor. Any professional gamer would appreciate the details.
The Acer G276HL includes a VGA (Video Graphics Array) cable. VGA connectors are standard, and you can use them to transfer video signals. It does this by acting as a link between the computer and the monitor. It can also work between the computer and the television screen.

Acer G276HL is a good computer monitor under 300. For competitive gamers, it is best to check out other options. Other monitors have higher refresh rates.
Pros
● Wide viewing angles
● 4-Year with a 4-year advance replacement policy
Cons
● Doesn't have height adjustments
The Philips 276E9QDSB is a 27 inch LCD monitor with Full HD 1920×1080 resolution. The monitor has an IPS panel for wide-viewing angles and full colors.
To set up the monitor, screw the base onto the stand. You can also remove it to mount the monitor on the wall. The monitor includes an HDMI, DVI, and VGA cable. The Philips 276E9QDSB has internal speakers and an auxiliary port.
The Philips 276E9QDSB is very compact. The stand takes up very little space on the desk, so it's great for office work. There's a thin bezel hold that gives the monitor a sleek look. The monitor is only 24 inches from desk to top and 18 inches wide.
The Philips 276E9QDSB utilizes IPS display technology. The viewing angle of the Philips 276E9QDSB is 178/178 degrees. This feature gives you an all-rounded view of the display. The IPS display provides bright and accurate colors. It's ideal for anything that you need to do, whether it be editing or watching movies.
You can tilt the monitor upwards only by 20 degrees, but it can't swivel or rotate. The screen of the monitor is 24 inches x 14 inches. It has a maximum pixel resolution of 1920×1080 and a maximum refresh rate of 75 Hz. Its response rate is 5ms, which is not as fast as other computer monitors in this category.
The Philips 276E9QDSB has a stunning performance with AMD Free-Sync. It gives gamers smooth gameplay with little or no interruptions. Gamers shouldn't have to experience these mishaps, and with Philip's new feature, they wouldn't have to.
The Philips features ultra-narrow borders, which allow for minimal distractions and maximum viewing size. It is especially suited for multi-display or tiling setup like gaming. It's also great for graphic design and professional applications. The ultra-narrow border is perfect for multi-monitor display, giving you the feeling of using one large screen.
Ultrawide-Color Technology provides a broader spectrum of colors for more vivid images. This monitor has an Ultrawide-Color wider "color gamut" (93% of NTSC gamut, 124% sRGB), which produces more natural-looking greens, vivid reds deeper blues.
The speed on the Philips 276E9QDSB is excellent for casual use but two slow for gamers. The monitor hast impressive colors and contrast. All the images appear bright and vibrant.
The Philips 276E9QDSB has a brightness of 250 cd/m2. Tit can function in spaces with lots of light as well as in a dark room. The monitor features Free-Sync Technology, which provides fluid artifact-free gaming performance. It comes equipped with Free-Sync 2. It aids the refresh rate and minimizes motion. It also features a blue-light mode, which limits the amount of blue light coming from the monitor. It's great for your eyes and prevents eye problems.
This monitor has Philips SmartImage and Ultra-Wide color. Both these features improve the images onscreen. The shiny black material that makes up the monitor has a piano look to it. The material is also prone to fingerprint stains, but otherwise, it looks modern.
The Philips 276E9QDSB doesn't have a height adjustment. To view it from up high, you can use the VESA wall mount. The joystick is on the backside of the monitor. It is right in the middle for easy access, although it would have been more convenient if it were on the side.
Philips states that the color gamut volume is 129 percent of the SRGB color space. That leads to SRGB coverage of 99.6 percent. AdobeRGB is 85.3 percent, and DCI-P3 is 87.2 percent. The Philips 276E9QDSB includes HDMI, DVI-D, VGA, and audio out connectivity. It has a Scanning Frequency of 38 – 89 kHz (H) and 50 – 75 Hz (V).
Philips's tagline used to be "Let's make life better." Moreover, they believe the way to do that is through innovating to improve people's lives. For over 120 years, that has been their mission.
Nothing affects your computing experience more than your monitor. You see the world through your monitor. High-performance monitors from Philips offer smart innovations. It provides vivid imagery and timeless style. You can now maximize every moment you spend behind the screen.
Philips' easy-to-use multimedia monitors combine excellent picture quality with intelligent features. These features help you achieve more.

Philips 276E9QDSB is excellent for the price. It's inexpensive, and the color image quality combined with decent specs makes it a great buy. For professional gamers, the lower refresh rate may not be ideal. For anyone else looking for a monitor at a great price, this would be a good one to consider.
Buying Guide
Choosing the best computer monitor under 300 dollars can be a tough decision to make. A lot of monitors in this category have similar features. However, it is best to know the slight differences as it may aid in your decision making.
The Sceptre C305B-200UN gives users the perfect balance between screen resolution and size. It is a beautiful choice for competitive gamers since it features a maximum 200Hz refresh rate. The only downside is that when played at 200Hz, there is sometimes motion lag. Besides that, the Sceptre C305B-200UN is an excellent choice.
If you're looking for a great office monitor, the Acer XF250Q is an attractive option. Its sleek design gives a nice modern look to any office. The stand is small enough to fit any office desk space. With the Acer XF250Q, you can game without the lag thanks to a 1ms response time. Its refresh rate is 240Hz, and it supports AMD Free-Sync technology.
The 100 Million:1 contrast ratio provides the brightest whites and deepest blacks, giving you a crystal-clear viewing experience. The speedy 4ms response time decreases deviations in transition time. It delivers moving images of a very high quality, which bring immersive graphics to your movies and games.
The ViewSonic XG2402 is also a superb buy. Whether for casual gaming or office work, it's an excellent choice for an affordable price. ViewSonic XG2402 sustains rich colors and contrast and an impressive 146Hz refresh rate. This model gives you exceptional responsiveness and good image quality.
Conclusion
Out of all the computer monitors in this review, the ViewSonic XG2402 comes out at the top. We also recommend the Sceptre C305B-200UN and the Acer XF250Q. All three have a high refresh and response rates.
Are you a competitive gamer looking for a fast refresh rate monitor? Sceptre C305B-200UN is an excellent option.