There are thousands of CPU coolers out there on the market, so that makes choosing a CPU cooler for i7 6700k somewhat difficult.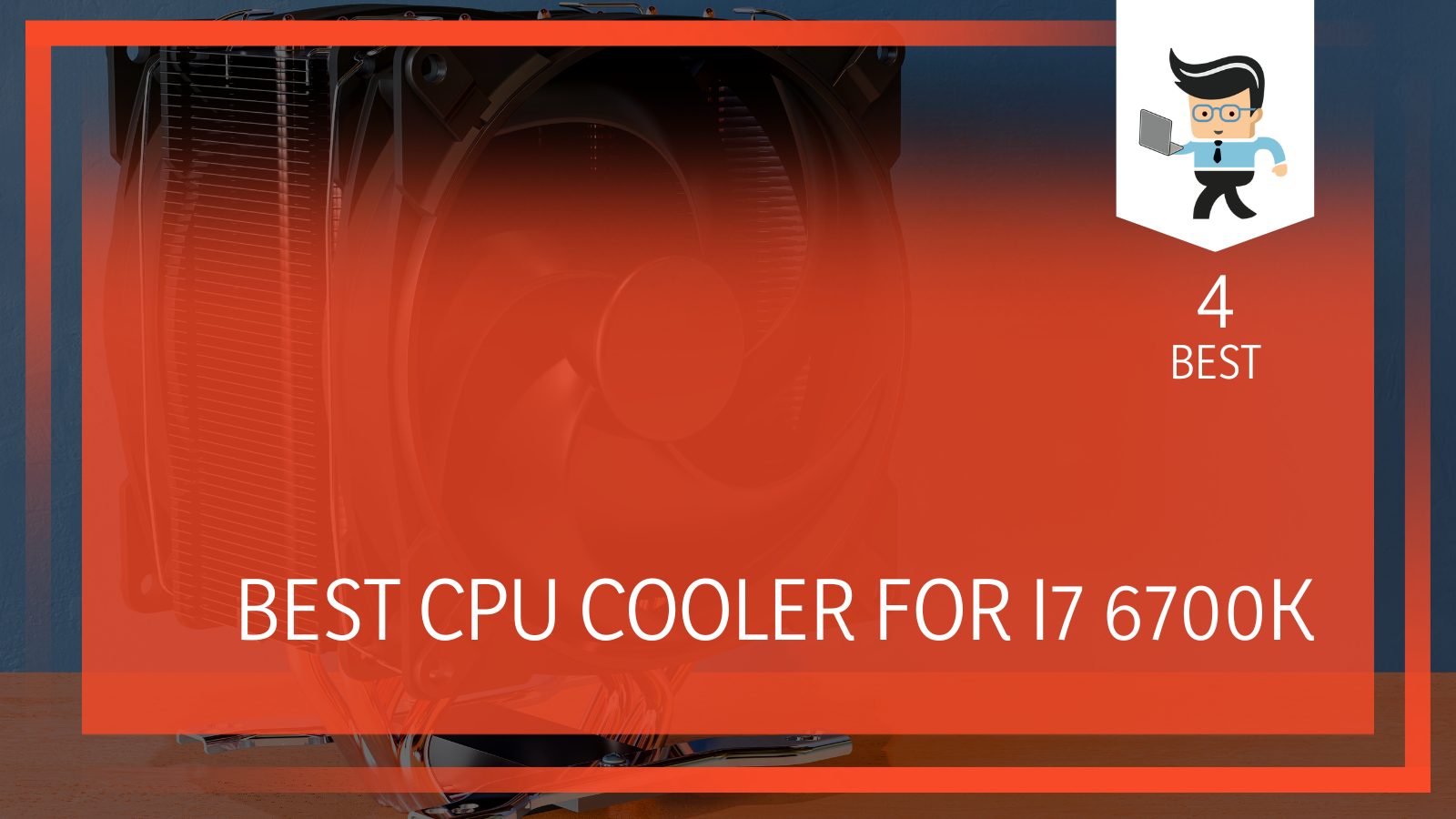 In this article, we have picked out the four best CPU coolers to use with the i7 6700k. All are compatible and work great with the i7 6700k. We'll cover the ins and outs of these CPU coolers while telling you what is great and unique about each of them. These are the 6 CPU coolers we've selected:
Whether you're on a budget or looking for the best of the best, keep reading to discover the perfect CPU cooler for your specific needs.
What are the Types of CPU Coolers?
There are two main types of CPU coolers; air coolers and liquid coolers. Both air and liquid coolers work effectively to take the heat away from your processer, so it's just up to personal choice as to which you prefer. Below is a list of what you need to know about the differences between air and liquid coolers.
– Air coolers
• Utilize a fan with a metal heat sink to pull hot air away from your processer
• Are usually the cheaper option
• Can be easier to install than liquid coolers
• Usually have a modest or utilitarian appearance
– Liquid coolers
• Are also known as "AIO" or All-In-One
• Work by circulating coolant through tubes, pulling heat away from your CPU
• Are thought to be more effective than air coolers
• Have a flashier appearance
• Are generally less noisy
• Are more expensive than air coolers
• Can be dangerous if they break
In this article, we will focus on air coolers instead of liquid coolers. While there is a tendency for some to think of liquid coolers as being superior, we have considered the improvements of technology in recent years which had made air coolers today can be just as effective, efficient, and noiseless as liquid coolers. Here are our picks for the best air coolers for your i7 6700k in 2020.
Reviews of the Best CPU Coolers for the i7 6700k (800)
Pros:
● Affordable
● Consistently very popular model
● 120mm fan is pre-installed
● Study build quality
● Comes with a second set of fan clips for a push/pull setup
Cons:
● Noticeable idle noise levels (32 decibels)
● Complicated installation
● Low-quality sleeve bearing
Our first recommended CPU cooler for the i7 6700k is the Cooler Master Hyper 212 Evo. This is the best CPU cooler for those looking to save some money. The Cooler Master Hyper 212 Evo is one of the most affordable options out there.
Not only is it affordable, but the Cooler Master Hyper 212 Evo has been around for over a decade and has long been recommended and vouched for by avid-PC users. Qualities most often emphasized are its consistent popularity and its affordable price.
One downside to this cooler is the installation process, which requires you to mount a backplate to the motherboard. This is a pretty outdated mounting system, and most newer coolers don't require this step.

However, not all of the installation process is terrible. We liked that the Hyper 212 Evo has plastic bracket fan mounts that grab onto either side of the heat sink, which makes it super easy to mount and remove the fan compared to other mounting systems used today.
In terms of operation, the Hyper 212 Evo has a noise level of 36 decibels. While this is not loud per se, is still noticeable. As for cooling temperature, the Hyper 212 Evo doesn't have the maximum cooling power on the market, but it will keep your CPU well within healthy operating temperature with room to spare.
While there are coolers out there that will keep your PC colder and with less noise, CPU coolers that are colder and quieter than the Hyper 212 Evo will be double or even triple in price.
Overall, if you're looking to replace your stock cooler, the Hyper 212 Evo will be a huge step up in quality and it will suit the vast majority of cooling needs, especially for average every-day usage.
Pros:
● Small size at only 110mm
● High-quality parts and sturdy build
● Quiet and effective cooling while overclocking
● Easy mounting system
● 6-year warranty
Cons:
● Plain color/aesthetic
● Price
Noctua is a brand well-known for its CPU coolers. Their quality is world-famous, and their 6-year warranty is one of the best in the business. If you are looking for a cooler to last the entire lifespan of your computer, then look no further than Noctua. But with so many models, why should you choose the NH-D9L?
First of all, it is quite compact at only 110mm in height and features a unique dual tower design. This makes it a must-buy if you have a small case and are worried about the size of your cooler. If you're worried about overcrowding, there's no better option than the NH-D9L.
Additionally, if your case is small, you're going to need to ensure good and fresh airflow to prevent heated air from reaching your RAM. The NH-D9L has a tower-style cooler blows air parallel to the motherboard instead of towards the motherboard, allowing for maximum total airflow through the case. This is a huge advantage compared to top-down coolers.

Noctua's mounting systems are known to be safe and easy-to-use, so don't worry about installation. Once you get it up and running, the NH-D9L offers a quiet and effective cooling performance. It takes especially well to overclocking, performing at the rate of much more expensive coolers. This makes the NH-D9L is an excellent choice if you use your PC for frequent gaming.
Overall the Noctua NH-D9L is a solid, well-designed, and quiet cooler that works efficiently especially during overclocks. It is best for those who don't mind paying a bit more for the perks of having a compact, reliable, and efficient cooler.
Pros:
● Attractive and fun design
● RBG lighting and controller included
● Customizable colors
● Quiet operation
Cons:
● Not very powerful especially if overclocking
The Cooler Master Masterair G100M RBG caught our eye due to its distinctive UFO-like design and inventive heat column technology. Equipped with RBG lighting, it is in our opinion the most stylish air cooler. It is especially perfect for anyone who loves to experiment because the lighting allows for almost limitless colors.
The Masterair G100M RBG utilizes one large copper heat column instead of the usual 4-6 heat pipes. The design of a single heat pipe column not only moves hot air quickly away from your CPU but also saves a lot of space within your case. If you're not a fan of the usual bulky and plain design of air coolers, then the Cooler Master Masterair G100M RBG is a perfect choice.

So how does the Masterair G100M RBG compare in terms of performance? This cooler can handle the heat at normal speed and even at a mild overclock. However, due to its small size, if you plan on getting into some high overclocks or are looking for maximum cooling performance, the Masterair G100M RBG may not be the best option for you.
If you're looking for an RBG CPU cooler with a mid-range price, then the Masterair G100M RBG is perfect for your daily use of your i7 6700k meanwhile showing some serious style.
Pros:
● Operates nearly inaudibly
● High-powered cooling when overclocking
● 3-year long warranty
Cons:
● High cost
● Large size
The Dark Rock 4 from be quiet! is a high-end cooler best known for its noiselessness even when operating at high speeds. It is the quietest fan on our list, so if noise is an important consideration for you, the Dark Rock 4 is the best choice for you.
This cooler is also the best on our list for gamers or those who overclock a lot. It is larger than our other choices at 96.3mm x 136mm x 159.4mm and can fit 6 heat pipes instead of the usual 4 to allow for maximum cooling.
The main downside of this cooler is the price. While users have attested that its high price is worth it, it may outside of the budget for some people. Also, pay attention to its size. If you're replacing a stock cooler in your CPU, the Dark Rock 4 may be too large and may not fit inside the case.

If you're looking for a high-end, nearly noiseless CPU cooler with a sleek design and excellent cooling performance when overclocking, then the be quiet! Dark Rock 4 is the best choice for you.
What to Consider When Buying
When deciding which CPU cooler is best for you, there are a few general categories to consider. In each category, you can decide which option works better for your own needs. This should help make your buying decision a bit easier!
• Size:
The first thing to consider is the size of the CPU cooler. The worst thing you can do is to buy a cooler that is too big or that doesn't fit properly into your unit. If your CPU cooler is too large, it may crowd your other components, putting them in danger.
This is why it is essential to check dimensions ahead of time before purchasing. The most compact fan ideal for small cases is the Noctua NH-D9L. If you're looking for a full-size tower cooler, the be quiet! Dark Rock 4, BK021, 200W, TDP will be best for you.
• Cooling temperature:
Consider how much you tend to overclock. If you're using your PC for work, then you won't need a super-powerful cooler. If you plan on gaming for hours on end, then you'll need to invest in a cooler that can handle overclocking without breaking a sweat.
For maximum low temperatures whilst overclocking, we recommend the Noctua NH-D9L or the be quiet! Dark Rock 4, BK021, 200W, TDP depending on your budget.
• Noise:
Depending on how sensitive to sound you are, you may want to buy a less noisy cooler. While none of the coolers on our list are by any means loud, if you're noise-sensitive, then our choice would be the be quiet! Dark Rock 4, BK021, 200W, TDP.
• Appearance:
Some coolers can have a flashy appearance with lights and RGB fans. If your main concern is design and aesthetics and you love the look of RBG fans, then we recommend the Cooler Master Masterair G100M RBG.
Conclusion
All of the coolers on this list are top-notch choices for you i7 6700k processer and will ensure your PC stays cool.
If you are on budget then we recommend the Hyper 212 Evo. Overall, it's a solid and time-honored choice, and the best of its kind if you're on a budget.
However, if you're willing to spend a bit more, we think the Noctua NH-D9L is the overall best choice. It is super powerful even when overclocking, sturdy, compact, has easy installation, and even has a 6-year warranty!
The NH-D9L from Noctua was our favorite from this list, however, any cooler you choose from our list will keep your PC running cool.