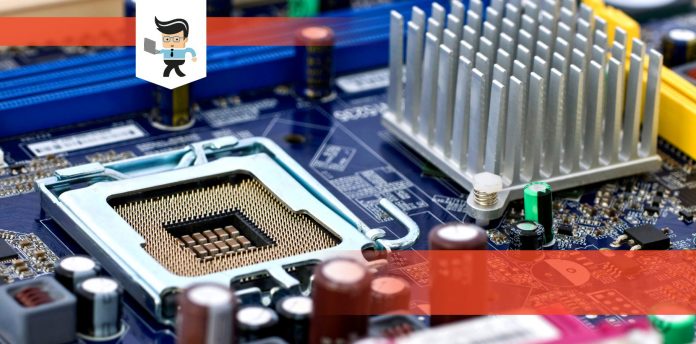 Choosing the b450 motherboard for Ryzen 3000 is a hard job when there are just so many choices on the market today.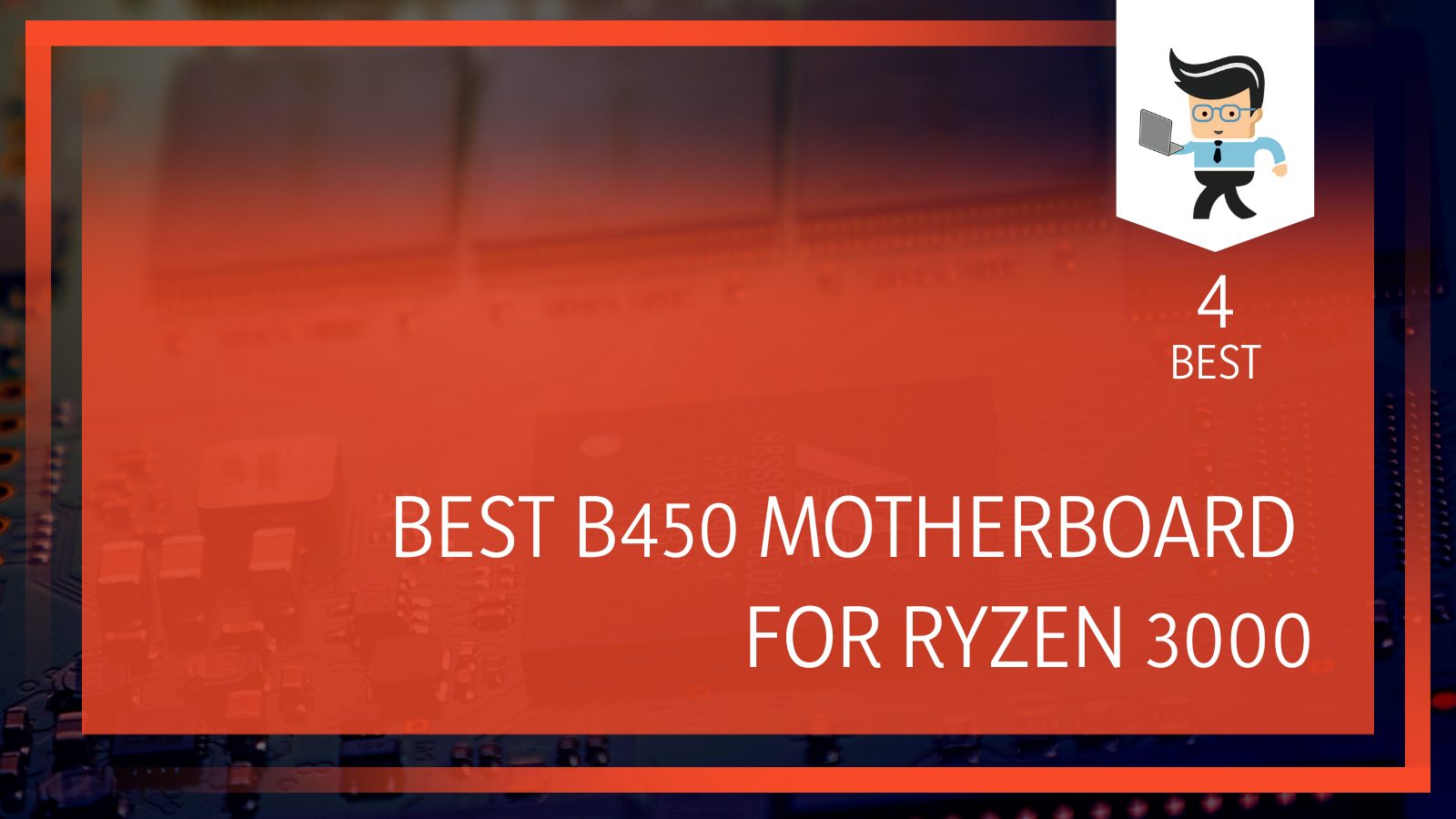 Luckily, our experts were able to narrow down the top choices and pick out a few that we think really stand out.
We tested each one and research actual customer reviews to see which ones we should recommend.
See what won below!
Best B450 Motherboard For Ryzen 3000: Our Product Reviews
Our experts looked at the different B450 motherboards on the market today, and we found the best ones to review and choose for you. Continue reading to see our top choices.
Dimensions (W x H x D): 10.8 x 13.3 x 2.7 in
Features: AI Suite 3; Gigabit LAN; FanXpert 4; Pre-mounted I/O Shield; DDR4-3200 Support; SupremeFX S1220 audio
Enhanced DRAM Overclocking Capabilities
Some Problems With BIOS

Overall Review
If you have a little bit of extra money for your B450 motherboard, then this is a great option. It comes with a wide variety of slots and options so that you can expand as necessary and get enough versatility.
There are enough headers that you can personalize and dress this motherboard up as you like. It doesn't come standard with much, however.
For audiophiles, the SupremeFX audio offers options and performance that you will be able to get a clean and clear output, even when creating music. However, those who need professional grade may need something a bit better.
For gamers, this is a great option for you. There are some good settings within the CPU and GPU that you can push the motherboard pretty far. The XMP settings and manual core voltage settings help to formulate the best possible gaming experience if you are willing to tweak it.
Some users complained about the BIOS functionality, but recent updates have solved those problems, proving that Asus is listening to complaints about it. You may still need to tweak things, but overall it is pretty great.
If you are looking for something that combines performance with a nice array of features, this is going to be a great option for you. It is one of the best "values" on the list.

This motherboard was designed for gamers, but there aren't many RGB features (which some people will love and some people will dislike). This model is great for gamers who need to overclock automatically instead of those who want to manually overclock.
Dimensions (W x H x D): 9.6 x 12 x 1 in
Features: 2-way AMD CrossFire; Intel Gaming LAN, 2x M.2 slots; DDR4-3466 OC RAM support; Gold Plated Jacks; Audio Boost; Good Heatsink Design; MSI Mystic Light
Good For Overclocking
Great Performance For The Price
It Is A Bit Of A Power Hog

Overall Review
If you are looking for the best b450 chipset motherboard, the MSI B450 Gaming Plus AC is a great option. It is going to be one of the best motherboards overall and within this price range. MSI motherboards tend to outperform many other options, and this one continues that.
If you are into gaming, the cooling on this motherboard is unrivaled. It is capable of reaching pretty good speeds without overclocking, but it shines when overclocking. You will be able to push it without having to worry about destroying it. The great BIOS helps here as well.
The design is quite good overall, making it easy to build and expand upon using this as the basis of your design. The ports are numerous and extremely hardy, so you won't have to worry about breakdowns or flaws in the connection.
Finally, you get some great customer support with this motherboard as well. Most people won't need any support, but it is good to know that you have it if you do need it.

In our opinion, this is going to be a great deal for anyone that wants to game and has some great features but doesn't want to break the bank too much. It is perfect for those who need some expansion options but not as many since there aren't additional SATA ports or a third PCIe x16 slot.
Air Cooling & Liquid Cooling
Great RGB Lighting (Including Headers)
Comes With BlueTooth & Wi-Fi
Overclocking Potential

Overall Review
This is a mini-ITX b450 motherboard that has some of the best tech on the list, which should surprise some people. The board can be customized to your needs and is perfect for gaming fiends who need something smaller.
The ASUS ROG STRIX B450-I Gaming motherboard delivers as many options as many of the normal sized boards, which is a good thing. It performs almost all of the functions that other chipsets would, at a reduced cost.
This board has some of the best value for performance on the list, even if it does cost a bit more than some other boards. You will get some impressive features and functionality without breaking the bank.
One thing to be aware of is that this is a crammed board – it is better for people who don't mind that look or who won't have the board on display. You get a wide range of options, including dual M.3 slots, a powerful CPU, and fantastic audio.
You may need to compromise on a few things, but one of those things certainly isn't cooling. If you like to overclock or you just have a system that gets hot, the dual cooling systems come in handy here. For additional cooling, you can add to it.
A few people have reported some compatibility issues, but they are easy to resolve with customer support. This isn't a significant issue and reports say that they continue to work on fixing that problem.

Overall, the ASUS ROG STRIX B450-I Gaming is a fantastic option for anyone who needs a small form factor without some of the additional costs that come with it. You will get a great blend of performance and quality features.
Dimensions (W x H x D): 12.25 x 15 x 4.22 in
Features: 3x PCI Express x16 slots; SB 3.1 Gen1 internal header; onboard wireless AC; Hardware monitoring; Gigabyte DualBIOS; ALC1220-VB audio codec; DDR4-3200 OC support; Intel GbE LAN with cFOS support
Includes M.2 SSD Heatsink
Doesn't Support NVIDIA SLI

Overall Review
The Gigabyte B450 AORUS M is a budget-friendly gaming motherboard that has a plethora of features that you will enjoy. It comes with one PCIex1 slot, two PCI-E x16 graphics card slots supporting 2-way CrossFire, and an M.2 slot for M.2 SATA SSDs and PCIe Gen3 x4 NVMe.
The model has a ton of capacity, which is why it is so great for building. With up to 64GB capacity, it is hard to imagine a board in this price range that offers more. It even include memory overclocking and CPU while still remaining lightweight.
There are some unique features on this board that need to be discussed, including eight-channel onboard audio, Gen 2 and Gen 1 ports, Smart Fan 5 fan control software, and even an M.2 heatsink for cooling. You also get RGB Fusion support, which helps to make this more of a display piece if you want.
This is the kind of motherboard that many different types of people will benefit from, so if you are sharing your computer with a few people, this could be a good choice.

Overall, this is a good micro-ATX motherboard that is perfect for gamers just starting out. It is a mid-range option that offers some room to grow for those who want to expand into the future. It is a convenient board that will fit with many cases and styles.
Liquid & Air Cooling
Great connections
Double M.2 with M.2 cooling
Fantastic audio
Micro sized

Overall Review
This micro-ATX comes with some of the best features you will find within the category, and targeted users have absolutely loved it. One of the best features is that it offers near-identical tech and connectivity to some of the other motherboards for Ryzen 300 while being much smaller and coming in at a value price.
You will find that there aren't very many compromises here at all, which is great for those who expect a motherboard that can perform and adapt to new situations. There is a lot crammed onto this board, so while it isn't the best looking option on the list, it is a fantastic choice. Everything is extremely well built and high end.
The cooling is really where this motherboard stands out: you won't have to worry about it overheating as long as you keep your eyes on the temperature. The cooling features are quite advanced and the build allows for optimal airflow and heat reduction.
Another rarity for micro-ATX boards is that there aren't many compatibility problems at all, helping to make this one of the most versatile options on the list.

Obviously, it is the best option for those who need a micro-sized ATX or they want a smaller form factor. It is perfect for those who have more technical skills and have made their own computers before this. At the cost, it is a great option for just about anyone.
Best B450 Motherboard Buying Tricks
Motherboards are an important part of your computer set-up because they relay power to all components within your PC. They need to have the power to handle whatever you can throw at them.
Another reason it is important to make a smart purchase is because they are responsible for all communication between the components so that everything runs smoothly. Without the motherboard, your PC cannot function. Without a good motherboard, your rig won't be as good as it could be.
They also are responsible for many of the more base features that you can use on your computer, like the amount of RAM, Bluetooth, or Wi-Fi speed. In essence, they help provide the blueprint for what you need.
When you are making a decision to buy a B450 motherboard, you will have to first make the choice between Intel and AMD. Both companies have some great options, so it just depends on what you want and need from your motherboard. Your choice will depend on the compatibility of the chipsets.
The most important thing is that the motherboard completely supports the kind of GPU you will use. This is imperative for any purchase of a motherboard.
You also want to consider the codec used by the motherboard to see whether or not you should go with a mid-range or a higher end version, you want to buy pieces that are compatible in this way. Spending more on one piece of the puzzle doesn't make sense as you won't be able to get what you need.
RAM is important as well, you want to buy a B450 motherboard for Ryzen 3000 that has AT LEAST 4 GB of RAM. The more you can get, the better off you will be. Heavy users can need as much as 16 GB.
Of course, you want to consider ports and the versatility of the board. You need to have a high number of internal connections (some you will use now, others you may need later).
The appearance of your board won't matter unless you plan to show it off. Still, features like designs or RGB lights can be nice to have.
Frequently Asked Questions For Buying A B450 Motherboard
1. What Will My Motherboard Come With?
Most motherboards won't come with cables or anything too extra. Instead, it will come with the motherboard, a user guide, and maybe a few "extras" like stickers or RGB lighting.
2. Should My B450 Motherboard Have Wi-Fi?
At this point, many motherboards don't have Wi-Fi built into them standard. However, you can find plenty of options that do have Wi-Fi or you can get a Wi-Fi adapter that allows almost every board to be Wi-Fi compatible.
If a motherboard has Wi-Fi, you cannot just trust it. Some boards don't have high quality Wi-Fi that you should use for gaming. Even if your board does support Wi-Fi, it is likely that you will need to purchase some accessories to get the most out of it.
3. I've Heard B450 Motherboard Wear Out Quickly, Is That True?
Many gaming motherboards will wear out much more quickly than other motherboards because of the physical toll they take when someone games. The best way to prevent an early death is to avoid excessive heat, physical movement, and electrical shocks.
4. Do Motherboards Ever Go On Sale?
In general, motherboards will fluctuate in price quite a bit but there is never a "sale" of motherboards that is widespread. There isn't a certain time of year when you can get one really cheap. Instead, it is best to just save up and buy what you want when you can afford it.
5. What Sets One Motherboard Apart From Another?
Aside from pricing, manufacturing, and features, there are a few different ways in which you can differentiate motherboards. Most people will look at the form-factor, chipset, slots available, I/O, internet support, and more.
However, another thing you may want to consider is customer support and how helpful the website is. This is especially true if you are looking for a motherboard for the first time.
6. Can Motherboards Be Replaced?
Yes, you can replace your motherboard. However, it can be extremely tricky to find a board that will be compatible with all of your components. Some motherboards don't have good build quality and can actually degrade some of the pieces around them, so be careful.
Conclusion
Ryzen 3000 requires a specific type of motherboard, but thankfully there are quite a few that live up to those needs.
Our experts tested and collected reviews of the products listed above and while we can recommend all of them, we believe that if you are looking for the best of the best, you need to go with ASUS ROG Strix B450-I Gaming AMD. However, for a micro option, the Asus Prime B450M-A is a great choice.