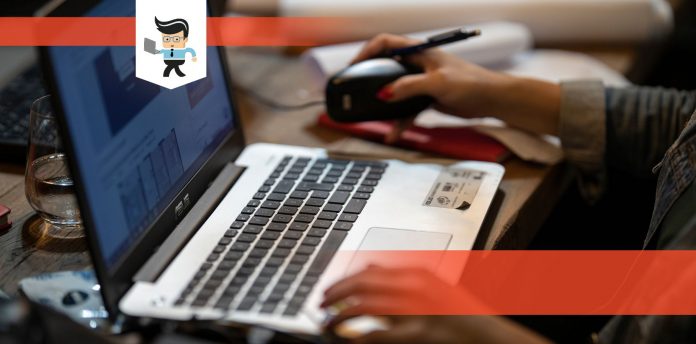 When it comes to wireless devices, the Asus Vivobook F510UA is just one of a horde of options available on the market. You have so many from which to choose. The Asus Vivobook F510UA laptop guarantees you outstanding features at a budget-friendly price with its 8th generation Intel Core i5 processor, which will give you an impressive performance. The battery life gives users 5 hours of uninterrupted gaming, video viewing, or whatever else strikes their fancy.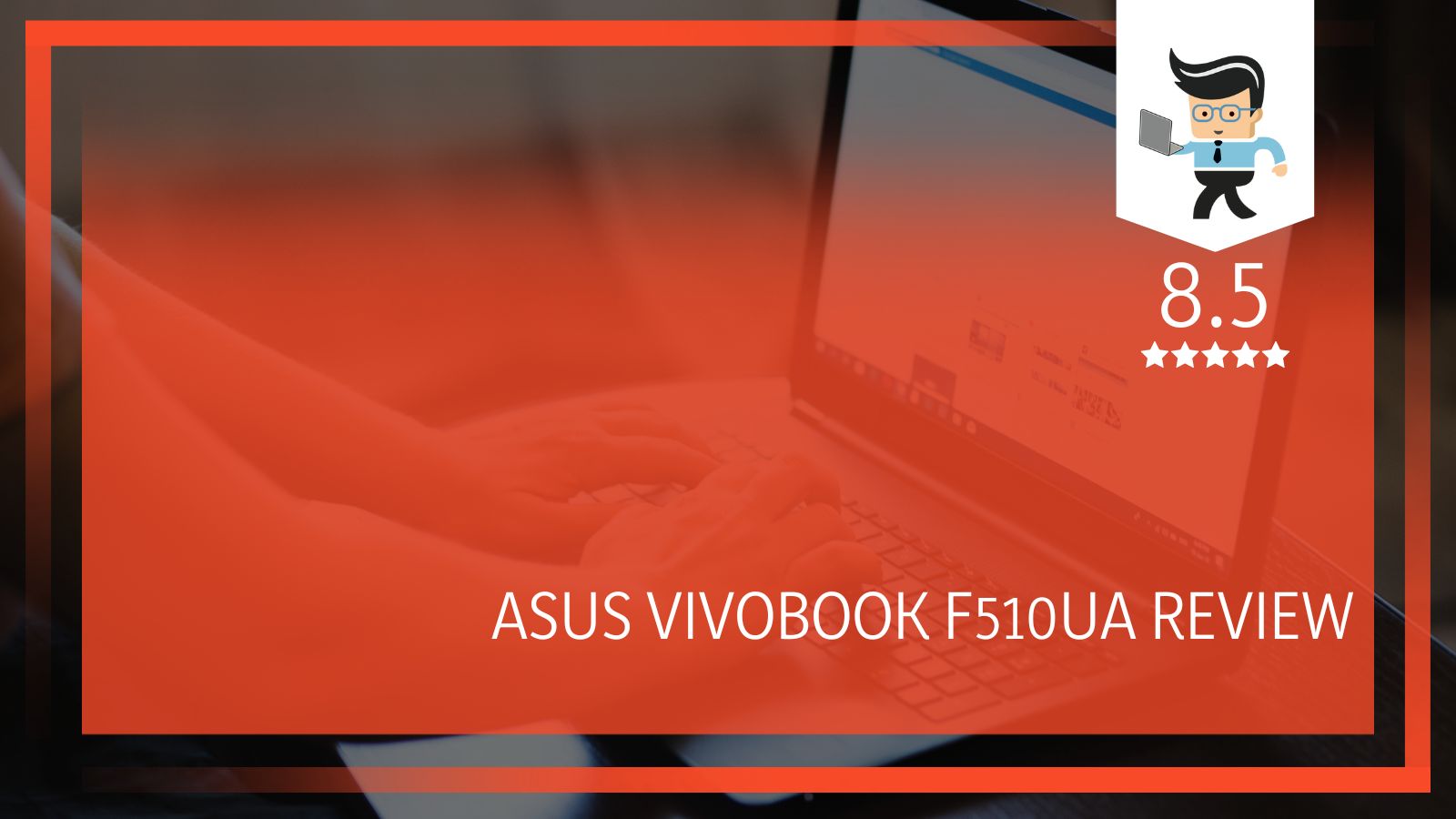 In this review, we talk about why the Asus Vivobook stands head and shoulders above the rest.
Asus Vivobook F510UA Key Criteria
PROS
Low price
Large FHD display
Comes with both types of USB port
Outstanding performance
CONS
Relatively short battery life
Lacks touch support
Keyboard not backlit
The sleek design of the Vivo Book F510UA makes it well worth the price. It comes in a unique gunmetal blue color that makes it hard to resist. Ever been in a position where your viewing angle mattered? Where it controlled how an image would look?
This laptop has a textured lid, which makes it feel like a lenticular lens. It feels just like the corrugated surfaces on which an image changes depending on how you view it.
"Clacky" keyboards are noisy and end up being a source of irritation to both the user and the people around him/her. This laptop's keyboard eliminates this annoyance as it allows users to work and play in blessed silence. You do get a muted click, but it's nothing compared to the sound made by some other brands. Despite the lack of noise, the keys are still firm when pressed.

But, the touchpad is always soft. The top-left corner of the keyboard has a fingerprint reader.
-Asus Vivobook F510UA Specs
Such an impressive laptop has to have ultra-modern features. The exclusive features that cause the Vivobook to stand out above the rest are:
The 1080p screen resolution
The 15.6″ display together with anti-glare coating, full HD, and IPS technology
The 8th generation Intel Core i5-8250U with quad-core of between1.6GHz-3.4GHz
15.6″ display together with anti-glare coating, full HD, and IPS technology
8GB RAM
The Intel UHD 620 integrated graphics card
Front-facing webcam
Two stereo speakers with an audio jack for headphones and microphone
Supports Ethernet LAN
Wi-Fi – 802.11 ac
Two 2.0 USB ports, one 3.0 port, and 1 Type-C USB port
The 42 WHr, 3-cell battery
The ability to read SD cards
A Windows 10 Home, 64-bit operating system
1 TB hard drive
– 1080p Screen Resolution
The Asus Vivobook F510UA laptop comes with a full HD resolution of 1920 by1080 pixels. Its anti-glare feature makes it easy on the eyes with unmatched picture quality, enabling the user to enjoy an unmatched viewing experience.
– 15.6-inch Display
Display features 15.6 inches coupled with full HD, anti-glare coating, and IPS technology with complete viewing. It's rare to find a laptop that has these features at such an affordable price. Please take advantage of the fact that Asus is giving them to its laptop users.
– Eighth Generation Intel Core i5-8250U Processor
This laptop comes with an Intel Core i5-8250U processor with quad-core speeds of between 1.6GHz-3.4GHz on a turbo.
– Intel UHD 620 integrated graphics card
Asus has fitted the Vivobook F510UA with an integrated Intel UHD 620 graphics card. This graphics processor makes use of dual-channel RAM. It guarantees fantastic results when it comes to performance. It also allows you to run several games with low-quality settings and at low resolution.
– 8GB RAM
The Asus Vivobook F510UA laptop offers a whopping 8GB RAM at a very affordable price. With that much RAM, you can run several programs simultaneously and toggle between taskbars without hassle. You get to run multiple programs in the background. So, you can download files while you attend a virtual meeting. With 8GB RAM, you can listen to music videos or play games while doing other (tedious) tasks in the background.
– Front-Facing Webcam
The Asus Vivobook F510UA comes with a front-facing camera. This webcam gives you an unmatched video experience.
Asus has also fitted the Vivobook with a perfect multimedia system. It comprises twin stereo speakers that transmit an excellent audio output. The set comes complete with headphones, audio jack, and a microphone
– Wi-Fi – 802.11 ac
The Vivobook is a boss when it comes to Wi-Fi connectivity. It has 802.11ac technology.
– Supports Ethernet LAN
The internet has been a game-changer in today's world. It's now necessary for everybody to buy devices that can give them access. The Vivobook F510UA allows users to access the internet with a tethered network. No hassle.
– Multiple Connectivity Options
This laptop has one 3.0 USB port, two 2.0 ports, and one Type-C USB port. The Vivobook laptop comes with both Type-C and Type-A USB ports. This setup lets you connect all USB devices without having to locate a dongle first.
You will find an SD card slot on the left edge of the laptop with the two Type-A 3.0 USB ports. On the right are one Type-A and the single Type-C USB port. Alongside these ports are the power connector and a headphone/microphone jack. There's also an HDMI port.
– Reads SD Cards
This laptop will let you upgrade the memory using the SSD and HDD. It's easy to get the technical specs of the Asus Vivobook F510UA from the official ASUS website. There, you'll find out if the computer's hardware is compatible with the upgrade. The site will also tell you the full specifications for the upgrade.
– 42 WHr, 3-Cell Battery
The Asus Vivobook F510UA battery life is merely average, assuring the user of up to five hours on a single-use. The laptop takes two hours to charge to 100 percent. You may need to buy an extra battery if you want to extend your gaming time, which will give you a total of ten hours of use.
– Operating System: Windows 10 Home (64-bit)
The manufacturer pre-installs Windows 10 on the Asus Vivobook F510UA. The default browser is the brand new Microsoft Edge. It also has biometric authentication via its Windows Hello platform. You get an automatic connection to Wi-Fi.
– 1 TB Hard Drive
This vast amount of disk space boosts the performance of the Asus Vivobook F510UA. It's rare to find a laptop that offers that amount of storage at such an affordable price. Asus is ensuring that it caters to customers who want cheap laptops that work.
Other notable one-of-a-kind features of the Asus Vivobook F510UA include:
– Cooling system
The Vivobook has a fantastic cooling system that's very effective. Once turned on, your computer starts to generate heat. Most manufacturers install a fan to cool the laptop. The fan sucks in cold air to get rid of the excess heat. Not all laptops have capable cooling systems. But, the cooling system on the Asus Vivobook F510UA is one of a kind. It boosts performance, and it allows you to game uninterrupted.
– Fingerprint Sensor
The fingerprint sensor is another fantastic feature. It helps to make this laptop stand out from the rest. This feature guarantees a more secure system. For budget laptops, this specific feature is often sporadic. You'll see it on some brands, but not on others.
Yet, you always need to protect your videos, files, and laptop drivers. You don't want unauthorized persons to have access—but most of the laptops that offer this assured security cost a lot of money. You don't have to stress with the Asus Vivobook F510UA. It provides you with this feature straight on your laptop at an affordable price.

Buying Guide
Asus is an international customer electronics and computer hardware company. The headquarters are in Taiwan. It started operations in 1989 and has since grown to become a frontrunner in the gaming niche. Asus also supplies motherboards. When the company enhanced its PC industry in 2007, its popularity in North America shot up.
The Vivobook F510UA has an elegant design with a trendy, upscale look. This laptop is gunmetal blue in color with a brushed metal finish. It has a plastic body that looks like aluminum. The dimensions of this laptop are 14.2 x 9.6 x 0.8 inches. It is also light, which makes it easy to carry around.
– How good is the Asus Vivobook?
The Asus Vivobook is an excellent buy. It has tons of storage, including fast RAM and an SSD, and many ports. Although it weighs only 3.7 lbs., it's a robust machine. One Amazon customer described it as "a punchy little laptop for its price." She added that the Vivobook is light and that it turns on fast.
The Vivobook offers impeccable responsiveness and superior performance. This lovely laptop can deliver on all computing tasks. So how good is the Vivobook? It is outstanding. Users seem to have only one complaint: that the battery life is too short.
– Is the Asus Vivobook F510UA Good for Gaming?
Not only is the Vivobook a good laptop for gaming, but it's also excellent for office and college use. It has an Intel UHD 620 graphics coprocessor and LED-Lit display technology. These features make it an ideal laptop to play all the newest games in Full HD with ultra-settings. It's a great performer, with excellent visuals.
The F510UA is the only laptop costing less than $750 that has so many high-end features. The IPS display is perfect for gaming, with vibrant colors and sharp images. Yet, "Asus Vivobook F510UA gaming laptop" is really a misnomer. Asus did not design the F510UA for gaming. AAA titles such as Fortnite and Witcher 3 might be a strain on its resources. You'll face challenges, even in low graphics settings.
-Can you upgrade the CPU of an ASUS laptop?
Unfortunately, this is not possible. It might work with a desktop, but laptops have a different configuration. They're usually fitted with tight thermal and power envelopes. Also, the BGA socket is joined with the Intel Core i3 3217U. Thus, any CPU changes will most likely exhaust the system. Instead, the user can boost the laptop's performance by choosing to work in an SSD to replace the HDD.
– Verdict
This ASUS Vivo Book F510UA laptop is budget-friendly, and it will work well for you. The manufacturer has done everything to ensure superb performance with amazing visuals. Its unique color makes it irresistible to many customers. It's lightweight, so you have less hassle in carrying it around.
This laptop gives you five hours' battery life at an affordable price. The ASUS Vivo Book F510UA laptop outpaces other brands. Asus couples this laptop with three benefits: optimal performance, affordable pricing, and speed. The configuration of this laptop enables it to deliver different tasks.
There are many benefits to using this laptop. You get to enjoy a computer that has a gigantic FHD IPS screen with excellent viewing angles. It also has exceptional brightness and color contrasts. There's an M2 slot where you can insert an SSD. There's also an 8th generation processor, which consists of 4cores and eight threads.
As a user, you will have access to the Asus official website. Asus has designed this site to be user friendly. It ensures that customers with queries or concerns can access the right information. Then it addresses their issues.
Conclusion
The laptops that offer assured security usually cost a lot of money. The Asus Vivobook F510UA omits this stress. It provides customers this feature at no extra cost.
Yet, nothing is 100% perfect. This laptop has its fair share of shortcomings. These shortcomings include an installed HDD, which is slow. It often forces the user to add an SSD to enjoy a more effective performance. It also lacks a backlit keyboard. And its battery life is a mere five hours.
Are you thinking of buying a laptop that gives you exceptional features and responses? Want something that is budget-friendly? The ASUS Vivo Book F510UA is the answer that you're looking for.