The Asus RT-AC3200 vs Netgear R8000 head-to-head comparison is worth many looks when you want either router to grace your rig. Whether you want the fastest router or one with the highest number of functions and connectivity ports, our review will go a long way.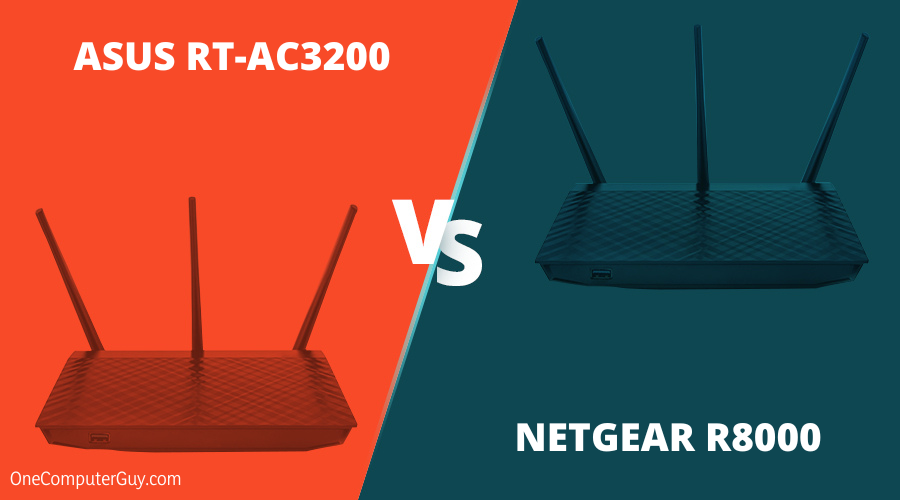 Many modern routers operate with capabilities that make your devices run smoothly when connected to the network they provide.
With this review by our experts, you'll have a better grasp of their performance, and you will be able to determine the right fit for your lifestyle without going through the stress. 
RT-AC3200 vs Netgear R8000 Comparison Table
| | | |
| --- | --- | --- |
| Features | RT-AC3200 | Netgear R8000 |
| Ethernet Ports  | 5 | 5 |
| USB Ports  | 1x 3.0, 1x USB 2.0  | 1x 3.0, 1x USB 2.0  |
| Processor  | Dual-Core | Dual-Core 1GHz  |
| Speed | 3200 Mbps | 3200 Mbps  |
| Frequency Band | Tri-Band | Tri-Band |
| Security Features | Asus iProtection, WPA2-PSK  | Netgear Armor, Firewall, WPA2-PSK  |
What Is the Difference Between RT-AC3200 vs Netgear R8000?
The main difference between the RT-AC3200 vs Netgear R8000 is that the Netgear R8000 is faster across different ranges than the Asus RT-AC3200. The Tri-Band speed can reach up to 702.4Mbps at 5 feet. This way, you can have reliable connections on all your devices. 
– Build and Design
Winner: Tie
These two routers have their merits, especially with the features and capabilities they pack. For the Netgear R8000, it's a big router with tri-band frequency — one 2.4GHz band and two 5GHz bands.
The build of the R8000 resembles a gigantic spider with its six foldable antennas. You'll also get four Gigabit Ethernet ports and a 2.0 and 3.0 USB port, but there's no e-SATA connection. 
The Asus AC3200 may not be as large as the Netgear R8000, but it's quite bulky nonetheless. It's also black and has its fair share of antennas — four external antennas at the back and one each on the sides. It also has four Ethernet ports, one Gigabit LAN port and a single 3.0 USB port. 
There's nothing significant separating these two routers on the design front. 
– Set up/Installation/Technologies 
Winner: Netgear R8000
Installation is part of setting up any device, and routers are no different. In line with that, the Asus RT-AC3200 is supported by some of the latest technologies to ease installation. That includes the SmartConnect feature that enables it to direct any of your connected clients to one of your three bands. 
There's also the beamforming technology for optimal signal strength, and it supports dual WAN. These qualities make the installation of the Asus AC3200 simple and fast. Moreover, you'll have the opportunity to choose from five internet connection types. 
Installing the Netgear R8000 is completed through the Netgear Genie software, which is available for both desktop and mobile (Android and iOS) devices. Using the software, you can also go through an intuitive dashboard to check the number of connected devices, 
Other things you can check include the traffic meter for upload and download speeds, and parental control features to limit the online content your kids have access to. 
– Performance and Speed
Winner: Netgear R8000 
When it comes to overall performance and speed, the 1GHz processor, 128MB of flash memory, and 256MB of RAM help the Netgear R8000 perform with class. The router delivers a maximum theoretical throughput speed set at 3.2Gbps.
When we tested its speeds, the test revealed that the R8000 router clocks 702.4Mbps for its three bands at five feet and 302.3Mbps on the 802.11ac. When we went beyond that at 140 feet, you get just over 170.3Mbps on the 802.11ac circuitry.
For the Asus RT-AC3200 router, its 2.4GHz band scored 97.8Mbps at five feet. However, it can perform admirably at a range of 165 feet and some more.
On the 802.11n circuitry, the Asus AC3200 reached 86Mbps for its 2.4GHz band at five feet, and at thirty feet over 60Mbps. With the performance on the 5GHz band and the range, it's still not up to the Netgear R8000. 
Pros
Smooth and easy to setup 

Great throughput speed on the 5GHz band

Strong security system 

Good for gaming 
Cons
Issues with file transfers 
Asus is a brand that has done well for itself over the years, thanks to top-notch products, including computer peripherals. This router is a great addition to any rig with modern features that make it worth a second look. It combines excellent internet speed and an innovative build design to great effect. 
The Asus AC3200 Tri-band router is designed for large homes and multiple users running different applications. Its features will easily handle your 4K streaming needs while you'll get six antennas for profound coverage across a wide area. 
The AC3200 is recorded as one of the biggest routers in the market. As a result, you might want to check the space it occupies.
At the front panel, you'll find nine LED status indicators that show you when you are connected to each of its bands, LAN ports, and WPS. Also, the router comes with four Gigabit Ethernet ports, 2.0 USB port, one Gigabit WAN Port, and power/reset buttons.
The performance of the Asus AC3200 router is not complete without some of the best technologies in the industry. To that end, you'll find that it has the Adaptive Quality of Service (QoS) feature that allows it to prioritize bandwidth. It does this during video and game streaming.
With the network map, you'll get to see the list of connected clients and devices, while the beamforming technology helps in boosting your signal strength.
For security, you'll have access to the latest protocols and the famed Asus iProtection, which is your ultimate defense against malware and viruses. The AiCloud feature lets you sync your USB drives to the cloud.

Pros
Tri-band with fast speeds and range

Easy setup with Genie software 

Six foldable external antennas 

Customizable features 
Cons
For its class, there's no eSATA port 
When you're living in a large home with many devices that need Internet connection, it's important to have a router to match up. With its six external antennas and its sheer size, the R8000 is the perfect router for your home. It comes with an all black design, big build, and 13 status LED lights that you can turn off should they become irritating. 
The antennas are also tall and measure 3.3 inches. You can rotate them to an angle of 140 degrees. Reception for the Netgear R8000 is further boosted by the use of beamforming technology. If you want, you can reserve one of the 5GHz bands for your high speed traffic on applications like 4K video streaming or playing online games.
The Netgear R8000 router is equipped with four Gigabit Ethernet ports, one 2.0 and 3.0 USB ports, which you can use for your printer and computer connections.
Setting up the router is simple, thanks to the Netgear Genie software that allows you to automatically configure the router in minutes. Just log in to "routerlogin.net" and the router will automatically detect any connected devices for you. 
The Netgear r8000 runs on a 1GHz processor backed up by 128MB of flash memory and 256MB of RAM. You can use the router with a VPN as well. 
Security is top-notch with the Enterprise encryption/WPA2. Further, you'll get the Network Address Translation (NAT) firewalls and Stateful Packet Inspection (SPI).
The Genie software remains the most significant way through which you monitor your router settings. Thankfully, it's available as a desktop version and an app for iOS and Android operating systems. 

Frequently Asked Questions
1. Does the Netgear R8000 Router Come With an Anti-virus?
Yes; what you get from the Netgear R8000 is a smooth and seamless operation with the Netgear Armor anti-virus. It's useful for detecting malware and viruses, especially when an unauthorized person wants to infiltrate your network. The Armor protects all the devices connected to the network, including games and smartphones.
2. How Secure Is the Asus AC3200 Router? 
The Asus RT-AC3200 is a secure router and has the Asus AiProtection for maximum protection. It's developed by Trend Micro and offers a multi-stage approach to malware detection. It also works with the built-in security systems to keep all your connected devices free from threats.
3. Is the Netgear R8000 Ideal for Gaming? 
Yes, the Netgear R8000 router comes equipped with super-fast speeds fit for any kind of online gaming experience. You'll have fast connections to deal with issues of lags or buffering. Also, expect faster load speeds and speedier reaction times while gaming. 
Conclusion
We have taken a good look at these two routers from two renowned brands — Asus and Netgear. The Asus RT-AC3200 is an exceptional performer with a secure network, multiple software, and other capabilities. However, the Netgear R8000 is the clear winner here. 
The Netgear R8000 is a big router and offers excellent speeds on different bands, especially the 5GHz frequency. It also has antennas that take advantage of its beamforming technology to provide wide coverage and impressive internet strength within every nook and corner of your home.
Another aspect that makes it the best choice is its simplified installation process through the innovative Genie software.