Choosing an air compressor for pc cleaning that too of the best quality is a must if you are looking to keep your PC running optimally and efficiently for many years. However, we know it can be challenging to pick a single product out of the wide varieties.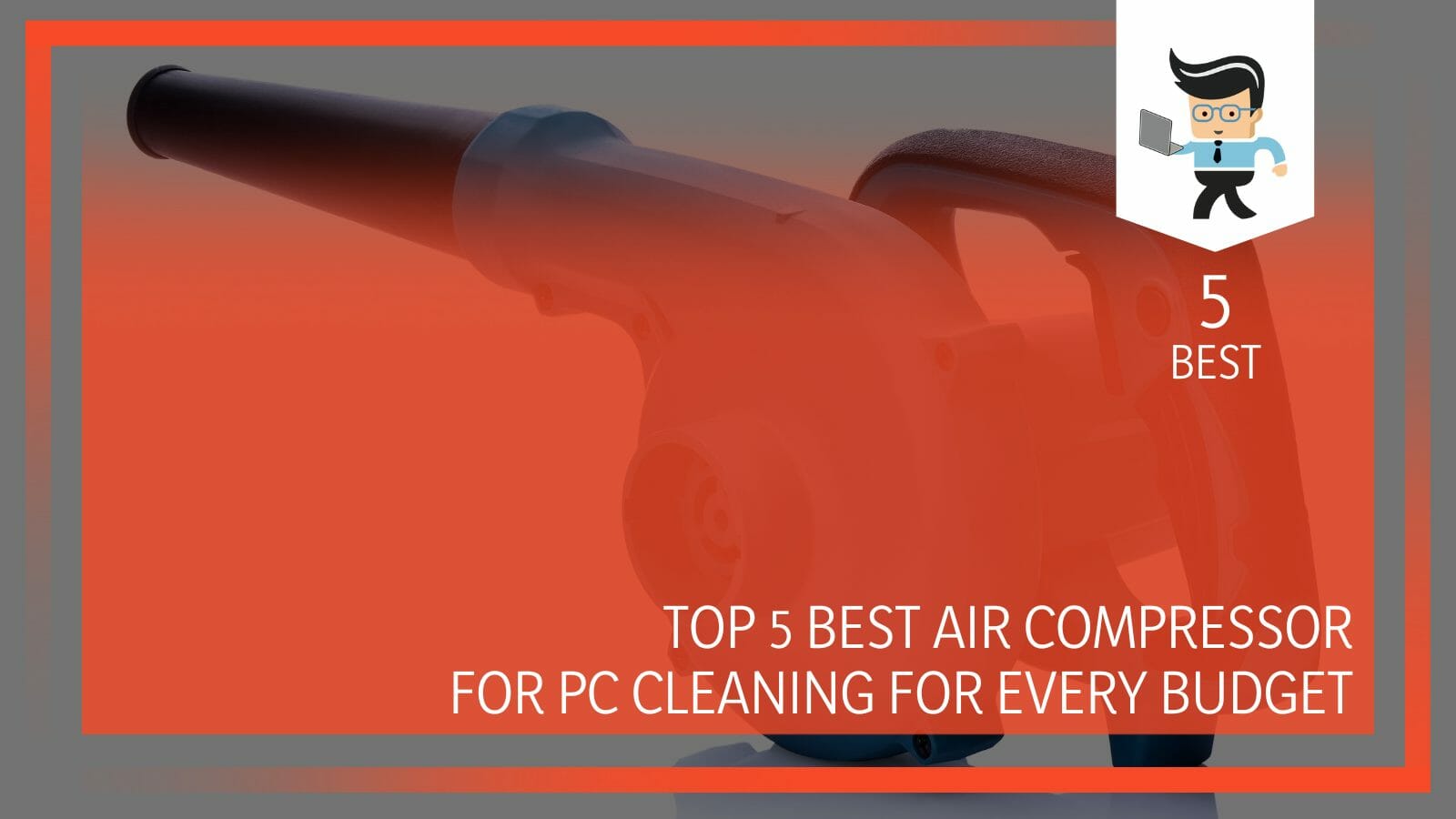 For this reason, our experts have taken the pain to produce this in-depth article to guide you to the perfect choice.
Let's dive into it!  
Top 5 Most Reliable Air Compressors for PC Cleaning- Product Reviews
Having gone through the table and learned a thing or two about each product, it's time to check out more details about them. This section will tell you more about each air compressor, including its pros, cons, and features. 
Pros 
Quality speed control 

Excellent performance 

Durable 

Powerful PC cleaner 
Cons 
The XPOWER A-2 Airrow Pro Multi-Use Electric Computer Duster Blower is one of the best air compressors around for computer cleaning. It is a powerful, energy-efficient, and lightweight air compressor.
Also, its specifications included a 3/4 HP motor with 500 watts, 90 CFM airflow, and weighing about 2.3 pounds. 
Further, you can enjoy its quality because it contains no fluorocarbons or dangerous inhalants. Consider it an investment because you can also use it to get rid of accumulated dust for an extended period. In the long run, you might not have to get another one. 
Further, this XPOWER compressor has 90 CFM airflow with a Voltage of about 120V/60Hz.
As a result, these two features are enough to blow away all the dust from your computer's case, keyboard, etc. Moreover, the 120V/60Hz unit provides durability and safety thanks to ABS-rugged plastic housing and thermal protection. 
Weight is a significant factor in getting an air compressor to clean your computer. Also, if the dust blower is too heavy, you'll have difficulties moving it around. With this XPOWER A-2 Airrow Pro, you get a device that weighs only 2.3 pounds. That makes the compressor easy to move around.

Overview
The XPOWER A-2 Pro is a magnificent air compressor with tough power and a nearly weightless design. It's an excellent device for gamers and regular PC users to clean their computers. 
Pros 
It has a lasting, rechargeable battery

Variable speed trigger

Compact and lightweight design 
Cons 
If you're in the market for a credible air blower, the X3 Hurricane Variable is one of the best air compressors out there. There is a variable speed trigger that lets you use as little power as necessary to clean your PC. Also, there's enough sound level control to keep the noise at the barest minimum. However, expect a bit of loudness here. 
Further, the X3 has a five-outlet nozzle fitting kit that provides an excellent base for PC cleaning. Expect it to clean other devices like camera lenses, mirrors, high-end medical equipment, complex circuit boards, etc. 
The X3 Hurricane Variable is a mini air compressor that allows you to control the amount of airflow according to your need. As a result, it's best for cleaning delicate equipment or computers since you can use just the right amount of airflow.
Thanks to its compact design and rechargeable battery, it's easy to take it wherever you go. The brand also included a carry case for easy storage.

Overview
The X3 Hurricane Variable has just enough weight to help you keep your computer clean. It's easy to carry and will undoubtedly suit enthusiasts who are always on the go. 
Pros
Great battery life 

Long, powerful nozzle 

Powerful Electric Motor
Cons
Takes time to blow out dust
With the Rovta Opolar as a companion for your PC, you get a high-powered compressor for cleaning your PC and other electronics.
It comes with a 33000 RPM electric motor that provides plenty of power to blow away dust and dirt. The 6000mAh rechargeable battery is another useful feature that makes it last long while functioning. 
In addition, the brand makes it cordless and portable to carry around, even on the busiest of days. The long, thin nozzle makes reaching those tight angles and corners easy. When the battery gets low, it takes only 3 hours to fully charge. Besides, it will last for up to 30 minutes of continuous use. 
The Rovta Opolar also carries an ergonomic design, which makes it all the more comfortable to use. These qualities combine with its quiet efficiency to give your PC the polish it deserves. 

Overview
The Rovta Opolar is lightweight, portable, and durable. It packs enough power to blow dust and dirt out of your PC. It's ideal for heavy users like gamers. 
Pros 
Powerful and functional 

Easy to use

Good lightweight design

Fast cleanup 
Cons 
Suitable for fast devices 
Like other top air compressors, this electric leaf blower from BLACK+DECKER is perfect for cleaning your PC. It comes with a 7-amp motor which provides plenty of energy to get the job done quickly and easily.
In addition, the airspeed of 180 mph and Airflow of up to 180 CFM mean this blower can handle some heavy debris. Besides, its cord retention feature prevents frustrating interruptions when you're cleaning. At just over 4 pounds, it is lightweight and easy to carry around. 
You don't have to sweat while using it to keep your PC and other devices free from dust and dirt. 

Overview
The BLACK+DECKER dust blower is one of the go-to air compressors in the market. It's suitable for users that want a compressor that keeps all their devices clean, including their PC. 
Pros
Quiet efficiency 

Lightweight make and design 

Easy to use 
Cons
Issues with recharging the battery 
The AFMAT Cordless Air Duster is another powerful, rechargeable air duster perfect for cleaning computers. However, its efficacy isn't restricted to just computers. You can clean other devices with it. Also, a duster produces a strong thrust of air that can quickly force out any dust from different circuit boards and other electronic components. 
The cordless design isn't just beautiful and makes this duster very easy to use. We know that power is a factor to consider when getting air compressors. That's why this AFMAT product has more than enough to apply and spare. 
You get up to 33000 RPM for air pressure, while the rechargeable battery contributes up to 6000mAh. Weight and noise must also be considered, and this compressor has both of them in good shape measures. It is lightweight, portable, and easy to use. 

Overview
From the features examined above, the AFMAT Cordless compressor is worth getting. It is best for busy enthusiasts looking to clean their PC anytime. 
Buying Guide for the Best Air Compressor for PC Cleaning 
– Benefits of Air Compressors PC Cleaning 
Keeps your PC in top condition

: Harmful stuff like dust and dirt could lurk inside your computer. Additionally, small particles beyond the human eye could also trigger an allergic reaction when inhaling them. You'd be protecting yourself and your PC when you use a device that

produces compressed air

to remove these unwanted items.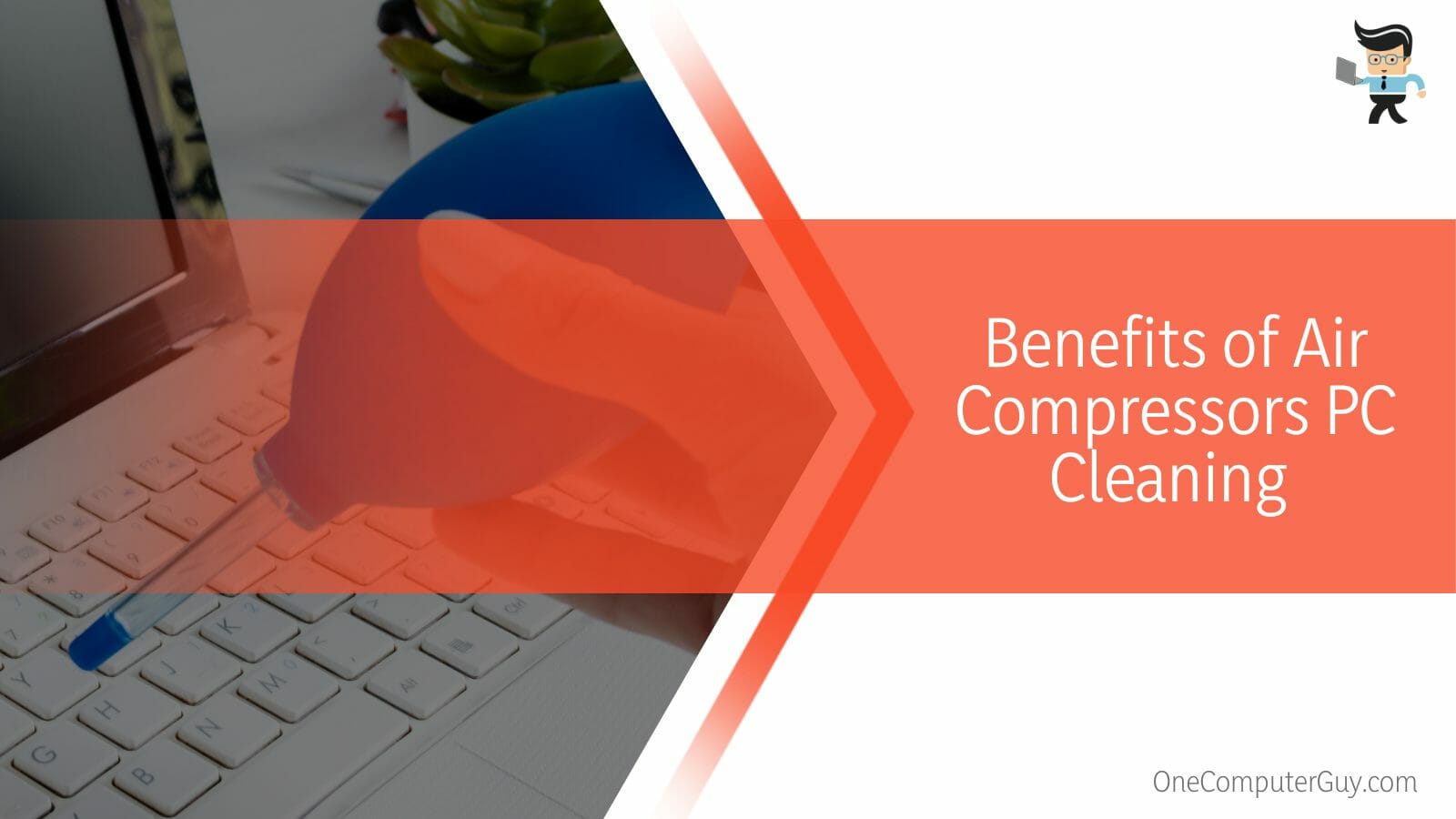 Your PC enjoys a longer lifespan

: It's never ideal to leave dust and debris inside your PC. If you don't care for them, expect the internal parts to disintegrate quickly in record time. Rather than spend so much replacing expensive parts, you'd best get an air compressor that

guarantees a longer lifespan for your PC

. Also, the internal parts will function to their full capacity. 

Deal with overhearing

: Gamers and regular PC enthusiasts hate a hot computer because heat often has an adverse effect on virtually every feature in a computer. Add debris to the heat, and you get a PC very close to malfunctioning and eventual breakdown. However, you'd be dealing with heat with a quality air compressor since your

computer will ultimately expend less energy

to satisfy your needs. 
– Key Features to Know When Buying an Air Compressor
So you've gone through the reviews and want to head to the market to choose a compressor for your PC. That's a great idea, but you still need to ensure it has all the features you need.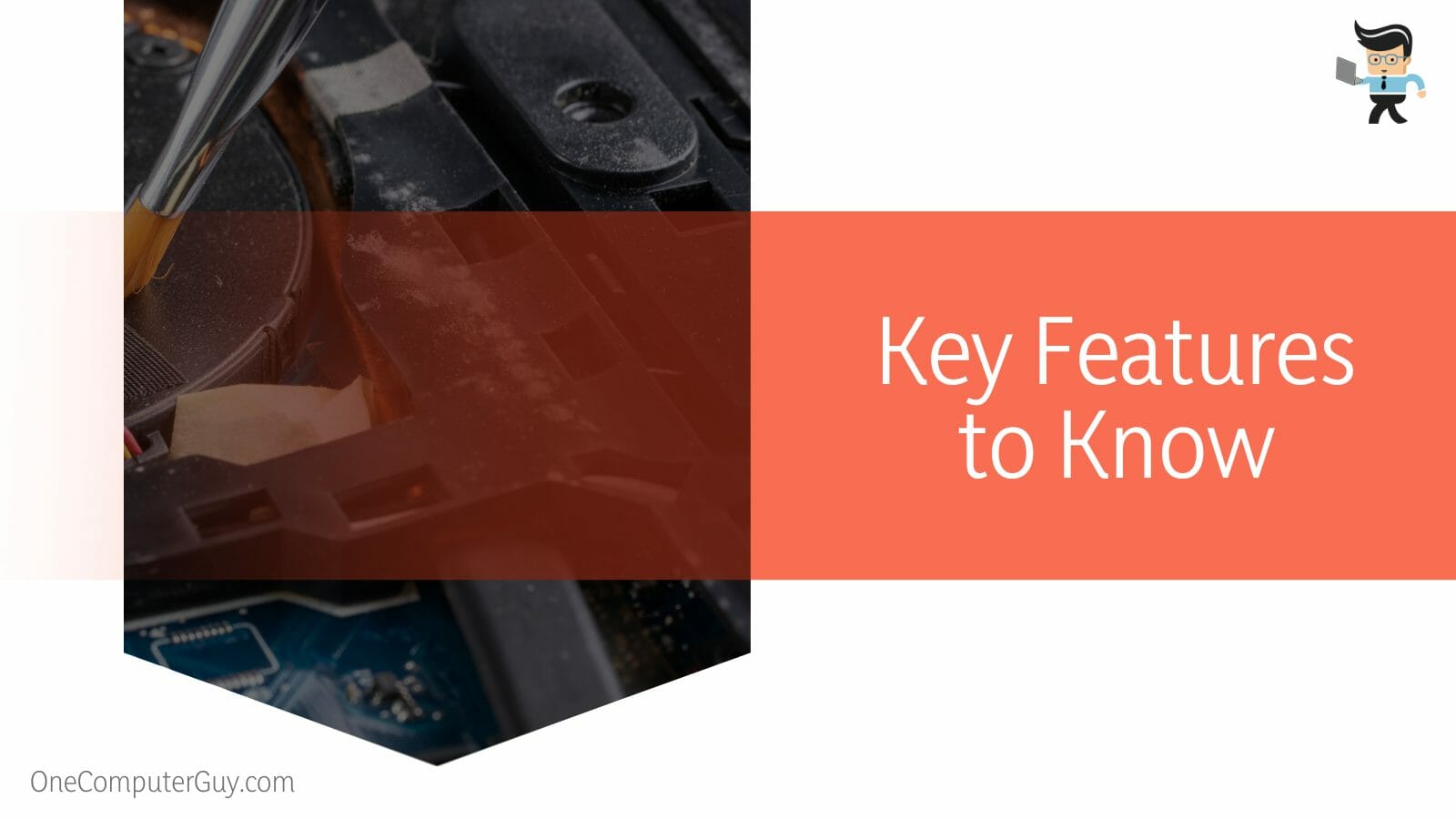 Here are some key features you must know when buying an air compressor: 
Power: The source of the power supply is an important factor to consider

when getting a compressor. There are three main types to watch out for: electric and rechargeable battery options.

Each one has its advantages, and depending on your preferences, you can make the right call.

For example, electric compressors are popular, easy to maintain, quiet, and efficient. This makes them the best to have around.
Airflow

: Since they are air compressors, you'll

need them to provide enough air

to blow every dirt and debris out of your PC. Whether you're cleaning only your PC or adding other devices to the mix, you'll need a compressor with a high-flow rate to deal with dust. Besides, the airflow is relative to speed. The more speed generated, the more air gets out to remove unwanted elements. 

Noise level

: With the engine and power in them, it's only normal that air compressors produce varying levels of sounds. However, the

noise level shouldn't be so loud

as to disturb the neighbors or the next person. Check the market for a model that gives you and others around you peace and quiet.

Portability

: Are you angling for a compressor that's more stationary than portable? It's always important to consider whether you can quickly move around with your device. That's where the weight comes into play. If you fancy heading out always or you're moving most of the time, you can

get a handy model to carry around

. 

Cord/Cordless

: What type of cord does the compressor have? Or does it even have any? These are questions to consider. If you want compressors with cords, ensure they're long enough to reach an outlet near you. A longer one will suffice if that's your preference. However,

modern air compressors do not need cords to make the difference

; they're also more portable. 
Conclusion
A clean PC is the owner's delight, but in the end, you can't just trust any air compressor for pc cleaning, as you need the best to help you keep your system clean, functional, and free from all types of dirt and debris.
This article has come up in time for you to choose the ideal air compressor for cleaning dust and other unwanted particles off your PC. As for us, the XPOWER A-2 Pro is perfect for PC cleaning, as it packs enough power for heavy use and is easy to use.