Does it make sense to compare the EVGA SuperNOVA G2 vs G3?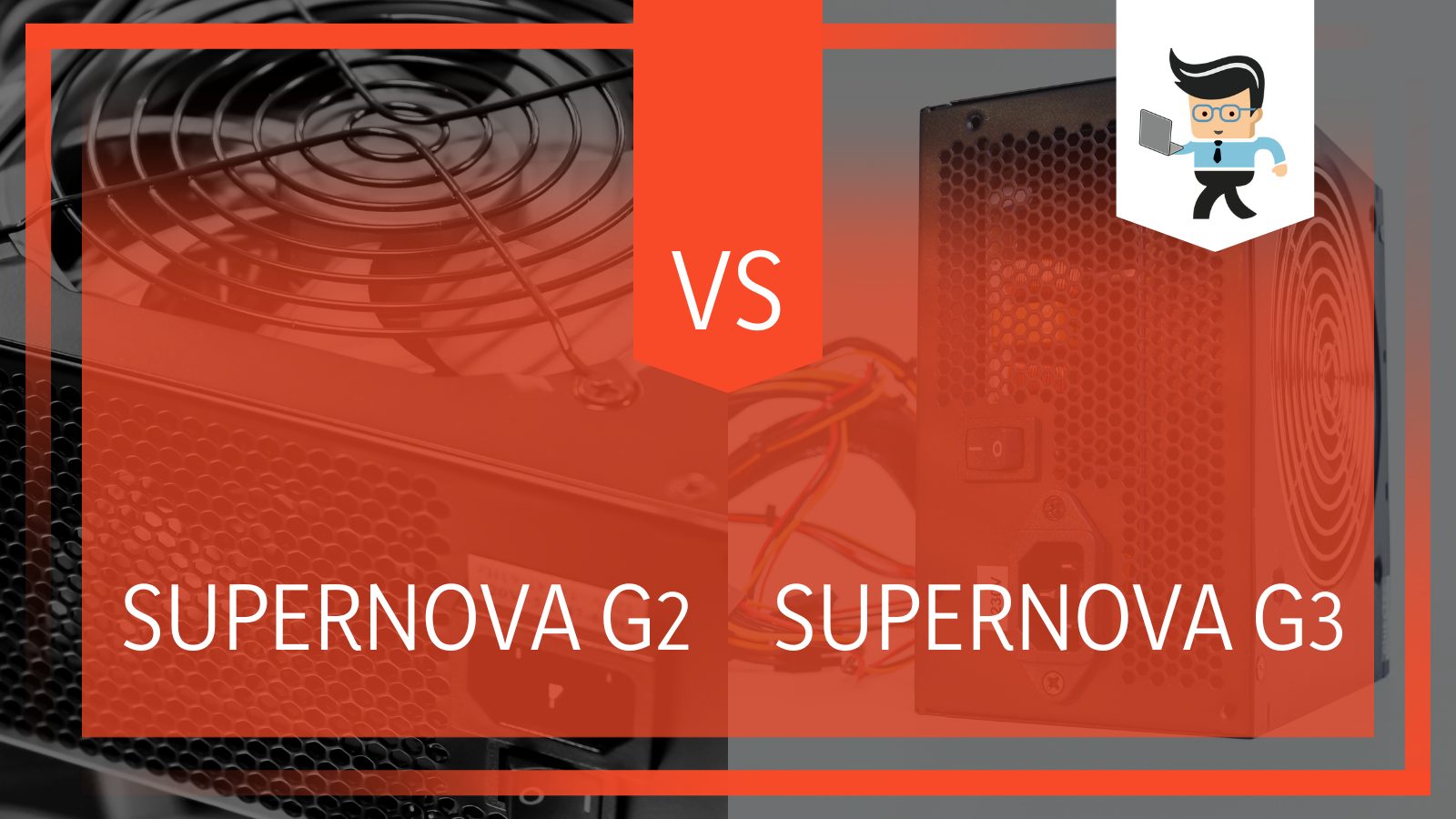 After all, isn't the later model always an improvement of the model before it? In many situations, yes and no. It is no different in this case.
The EVGA SuperNOVA G3 is a vast improvement over certain aspects of the EVGA power supply G2. Still, there are a few things that you will need to take into consideration before you actually buy it over its predecessor.
In this guide, we will break down the two options you have and help you understand where you may need one and where the other may be a better option.
EVGA SuperNOVA G3 vs G2: A Brief Comparison
| | | |
| --- | --- | --- |
| | EVGA SuperNOVA G3  | EVGA SuperNOVA G2  |
| Item Weight | 1 pound | 1.5 pounds |
| Product Dimensions | 5.91 x 5.91 x 3.35 inches | 7.4 x 12 x 11.2 inches |
| Item Dimensions LxWxH | 5.91 x 5.91 x 3.35 inches | 7.4 x 12 x 11.2 inches |
| Color | Gold | Black |
| Is Discontinued by Manufacturer | No | No |
| Date First Available | October 20, 2016 | May 30, 2013 |
1. EVGA SuperNOVA G2 Review
This is one of the premier power supplies that set the bar for other companies and all of the other power supplies in the SuperNOVA line.
It is durable and silent under even the toughest of loads and the quality of the fan is something that you don't see in future models.
– EVGA G2 Specs
The G2 starts at one of the highest capacities and moves up from there, reaching 1 kW. This is the founding member of the Super Flower OEM family, which stands up to the tests of time.
It is rated at 80 PLUS Gold efficiency and has an ETA-A rating from Cybernetics. It also has Over-Temperature Protection (OTP).
– Connections
Compared with some other more expensive models, the G2 offers fewer connections, but it still gives you plenty of choices.
There is only one EPS connection, but a higher number of SATA and peripheral connections are available. Some people have complained about cable length, saying that they were too short, but the wires themselves are a maintainable thickness, so you can easily tuck them away and build something cleaner.
– Resiliency
This is a resilient piece of equipment thanks to the 80 Plus Gold standards and fully modular cabling design. It also has a passive mode that newer power supplies have abandoned. If you are looking for an item that lasts longer, this one is perfect. The fan is double-ball-bearing, meaning it is almost guaranteed to work for life.
– Noise
There are some noise issues with this power supply, but it isn't anything overbearing. If you are used to the noise levels of newer fans, it may seem like a lot. However, when it was launched, it was considered quiet for the time.
– Build Quality
As you've come to expect from EVGA products, the build quality of the G2 is superior. It uses thicker plastic and real metal in places that other builds don't, improving quality quite a bit.
– Load Regulation
Load regulation isn't as tight with the G2 as it is with the G3, but it is still a good performer. One thing you need to be aware of is that the G2 can be impacted by the outside temperature, so it may not be the best option for hot environments.
It will get louder the hotter it gets, so you need to be prepared for that. In general, our experts found that a neater design will help with load regulation.
– Warranty
EVGA offers a 7-year warranty on the EVGA SuperNOVA G2. The models that have a 750 or more capacity will have a 10-year warranty.
Pros
Extremely efficient;
Good temperature control;
Double-ball bearing fan;
Good connections;
Ripple suppression
Cons
Some time delays;
4-pin connectors located in odd places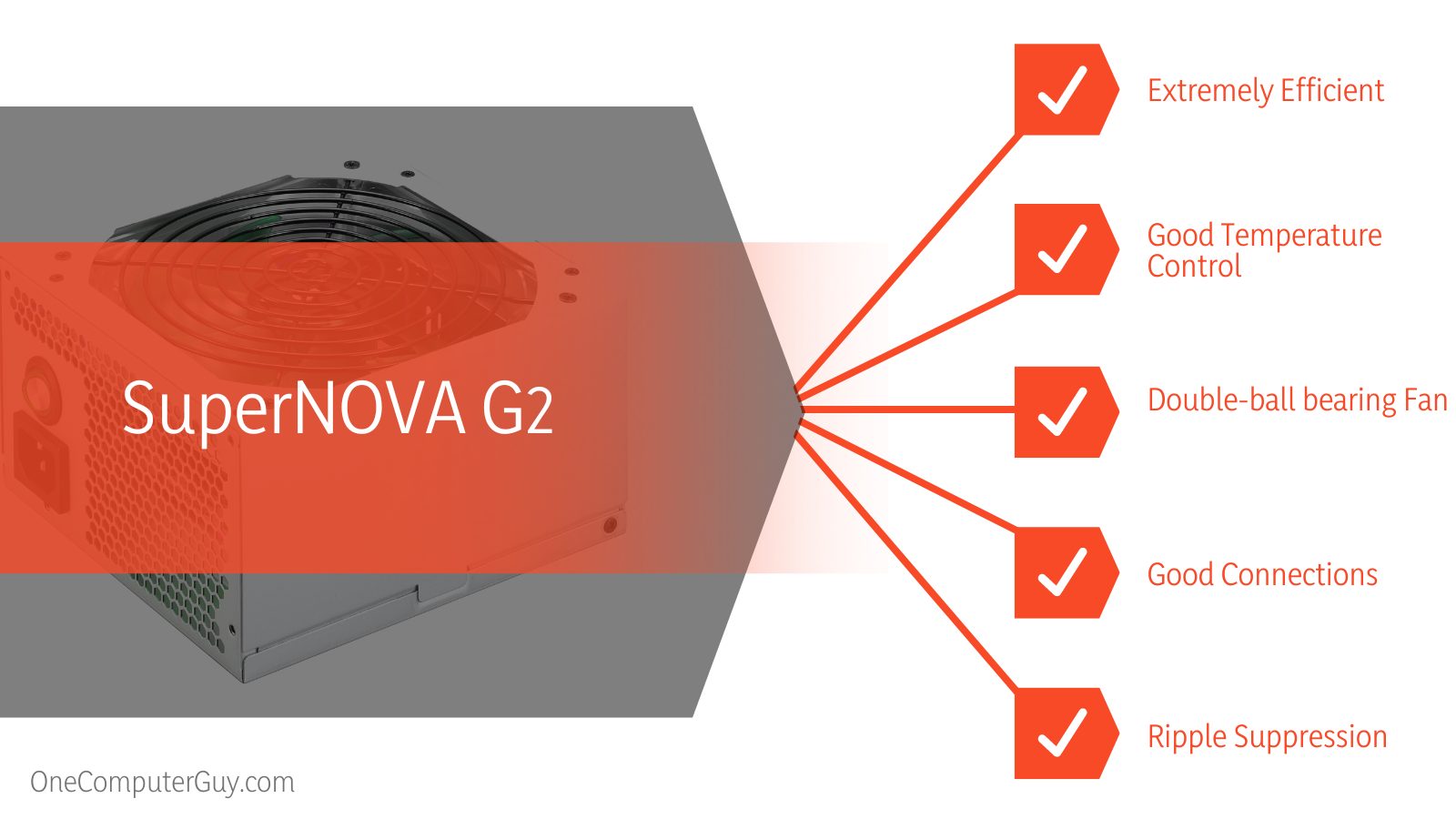 – Overall
If you are looking for the OG of coveted power supplies, this is going to be one of your best bets. It is an old-school power supply, so it is a bit larger and heavier than today's models, but it is still tough and gets the job done.
However, if you work somewhere like a kitchen or something that gets hot, consider getting the G3 instead, as the G2 is highly impacted by hot temperature.
2. EVGA SuperNOVA G3 Review
The SuperNOVA G3 is a wonderful piece of equipment that is easier to use than the G2, but there are some things you need to take into consideration before you decide to buy the "newer" model.
– EVGA G3 Specs
The G3 has five different capacities that range from 550W to 1kW. The power family goes back to the Super Flower OEM, which stands up to the tests of time. It is rated at 80 PLUS Gold efficiency, and has an ETA-A rating from Cybernetics.
– Connections
The connections are where the G3 hits some rough road. It has only one EPS connector and three PCIe ones, which results in usability issues for some people. There are fewer SATA connections as well as fewer Molex connections.
However, it is simpler to connect and use for those just starting in the building process. It's important to note that the cables themselves are thick and bulky, so this may not be the best choice for a showy case.
– Resiliency
If you overclock, there are some resiliency issues with this as well. It doesn't have a ball-bearing fan that can withstand hot temperatures. Too much overclocking could result in issues. Gamers will have to monitor temperatures at all times when they are overclocking. When not overclocking, it isn't an issue.
– Noise
As far as noise goes, this is one of the quietest options you will find. It does have some noise output, particularly under heavy loads, but it is manageable.
– Build Quality
Super Flower uses the 130mm HDB fan, allowing this to fit into compact cases. The resonant controller is a great one that improves upon the G2.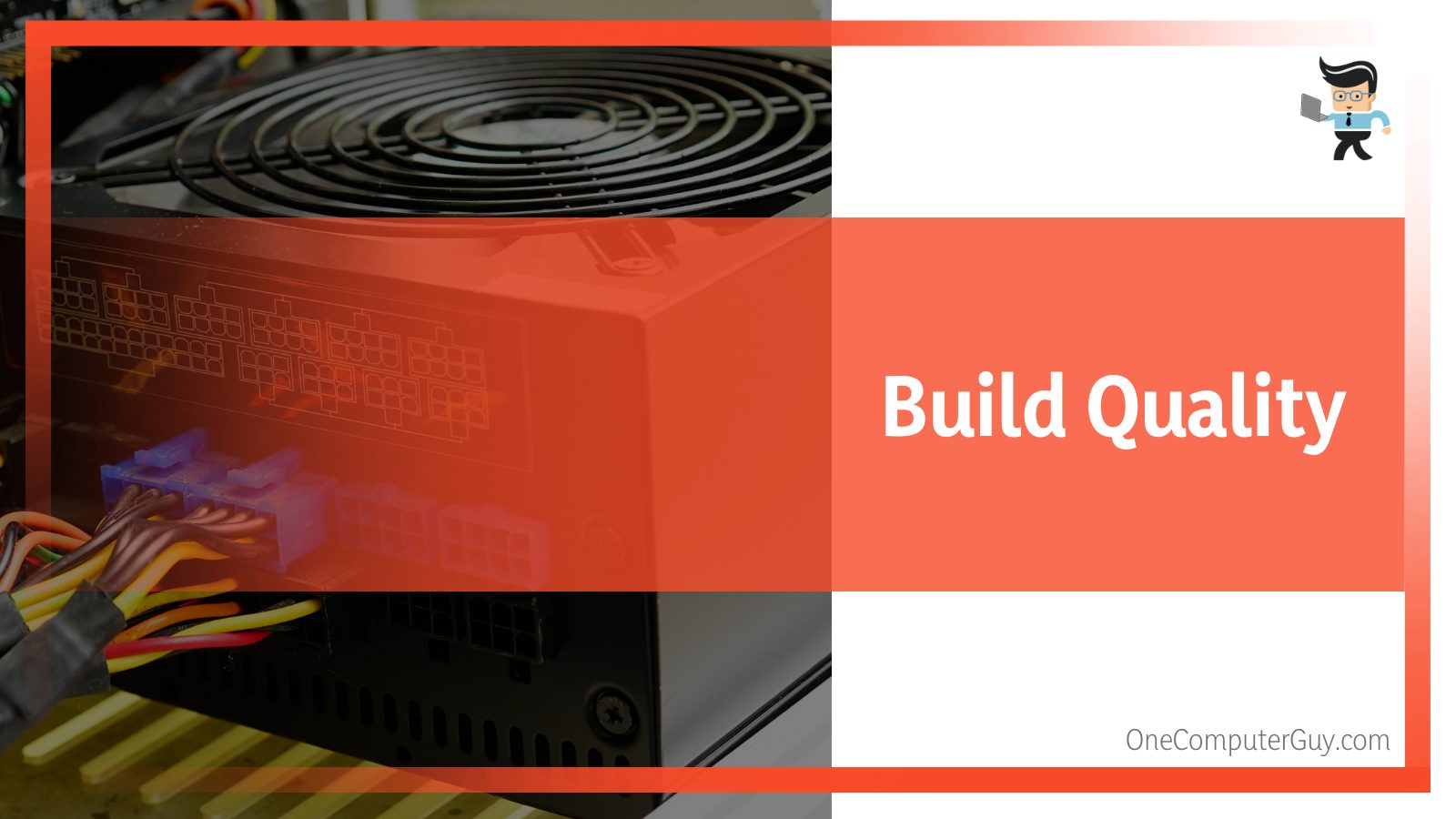 The build quality overall is quite good, though some users (particularly those who overclock regularly) have noticed issues with the modular board lifespan. However, if you keep the stress on these low, you will benefit from a long lifespan.
– Load Regulation
Load regulation is tight, which is a good thing for performance. The G3 isn't impacted by outside temperatures and even overclocking temperatures are lower than other options within this price range.
As the temperature increases, the fan is going to speed up and get noisier, however. When you build your PC, try to keep airflow in mind to help with sound and load regulation.
– Warranty
EVGA offers a 7-year warranty on the EVGA SuperNOVA G3.
Pros
Good price point;
Full power at a low temperature;
Efficient to use;
Quiet;
Good quality build.
Cons
Single EPS connection;
Cables are bulky;
Fewer connections.
– Overall
You will be hard-pressed to find a better option than the EVGA SuperNOVA G3. It is missing a few cable options and connectors, but that makes for a sleeker design (and you don't need many of those connectors anymore anyway.)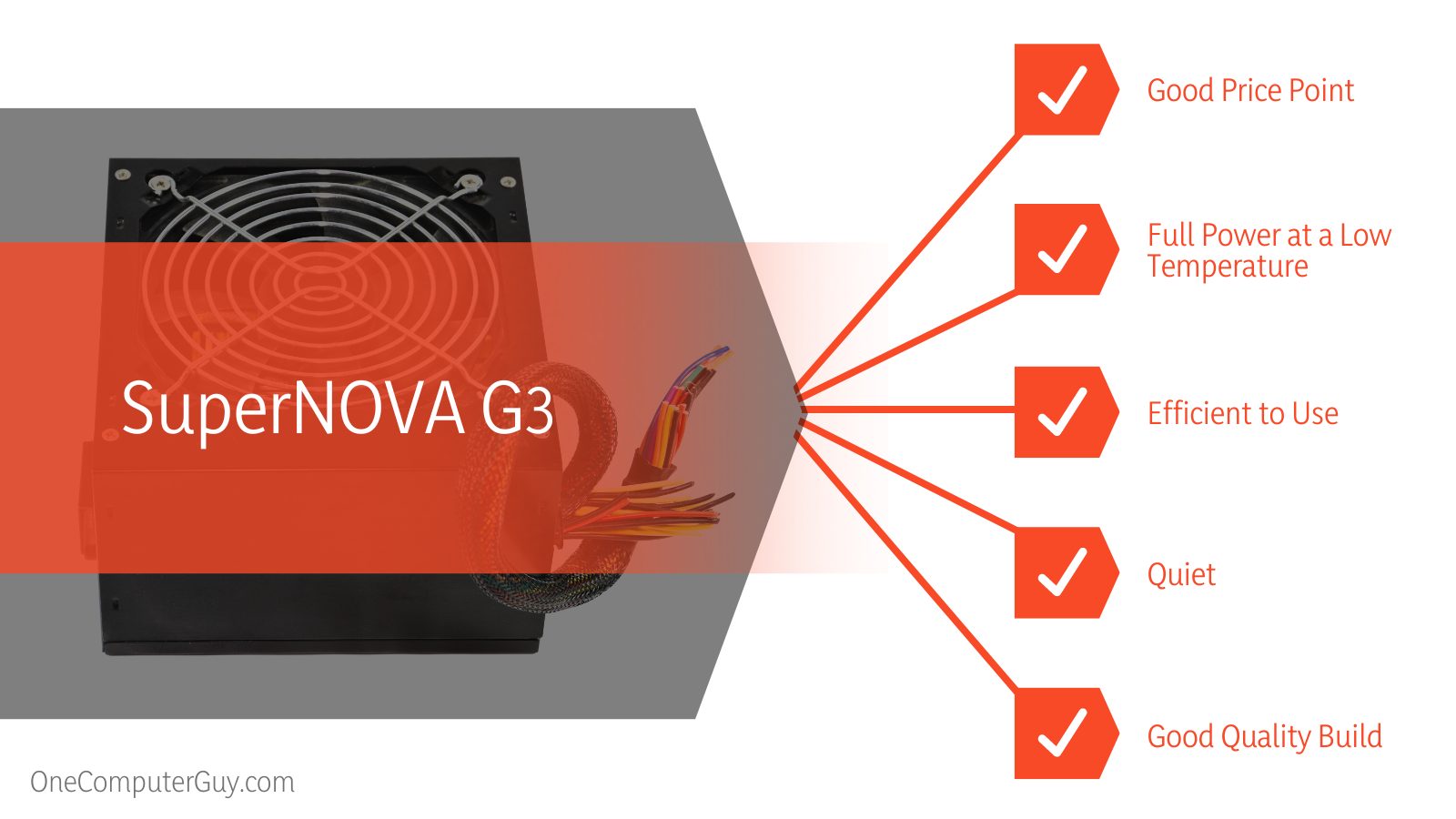 Does the EVGA SuperNOVA G3 Improve Over the SuperNOVA G2?
Overall, yes, the SuperNOVA G3 is a big improvement over the G2, particularly if you want something that comes with a lower profile. It is quieter, has a better fan, and generally looks better than the G2. There are fewer connectors, making it difficult to wire and get a plethora of options, but most people prefer the more straightforward options anyway.
Most mid-range graphics cards will only need the single connector, so as long as you know that, the other benefits of G3 make it a much better product. If you plan to buy a better quality graphics card, you may need two connections, which makes the G2 a better option there (but not necessarily the best option in terms of performance).
Conclusion
Overall, we'd suggest buying the G3 over the G2 for almost every use case. It holds up, is future-proofed and fits into the price range of other products.
You may have to play with it a bit when setting up the fan, particularly the temperature ranges, but once you do that, it is a beast of a machine. There is some noise, but not a lot.
One more tip is to check out whether or not there are any rebates available for the EVGA brand or the SuperNOVA in particular. You may be able to find one and get this even cheaper, regardless of where you buy it.