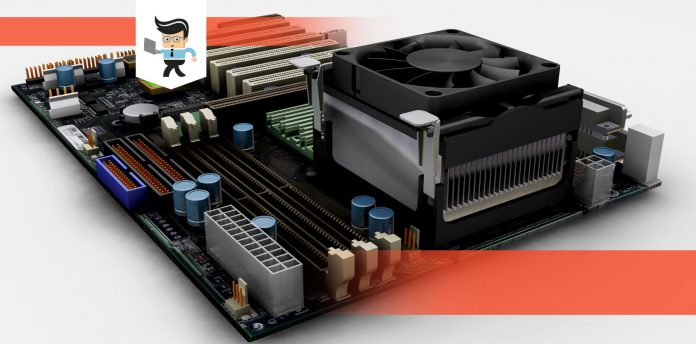 A UTAX board is a fairly large investment for people to make, so what kind of motherboard should you get? Should you get the UATX or the ATX motherboard? If you are looking to build your own computer, the motherboard is going to be one of the most critical choices that you make.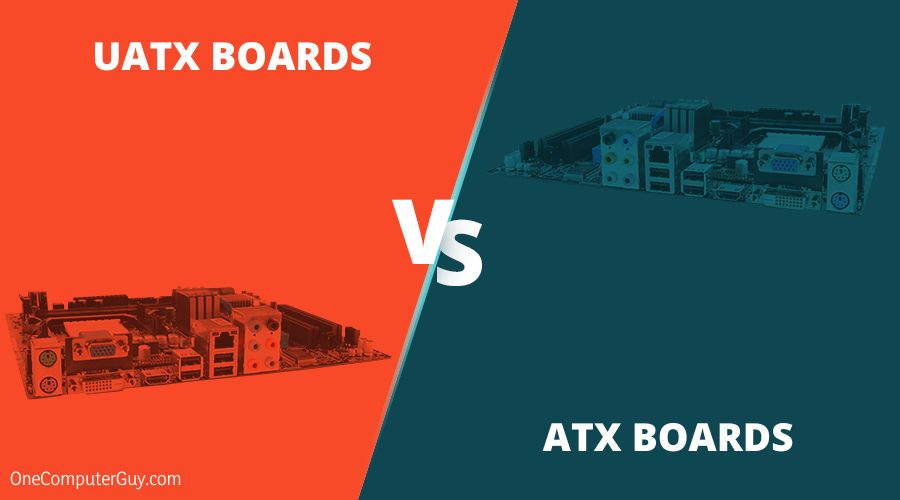 However, it can get quite difficult to determine which one is the best for you. People have varying opinions and tend to become too dedicated to specific brands or types.
Motherboards vary so much that it can be nearly impossible to compare them. You need to look at features, costs, size, specs, form factors, and so much more.
The main thing to remember is that you need to do as much research as you can before you make a purchase.
First-time builders tend to struggle with understanding form factors and which one is the best. In this article, we will try to break down the main differences between the UATX and ATX and how they will impact which form-factor motherboard is the best option for you. Be prepared to take notes!
Key Specifications
UATX Boards

least expensive option
features only one or two PCIe lanes
perfect choice for single GPU PCs

ATX Boards

more PCIe lanes
higher RAM capacity
better aesthetic choice
UATX vs ATX
When comparing the UATX and the ATX, there are a few things you will notice that are the same about them. However, the differences are a bit harder to find. The biggest difference between UATX Boards and ATX Boards is their dimensions:
Standard ATX: 12.0″ x 9.6″
Micro-ATX (UATX): 9.6″ x 9.6″
Mini-ITX: 6.7″ x 6.7″
As you may have noticed, the standard ATX and the UTAX has the same width, but the UATX is a few inches shorter, which makes all of the difference. The standard ATX motherboards will have more PCIe lanes, which is an advantage for some people.
If you need to have a multi-GPU setup or want to utilize multiple PCIe devices, it is in your better interest to go with the standard ATX. The UATX, on the other hand, is smaller and features only one or two PCIe lanes. However, the smaller size means that they are compatible with smaller form-factor cases. There tend to be more options for small form-factor cases.
When comparing the sizes of the UTAX and ATX motherboards, you will have to think about what PC cases you can use and which ones you cannot use.
For example, if you want to build a smaller gaming computer, you probably do not want to use the standard ATX motherboard. Instead, you will want to use the UATX motherboard. If you are okay with a larger case size, you will be able to use any motherboard you want and will have to look at other specs.
Keep in mind that most medium and large-sized cases will be able to accommodate a smaller form-factor motherboard. If you want a good looking machine, however, you might want to think about what a smaller motherboard will do in a large case.
You will have a lot of open space and everything will be tightly packed into the upper left corner of your case. The opposite is not true: you cannot use a standard ATX motherboard in smaller cases.
What Is UATX Form Factor & Other Specification
If you aren't sure whether UATX or the standard ATX would be better for you, or you don't have a preference for case size, you can move onto the form factor.
In this section, we will give you a basic overview of the pros and cons of each form factor (with a bonus form).
The ATX is the standard form factor. It is the best option for overclocking. It is also a better aesthetic choice for those who have chosen a case that is clear. It has more PCIe lanes (which means more options for accessories) and it has a higher RAM capacity. In general, it offers the most options for personalizing your kit and getting the most powerful machine.
However, the ATX does tend to be the most expensive option for most people (unless there is a sale price) and it doesn't fit inside most smaller cases.
The UATX is the least expensive option, making it the first one that most people look at when they are going to buy their motherboards. It is the perfect choice for single GPU PCs and it can fit into pretty much any case. It has a good amount of RAM (though not as much as the standard). In general, it tends to be the best option for people doing their first builds.
However, the UATX isn't a great option for those who need multi-GPU setups. It also isn't good for extreme overclocking or overclocking for a long amount of time. For those building for looks, it typically doesn't make the prettiest builds.
✔ Mini ITX
While we didn't go into the specifics of the Mini-ITX, it is important to look at it in comparison to the other form factor options. The Mini ITX is best for smaller cases and those who want a smaller size but still want aesthetics.
Even though it is better for aesthetics, it doesn't look right in the larger cases. It is also more expensive than the UATX, despite being smaller and having fewer options. Finally, it won't work for multi-GPU setups and, therefore, lacks what most gamers will need. It isn't ideal for overclocking, and it only has two RAM slots.
Which ATX Motherboard Should You Choose?
For many people, reading over the pros and cons should have given them what they need to make the appropriate choice. However, if you are still unsure, there are a few other things you want to consider. These aren't going to be the only things that you should look at, and many of them are based on anecdotal evidence, but it can help you make a choice.
If you are still thinking about what form factor makes the most sense for you, figure out what type of builder you are, and that will help you.
1 – If You Are A Budget-Friendly Builder Who Cannot Spend A Fortune…UATX Is Your Choice
If you are on a budget (and aren't we all) but you still want to build a really great gaming PC, your best bet is to choose the UATX or micro-ATX motherboard. Why should you choose this one? Well, it falls in the sweet spot of most budgets.
Builders tend to spend most of their money on graphics cards, processors, and memory. This doesn't leave a lot left for other aspects, but you will want to get the best that you can. You absolutely shouldn't buy low-quality components. With a UATX, you will get something that works perfectly well and still get the main features of the ATX motherboard at a cheaper price point.
The only thing you will miss out on with this lower price point is that the aesthetics aren't there. You can make up for this in other ways (and the case will cover a lot of it anyway). You will also sacrifice some PCIe slots. However, for budget builders, they don't go for the accessories and extras that are needed to make the ATX motherboard worth their price.
If you are looking to make an impact on your gaming, but not your bank account, go with the UATX.
2 – If You Are Looking To Build The Ultimate High-End Gaming PC…ATX Motherboards Will Be Your Best Bets
If you want to get the best gaming PC that you possibly can, you need a motherboard that offers all of the possibilities in the world. A standard ATX motherboard will have space for multiple graphics cards, the ability to overclock and push it as far as you can, and has the aesthetics that people love.
You will want to look at higher-end standard ATX motherboards to get the best experience. Be sure to read reviews and make your decision based on actual gamers.
Even if you don't have the budget for an ATX motherboard and all of its accessories, it is fairly easy to add more to it later. When you have a strong base, you can build from there.
3 – You Are Looking To Build A Small Form Factor PC Or You Do Not Have Room For A Bigger PC…UATX or Mini
If you are looking to build a PC to fit into a smaller area or just because you want it to be mobile and ready to transport, you can choose between either the UATX or the mini size. Obviously, if you want to go as small as possible, the mini is a great choice.
Even so, you won't get a powerful gaming experience. Smaller form-factor PCs are best for those who want a system that they can take with them to have gaming parties. Even so, a UATX will help you to get power and still have a smaller footprint. It may not be as portable, but it is still a good common ground.
Choosing The Right Motherboard For Your Needs
It can be difficult to make such an important choice, especially if you are just working on your first build. Take a deep breath and make sure you think about what you really need. If you need something that is going to give you a powerful gaming experience, it is best to get the best options that you can.
Even if this means saving for a little while longer, it is worth it. Hopefully, this guide was able to give you a better idea about UATX form-factors and which one is right for your particular needs.
There are plenty of motherboard reviews to give you better insight into the different options you have from specific brands.