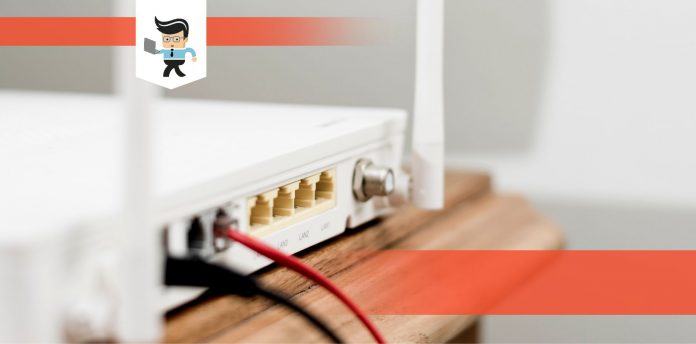 Going through this RT-AC87U vs. RT-AC68U comparison must mean that your mind is set on the router brand to use — Asus. You've made a clever decision because Asus is a proven brand with a record that needs no introduction, and this brand has followed up with these two devices.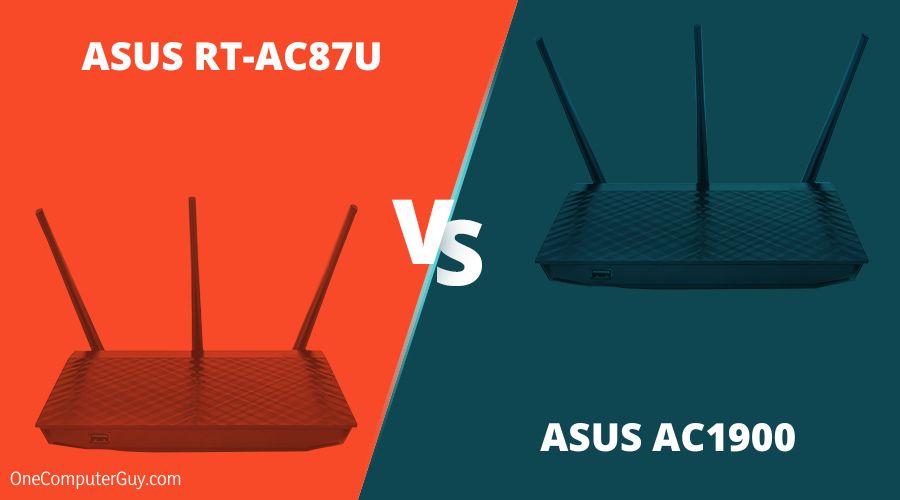 Both of these routers have a lot in common, including some specifications and shared capabilities, but their distinct qualities still stand out. You have our review team to thank for a comprehensive review and head-to-head of both routers, their designs, and their advantages and drawbacks.
RT-AC87U vs RT-AC68U: The Key Specifications
Products 
Key Specifications 
RT-AC87U

Connectivity: Wired/Wireless
Ports: 5
USB: Two ports 2.0, 3.0
Frequency: Dual-band
Data Rate: 2400 Mbps
Antenna: 4

RT-AC68U

Connectivity: Wired/Wireless
Ports: 5
USB: Two ports 2.0, 3.0
Frequency: Dual-band
Data Rate: 1900 Mbps
Antenna: 3
RT-AC68U and RT-AC87U: Comparing Two Functional and High-Quality Routers
If you want a router to serve as a home network or an option for your office, you'd appreciate a device that's fast and reliable. These two routers are precisely that and have a lot in common, including coming from the same brand. As such, you can expect quality features from both.
For example, the RT-AC68U is built with a dual-core processor that eliminates the performance drops that plague other routers. That's why even on the busiest home networks, HD video streaming comes off as smooth, while the latency is perfect for online gaming and VoIP calls. Also, file downloads almost never get interrupted.
For the RT-AC87U, we wouldn't be saying too much by referring to it as having the world's fastest speeds, ranking at 1734 Mbps at 5 GHz. That combines for a total bandwidth of 2334 Mbps, which is even faster than tri-band 3×3 routers. As a result, the RT-AC87U delivers lag-free online gaming and a silky-smooth 4K/UHD video streaming.
With that said, this Asus routers comparison will help us understand which of these routers can effortlessly cope with the most bandwidth-demanding tasks and other related functions.
Pros
Ultra-fast speeds and seamless connections
It comes with MU-MIMO capabilities
Feature-packed User Interface
Superior range and extra ports
Cons
The Asus RT-AC87U is a 4×4 MU-MIMO-enabled wireless router that delivers a consistent and strong performance. We've noted how awesome the interface is, and there are many settings for expert users to play with. It's an impressive device, being one of the first to offer four antennas combined with MU-MIMO technology.
These two features combine to make it ultra-fast and the best bet for homes with multiple wireless devices connected.
– Speeds: Ultra-High-Speed Performance
A ultra-high-speed performance is what you get with this 802.11AC Wi-Fi router with a combined dual-band data rate of 2334 Mbps for smooth connections. You get up to 4K/UHD video playback, ultra-fast file-sharing of large files, and low latency while playing online games.
– Antenna and Connectivity: Well-Ranged and Strong
The Asus RT-AC87U specs include the earlier mentioned 4×4 MU MIMO antenna design. We all know that range and connectivity play a considerable role when many devices are connected to the routers. Sure, the dual-band capacity helps, but the AiRadar universal beamforming for unrivaled multi-device performance and wireless signal coverage takes it up a notch.
– Ports: Make Wired Connections
There's a built-in USB 2.0 and USB 3.0 Port, for up to 10 times faster data transfers to USB storage devices.
You can also do some printer sharing or use the 3G/4G dongle support. Along with that, you get a cumulative number of five ports for WAN and LAN connections.
In addition, the Asus Cloud enables you to access, sync, share, and stream your files anywhere, on any internet-connected device. Get set to have the USB 3.0 port, which offers 10 times more data transfers than the USB 2.0.
– Security: Keeps You and All Connections Safe
Apart from the WEP, WPA, WPS, and other variations, this router offers Aiprotection with trend Micro coupled with triple-strength total network security. It adds robust parental control and privacy protection to the mix.

– Overview
To conclude our Asus RT-AC87U review, we like that it combines smart design with a simple but feature-packed interface. If you want impressive performance, speed, and safe connections, get this router.
Pros
Fast connection and signal
Polished User Interface
Sharp build and design
Offers credible security
Cons
Annoying non-removable stand
Not much better than previous models
If you're looking for an 802.11AC router with great range and throughput, this Asus RT-AC68U appeals. It's a dual-band Wireless-AC1900 Gigabit router that is perfect for small businesses.
However, you can't mistake the polished User Interface, which lets you navigate the router and put it to many uses. That makes it the perfect option for areas with coverage problems because of its strong wireless connection.
– Design: Impressive Specs to Keep You Busy
The Asus RT-AC68U specs include a nice and sharp design with the gold Asus logo and a decorative diamond pattern on the chassis. The dimensions are typical of other Asus routers thanks to a compact form factor that comes with a non-removable stand, which can be annoying. However, that doesn't detract from its capabilities.
– Speeds: Gets the Job Done
While the RT-AC87U you is much faster across the board, you get the latest dual-band 802.11 AC 3×3 technology for a combined 1900 Mbps. That's not bad at all for a small home office or as a home network. There's also a 1 GigaHertz dual-core CPU to enable smart multitasking by dedicating separate Wi-Fi and USB data lanes.
– Setup and Security: Smooth and Secure
The regular security protocols on Asus routers are present here, such as the WPA-PSK, WPS, WPA2-PSK, and other variations. They all combine to keep your network and connected devices safe.
The setup of this router is best described as effortless thanks to the ASUSWRT web-based interface and dual-band connectivity for compatibility and performance. What's more, you can monitor and manage your network with ease from your mobile device using the intuitive ASUS router app.
More protective measures are powered by Trend Micro, which provides multi-stage protection ranging from vulnerability detection to protecting sensitive data.
– Ports and Connectivity: More Options
Just like its counterpart above, this router comes with a set of ports. You have a combined five ports featuring both WAN and LAN wired connections. That way, you can connect your Ethernet cables and other network cables.
USB ports are also available, including a single 2.0 port and USB 3.0 port. Modems and USB sticks can be connected to this router, and you can also transfer files at fast speeds.

– Overview
Going by our Asus RT-AC68U review, this is a dual-band Gigabit router that offers excellent performances across a short range. If you want a home router or something to fit your small business, it's worth the buy.
Asus RT-AC87U vs Asus RT-AC68U: Which Router Wins the Head-to-Head Battle?
The main difference between RT-AC87U and RT-AC68U is, RT-AC87U is much faster and more seamless, plus it comes with MU-MIMO technology compared to RT-AC68U.
Speed
Both of these devices are AC routers. That much is clear, but then the RT-AC87U is so much faster and seamless across both bands. Its combined 2400 Mbps data rate deals a massive blow to the 1900 combined data rate on the RT-AC68U.
However, both these routers have a fast processor, which is necessary for different functions. Dual cores are also featured on these two routers, but the RT-AC87U takes it a step further with a second dual-core CPU used for its 5GHz Wi-Fi band.
Ports
USB ports, LAN, and WAN ports feature on both routers. They each have a USB 2.0 and USB 3.0 port coupled with a combined five ports on each. HD streamers will have fun using the USB 3.0 port, which also comes in handy for storage. The USB 2.0 port is also available for printing and file transfers.
Extra Features
Since the Asus RT-AC87U vs. Asus RT-AC68U comparison is a close one, the extra features make much of a difference, and that's where the RT-AC87U wins.
The RT-AC87U comes with MU-MIMO technology which is the next generation MIMO. With MIMO, users could only process one client at a time, but MU-MIMO lets multiple users have the benefits of MU-MIMO at the same time.
This feature is excellent in environments where Wi-Fi flows bounce (reflect) off furniture and arrive out of sync with non–reflected flows. It works by taking the out-of-sync flows and merging them into a fluid flow to enhance throughput.
In addition, the RT-AC87U has four antennas, one more than the three on the RT-AC68U. Moreover, the RT-AC68U doesn't come with MU-MIMO capabilities.
FAQ
Are both routers suitable for gaming and streaming?
Yes, both the RT-AC87U and RT-AC68U are optimized for gaming and streaming, offering reliable performance for such demanding tasks.
How do the security features of these routers measure up?
Both the RT-AC87U and RT-AC68U come equipped with ASUS AiProtection, ensuring a secure online experience for users.
Can I set up a guest network on these routers?
Yes, both routers allow users to set up guest networks, ensuring visitors have internet access without compromising the primary network's security.
Do these routers support USB device sharing?
Yes, both the RT-AC87U and RT-AC68U have USB ports that enable users to share printers, storage devices, and other USB-enabled devices across the network.
Conclusion: Is There a Definite Winner?
It's no secret that these two routers are similar. After all, they both come from the same Asus brand. However, we observed that the RT-AC87U is the clear winner here.
Sure, they both have excellent processors, but not many routers, including the RT-AC68U, come close to the sheer speed and connection offered on the RT-AC87U. There's also the latest MU-MIMO tech embedded in this router. Overall, we'll advise any regular and new user to pick the RT-AC87U router.