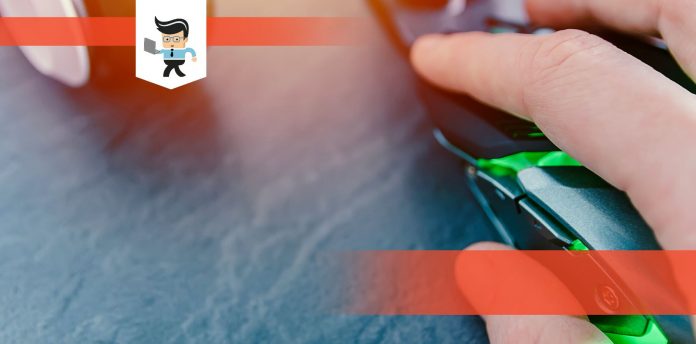 Going through our Rival 600 vs. Rival 700 head-to-head comparison will make you fall in love with SteelSeries. It's a brand that offers amazing product features with a refined look, plus a general outlook of their market many regular users and gamers will appreciate.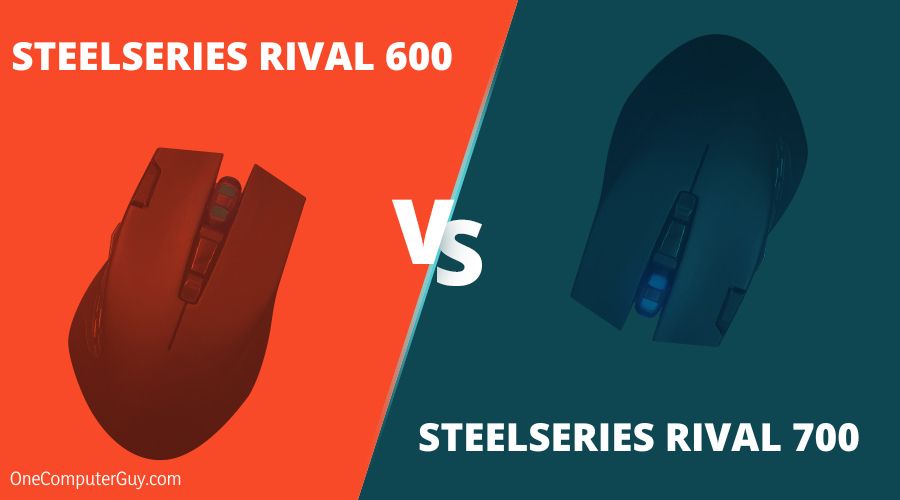 These two mice look beautiful, have a great feeling while in your palm, and provide unparalleled performances. When you add the ability to customize their features, you'll find both are worth keeping.
Our review team dives deeper to showcase their capabilities and help you decide which one is worth purchasing.
A Glance at the Key Specifications
Product 
Key Specifications 
SteelSeries Rival 600

Movement Technology: Optical
Connectivity Type: USB
Buttons: 7 programmable
Software: SteelSeries Engine 3
Ergonomics: Magnetic wrist rest
Max CPI: 12,000
Optical sensor: TrueMove3

SteelSeries Rival 700

Movement Technology: Optical
Connectivity Type: USB
Buttons: 7 programmable
Software: SteelSeries Engine 3
Ergonomics:
Max CPI: 16000
Optical sensor: Pixart 3360
SteelSeries Rival 600 and SteelSeries Rival 700: Head-to-Head Comparison
If you're a dedicated gamer, then you know just how important a gaming mouse is. It changes your perspective about a lot of things and helps you personalize your experiences.
Then there's the quirk of having programmable buttons and RGB lighting options that come with some mouse. For the Rival 700, you have an OLED screen and tactile alerts, while the Rival 600 sports a split trigger mechanism.
They're both useful, and as we go on with this review comparison, you'll find extra features and designs that make them worth many looks.
Pros
Quality gaming experience
Excellent design and ergonomics
It performs well across different uses
Excellent customization
Cons
It's not ideal for moving around with
Not ideal for smaller hands
Our SteelSeries Rival 600 review of this device starts with recognizing its beautiful looks and great feel. You can expect terrific performances from it coupled with one of the slickest customization options on the market. The software is good enough, even though many dedicated gamers would have observed it's a bit lacking.
– Design and Features: Stylish Build
The first thing you'll notice about the Rival 600 is that it's stylish; the two RGB LED strips snaking down the mouse's center have a lot to do with that. You'll find two grooved face buttons and a contoured scroll wheel.
It's an angular and attractive mouse without going over the top. What's more, it has a detachable cable, which means the cable won't get easily damaged when you travel with it. But the cable isn't braided.
Under the scroll wheel, there's a dots-per-inch (DPI) sensitivity and three thumb buttons – two horizontal ones where the thumb usually sits and one diagonal one in front of those two. That's not the norm on most mice, but you'll get used to the arrangement in no time.
– Adjustable Weights: Innovative Addition
The adjustable weights on this mouse are an innovative addition by SteelSeries. Each side of this mouse is magnetized, and you can detach them when you flip the mouse over, using a gentle pull.
It's an excellent addition that keeps the side panels firmly in place during play sessions, and the seams on the topside are nearly invisible.
– Performance: Best for Gamers
The SteelSeries Rival 600 specs combine to make it quite the exceptional gaming mouse. Much of that is down to the brand itself and the easy-to-grip design on the outside and a Pixart TrueMove 3 optical sensor on the inside.
With that, the Rival 600 allows for a wide range of movements and tracks in-game actions accurately.

– Overview
This mouse will appeal to gamers with particular reference to those who play FPS video games. It gives off an overall excellent performance with several customizable features and large buttons. You'll appreciate its low latency and exceptional ergonomics.
Pros
Comfortable modular design
RGB lighting and OLED screen
It has tactile alerts
Top-notch gaming personalization
Cons
Favors right-handed users
From the Rival 700 dimensions to its height-adjustable features, it's easy to see why it's such a catch for many gamers and regular users alike. The extra features and additional braided cable makes it a worthy buy.
– Design and Features: Smooth Performance With a Classic Look
When you take this mouse out of the box, you'll be faced with a mouse that offers smooth features and a classic look for a gaming mouse. It's primarily black plastic and has a matte finish on the left- and right-click buttons.
Further, the body features a rather large curve on the right for comfort, giving it an asymmetrical shape, coupled with textured rubber grips on both sides. However, this asymmetrical design means the Rival 700 is for right-handed users only.
For the left side of the mouse, you'll find three programmable buttons with an OLED screen. That's quite an addition from SteelSeries, along with a ridged scroll wheel with RGB lighting.
We also noticed a button beneath the wheel that lets gamers toggle between two sensitivities in the SteelSeries Engine 3 software.
Note that all seven buttons on this mouse are programmable in the software and allow you to customize the RGB lighting settings, OLED display, and tactile alerts.
Also, this Rival 700 comes with both a 3-foot rubber cable and a 6-foot braided cable. However, the standout feature of this mouse is its black-and-white OLED screen. It can display any small picture file you import, Engine 3, and works best with JPEGs, PNGs, or GIFs 128 by 36 pixels in size.
– Tactile Alerts: Enjoy Customized Changes
The tactile alert is another quality aspect of this SteelSeries gaming mouse. With it, you can select from thirteen different effects that vary in strength, speed, duration, and even vibration.
The point is that you can set tactile alerts to let you know when you've reached certain in-game events, such as your character running low on health or a cooldown period expiring.
– Performance: Efficient and Accurate
The Rival 700 comes with a simple design that is suited for everyday use. That said, the mouse mostly performs well, even if the asymmetrical curve feels awkward at first.
You'll hardly have lagging issues, and the buttons are easy to reach. Additionally, the OLED screen offers some functionality alongside the added RGB lighting.

– Overview
This mouse is the perfect gaming mouse with tactile alerts, a modular design, and an OLED screen. If you love a functional and fun device, this mouse is your best bet.
Rival 600 and Rival 700: Which Model Has the Best Features?
The main difference between Rival 600 and Rival 700 is, SteelSeries Rival 700 is much wider with the extended right pad and offers a max sensitivity level 16,000 CPI, while Rival 600 offers 12,000 CPI and comes with the exclusive TrueMove3 sensor.
Design and Features
Winner: SteelSeries Rival 700 
When it comes to design and features, these two mice indeed offer up some different features. They're both ergonomic gaming mice, but you have a slimmer fit on the Rival 600 with a skewed right side that offers some comfort.
However, we feel that the Rival 600 is more suitable for palm grippers with two cool light lines that can have different colors.
For the Rival 700, you don't get many fancy lights, but it is much wider with the extended right pad, unlike the Rival 600. That makes it more comfortable to place your last fingers and is comfortable for all grip types.
In addition, the unique feature of the Rival 700 is the OLED display at the front of the left side. It can show gamers in-game information, including remaining health or ammo.
What's more, the Rival 700 has built-in vibration alerts, and you can customize the alerts' patterns to indicate different events.
Performance
Winner: SteelSeries Rival 700
The Rival 600 has a unique sensor system – the exclusive TrueMove3. With it, the mouse makes use of two optical sensors. According to the SteelSeries brand, this system allows for unrivaled performance.
As a result, the mouse can track movements accurately and stop tracking when lifted off a surface. In all, it offers a healthy performance. The Rival 600 also offers a max sensitivity level of 12,000 CPI.
For the Rival 700, you get a mouse that comes with the Pixart 3360 optical gaming sensor. In the world of gaming mice, this is simply one of the very best optical gaming sensors on the market because it offers superior tracking performance. That gives the mouse the capacity to support up to 16,000 CPI.
The Rival 700 weight is also heavier; it doesn't offer weight adjustments like the Rival 600. However, the former has a smoother glide and grippy design over the latter.
Final Thoughts: Which Mouse Is the Best?
When you're faced with choosing from these two gaming mice, it's essential to consider performances and beneficial features. To that end, our review picks the SteelSeries Rival 700 as the winner here. Not only is it an advanced model of the Rival 600, but it also offers a more comfortable design that's suitable for all types of grips.
The vibration alerts, software and sensor, and the 16,000 CPI sensitivity make this model come up on top.