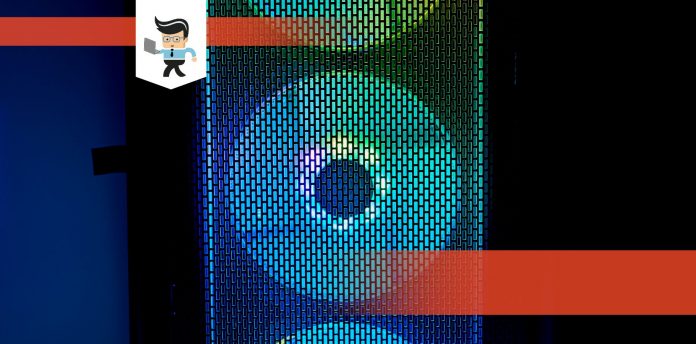 When you compare the Phanteks p400 vs p400s, you have to start by thinking about the price difference. It isn't a huge difference, but when you are building your own computer, every dollar counts.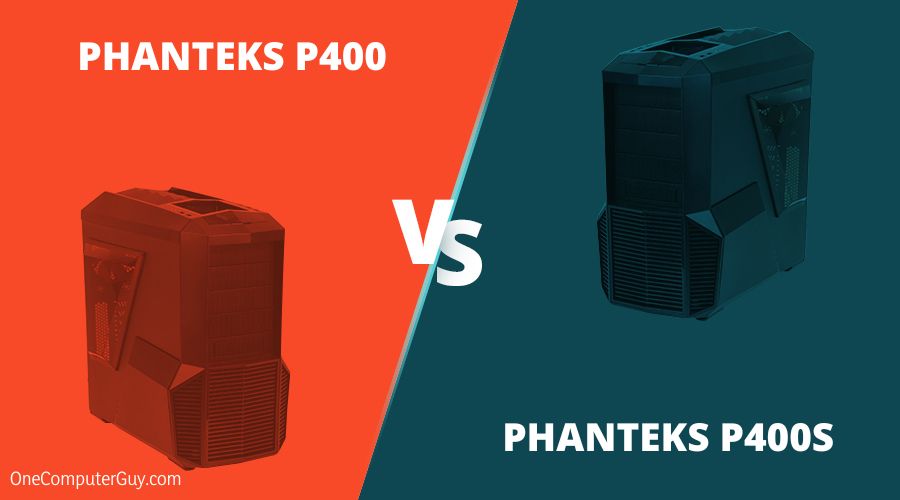 Overall, the Phantek Eclipse Series p400 is a very affordable case with plastic details. The Phantek p400s tempered glass edition is a more beautiful version of the case, but what about the technology inside?
Does it actually make it worth the extra cost? In this article, our experts will help you make the choice.
Comparison Table
Product
Key Specifications
Phanteks Eclipse p400

Four expansion slots
Lightweight and only weighs 15.4 pounds
Built-in velcro strips

Phanteks Eclipse p400s

Bundled magnetic LED strip
A lot quieter
Much

better

fan controller
Phanteks Eclipse p400 is the original version of the case, coming in at a mid-tier price. It is a good quality case, quite easy to get, and has a ton of huge fans. Let's break down some of its basic details.
– Outside Appearances
This is a good-looking case, with a ton of nice details that will make it a great choice for anyone who wants something that isn't too attention grabbing.
The front of the panel has been designed to look great and be functional, which isn't something many companies have focused on in the last few years.
The case comes in a few different colors, which gives you a variety of choices. A lot of users love the black and red version because it doesn't show fingerprints.
– Internal Appearances
Inside, the case is a minimalist's dream. They have hidden all of the drive bays and the PSU behind a shroud. This is a feature that expensive cases have, but it is very uncommon at this price point.
– Lighting
There is a beautiful glow all around the Phanteks p400 case, which is why we gave it its own category. The glow under the front panel feels like it belongs on a more expensive case and the logo is beautiful. The LED switch on the front changes to glow to 10 different colors.
If lights aren't your thing, you can turn them off by pressing the button for a few seconds. The case comes with software that gives you complete control over the lighting.
– Tech
The right panel on this case is completely clean, like it is with most cases. The glass panel on the left hand side is a full metal window. The other side has the usual combination of ports, including dedicated headphones jack, a microphone, two USB 3.0 connections, a central power button, a fan speed button, a reset button, and your LED controls.
– Tech Specs
For beginners, this is a great case that can help you to keep everything organized. It is a simplistic case that has some good customization offers for anyone who wants something a bit more advanced. It isn't a massive case, so you may not be able to go above and beyond, but it is a good size.
There are four expansion slots, two for 3.5-inch drivers and two for 2.5-inch drivers. You can install up to two solid state drives (SSDs) and there is a mounting kit accessory available to add even more.
– Ease of Use
The metal front panel is so easy to take off and you will quickly gain access to the fan mounts and dust filters, which makes it hassle-free to keep this case clean, even in the dustiest environments.
Phanteks even created their own hooks to make it easier to detach and reattach the panels, which is perfect for people who like to tinker with their builds.
– Value
The case comes in at a cheap price, which is a reasonable amount for what you get. It is definitely one of the best cases for the price.
– Power
The PSU (not included) will fall beneath the lower shroud and remain protected. There is enough room to install one of the bigger GPUs, if you'd like, and even do so in SLI or CrossFire if you'd prefer. One thing to think about is that because the PSU is contained, you will need to take your cooling options seriously.
– Cooling Options
You have a large number of choices to attach fans and even all-in-one cooling systems simply because you have the room to do so.
– Size
The case is lightweight and only weighs about 15.4 pounds.
– Installation
Installation is easy on all levels. The product is packaged extremely well and connecting everything within the case is easy as can be. The one thing you do have to think about is clearance space within the case.
With some good cable management, it is easy. Thankfully, there are built-in velcro strips that make it easier to start with cable control and stay with it. One bummer is that the GPU power cabling is really difficult and you need to almost build within the case for that aspect, which will be difficult for anyone who has larger hands.

– Problems That May Arise
Something to be aware of is that while the case is durable, it is easy to scratch and so you need to be extra careful.
– Other Things to Consider
Most people who love this case use it to build out some of the most interesting builds you will find. Particularly those who want to install their own water-cooling loops.
– Appearance
There's no denying that the tempered glass looks a lot better than the regular plastic case. It is also a bit more durable.
– Lighting
The p400s comes with more preset color patterns, but all of the internal and external lighting is the same.
– Bundles
The p400s comes with a bundled magnetic LED strip that the p400 doesn't have (but you can buy separately). Installation is easy and the switch on the front of the motherboard is perfect for turning lights on and off during streams or when you are ready to shut down your computer for the night.
– Cooling
The biggest complaint from users about the p400 was that the cooling options weren't great.
The Phanteks p400s fan controller is a lot better and easier to operate than the old one. It also allows for more clearance space, particularly if you are going to use a water cooling system.
– Other Improvements
There are a few other benefits to the 400s, including the fact that it is a lot quieter than the p400. The tempered glass blocks out some of the noise, there isn't a change to the mechanics.

– Something to Think About
There were some corners cut in the process of adding tempered glass but only increasing the price a bit. The main place they cut costs is that the user manual is bare bones: you need to download it.
Is This p400s Really Worth It?
Overall, you can really tell the design and tech thought that Phanteks put into both of these cases. They are clean and beautiful without being too minimalistic that you don't have any options for what you want to do. There are some hurdles here and there that will last for a few minutes (especially if you have larger hands), but those hurdles aren't insurmountable.
Another thing we noticed is that both cases are good with dust management, but there is something about the p400s that makes it relatively better. If you are going to use your computer in a dusty environment, then this is the better option for you.
One thing to think about is that the p400 case goes on sale regularly, so you can take advantage of the discounts and difference in price if you are willing to sit around and wait for that.
In Conclusion: Either Case Is a Great Option
Overall, either case is going to be a good option. It is difficult to find many faults with either version of this case, just that one is a little boring (which honestly won't matter to many people). You really can't go wrong with each one of them.
The p400 is a solid investment if you are looking to save a few dollars but if you have the money to splurge, then the p400s is a steal for its price. The temperature glass panel, cable management, and beautiful lighting add to why it is a good buy.
To answer the question, the upgraded version of the case is not entirely the preferable choice. But it is hard to find a case that comes at a better value than the Phanteks p400s because of its solid construction, good design, tempered glass, and the brand name you can trust. Don't miss out on it!