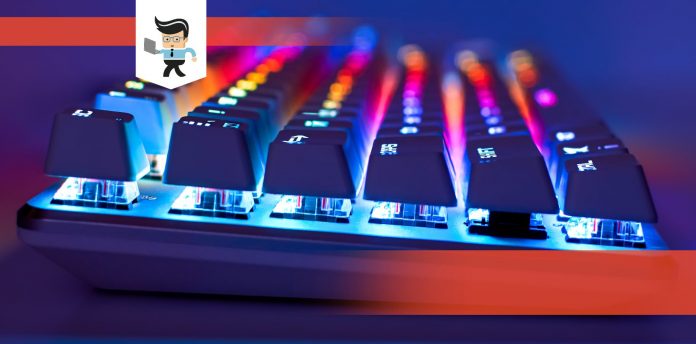 If you are passionate about mechanical keyboards, then you have probably heard about the Cherry Profile vs. OEM argument. Of course, there are several sources of information online with suggestions on which is better between the two keyboards.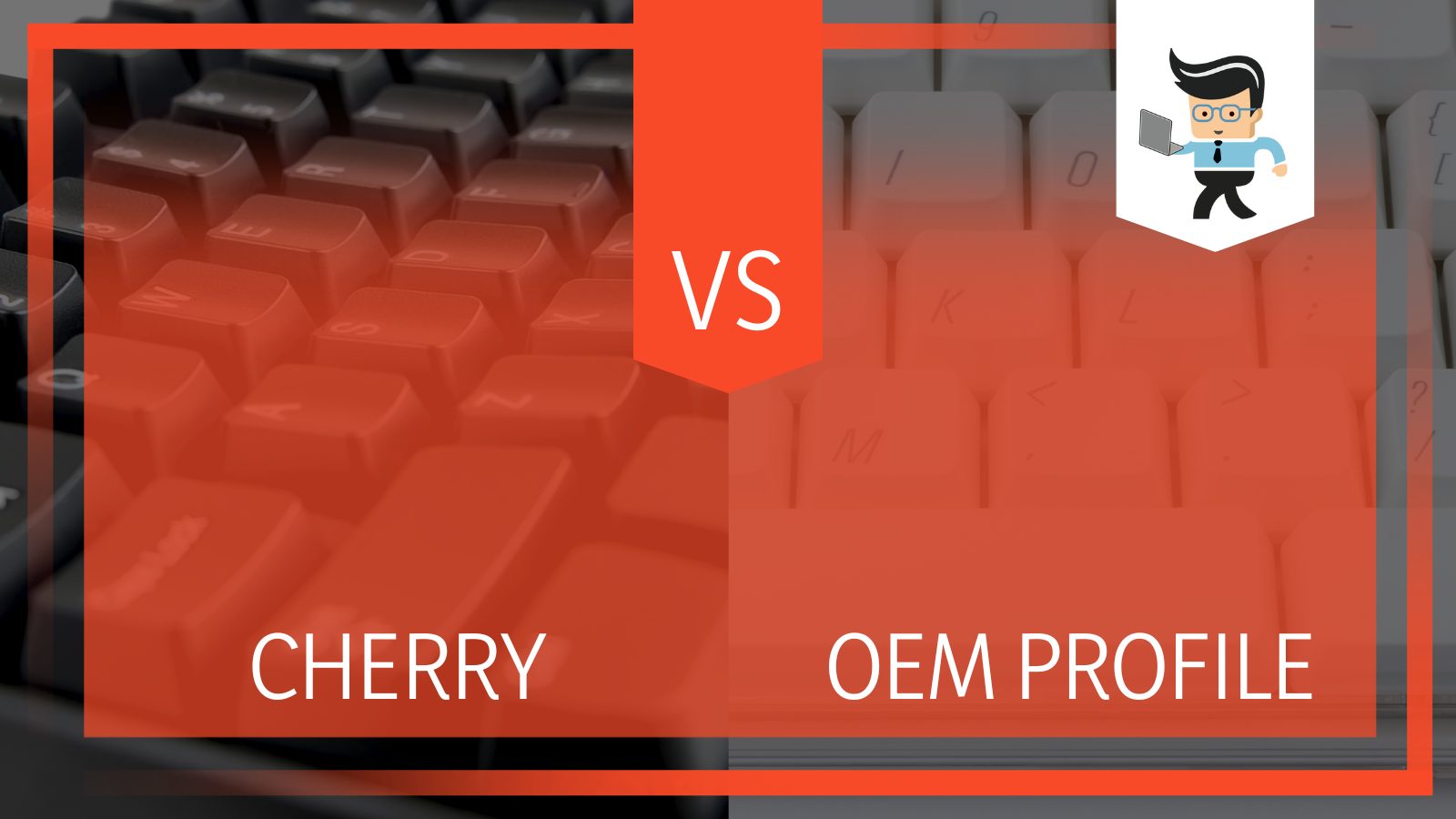 However, they are both beneficial in certain ways, though they have their differences and similarities. You will get to learn more about them here. This article will further help users who are new to mechanical keyboards
OEM vs. Cherry Profile Keyboard Comparison Table
| | | |
| --- | --- | --- |
| Properties | OEM | Cherry |
| Availability | Very available | Scarce |
| Height | Higher | Lower |
| Material | ABS/PBT | ABS/PBT |
| Feel | Comfortable (familiar) | Comfortable |
Comparison of Cherry Profile and OEM Profile
Whether your keyboard has an OEM or Cherry Profile, we are pretty sure it has an aesthetic set of different keycaps. These profiles are different yet similar in many ways.
When it comes to design and sculpting, they can hardly be told apart, but the difference is often the height of keycaps.
Cherry has profile keycaps that are a little bit shorter than OEM's. Also, it's much more difficult to come across them, particularly if you're in search of custom keycaps for your keyboard.
For OEMs, users can get the keycaps on many pre-built mechanical keyboards. Also, they are very popular among the teeming community of mechanical keyboard users, thus making them easier to find.
However, if you are reading this article, you might have questions like, "Why is the Cherry hard to find?" The price levels for both are also points you'd like to learn more about, and we will cover it all as we proceed.
1. Cherry Profile
Pros
• Comfortable keycaps
• Unique rows of keys
• Versatile
• Durable
Cons
• Difficult to access
Cherry's sculpted keycap profile sets give off a wonderful typing experience. They are also shorter and originate from original Cherry mechanical G80 and G81 keyboards. Further, they're popular among users who prefer mechanical keyboards. As sculpted keyboards, each row is different from the other so that the user feels each row.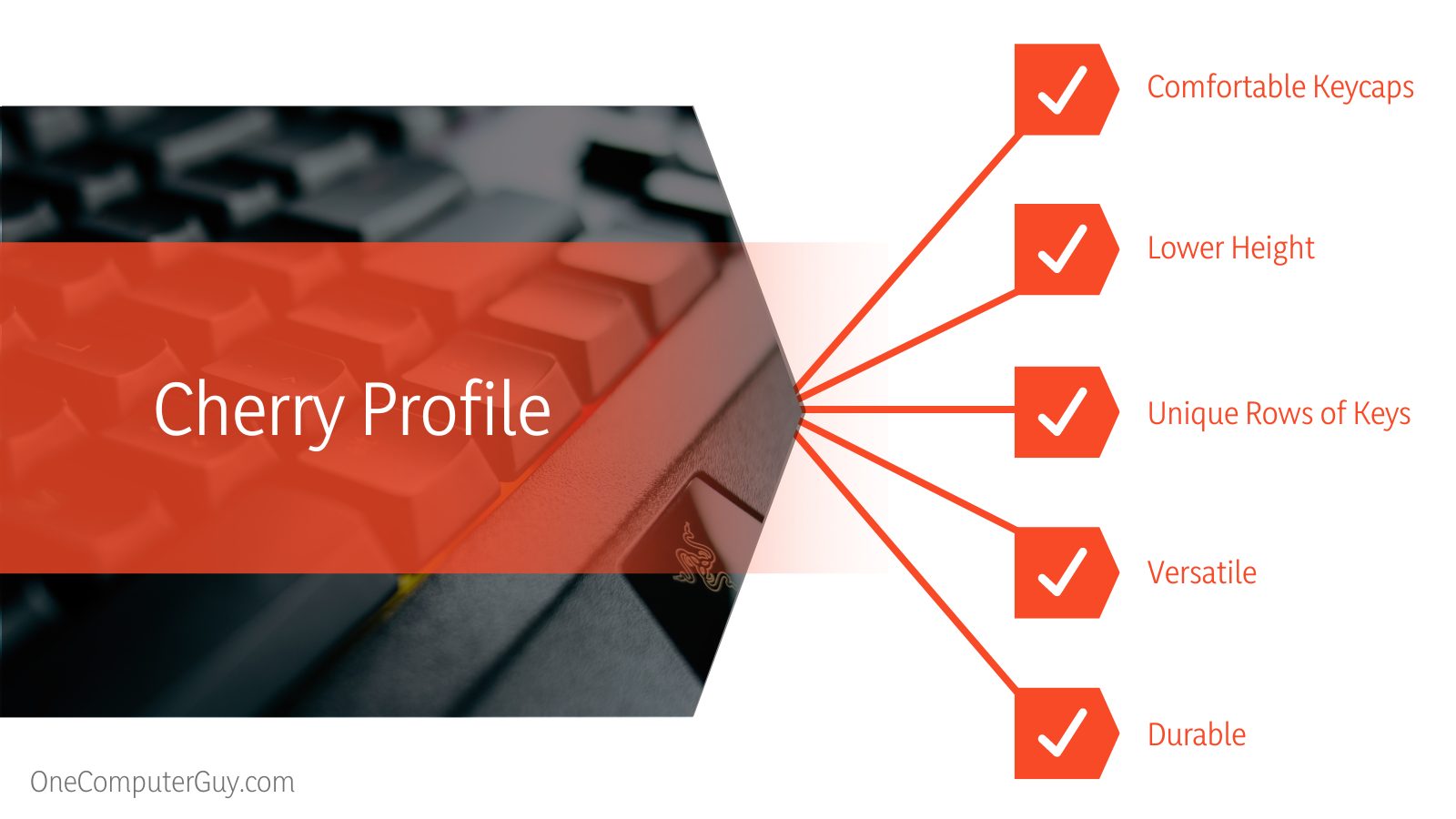 The top of the keycaps is cylindrical, thus hugging your fingers on each keypress. As a result, you gain maximum comfort while typing or playing games. Companies like GMK and ePBT make use of them, but they're also hard to find in large stock.
That is because they are mostly exclusive group buys or bought in aftermarkets. These keyboards are also great for those on a budget because they vary in quality since they don't use original Cherry tooling.
A Cherry keycap profile can also interfere with some switches . That is the case if the mechanical keyboard has LEDs on the bottom of the key switch. As a result, the keycap may hit the LED. However, you can quickly fix this by shaping the LED to get rid of the interference.
This profile, barring the difficulty in getting them, is worth having. You get to use unique sets of rows that are comfortable and versatile.
2. OEM Profile
Pros
• Readily available
• Finger-fitting
• Customizable features
Cons
• Mostly thin material
OEM's sculpted keycaps sets are found in pre-built mechanical keyboards. They come mass-produced and are considered the standard among commonly branded mechanical keyboards. These include Logitech, Corsair, and Razer.
Such keycaps are not uniform keycap sets. This means that the different rows of a mechanical keyboard would have distinct height and design features.
Further, OEMs have cylindrical tops that conform to your fingertips to increase comfort during typing or gaming. Also, they're affordable and available to buy.
You can get them in many colors and designs. Customizing OEM keycaps is also straightforward, with different brands giving you top-quality options. A good example is the YMDK which allows for custom keycap sets. They are mainly OEM, but they have other profiles.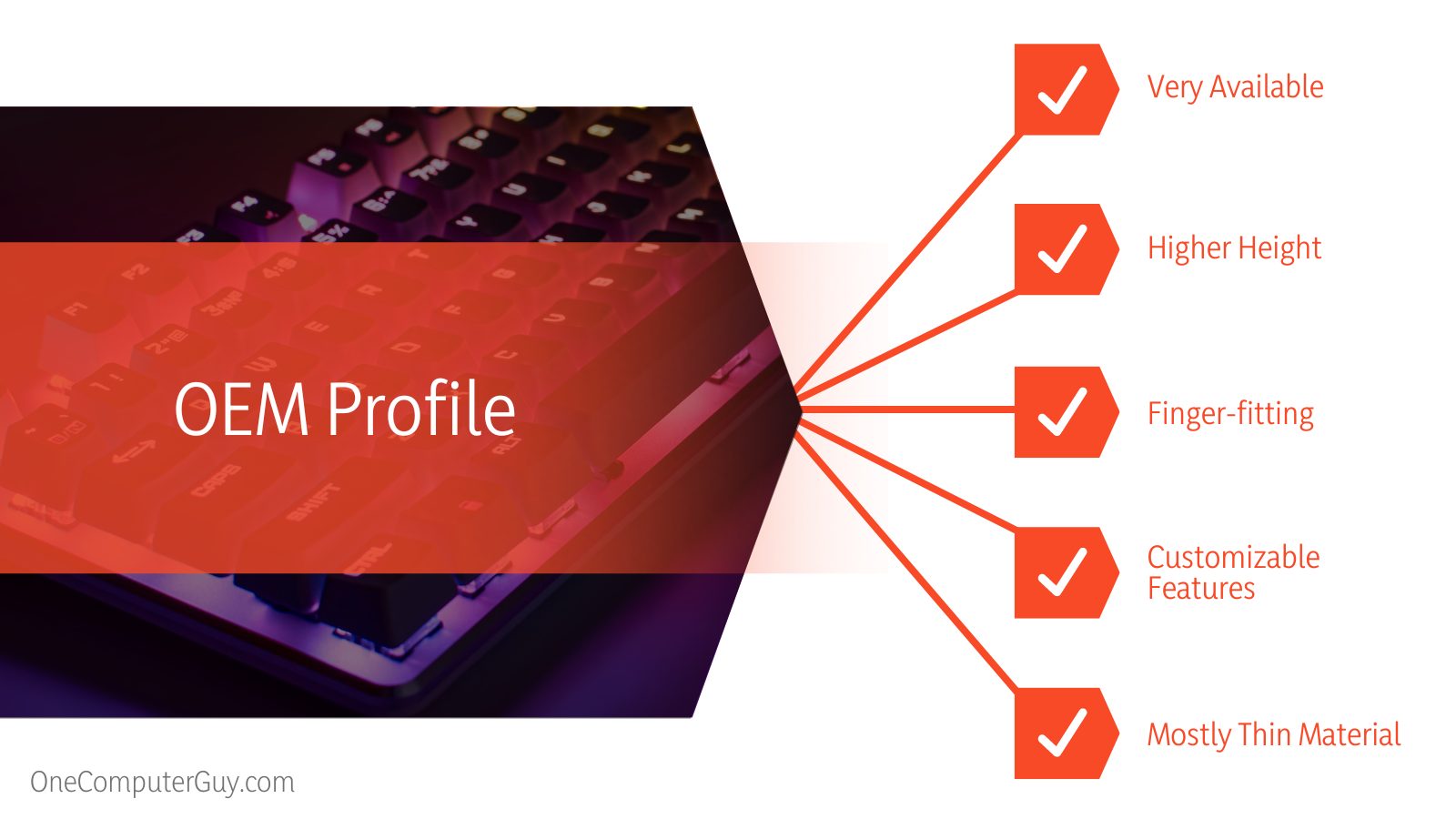 This profile is great for users who want to lay their hands on keyboards that can cover a broad base of functions. They also provide comfort while using them. Since they can be gotten almost immediately, it makes sense to have them.
OEM vs. Cherry Profile: Which is Better?
The main difference between OEM and Cherry profiles is, OEMs are chapter and readily available while Cherry keycaps are pricier.
There are different aspects of both profiles which any user must consider. Some of them include their pricing, their availability, sound, material, and even how they feel.
However, it's important to note that there is no clearcut choice since you'd still go on to pick what works best fit you.
For any keycap profile comparison between OEM and Cherry, the cost is a sticking point. You'll find that OEMs are cheaper because they are the standard for many mechanical keyboards. As such, brands don't quote quite as much for them.
No matter how cheap they are, factors like doubleshot features and thickness will determine how much you pay.
For Cherry, you can expect to pay more. Brands like GMK will quote you more depending on the keycap set.
Also, some of these keycaps are exclusive for the spacebars, escape keys, modifier keys, and others. If you're in search of something compatible with your mechanical keyboard layout, you can get Cherrys to fit if they're available.
Availability
The availability of OEM keys is common knowledge. We've already mentioned that they are part of many standard mechanical keyboard purchases. In addition, a raft of companies sell them separately like Razer, HyperX, Tai-Hao, and more.
OEM is a good option if you're looking to upgrade your keyboard with a new cheap set of keycaps in multiple designs and styles.
Cherry keycaps are much more difficult to find because they usually have to be bought to replace the standard OEM keycaps which form part of the original keyboard. With them, there are budget options you can find on online market platforms.
However, there are higher quality and more sought-after options. Such profile keycaps include the GMK brand.
You can buy them in a group or the aftermarket for a higher price from other users. You can also buy them from mechanical keyboard-specific vendors like Drop and Novelkeys.
Material
On a general note, both Chery and OEM use either ABS or PBT. However, OEM caps found on stock mechanical keyboards are made of a thin ABS plastic. As such, they aren't as strong. However, big companies such as Razer and HyperX design PBT keycaps that are OEM.
Online, you can also come across custom keycap sets in PBT with different designs. Cherry caps are generally made with ABS plastic because GMK uses high-quality and thick ABS plastic for their keycaps.
Others, like ePBT, sell Cherry caps made with PBT plastic. Like OEMs, you can find Cherry sets online if you look hard enough.
Comfort & Feel
What you feel and the comfort you derive from any keycap is mainly subjective. However, we believe that since OEMs are part of most standard keyboards, they have a more familiar and comfortable feel.
Any OEM profile review will point out how popular they are on stock keyboards. Using Cherry caps for a long while will help you get used to them. You'll notice the lower keycap height and will appreciate the appealing design they offer.
Further, the shorter keycaps are beneficial because you won't have to raise your hands as much to type. Also, the sculpted design means you don't need to stretch your fingers as far when typing or playing games.
On the whole, we recommend trying out both keycap profiles. However, in terms of comfort and feel, the Cherry cap is typically preferred by the keyboard community, so we think that's perfect.
Sound
Sound is a unique proposition here because both profiles are hard to tell apart. For example, the sound of Cherry caps is generally more bass. You can put this down to the decreased height and the fact that there is less room within the keycap for sound to bounce around.
Other things, such as the switches in use, case and plate materials, and thickness of the keycaps, can affect the sound. That is why some Cherry Profile reviews suggest having them lubed or make changes to some areas of the keyboard.
The OEM is much like the Cherry. Since they come in stock, their materials are often the same. As such, even a custom set high in quality and thickness will sound the same.
Overall, both keycaps will give off varying degrees of sound. Such is the case with mechanical keyboards and the switches used underneath the keycaps.
Conclusion
Finally, just like everything else that has to do with mechanical keyboards, the choices you make are dependent on your preferences. As such, our review team finds it difficult to state which one of these keycap profiles is better than the other.
All you have to do is put some things into perspective, including comfort, feel, and sound, before buying either the Cherry or OEM.
With OEMs, you have something that's already well known and available in many keyboards. On the flip side, Cherry sets pack a lot of quality but are difficult to access. That is why we think it's better to stick with the known. However, Cherrys are worth it if you can get your hands on them.