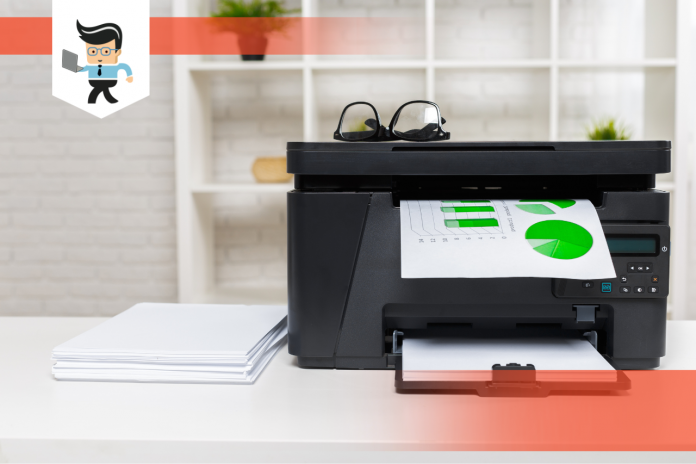 The Epson WorkForce Pro WF-4740 is a solid AIO printer designed for small businesses or home offices. It covers a wide range of functions, mainly printing, scanning, and copying.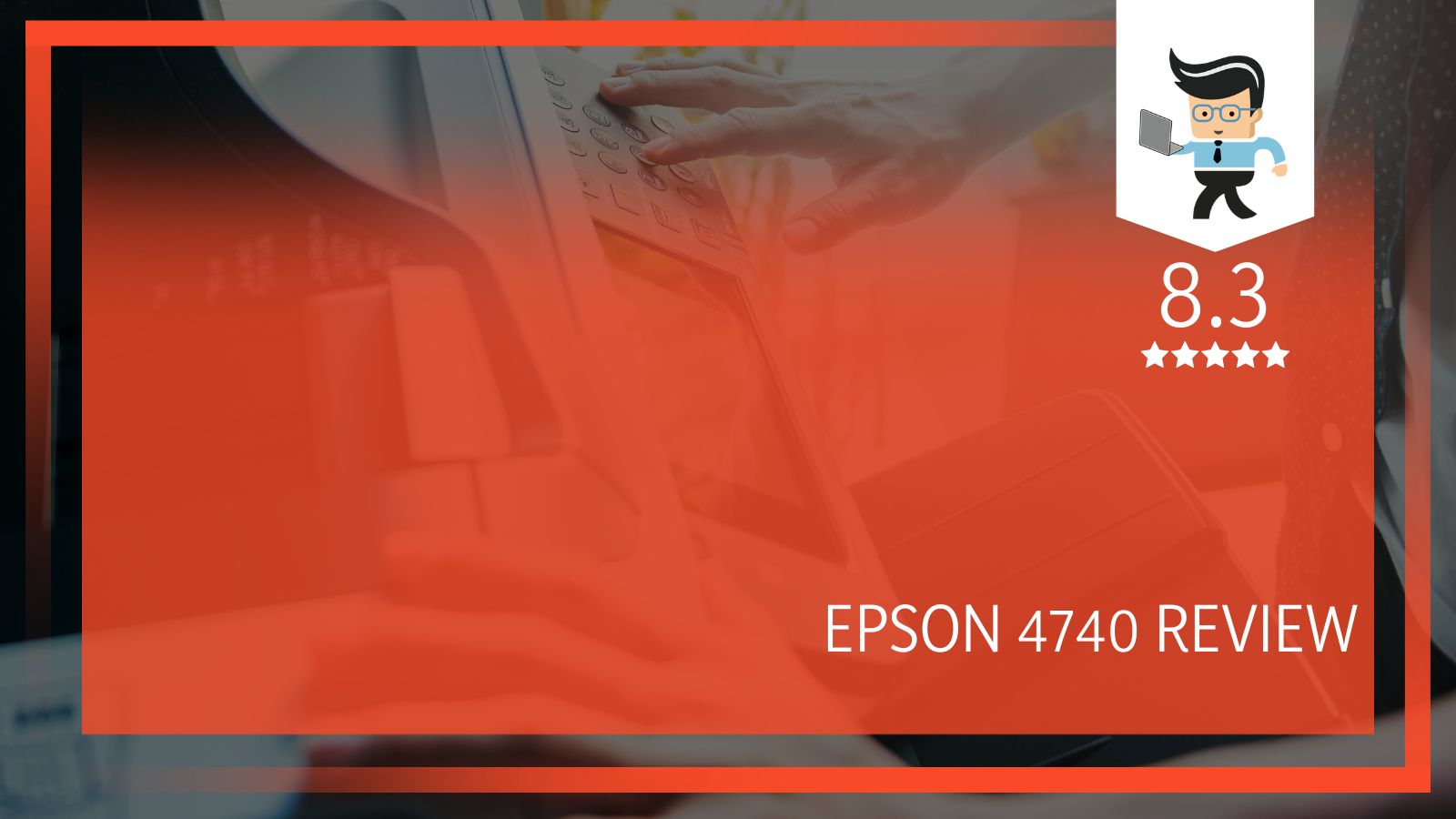 The Epson brand is a popular one with a trusted output of a top-end lineup of printers for different functions and spaces. The Pro WF-7710 is one of them, and we'll go over its features, performance, and drawbacks. Follow us as we get right on to it!
Key Specifications at a Glance
Product 
Key Specifications

 

WorkForce Pro WF-4740

Brand: Epson

Model: WF-4740

Printing Technology: Inkjet

Connectivity Technology: Wi-Fi 

Special Feature: Alcohol-Free 

Color: Yes
How it Works
The Epson WorkForce Pro WF-4740 comes off as a bit expensive. It's also a robust version of the WF-4720 – a model below it- and a business-centric inkjet all-in-one (AIO) printer. The WF-7720 also has double the paper capacity and a larger automatic document feeder (ADF) supporting two-sided scanning. 
There's a big color touch screen like other printers in its class. It will print well and fast and has a wide range of connectivity options that appeal to most users.
All-in-one printers like the Epson 4740 have become more popular, especially in small businesses, where desk space and technology investments must be maximized. 
However, with the choices you have on the market, a printer like this must have quality printing, copying, scanning, and faxing capabilities. You'll get all that and more on the Epson 4740. 
PROS
It has auto-duplexing 
Excellent print quality 
It will support Wi-Fi Direct and NFC
Fast printing and copying
CONS
Lacks a multipurpose tray 
Small output tray 
The Epson 4740 printer represents style and supreme functionality coupled with affordable running costs. Users will enjoy its fast printing capabilities and many mobile connectivity options. 

Like others in its class, it has auto-duplexing options, and you'll get a good range of other features. However, the output tray and the price tag might leave you scratching your head. 
– Build and Design: Lean and Mean
The WF-4740 is tall enough and weighs up to 26 pounds, and it's much taller from the front to the back than its predecessor. 
It also weighs more than it. It will sit well on many large desktops. Compared to some printers in its class like the HP OfficeJet Pro 7740, this Epson is much smaller and lighter. It's rated as an AIO that prints, scans, and faxes tabloid-sized pages. 
For the paper capacity of this printer, you get 500 sheets, split between two cassettes like on other top-end printers. Its predecessor has only one 250-sheet drawer. 
Further, the WF-4740's maximum monthly duty cycle gets to 30,000 pages, which is level with most of its competition. You can configure this printer and print from or scan to the cloud or a USB thumb drive at the left-front side of the chassis. Other tasks you want to perform can be done from the 4.3-inch color touch screen. 
The control panel adds to the beauty and functionality of the Epson WF-4740. It's bright and easy to read. There are text labels for Resets, Fax, Scan, and Copy with large icons. The panel makes it easy for you to access the printer's primary functions. 
Three additional icons can be accessed by users when they swipe the touch screen. You'll access the Settings, Maintenance, and Memory Devices. Besides, the user interface of this printer is easy to use overall and familiar to users of previous models.
– Connectivity: Multiple Options
Think about all the top connection options you can make on a wireless all-in-one printer, and you'll find them here. Some of the features to connect with include Wi-Fi, Ethernet, connecting to a single PC via USB, Wi-Fi Direct, and NFC. 
With these peer-to-peer connections, you can access the printer without either it or your mobile device being part of a network. More mobile connectivity features exist for Android printing, Apple AirPrint, Google Cloud Print, and much more. 
– Print Speed and Output Performance: Fast and Reliable
Epson's PrecisionCore 4S print head powers the Epson WF-4740 software. 4S means that the printhead deploys four PrecisionCore ink nozzle chips. While it's a relatively new printhead technology, Precision Core is faster than traditional inkjet printheads. 
To that extent, the Epson brand rates the WF-4740 at 24 pages per minute (ppm) for monochrome pages and 22ppm for color pages. That's faster than its predecessor and other printers in its class. 
Further printing complex documents like PDFs, Excel, and PowerPoint files containing color and photos, can reduce the printing speed. However, it will still be faster than its predecessor and other models highlighted here. 
When we tried out snapshots, the device printed them at an average of twelve seconds each. That's still faster than many AIOs out there. 
When we looked at the output, the slogan from Epson: "Performance Beyond Laser" immediately came to mind. This slogan is true for the WorkForce Pro AIOs in its lineup because of the fantastic print quality you get. 
Like all PrecisionCore printers do, this one prints well-shaped, legible, and precise texts on par with many of its laser counterparts. As a result, its text output is suitable for businesses and small offices in homes or otherwise. 
– Photos and Graphics: Exceptional Quality
The graphics and photo quality of this printer are exceptional. The color hairlines will come out balanced and unbroken, while the dark fills are solid without any clear sight of banding. 
There'll be minor smudges with colors hardly getting in the way of each other. Also, we found that the colors and tints were accurate and well delineated. 
The WF-4740 also produced unique printed photographs with good details that were accurate and vibrant with colors. We didn't notice any graininess, even if some minor details were lost. But that's not enough to put a dent in the quality of the images. 
A close relation to printing is scanning documents. Even if you scan odd-shaped papers and images, you'll need a printer model that has a flat-bed scanner. 
Otherwise, those odd-sized documents may have to be taped to a 8.5 x 11 paper to help you feed them via the automatic feed mechanism. That's a strenuous process. The best part is many AIO manufacturers like Epson produce flat-bed models like the WF-4740 with its automatic document feeder. 
– Running Costs: Reasonable and Productive
The hallmark of a printer is its output and functionality. Without those, you'll have a device that takes so much to run and maintain. The running costs of the WF-4740 go to 1.9 cents per black page and 8.2 cents per color. Those aren't bad considering its size and price. 
With the monthly recommended volume of many top-end printers being under 2000 pages, the cost per page of this Epson won't shatter your budget. Depending on the use you find for it, you'll find the Epson WorkForce Pro WF-4740 specs worth paying for, especially for the output quality and speed. 
The auto-duplexing feature is an element that's often overlooked on this printer, but it's worth having. You can print anything from reports to forms using both sides of a sheet of paper. 
– Cartridges: Use Epson Brand
Each printer brand and model comes with a unique set of cartridges. Of course, you'll have to pay for it whether the printer is a laser or inkjet. It's worth knowing that the cartridges for the WorkForce 4740 can be gotten from the Epson brand. 
Even if it's difficult to find, you shouldn't buy off-model options or those from lesser-known brands. That's because you'd have a problem locating replacement inks. 
Sticking to a reputable cartridge brand is good for this printer, but it's even better if you stick to the original manufacturer's Epson printer brand. 
– Tips for Choosing an All-In-One Printer?

 
If you want an all-in-one printer like this one, it needs wireless LAN connectivity. It's modern times with many wireless networked laptops, desktops, and other devices connected to the local network via a wireless network.
As such, you will need to print or receive scans from the multifunction device. To do that, wireless network capability is required. When you want a multifunctional machine, ensure that your PCs connect with the wireless connections. 
Printing Performance/Duty Cycles
Print speeds of the printer you choose are important. If you run a small office or organization that generates lengthy pages regularly, speed matters. A slow page performance can be frustrating and cost you money in the long run. 
You get lesser speeds from entry-level printers with slow pagers per minute for black pages. Also, color printouts on such machines will take more minutes, even for inkjets. 
You should also consider duty cycles as well. For example, a printer that manages 2,500 printouts per month will require more frequent cartridge changes. That can lead to a short service life when used in an environment with 5000 prints or more per month. 
Check the printer's production against its estimated recommended monthly volume or duty cycle rating. 
Another thing to consider when you want a multifunctional AIO printer is its print technology. The two main ones are laser and inkjet. The inkjet printers like the WF-4740 here have many advantages, including their replacement cartridges being less expensive than laser options. 
Also, inkjets are less priced, have a smaller desktop footprint, and accommodate a wider print media variety.

Laser printers are suitable because they have better print quality and more consistency than their counterparts. In some cases, they're not as expensive and offer less noise overall. However, they're much bigger than inkjets, which might be a turn-off unless you run a large establishment or don't have problems moving it. 
– Overview

 
From our Epson WorkForce review, it's that it prints well and fast. Thanks to its midrange business-centric inkjet features, such as Wi-Fi Direct, NFC, and scanning, it will also support those who need it for small businesses. 
Conclusion: Buy or Dump?

 
With the Epson WorkForce Pro WF-4740, you'll get affordable running costs, fast printing, and an array of mobile connectivity options. The printer has an excellent auto-duplexing function that saves you a lot of time and stress. It's possible to print challenging documents without taking such documents out to turn them in. 
The Epson WorkForce Pro WF-4740 All-In-One color inkjet printer has just about all you'll ever need from a printer. What's more, the price per page is affordable, while the printer's price provides an outstanding total cost of ownership. 
From the price to performance perspective, we observed that it's one of the best value printers out there. If you run heavy-duty functions, the performance is worth considering. 
We'll go ahead and recommend the Epson WorkForce Pro WF-4740 printer for small businesses and organizations that print less than a thousand pages per month.