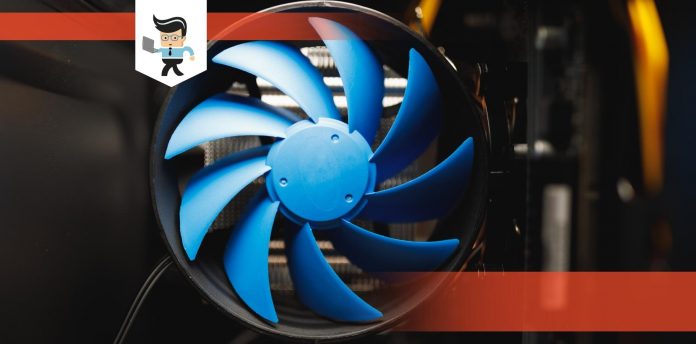 Our NZXT Kraken X62 vs Corsair H115i comparison article showcases two classy and functional coolers you can add to your rig. Renowned brands lined up these coolers to give you an edge irrespective of the applications you put your PC to.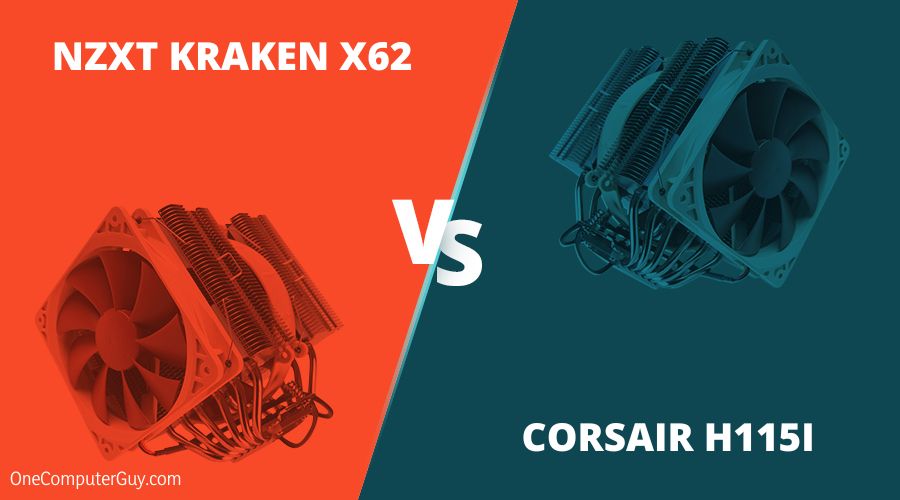 You'll find cooler performances, minimal noise levels, and super fans on the two devices. Our review team has put this comparison together to help understand which one performs better and presents an excellent fit for your rig.
Corsair H115i vs Kraken X62: Key Specifications Outlined
Product 
Key Specifications 
ICUE H115i

Brand: Corsair
Cooling Method: Water
Noise Level: 36 dB
RGB: LEDs
Fan Speed: 400 to 2,000 RPM

Kraken X62

Brand: NZXT
Cooling Method: Water
Noise Level: 38 dB
RGB: LEDs
Fan Speed: 500 to 1800 RPM
What Is The Main Difference Between Corsair H115i vs Kraken X62?
The main difference between NZXT Kraken X62 and Corsair H115i is that Kraken X62 comes equipped with top-performing smart CAM software that puts you in control of the cooler's configurations and performance. In contrast, a large part of Corsair H115i's software is limited and has generated complaints from many users.
If you're familiar with hardware components in a computer, then you'd know that they can generate a lot of heat. When the heat gets excessive, it can lead to significant levels of damage.
A CPU fan, heatsink, and case fan combine to keep a computer cool. But for power users, gamers, and others who run resource-heavy programs over extended periods, water liquid cooling is a better option.
Keeping CPUs cool isn't easy because they require a lot of power to function, and the power converts to hear after use. When the CPUs generate too much heat, they can hurt themselves.
However, a liquid CPU cooler like the H115i and Kraken X2 can decrease CPU temperatures because water is more efficient at heat transfers than air. Liquid cooling also presents a quieter atmosphere since the fans don't have to run at high RPMs.
The water liquid cooling technology on both devices can drive heat away from remote components of the hard drive that may not be accessible by fans. This way, you can enjoy demanding activities such as gaming with minimal heat production.
Pros
Superb RGB lighting
Reduced noise levels
Excellent cooling capabilities
Improved CPU performance
Cons
Little issues with ICUE software
The Corsair H115i specs prove just how good this cooler is, but there's more to it. This Elite Capellix is a relatively new chiller from Corsair, and it's damn colorful. The RGB lights are more than enough, so you should like lights if you want this cooler. It also comes in several forms, including 240-millimeter and 360-millimeter form factors.
RGB: More Than Enough Fancy Lights
Corsair stuffs this Capellix with LEDs you can hide anywhere. According to the brand, the lights are 90 percent smaller than conventional LEDs, more efficient, brighter, and run cooler.
In essence, what users have is a genuine lighting solution that gives you more mounting options and increased visual impact. You won't have questions on power use and heat from the lights.
The lighting effects offer slick transitions and animations, and you can control it with the ICUE Commander Core lighting and fan-speed controller box. Along with the pump head present, the Cooler supports up to six RGB-enabled fans and neatly connects to the motherboard through a USB.
Cooling and Fan Performance: Functional Quality
The Corsair H115i has a low-noise centrifugal pump with a flow-rate spec of 0.82L/min and a claimed 20dB of noise.
The radiator runs well, while you also get a pair of 140-millimeter mag-lev fans running at speeds from 400 to 2,000 RPM. As for the pump, the head comes primed with a layer of thermal paste, but you won't find an extra tube.
When it's set to run, we observed that the H115i is super quiet and idle. In many situations, you'll struggle to hear it move, and even in extreme performance mode, the noise levels are well-controlled.
Software: Customize Features and Exercise Control
The Corsair H115i ICUE software is reliable enough, but some users have complained about it not being up to scratch. However, it helps you make the initial installation and set up so that everything goes on well.
You can also use it to configure the RGB to your heart's desire. The software can set the cooling configuration to quiet, balanced, extreme, or zero RPM modes. Emergency triggers can increase fan speed and indicate an issue with LED color change when temperatures blow past a user-defined limit.

Overview
From our Corsair H115i review, this cooler is up there with some of the best to keep your CPU and other hardware cool. If you play games and do many resource-based tasks, it's the ideal cooler to ensure things don't get overheated.
Pros
Quality aesthetics
Compact design and finish
Solid performance
Superb overall quality
Cons
The Kraken X62 from NZXT joins a lineup of new Kraken coolers that are some of the best-looking AIOs on the market. It comes with a brushed metal head unit, tinted top lens, and RGB LED show like its counterpart above.
You can include sleeved tubes and a sleek-looking radiator with the NZXT name molded into the sides of this cooler. That's a brief look at the Kraken x62 specs, which combine to give you coolers that operate in near silence unless you appreciate fan noise.
Software: Smart CAM Software
The CAM software sits in the middle of every good thing about the Kraken X62. Using it, you gain complete control over everything from the fan speeds to the pump speeds. Also, it's a tool you can use to set the LEDs to work in any way you can imagine.
What's more, NZXT opted to base its performance on pump speed in the Kraken Series. The other option would have been to throw fans at the radiator till they stick and perform well. But the noise level would be much higher. NZXT also chose to adjust the speed of the pump, forcing coolant through the system faster to shut out temperatures.
Pump and Fan Performance
The pump of the Kraken X62 can be controlled in a range of 1000 to 2800 RPM, but CAM shows double these speeds. The fans are Aer P140 fans, and the X62 comes with two in the box.
Again, CAM can control these fans within a range of 500 to 1800 RPM. According to the brand, when you buy this cooler, you can use it worry-free for six years, thanks to the warranty coverage.
Noise Levels: Silent and Efficient
We used a certified dBA meter to measure how many dBAs originate from the PC. It's not as easy to be specific since there is always noise in the background, other places, from the HD, PSU fan, etc.
While there's no precise measurement, you'll find that it proffers a good level of noise without interfering with the task you're up to. However, the noise level of the Kraken is pegged at 38dB.

Overview
With this Kraken X62 review, it's apparent that you get a cooler you can count on when things get rather hot during intensive applications. As a heavy CPU power user, you'll like the silent and efficient way it goes about its business.
Comparison of Key Features
Noise Level
Winner: Corsair H115i 
Noise level is an essential aspect to consider when you want a cooler to keep your CPU and general hardware cool. To that end, these devices come with quality fans you can trust to function without blaring out sounds you don't appreciate.
For example, the Kraken here offers a sound level of 38dB, which isn't too bad. On the flip side, Corsair's noise level is lower, and its centrifugal pump contributes to this. Overall, its radiator runs well, and the fans combine to give you a noise level measured at 36dB.
Software
Winner: NZXT Kraken X62 
Software is crucial to how these liquid coolers perform. On the one hand, you have the Corsair ICUE software to help set up the cooler and change the RGB and other settings. But a large part of it presents a drawback many users have complained about.
Even though you can use it to configure cooling methods and levels, users can't exercise total control over it.
For the Kraken, you get a smart CAM software that helps you control and configure everything from the pump to fan speeds. It's also a helpful tool set for RGB LEDs. Overall, it performs better than the ICUE from Corsair.
Frequently Asked Questions
– How Do I Choose the Perfect CPU Cooler for Me?
It's okay to be a bit unsure about the type of cooler you want. There are two major ones – air coolers or liquid coolers.
Your budget and the capability of the cooler also matter. If you have a high budget, liquid coolers can offer a whole lot more, including advanced RGB lighting to intelligent software control.
Also, you shouldn't be afraid about putting liquid near your expensive components. Leakages won't be frequent, and top brands offer excellent warranties in case of damage.
– Are Liquid Coolers Quieter Than Air Coolers?
On the whole, an all-in-one liquid CPU cooler will be quieter than an air cooler mounted directly on top of the processor. This is because the fans attached to the cooling radiator are generally larger and will therefore spin slower than an air cooler.
Moreover, the water pump is often well insulated, so there isn't much noise coming from them either.
However, some large air coolers come with big heat sinks and large fans that can compete well with the noise generation of a liquid cooler. A liquid cooler should be your first choice between the two for everyday CPU needs like gaming.
Conclusion
Should you pick the Kraken X62 or H115i?
They both offer top-quality features and capabilities to keep your CPU ruining and cool for extended periods. They're liquid coolers with pumps and durable fans that present low sound levels and efficiently perform their functions.
For our review team, the Kraken X2 from NZXT offers more, with the pump going from 1000 to 2800 RPM. Like other top coolers, it also comes with smart software for more control and LEDs to increase its appeal. It's an excellent choice for users looking to keep their CPU cool over any resource-based activity.