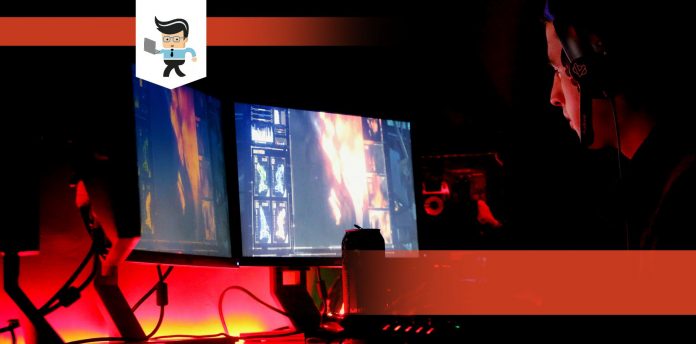 The LG 24MP59G-P IPS gaming monitor has a decent resolution of 1080p along with VRR support. It also has FreeSync with AMD to give you the best results. The refresh rate of the LG 24MP59GP FreeSync monitor is only 75 Hz. Still, it can meet the needs of most gamers using devices with a 60 Hz refresh rate.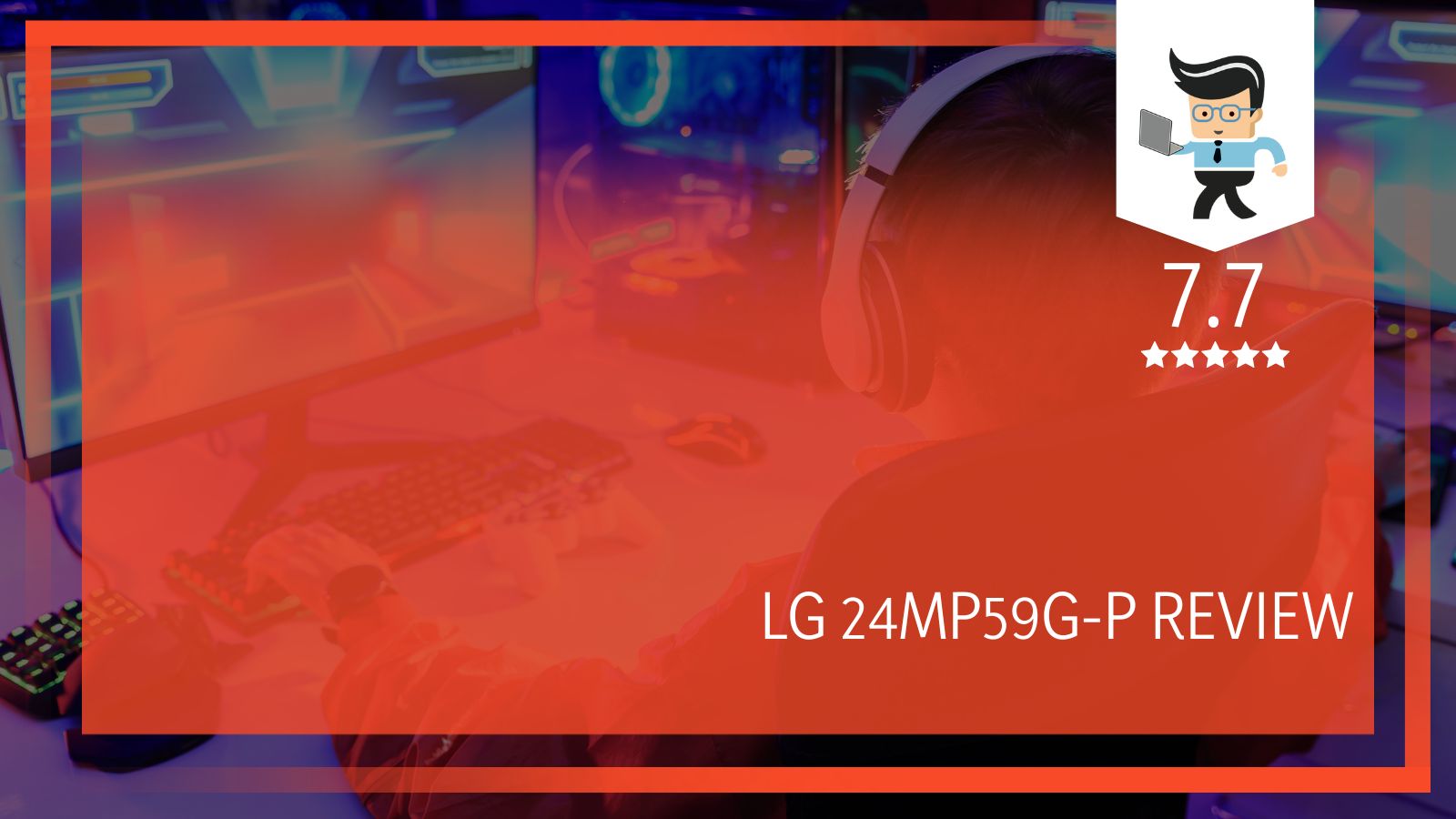 The LG 24MP59G-P is one of the most affordable IPS monitors. It has a 24″ screen and many gaming features, including fantastic image quality and modern design.
Specifications of LG 24MP59G-P
LG 24MP59GP specs include:
• 24″ Screen Size
• HD Resolution of 1920 x 1080
• IPS or In-Plane Switching Panel Technology
• Refresh Rate of 75 Hz
• 5 ms Response Time
LG 24MP59G-P Key Criteria
Screen Size and Resolution
7.7
PROS
75Hz refresh rate
Supports AMD FreeSync
Excellent anti-glare feature
Compatible with G-Sync
CONS
Poor ergonomics
Not VESA mount compatible
Backlight bleeds
This review will introduce you to the perfect, affordable IPS gaming monitor. The LG 24MP59GP gaming monitor is the stuff of your dreams! It offers many features. It's one of the best gaming monitors in its class.
– Features of LG 24MP59G-P gaming monitor
The LG 24MP59GP FreeSync monitor provides responsive and smooth gameplay. Its features include
• Impressive quality of image,
• 1ms Motion Blur Reduction
• AMD FreeSync,
• Cross-hair
• Black stabilizer
• Pre-calibrated presets
– High quality of the image
The LG 24MP59G monitor with IPS panel offers 8-bit color support covering 99% of the range of sRGB colors. It does so through 6-bit + FRC dithering along with a viewing angle of 178 degrees. All these features provide you full-resolution HD images. The images have a clear and crisp quality with vibrant and precise colors.
The resolution of this monitor is almost four times that of Ultra HD 4K monitors. Still, the 1920 x 1080 resolution is standard. It will enable you to see higher frame rates and picture settings while playing your video games.
Moreover, the contrast ratio is 1,000:1, and it has a 5ms speed of response time and a peak brightness of 250-nit. Thus, this IPS monitor will provide you with pictures of reliable quality. It's excellent for this price range. Furthermore, this monitor will not give you any dead pixels. You can expect IPS glow and bleeding backlight in severe conditions only.
This feature can help you see clear and crisp images of the video game you are playing.
– Reduction of Motion Blur in 1ms
Take a look at the on-screen display menu of this monitor. LG has used Motion Blur Reduction technology to increase the speed of response time to 1ms. It also reduces motion blurs and ghosting of the objects moving at a faster pace.
This technology makes the motion less blurry. You need this clarity for FPS games with faster speed. You can disable this feature if you are using this monitor for playing other types of games. You can also use it for regular work. Actions such as reducing the flashes of the backlight can also lower the brightness. It can cause flickering on the entire screen.
This feature will reduce the blurring of images of moving objects in the game.

– AMD FreeSync
Are your frames per second or FPS within the range of refresh rate 40-75 Hz? Then you can use variable refresh rate technology, AMD FreeSync. It helps you to get rid of the stuttering and tearing of the screen. This feature allows you to change the refresh rate. It also lets you adjust the capability of the graphics card. This monitor is compatible with the FreeSync technology of AMD.
You can adjust the refresh rate. This feature allows you to manage the tearing and stammering of the screen.
Other features of this monitor
– Cross-hair
This feature in the on-screen display helps you customize the cross-hair. It allows you to improve the FPS of the game.
– Black stabilizer
This feature can help in improving the visibility of the dark parts of the game. The dynamic action sync allows you to react faster and attack your opponents without any display lag. It further reduces the input interval.
– Pre-calibrated presets
This monitor has four gaming picture, pre-calibrated presets. It uses one for a customizable profile, two for FPS, and one for RTS.
– On-screen control
This feature allows you to change the setting of the monitor by using a desktop application. It's easy to split its screen to do multitasking with various windows.
Other important information about LG 24MP59G FreeSync monitor
– Connectivity and design
You will find a VGA port, a headphones jack, HDMI 1.4, and a Displayport 1.2 at the back of LG 24MP59G. It has FreeSync with a range of refresh rates 40-75Hz through both DP and HDMI to make its connectivity easy.
The design of this monitor is straightforward. It includes a cable management bracket and a bracket to tilt the screen by 5-15 degrees. It has thick bezels. But it is not compatible with the VESA mount.
– Performance and display
This monitor's display is ideal even for daily use because of its 24″ IPS panel with a 75 Hz refresh rate. It gives you 5ms response time, and 1920×1080 resolution 250cd/m2 backlight. You also get 1000:1 contrast ratios. These specs also help it to meet your contrast and brightness-related requirements. You can use it in low light, but you can notice the IPS panel's blackish gray.
Still, this monitor's performance is not the best, though it is better than other monitors in its class. It balances the sharpness and visibility of the images. Moreover, anyone can get used to playing games or watching movies on this gaming monitor. It is easy to run as compared to 4K with more than 1440 pixels.
It can reduce the images' vibrations to some extent because it produces 94% of the sRGB color. Other gaming monitors make 97%. Moreover, its color improvement is more accurate. It helps you to avoid noticeable errors in the colors.
Furthermore, it's easy to adjust its settings to correct the warmth or coolness of its colors. It helps you to create more balanced pictures of all types. Its modified settings can allow you to use it while editing images. But due to its limited range of coverage, you may miss some shades of colors.
We noticed a slight leak of the backlight at the lower corner of the test unit screen. We improved it by making a few improvements in its standard model. While viewing on a black screen or dark images, we noticed a 14% variation at the lower part of the screen. Experts consider this variation to be within the acceptable limit.
Though it is a budget based monitor, still it can handle variations in motion images. We observed slight ghosting and blurring while playing high-speed games. You can avoid that by spending some more money on purchasing the version with a 144Hz refresh rate. Or you can get a 75Hz refresh rate, which can help you avoid the problems of backlight strobing of the backlight. Gamers often experience that problem with this monitor with a 75Hz refresh rate.
LG 24MP59G FreeSync is suitable for a tear-free gaming experience. Use it with GPU of AMD due to its compatibility with 40-75 Hz. This feature allows you to use it with the games needing not-much intensive GPU. Its compatibility with G-Sync will enable you to use it with any GPU, including AMD GPU. Moreover, the 5ms response time of this monitor is excellent for a 75 Hz gaming monitor. It would have been suitable for fast-paced games if its refresh rate were better than 75 Hz.
– Price of LG 24MP59G
The LG 24MP59G-P gaming monitor is priced under $150. This pricing makes it one of the most budget-oriented and cost-effective gaming monitors.
The LG 24MP59G has a decent design. It has a stylish look with its modern, V-shaped stand and its glossy bezel. Despite its appearance, the frame has poor ergonomics, so it can be hard to place it in the ideal viewing position. It can only tilt: it can't swivel, and there are no height adjustments.
Also, it can't be VESA-mounted. Yet, the stand supports the monitor well. It has a small footprint that allows you to place items right in front of the monitor. It's an excellent buy for such a low price, and buyers get great value for money.
Conclusion
Are you searching for an affordable gaming monitor? The LG 24MP59G-P FreeSync monitor has a 24″ display and 1080p IPS panel. It improves your gaming experience, making it the best choice for you. But if you want to play high-speed games, then a monitor with a higher refresh rate can be suitable for you.
On the whole, LG 24MP59G-P gaming monitor is the best in its class. This cost-effective gaming monitor has a low input lag good response time. It also comes with FreeSync. It's the perfect buy if you're on a tight budget. You can also use it for multitasking if you make a few changes to its stand.