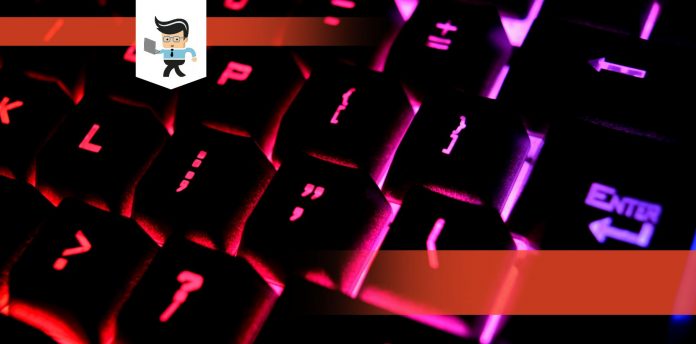 Our Strafe vs. K70 review is one keyboard comparison guide you cannot avoid, especially when you are about to select the best mechanical keyboard for your gaming needs.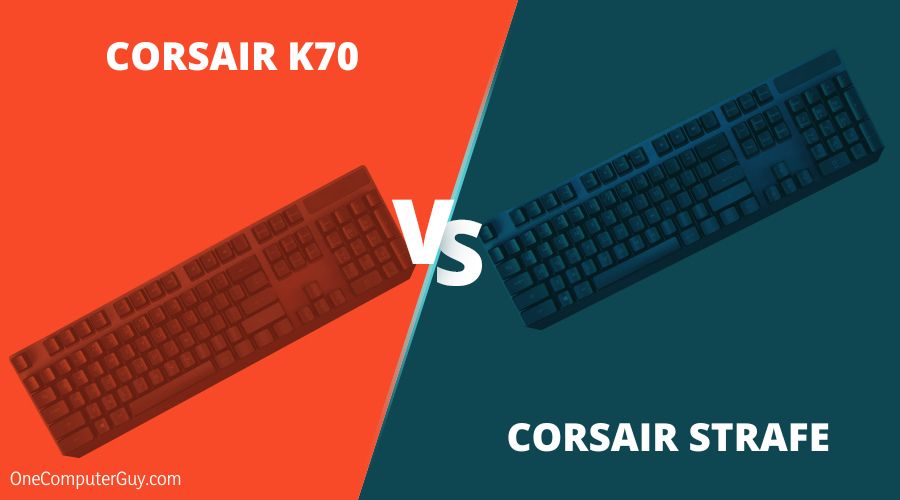 Undoubtedly, both keyboards boast an extensive set of attributes most gamers and programmers will surely find fascinating.
In this clash of two great keyboards, we have made a comprehensive analysis of both devices to help determine the right one for you.
Keyboard
Corsair K70

Corsair Strafe

Dimensions
17.24 x 6.53 x 1.53 inches
17.60
Backlighting
RGB LED Backlit
RGB MK2
Connectivity Method
USB
USB
Top Features

Highly durable
Sleek design
Rainbow backlights
Multiple Cherry switches

Appealing design
Visual effects
Red lighting profiles
Corsair Strafe vs. Corsair K70: Which Works Best for You?
While the K70 and Strafe mechanical keyboards both share impressive qualities and tend to be significant assets for gamers, there's a need for clear insights about the uniqueness, differences, and features of both keyboards.
In this guide, you will get to understand and gain insights about the similarities and the major differences between Corsair Strafe and K70. In the end, you will be able to make informed choices if you find yourself seemingly confused about the opportunity to make a choice between these keyboards.
PROS:
• High level of durability
• Sleek design
• Colorful backlights
• Five different cherry switches
CONS:
• High price
• Difficult software
The K70 is a mechanical keyboard every gamer would fancy. This Corsair keyboard has praiseworthy features, such as its durability, which would most definitely last the game for years.
This Corsair made product, unlike most keyboard models, has five different cherry switches through the Cherry MX: cherry speed, cherry brown, cherry red, cherry blues, and the cherry silent, with each being unique and effective in its own.
The Cherry MX is guaranteed to give you the very best in terms of accuracy and speed. This keyboard is very versatile and offers the very best when it comes to gaming or typing.
The beautiful design of the keyboard with its colorful rainbow backlights gives you a feeling unlike any other. This mechanical keyboard also features a set of separate media controls, including a USB pass-through and even a volume wheel. You can also control Game Mode button locks, brightness, and profiles.
Despite the fantastic features that come with this masterpiece, the price might discourage many prospective buyers. Still, you would agree that what the product lacks in cost-effectiveness, it makes up for in quality.

Another possible reason you may not like the Corsair K70 mechanical rapidfire is that it's not easy to use the software. But it turns out very easy once you get the hang of it.
Are you looking for a fantastic gaming or typing experience? This amazingly designed mechanical keyboard offers you the very best without anything left to spare. The price may be discouraging to some, but it is worth every penny.
Pros
• Beautiful design
• Easily customizable visual effects
• Reasonable price
Cons
• Difficult Software
• Only red backlight
Corsair Strafe keyboard comes in a classic, high-quality plastic design that will meet the demands of anybody looking to get a top-performing mechanical keyboard without hurting their pockets.
If you have a strong affinity for red colors, the elegant Corsair Strafe RGB will appeal to you, especially when it comes up in the dark. Aside from that, the Corsair Strafe keyboard will also serve your gaming and typing needs without any trouble.
Another notable feature of the Corsair Strafe keyboard is its utility engine software. From the Corsair red lighting profiles, you can choose from about six pretexts or create lighting patterns that best suit you.
The keyboard does not offer macro buttons like other top Corsair mechanical keyboards, but thanks to its easily customizable features, you can quickly create macros by assigning their specific commands to the standard keys.

It doesn't end there. You can also control the lighting brightness and disable the Windows key while enjoying your favorite games. You can enable this feature with the two keys on the top right corner of the keyboard.
The Strafe mechanical keyboard is very affordable. While it may struggle to keep up with the level of performance of some top mechanical keyboards, it cannot be brushed aside either.
It performs numerous functions which are expected of any other standard mechanical keyboard , and it also comes with a beautiful design and a wide range of customizable visual effects.
However, the options might be overwhelming for a new user, and we feel like Corsair could do better with the ease-of-use of the keyboard's software.
Tips to Help You Choose The Best Mechanical Keyboard
– It's not a mechanical keyboard if it doesn't have suitable mechanical switches
When selecting a mechanical keyboard, you need to pay attention to the mechanical switches.
These switches are what give the keyboard a unique ring to it. It increases the user's speed and accuracy when typing as you can generate the highest number of words per minute through its auditory feedback.
There are different types of switches, e.g., linear switches, tactile switches, and clicky switches, and some possess springs that need a forceful or less forceful push. The spring usually provides feedback to the typist to let him know that he has pressed the key well enough and hasn't missed a letter.
The mechanical switches are not like the membrane switches because you don't have to be press it "all-way" down, leaving the user with an unpleasant feeling.
– You can tell by the build quality
Ordinarily, the average keyboard does not require you to spend time checking the quality of the keyboard case, but since you are not looking for an ordinary keyboard, you would need to be meticulous in your selection.
The best mechanical keyboards often have frames that enhance the durability of the keyboard.
– If it can't be programmed, it's not good enough
Most keyboards that can be programmed are usually mechanical keyboards, but the question is how to know the right one. It is not an uncommon feature but a quality one.
It means you can customize the keycaps to perform functions other than the default services. You can also record macros and customize backlights by pressing some keys depending on the keyboard. Some keyboards come with software that does this work.
Frequently Asked Questions
1. Which mechanical keyboards switches are the best?
Many individuals often wonder what switch performs best when it comes to gaming or typing on their PC. While you may easily overlook this aspect, it is very important if you are looking to get a solid mechanical keyboard.
Usually, mechanical switches come in three categories, namely, linear switches, tactile switches, and clicky switches. These switches have their specific functions, and the typical gamer would select the one that perfectly suits their needs.
The tactile switch possesses a sort of bump around the actuation point. This is the same with the clicky switch, except that it comes with a click sound.
The linear switch, on the other hand, has a consistent and smooth keystroke. If you like fast-paced games, then linear switches would be the right choice because you can press the key switch faster.
There are different mechanical keyboard switch products such as the Cherry MX, Kailh, Razer, etc. We would be focusing on the Cherry MX because it is arguably among the most used keyboard switches. It comprises many other switches such as the Cherry MX Blue, Cherry green, Cherry brown, Cherry red, Cherry MX brown, etc.
The Cherry MX brown is the most widely popular switch. It has a tactile, silent journey, and medium actuation force and is considered the perfect blend, thanks to its top performance when gaming or typing.
2. What's the best choice?
When in doubt about whether to buy a mechanical keyboard, you have to consider if you are a typist or a gamer, the accuracy, speed and ease it grants the user in every click, and durability.
Suppose you are looking for a well-designed keyboard with a beautiful backlight. In that case, the K70 is the better choice because of its rainbow backlight and metal case, unlike the Strafe keyboard which only provides the user with a red backlight and possesses a plastic case.
However, you may be lucky enough to find a cheaper mechanical keyboard with the same features as a more expensive one. Be sure to keep a keen eye when purchasing a mechanical keyboard.
Conclusion
Truthfully, both Corsair Strafe and Corsair K70 keyboards have what it takes to deliver exceptional performance all through their lifetime. However, when you need to choose either of the two, it all boils down to their subtle differences and your personal preference.
If you are looking to squeeze that extra bit of performance from your keyboard, the K70 model is your best bet. It also offers better low-light performance than its Strafe counterpart. That is to say, if you work mostly in the dark, and you are looking to keep up your typing speed without any hassle, it comes in handy.