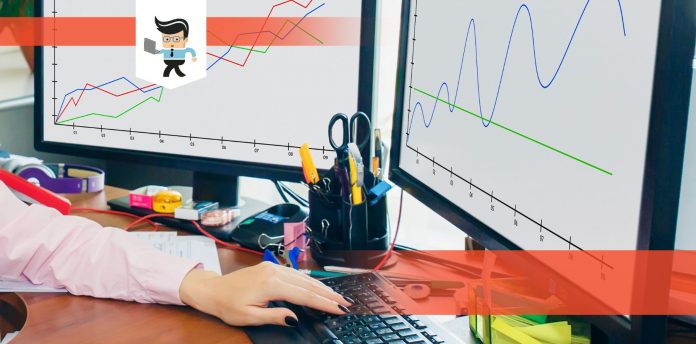 If you are a gaming enthusiast, you must have weighed your options between Acer GN246HL vs. VG248QE by Asus. Yes, these are the two most popular monitors for gaming and other applications, such as TV and PC. Here, we have reviewed these monitors in great detail. This article will give you all the specifications and benefits.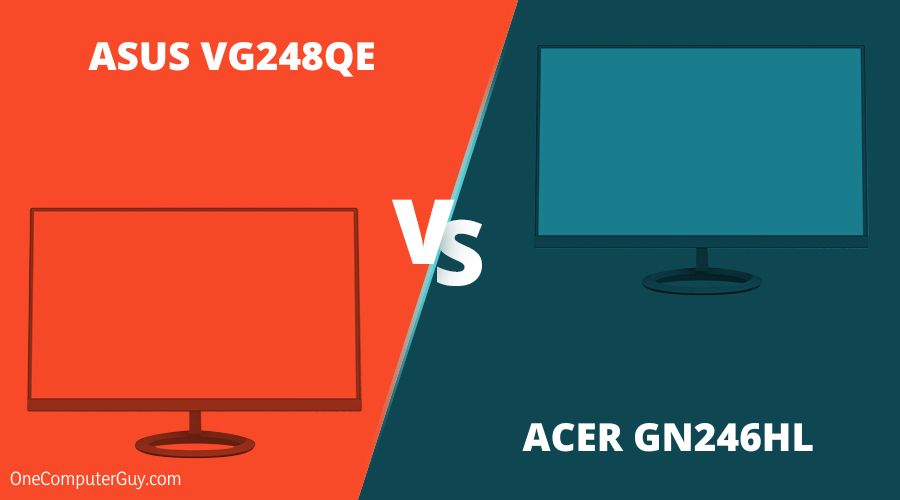 You'll also find the and pros and cons of these two products. Please, read on!
Products
Key Specifications
Asus VG248QE

24" screen
144Hz Refresh Rate
DisplayPort, HDMI, DVI connectivity ports

Acer GN246HL

24" screen
144Hz Refresh Rate
HDMI, DVI, VGA connectivity ports
Pros
• 1ms response time and 144Hz refresh rate
• Exclusive GamePlus hotkey
• Built-in timer for live tracking of game times
• Brilliant 2D and 3D HD-quality visuals
Cons
• Screen brightness too much for comfort
• DisplayPort fails, and only HMI seems to work
Here's our brief Asus VG248QE review. This monitor provides a smooth picture display and movements due to its 144Hz refresh rate and 1ms response time. It is a 24-bit monitor capable of displaying 16.7 million colors with four modes for color selection. It has excellent design aesthetics with a particular focus on ergonomics.
This monitor has a stand that can swivel, tilt, and pivot. You can mount on the wall and make height adjustments.
Asus VG248QE is a proper gaming monitor for all you gamers out there. It has a 144Hz refresh rate and 1ms response time. This means frames move without freezing, and it is as smooth as it can get. You also get excellent mouse movement.
But for your system to function right, you need to have a GPU capable of similar rendering up to 100Hz or 144Hz. But if you want to use it for photo editing and or some other kind of office work, this monitor may prove to be overkill.
This monitor has six different color modes that give you the freedom to select what's best for you. It also has options to regulate the color and contrast according to your taste. It has a reliable, built quality with a back bracket for efficient cable management.
The monitor's height is adjustable and tilt-able. It also has flexible height adjustment options. You can rotate his monitor left and right up to 45 degrees. You can turn it for a nice portrait mode. It has excellent viewing angles, thanks to its high-performance TN panel.
This monitor reduces the time for rendered frames to come alive on the screen. It has a reduced latency that improves the signal from your system to the monitor. It ensures your monitor has a quick response time. The high refresh rate increases the number of frames per second.
It ensures that you have ultra-smooth motion in fast-paced action sequences. The response time is down to 1ms, which eliminates tracers.
What's great about it? It has the GamePlus hotkey with timer functions, and VG248QE overclock. It allows you to choose your gaming environment.
The VG248QE has an extensive range of connectivity options. These options include DisplayPort, Dual-link DVI, and HDMI. The monitor is 3D enabled so you can play your games after putting on your 3D goggles.

This monitor allows you to reimagine your viewing experience. It takes gaming to a whole new dimension. For example, it comes equipped with 3D LightBoost NVIDIA technology. This technology improves the LED brightness of the backlight. It makes 3D viewing much more exciting without increasing your energy consumption.
– Key Features
| | |
| --- | --- |
| Display |  24-inch, FHD 1080p |
| Refresh Rate |  144Hz |
| Response Time |  1ms |
| Best For |  Gaming |
| Panel |  TN Film |
| Aspect ratio |  16:9 |
| Resolution |  1920 x 1080 |
| Input Compatibility |  HDMI |
– Benefits
• Ergonomic stand that can swivel, tilt, and pivot.
• Comfortable viewing with height adjustment, wall mount
• 2W built-in stereo speakers that provide an immersive experience
• DisplayPort, HDMI ports, and Dual-link DVI D
Pros
• 144hz response
• Games work smoothly
• Mouse cursor seems to glide
• Clear text
Cons
• Not so great for photo video editing
• Dark scenes disappointing
This 24-inch monitor from Acer is an excellent choice for any gaming enthusiast. It supports smooth movement gaming software with its 144hz and 1ms response time. It has excellent specifications, and at the end of the day, you'll be super happy with its performance.
The Acer GN246HL 144hz monitor makes your moves and games look more real as well as more dramatic. Even smaller text and details are crystal clear. Its short response time means it gives crisp and finely rendered action movements. It eliminates any possibility of ghosting.
As we were writing this Acer GN246HL review, we found it most immersive viewing and entertainment experience. The visuals look all the more alive if you use the monitor with 3D glasses.
The GN246HL has an LCD widescreen of 24 inches. It has a powerful resolution of 1920 x 1080 pixels. It can deliver excellent details and is a perfect choice for multimedia, HD gaming, and other applications.
It offers a crystal clear viewing experience thanks to a 100 million:1 contrast ratio. At the same time, a quick 1ms response time ensures that moving images are clear and sharp.
This monitor supports input compatibility with HDMI, VGA, and DVI. The slim profile of the monitor comes with superb HD resolution. The LED monitor offers high-quality picture details. Thus, it is the perfect monitor for advanced 1080p gaming, applications, and multimedia.
It has different kinds of input compatibility, such as HDMI, VGA, and DVI. So, you can use your tablet and smartphone as well.
However, there is one serious drawback with this monitor, and it relates to color shifts. This shortcoming makes it less suitable for photo or video editing with software like photoshop.
Some users also claim that input change is not easy on this monitor. They say changing the input from HDMI to DVI is possible, but not without issues. Another shortcoming with this monitor is that it does not have a display port.

What is does have is a TN panel that sometimes comes in the way of how colors look on this screen. But if you want to use it for gaming, this is a good buy.
Another thing is its refresh rate. If you think 60Hz is good, then you've never used a 144Hz. It is a powerful upgrade on 60Hz. Here are the Acer GN246HL specs :
– Key Features
| | |
| --- | --- |
| Display |  24-inch, Full HD 1080p |
| Best For |  Gaming |
| Panel |  TN Film |
| Warranty |  3-year |
| Resolution |  1920 x 1080 |
| Connectivity Port |  DVI, HDMI, and VGA |
| Aspect ratio |  16:9 |
| Viewing Angle |  170� Horizontal, 160� Vertical |
| Response Time |  1 ms |
| Refresh Rate |  144 Hz |
– Key benefits
• Because of the 144 Hz refresh rate, the monitor does not give motion-freeze and delay problems. It allows ultra-smooth gameplay and scenes.
• The Full HD feature with 1080p resolution makes movies and games more real and dramatic. With a 16:9 aspect ratio, text and small details are clear.
• The short response time of 1 ms eliminates ghosting. It also gives crisp and superb action sequences.
• It offers an excellent and immersive 3D viewing experience right in your home. You can use 3D glasses for visuals to look more exciting and alive.
Asus vs Acer
The main difference between Asus VG248QE and Acer GN246HL is, Asus VG248QE has DisplayPort, HDMI ports, and Dual-link DVI connectivity ports, while Acer GN246HL has DVI, HDMI, and VGA.
Our review finds that there are several similarities between these two monitors. They both seem to have similar and comparable specifications. That makes it challenging to find a clear winner between them. Still, we will compare the key features and see how they stack up against each other.
Let's talk about the similarities first.
Both the monitors have 24-inch display screens with FHD 1080p resolution. Both have the same refresh rate of 144Hz that allows them to provide super smooth frame motion. This factor is of critical importance in gaming, where speed counts a lot. Your monitor must be able to match the speed of the game you are playing.
Another similarity is the response time that they have. It is down to 1ms. Well, both are very efficient in processing signals. They provide an ultra-smooth viewing experience.
Screen Size:
Both have a 24-inch display
Refresh Rate:
Panel:
A significant difference between these two monitors is in the input connectivity ports. While Asus VG248QE has DisplayPort, HDMI ports, and Dual-link DVI, Acer GN246HL has DVI, HDMI, and VGA. But all these products seem to have problems with input connectivity.
Some user reviews say that they had to install extra ports with Asus VG248QE to get their TV and computers to work with the monitor. Many users of Acer GN246HL complain that it is not easy to switch ports and get the system working.

Conclusion
In our Asus VG248QE vs. Acer GN246HL review, we find that both the products are almost identical. They have a similar configuration as well as the output quality, so finding a clear winner is difficult. Since everything else seems to be equal, the price can be a factor. Price can tilt the balance in favor of one against the other. Click here and here to check out the prices and see which one has the advantage.
You can also judge the monitors by the customer care that their brands offer. Both have a 3-year limited warranty. But which one is more prompt and proactive in providing after-sales services? That can also decide the winner between them.