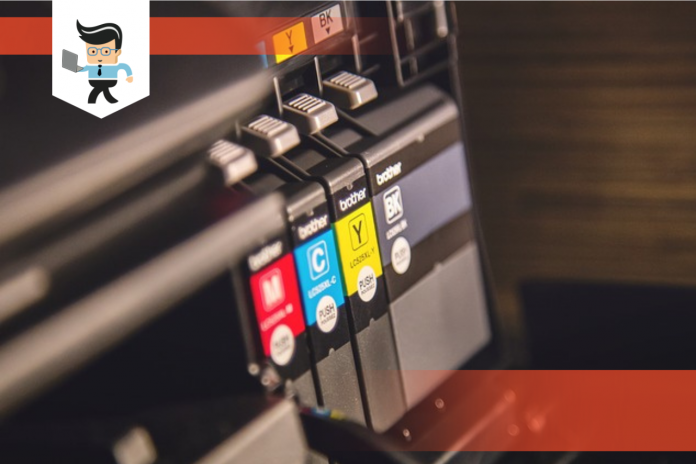 The HP Officejet Pro 8740 is a unique office printer, thanks to its Inkjet design and disposition. It delivers speed and improved performances across different functions, including printing and copying. That makes it a fixture worth having in your office and other formal settings.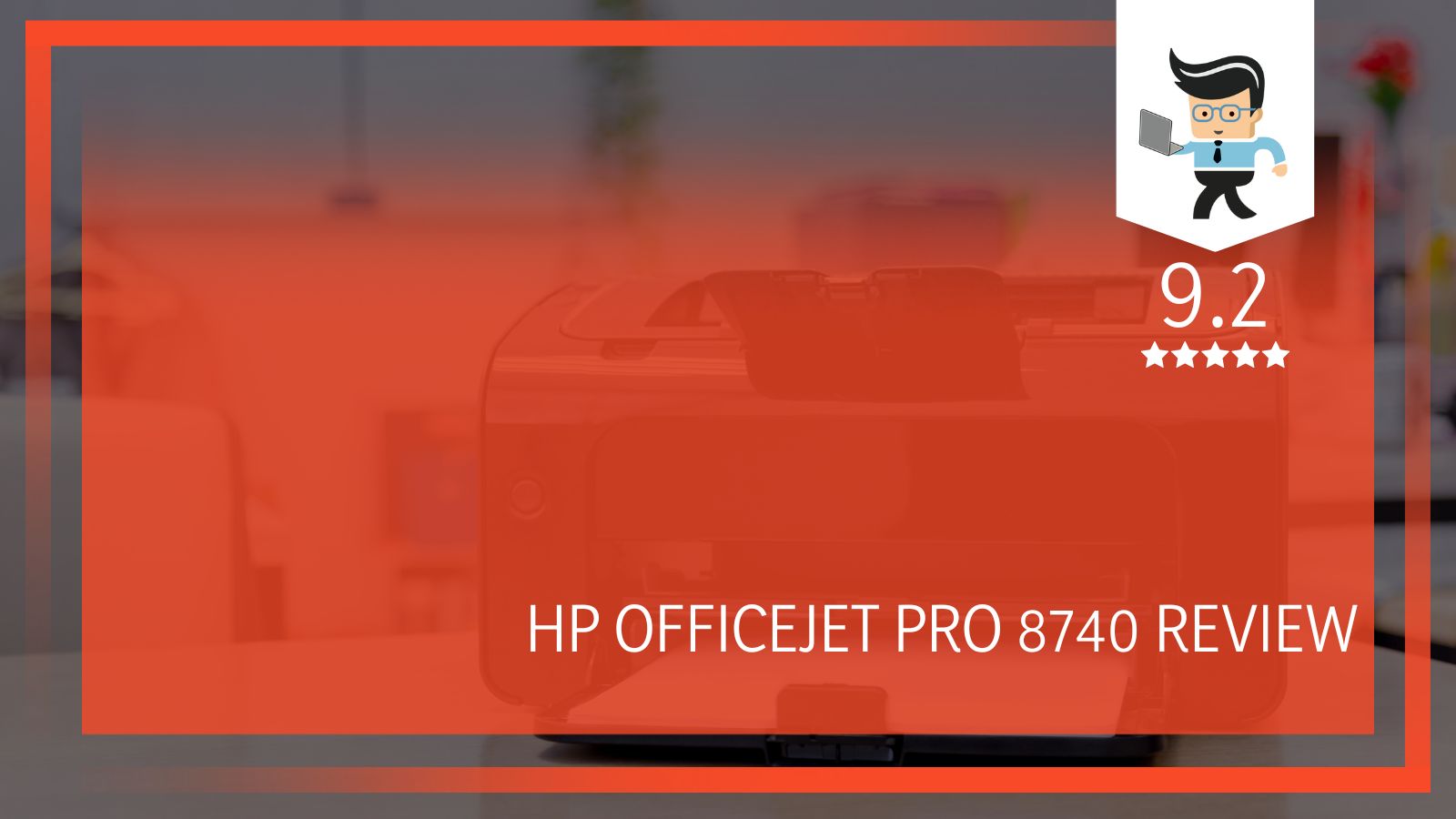 Our review takes on its features, capabilities, and other key factors to help you take a gamble on it or not. 
Key Specifications at a Glance
Product 
Key Specifications 
HP OfficeJet Pro 8740

 

Brand: HP

Printing Technology: Inkjet, Laser

Connectivity Technology: Wi-Fi, Ethernet 

Control: App, Touch

Storage Capacity: 512MB 

Output: Color 

Special Features: ADF, Duplex 
AIO Printing Masterclass
If there were a list of great office printers, the HP OfficeJet Pro 8740 would feature on it. It's that good and has an Inkjet and laser printer profile. 
Also, it's a regular fixture in many homes and offices, boasting unique speed and efficiency for its size. The best part? It's an innovative printer that gets you up and running on many functions with its high yield capabilities. 
HP has been around for years as a favorite manufacturer of Inkjet photo printers, so it's normal that level is maintained and improved on. It stands tall as one of the brands leading the laser printing feature with several improvements to transform occasional home printing to heavy-duty office use. 
To that extent, the HP OfficeJet Pro was designed to be the middle ground between business-class laser printers and cheaper home inkjet printers. According to the HP brand, this Pro 8740 Inkjet printer can fulfill every printing need a business has. 
Our review team has taken that statement to heart to see if it's true.
Let us find out if this printer will perform well in a business environment. 
HP OfficeJet Pro 8740 Key Criteria
PROS
App and touch-screen controls
Can print and scan from USB 
Excellent paper capacity 
Multiple routes for connecting printer
CONS
Text smudges can happen when wet
If there was ever a printer designed for office use, this all in one printer from HP is it. The printer is an elite inkjet multifunction printer (MFP) and offers a level of speed, paper handling, and features found in color laser MFPs than in inkjets. That's how good it is. 
Also, much like many color laser MFPs, it's big enough that you won't want it sitting on your desk. If you manage to find room for it, you'll find that it's the perfect choice for a small office or workgroup. 

You won't find many inkjets in the same class as the Pro 8740, but other brands like WorkForce come close with valid models. However, this one is up to the task for heavy-duty use in many office settings. 
Our tests revealed the Pro 8740 is designed to churn out higher-quality graphics output. It also offers a higher paper capacity.
HP OfficeJet Pro 8740 specs include fast printing speeds, which is the favorite aspect of the printer for many users. It's an important one, too, considering that no one wants to spend a whole lot of time waiting for papers to drop. HP designed this printer to spit out up to twenty pages per minute of color and twenty-four of black. After the first page, we noticed that additional pages printed even quicker. 
The Pro 8740 is a fantastic printer for the home and office. You can make prints from your phone at any time. You don't have to wait so long to get your copies because this printer will crank them out faster than you can imagine. That will help you meet deadlines or get your jobs completed faster. 
Deep Trays: More Papers for all Activities
Printing is an art, but an empty tray quickly ends no matter how fast it is. Moreover, no one loves running out of paper or having to refill their printers at any turn. However, this Pro 8740 ends that with its deep trays. 
While a typical inkjet printer gives you one 250-sheet paper tray, the HP OfficeJet Pro 8740 has two 250-sheet paper trays. 
Deep trays are fantastic prospects for businesses. With your letter-wise paper in a tray and your legal size in another, you can achieve a lot. 
Many users also split a ream of paper between both trays, so they don't have to worry about storing their papers elsewhere. The Pro 8740 presents a smart way to store papers rather than leave them to produce dust. 
Connectivity: Make More Than Standard Connections
One thing about this printer is making multiple connections. If there's any device that can connect to a printer, it will connect to the HP OfficeJet Pro 8740. It comes with a standard USB connection typical of many printers. But HP includes a secure dual-band Wi-Fi connectivity and NFC capability. It's also possible to print directly from a USB flash drive and an Ethernet network. 
Users can pair the printer to Amazon Alexa to print pages with their voices. It's a superb prospect and adds to the easy way to operate this printer. 
If you run a business, these options and more are key to responding effectively to your customers' needs. The HP OfficeJet Pro 8740 printer will fit into your office or business set-up without hassles. 
The printer weighs just above 40 pounds, and the setup is typical, like on top-end machines. The HP OfficeJet Pro 8740 setup is smooth and easy to accomplish. 
You can connect it to a network using its Ethernet port and install drivers and software on a system running Windows Vista. The front panel has a screen that allows users to take advantage of HP Print Apps to print from various cloud sites. 
But if you choose to connect through a single PC using a USB cable, you won't be able to print from the cloud or use the Print Apps. However, HP includes a Wi-Fi Direct feature that lets you connect directly from mobile devices to print and scan. 
Duplex Printing: More Speed and Efficiency
The HP OfficeJet Pro 8740 is innovative, and it takes the duplex printing process to the best level. Instead of spitting papers from the front of the printer, this HP Pro 8740 prints papers backward, up onto a catch-tray. 
The reason for this is to have a faster duplex printing process. As a result, the document won't leave this printer until it's done when you print two-way documents. To put it in perspective, many printers have to finish one side first, then suck the page back in.
The HP OfficeJet Pro 8740 does flip your page inside the printer and print the second side all at once. Also, this printer will begin printing the second page while flipping the first one. This means there is no downtime waiting for pages to flip, get sucked back in, or between pages. 
It means that you can print twenty pages per minute of duplex prints. Not many printers can keep that up. 
Further, the OfficeJet Pro 8740 has a single-pass duplex auto-document feeder (ADF). That translates to each two-sided page needing to run through the scanner once, thus saving you even more time. If you're always working with two-sided documents, consider this printer. 
Cost of Printing: One of the Best
Another exceptional thing about this printer is its low functioning cost. With liquid ink being so expensive, you need a device like this to save you money. 
If you're wondering how to get a printer to do that for you. The OfficeJet Pro 8740 series uses HP's 952 series of ink. It's the most efficient ink HP has developed to date. 
The HP OfficeJet Pro 8740 ink cartridges print up to 1,600 pages of each color. To put that in perspective, it works on a price-per-page of about two cents for each color. The Pro 8740 can also use a 956XL cartridge for black, which prints up to 3,000 pages. 
That works out at about 1.5 cents per page. These numbers are great, cheaper than many laser printers out there, and more affordable than the HP Instant Ink. The bottom line is the printer will save you a lot of money. 
Performance: Built for the Office

 
The OfficeJet Pro 8740 is office compatible. That means you can do many work-related activities in the office, including printing from a flash drive. With printers being compatible with mainly two file formats – PDF and JPEG, you'll find that many printers do not work with Microsoft Office file extensions. 
Not the HP OfficeJet Pro 8740. You can print a Word or Excel document from a flash drive with this printer. No computer is required. It also comes with OCR software. OCR's help you scan documents and convert them to editable Word documents. 
For our tests on various parts of this printer, the output quality is more of an advantage than a disadvantage. 
You'll get a supreme text quality at the high end of the range, like those on many inkjets. This one has excellent, readable text, even at five and six points for the test fonts we used. Anything else that's much smaller might need more focus to read. Also, the ink can smudge if it gets wet, making texts difficult to read. 

The graphics were another aspect considered in our test. The OfficeJet Pro 8740 handled more graphics with terrific results than many inkjet printers. You get fast and efficient outputs, and the printer has a higher-quality mode. 
Overview

 
Our HP 8740 printer review shows just how good this AIO printer is. It has several competitors in its class, but it works better than many laser printers. This printer is worth it if you want speed and durable performance for your small office, home, and business. 
Conclusion: Excellent All-in-One Printer
The HP OfficeJet Pro 8740 is an exceptional printer. It has a fast, efficient, and innovative style. It's a vast improvement on several printers, which leaves users happy about the upgrade. 
We think it's best for the office and some businesses, but you might have to get another printer if you print above 30,000 pages per month. 
The printer is also durable and will serve you well, but anything above 1,000 pages per month will stretch its durability and may see it last about two to three years max. That said, the Pro 8740 has better graphics quality than many printers, and it's faster than laser printers. 
You also get better text quality than most inkjets. All these features make it an excellent AIO printer.