Learning how to join Xbox party on PC is important because Microsoft allows PC and console players to play their games together. With this, you can chat with players on both gaming platforms.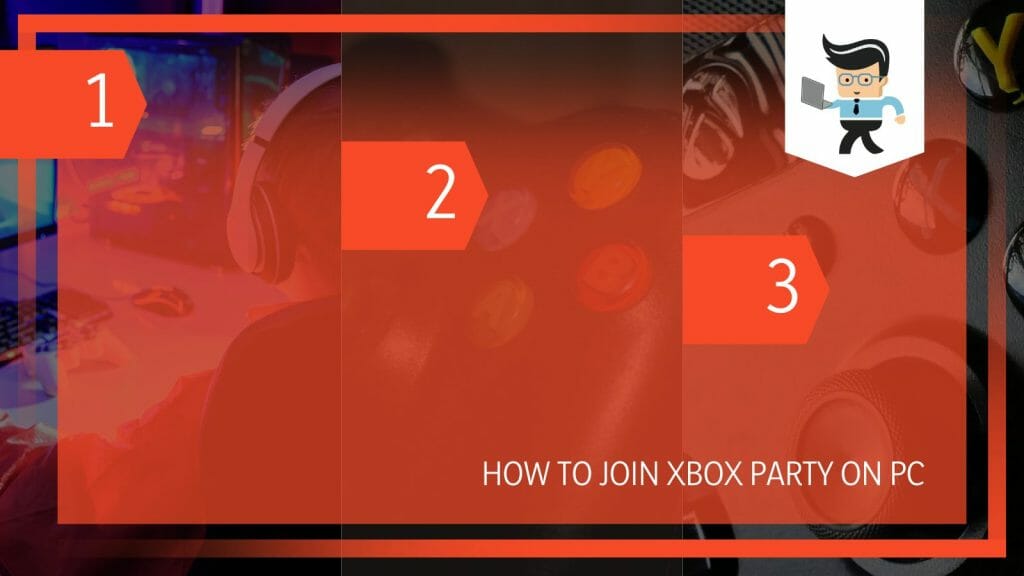 So, if you are a player interested in knowing how to join Xbox party on PC Windows 11/10, we have a straightforward procedure below.
How to Join Xbox Party on PC Effortlessly
To join a party on Xbox on your PC, press Win + G or Settings > Gaming > Game Bar to open the Xbox utility. Click on the icon that resembles two people and sign into your account. Once the chats list pops up, click on a party to join it.
Xbox Live party allows you to engage with your friends while gaming in real time. Typically, it resembles a group call, but doing it while playing multiplayer games together. You can join, start or leave a party on your PC or anywhere. This section will show you how to join party on Xbox app Windows 10/11.
– PC Requirements
This process requires you to launch the Game Bar on your PC. So, the basic requirement is to have an Xbox Game Bar. This App comes installed on Windows 10 and Windows 11 computers.
Alternatively, you can download the Xbox for Windows or Xbox Play Anywhere to play on Xbox and Windows 10 PC. Xbox Play Anywhere allows you to continue playing from where you left off on a different Windows 10 PC or Xbox, carrying all your game add-ons, saves, and achievements.
– Set up the App
If you decide to use the Xbox app, download it and install it on your computer. So, head to the Microsoft Store on your Windows PC and sign in. If you do not have an Xbox account, you must create it using the computer you will be playing games on.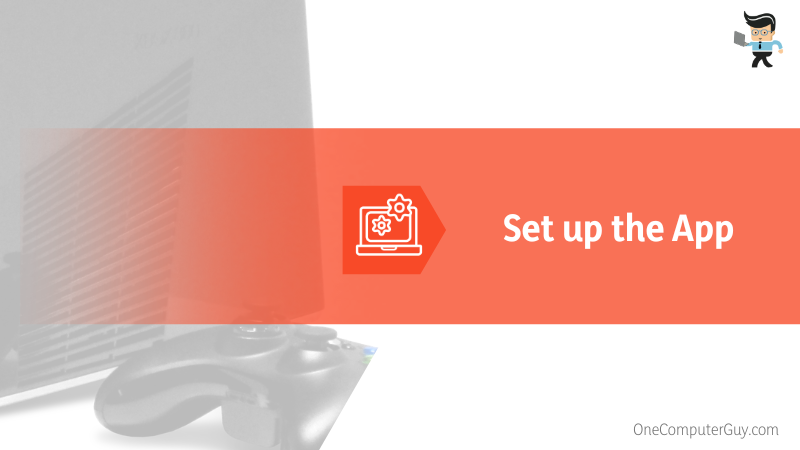 Type Xbox in the search bar, and download the App. Run the installer, then install the App on your computer. You may restart the computer before trying to use the Xbox gaming app.
Note that most Windows computers come with Xbox already installed. Follow this step if you accidentally deleted the application from your computer or if you want to use the App.
– Launch Xbox
Launch the Xbox by clicking on its icon. If the App is not on the desktop, click Start to display all the apps. Scroll through the list of applications to find the App. Applications on your Windows PC are arranged alphabetically. Therefore, you will find it at the bottom of the list.
Note that this app is famously known as Console Companion App, and it provides a way on how to join Xbox party on pc without game bar.
If you don't want to use the Console companion app, simultaneously press your keyboard's Windows Logo Button and G buttons (Win key + G Button). If the key combination does not work, launch the settings App, select Gaming from the resulting menu, and click Xbox Game Bar from the left pane.
If you did not log into your Microsoft account,
log in before proceeding.
Otherwise, you cannot be able to use Xbox.
– Access Xbox Social
Once the App opens, you will see a bar with various shortcuts on your computer. Click on the icon that appears like two people close to each other. This icon represents the social tab.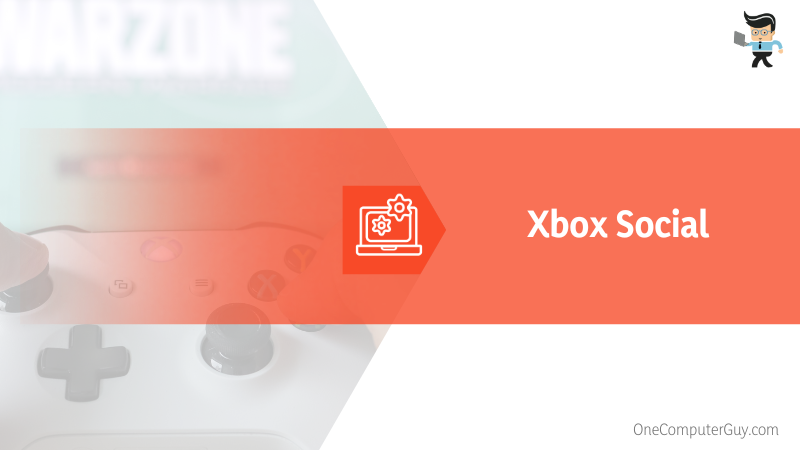 It is the last icon on the top row of icons on your screen. Once you tap or click it, it opens the Xbox social window. This window shows your Xbox friends alongside what they are doing.
Alternatively, you can click the Widget menu – the first menu on the left of the top bar. Just place the cursor on the menu option, and it will display "Widget Menu."
Once you click it, it will display Widget options – go through the list to find the "Xbox Social" widget. When you click this option, it will pop up on the right of your screen.
If you have already logged in, it will display the list of your Xbox friends. Additionally, it will display your activities. If not, you will be requested to sign in – enter your login credentials to access the friend list.
– Join a Party
Select the Friends tab and find a friend with a party you want to join. Right-click the person's name and select Join Party or Join Game from the popup menu to jump in with them.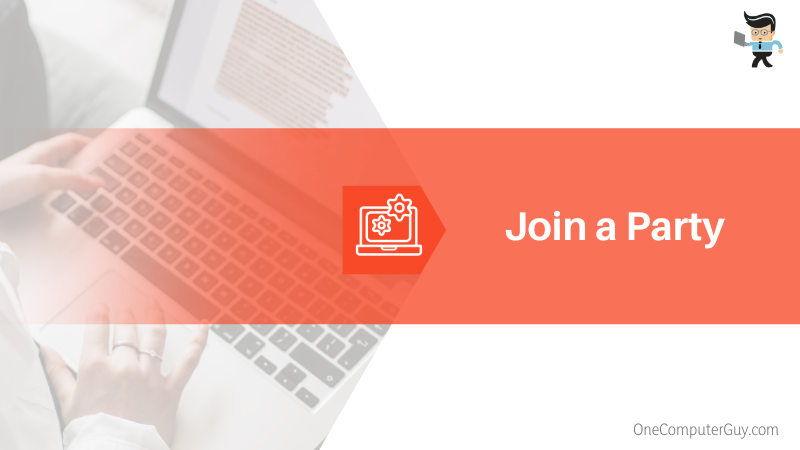 Right-clicking on a name gives you advanced options, such as inviting them to a game and viewing their profile.
You double-tap that name to display a popup window for the chat. To start a voice chat, tap or click the headphone icon. You can also video chat while playing a game together, hanging out, or watching a show during a party chat. Furthermore, you can adjust these communication settings to limit the people you want to chat with on your Xbox family.
You can still select the notification to join a party even if you are not on an Xbox console. For instance, click the Notifications button in the Xbox app for Windows to find any pending invites. Friends in an active party or multiplayer game have an icon indicating their status next to their Gamertag in your friends' list.
For some parties, you need to request permission before you join. But to initiate Xbox parties, you or someone on your device must have a Xbox Game Pass Ultimate or Live Gold subscription.
– Other Party Settings
Once you enter Xbox Social, you will have plenty of options to manage your interactions with others. Here are some key considerations: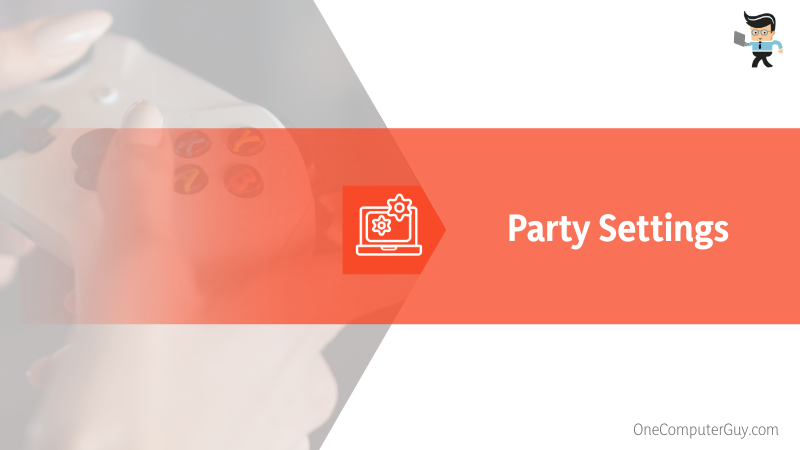 Go to the Chat tab to find your existing chats. Typically, you will find it under this tab if you want to resume a chat.
You can add friends from other socials such as Steam or Facebook. You will get this option under the Find Friends tab.
To join a specific party chat or people playing a particular game, go to "Looking for Group" and select the game. You will find threads of people talking about that game.
FAQ
– What Do I Need to Start an Xbox Party Chat on My Device?
To start a party, you or someone else on your device must have a Game Pass Ultimate or Xbox Live Gold subscription. These options allow multiplayer gaming and other benefits, such as discounts and free games. But also, you need a stable network connection for better play.
You can join a party from your Console or Windows device. To use your Console, e.g., Xbox Series, press the Xbox button, select Parties & Chats from the guide menu, and go to Start a party. Click Invite More, choose the friends you wish to invite and select "Invite selected people." All invites appear as a notification to the friends you chose.
– Why Can't I Join a Party on Xbox on PC?
You can't join Xbox party on PC because of Server connectivity. If this issue occurs on your Xbox multiplayer game on your Windows 10, launch Settings > Gaming and then click Xbox Networking. If it's "Blocked," your computer cannot establish a Teredo IPsec connection to the Quality-of-Service server.
Also, when you see Teredo cannot qualify next to NAT type, go to the Teredo troubleshooting page to fix that problem. You may also consider checking the Teredo adapter performance issues.
– Is There a Way to Join a Party on Xbox on Mac?
No. You cannot directly enter any party on Xbox when using Mac directly. Typically, there is no Xbox App tailored for macOS, and the only way to play Xbox games is via Xbox cloud gaming or Xbox Beta. Even with this option, there is no camera or loudspeaker for parties.
However, there is a way around it – here is how to join Xbox party on Mac: Use apps such as Parallels, Bootcamp, or run a virtual machine of Windows 10 on your Mac. These utilities allow you to load Windows 10 on Mac. Thus, you will be able to play
Conclusion
This post elaborates on how to join a party on Xbox on your Windows PC in detail. Here is the summary:
You can use the Xbox Companion App or the inbuilt Xbox tool on your Windows PC to join a party on an Xbox game.
You can join a party with a specific person of interest or a party chat for specific games, such as Wreckfest (2014) or Farming Simulator 22 (2021).
To start a party, you must have a Gold subscription on a device, but you don't need that subscription to join it.
You can be invited to join a party or may request to join it. When invited to join, you will receive it as a notification. Simply click on the notification to join.
Follow the steps in this post to join a party on your Xbox. You can interact with your friends, competitors, or teammates for a better gaming experience.
Ref:
https://www.forbes.com/sites/paultassi/2021/05/08/epic-is-trying-to-get-first-party-playstation-xbox-and-nintendo-games-on-egs/?sh=6c5d253a859f