Learning how to fix sound delay on Vizio TV is an essential skill if you have a Vizio television. Try searching "Vizio lip sync Reddit," and you will see multiple responses from Redditors about this issue.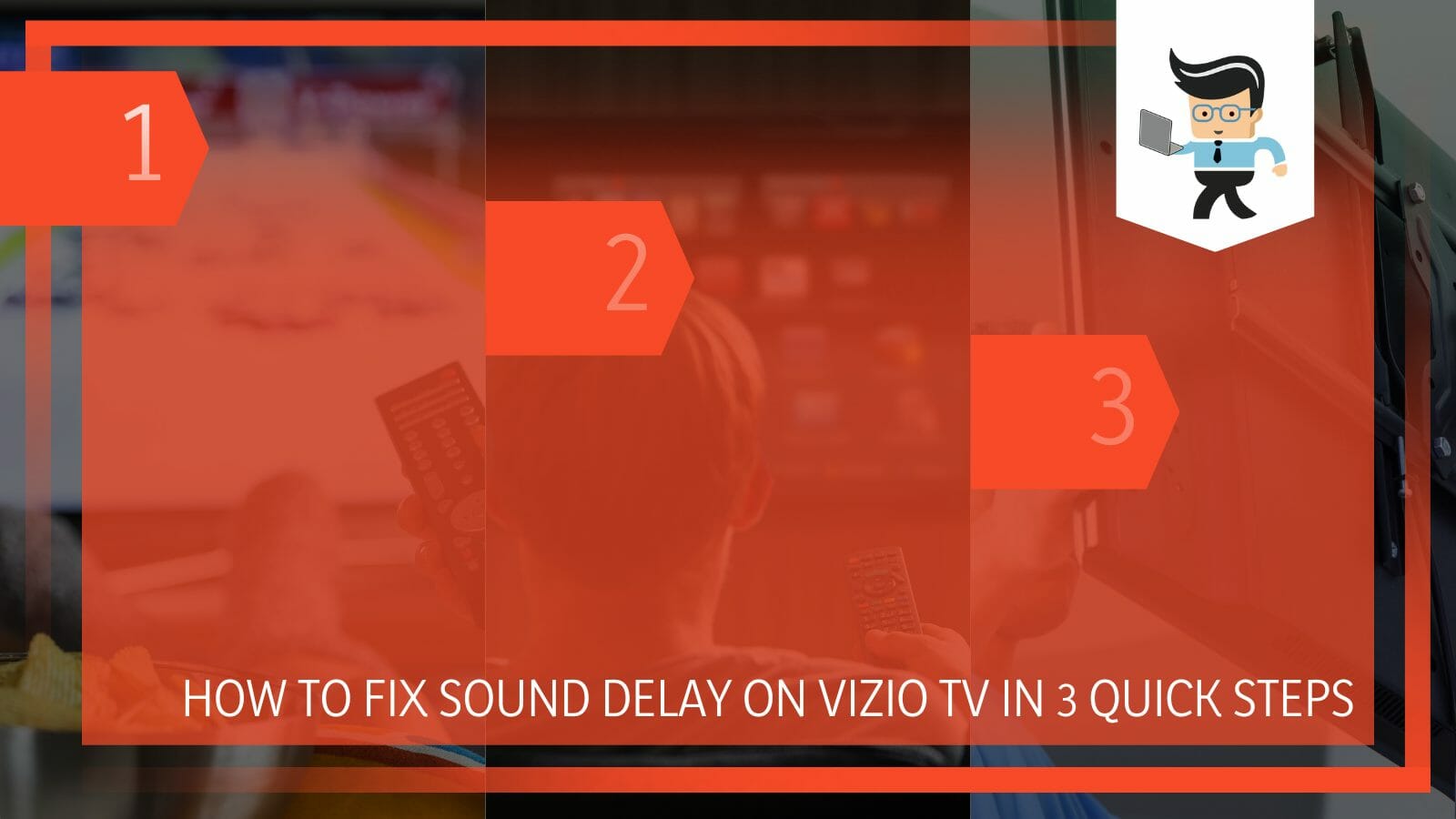 You no longer need to put up with this problem anymore, as this post tells you how to fix Vizio soundbar lip sync issues.
How to Fix Sound Delay on Vizio TV in 3 Quick Steps
The quickest method to solve delayed sound on your Vizio TV is to switch off the television and let it stay for some time before switching it on again. This can help resolve many issues within the television system, including audio delay.
Here is how to fix sound delay on TV:
 – Step One
Turn off your Vizio television. Locate the power button and press it to switch the TV off. This button, in newer models, is located at the bottom right of your TV, below the HDMI ports.
If you won an old model TV, find the button on the left of the bezel or the front lower left corner.
– Step Two
Unplug your Vizio television from the power supply. First, turn off the wall switch and carefully unplug the cable from the wall switch. You can also unplug the cable from the television.
– Step Three
Let the television stay for between five and ten minutes. Plug the cable on your TV and plug the opposite end on the wall power socket. For some TV models, the TV will power on right away. 
However, for others, you will need to press the power button to turn it on. Now, inspect the Audio on two or three channels to see if the TV sound is okay.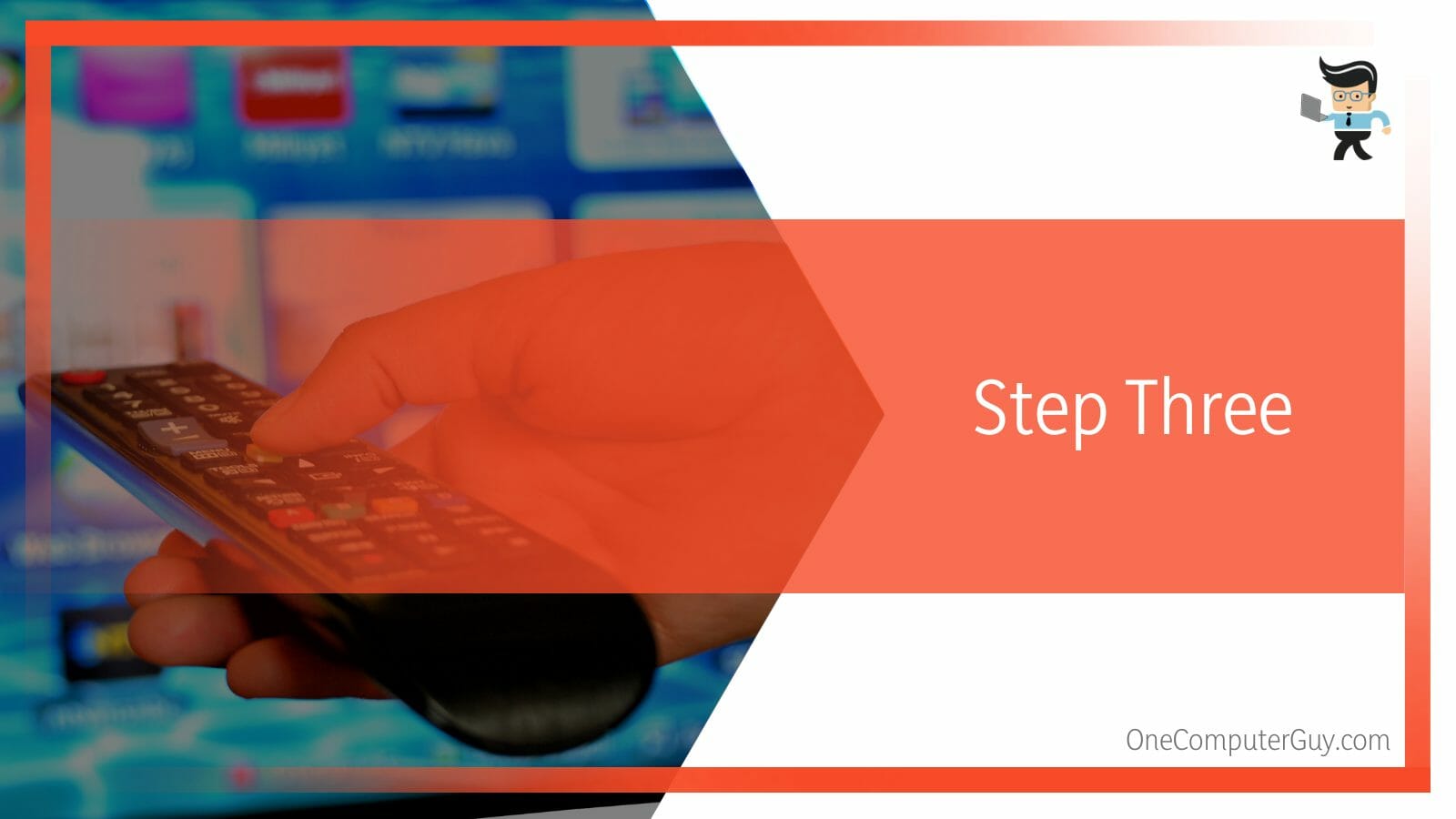 You can also use the remote controllers to perform a soft reset. Here is the procedure for a soft reboot using a remote controller:
Switch off the power socket and disconnect the power cord

Go to your remote control and press the power button

Hold the button for about five seconds before plugging your power cord into the smart TV.
This is a soft reset, which helps to clear the television's memory and can allow the remaining charge to evaporate from your TV. These two issues are responsible for significant TV issues, including lip sync issues. The most significant advantage of a soft reset is that you do not lose your data.
How to Use Power Cycle to Fix Lip Sync Issues on Vizio TV
To use a power cycle to fix sync problems, press the menu button on your TV's remote, go to System, then Reset & Admin, and click on the Soft Power Cycle to reboot your System. Remember, a power cycle is a reliable troubleshooting technique as it fixes many issues.
Here is how to fix lip sync on TV using a power cycle:
Go to the Smart TV remote and press the Menu button firmly

Choose System and go to Reset and Admin

Go to the Soft Power Cycle alternative. This option will help you shut down and restart your TV.
While the power cycle is known to solve random freezes and continuous restarts, it might be a necessary step in fixing the issues of sound being out of sync on your television. Typically, a power cycle is a traditional reboot for the Vizio TV but for the hardware.
Occasionally, charges inside your TV might misbehave, and you have not deleted them completely. This might cause problems within the System because switching on the TV might lead to a charge imbalance.
So when you perform a power cycle, it helps to reset the charges in the internal components of the TV. This will refresh the internal components. However, a power cycle should only come after a software reboot on your VIZIO TV.
How to Solve Lip Sync Puzzle via Adjustments?
You can adjust the factors within the TV or external to the Vizio television to solve the issue of delayed sounds. Note that the problem can emanate from the TV itself or connected appliances. You can directly change the lip sync settings or tweak the wireless speaker connection for this.  
That said, here are the key places you need to check. 
– Lip Sync Settings
You can manually alter the lip-sync adjustment settings on the Vizio television to correct the delayed audio issues.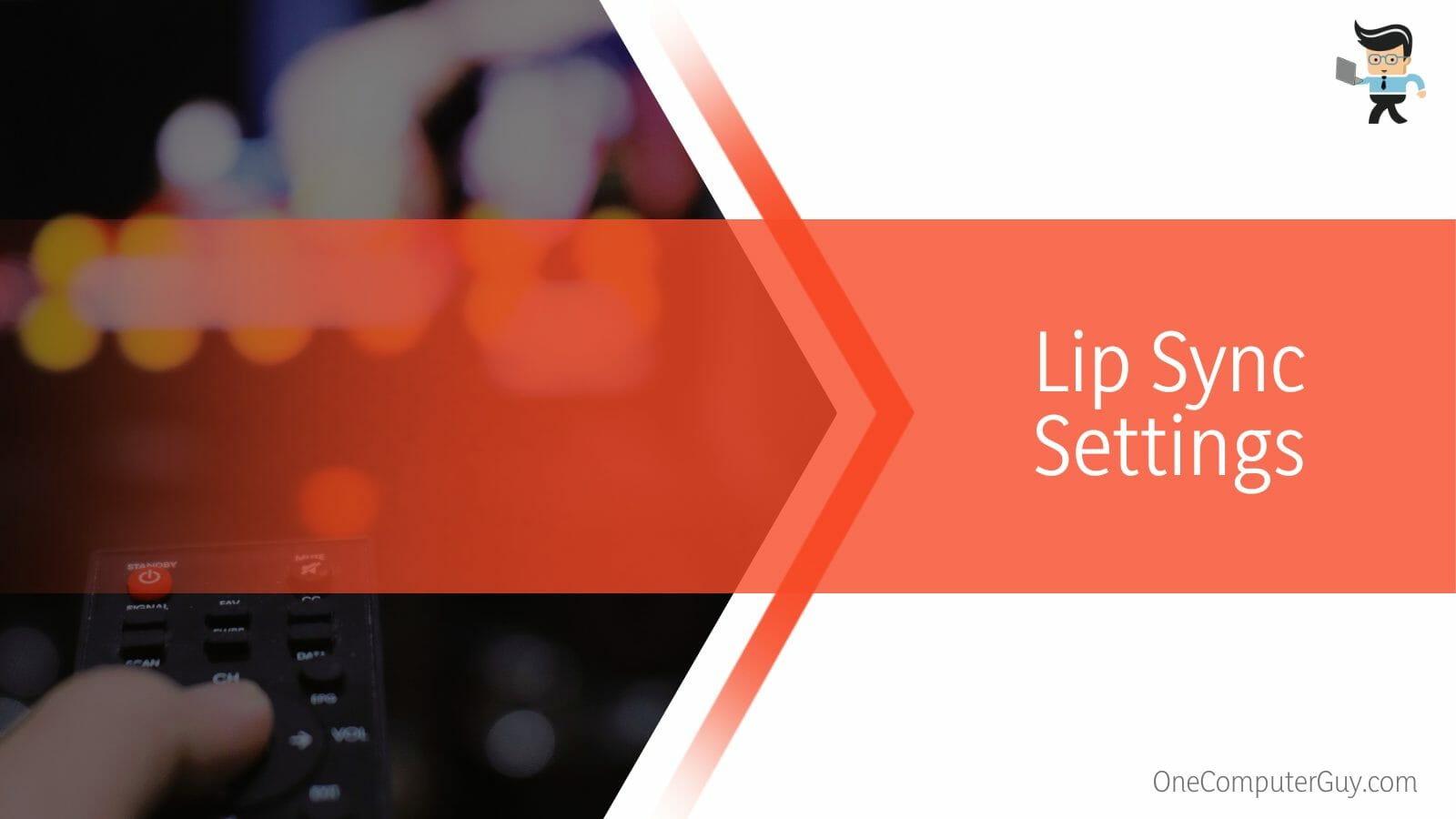 To use this method, you will need to enter the television's settings to perform an adjustment on the lip sync settings using the steps below:
Delink any external speakers from your TV.

Press the Menu button on your Vizio television remote and go to the Audio settings option.

Select the Lip Sync Adjustment option and manually adjust the range on the adjustment meter. The range lies between 0.0 and 5.0. Try different values to see which one solves your issue. 

Once you find the proper value, save the option and exit the channel. 

Reconnect your exterior speakers and enjoy Audio. 
Remember, adjusting the lip-sync setting is not a permanent fix. As a result, you may need to repeat the process severally based on how frequently the problem occurs. 
Furthermore, there is no fixed value for all Vizio Television. Therefore, you might need to spend more time searching for a more accurate interval for your TV. 
– Wireless Speaker Connections
Wireless connections occasionally falter, especially when the external audio system cannot keep up with the Vizio TV's innovations. That makes your wireless speakers a point of interest. 
When you type Vizio soundbar delay Reddit you will get multiple answers and suggestions. Nonetheless, follow the steps below to see whether they fix the problem.
Open the System Menu on your Vizio TV using its remote control and select Audio.

Scroll to find the Lip Sync Adjustment. This unveils a setting with values ranging from 0.0 – 5.0. Set the meter to 2.5 and save the preference. 

Turn off the external audio device and Vizio television. You may or may not unplug the TV from the power source. 

Power on your TV and wireless soundbar after 5 minutes. 
Flip through various sources on your Vizio television to see whether the newly set preferences have worked. If it did not, you could further adjust the preference, higher or lower, to suit your needs. 
– Wired Connectivity Issues
You may experience audio and video sync complications if your wired connection has an issue. For instance, if you are using a frayed HDMI or one with burns, it might lead to technical errors. 
Similarly, if you are using an old or weathered version, check on your hardware, check on your hardware to see if everything is okay. 
Hardware damages include singes, exposed internal wires, abrasions, visible damage, and cable holes. Also, it is essential to check for improper or loose connections. 
In the case of loose connections, secure them, and for improper connections, ensure you fix them. Note that some cords are not backward compatible, so using such cords can lead to delayed Audio or no audio. 
While the HDMI cable allows video and Audio transmission, it often runs into issues. For instance, in some cases, some connected devices may not recognize the HDCP encryption inherent in the HDMI stream when the handshake does not function properly. 
Above all, your Vizio television might be too advanced for your cables. So, consider upgrading to the latest cords. 
Furthermore, consult your soundbar's instruction manual to see whether there are audio syncing adjustments you can make.
– Ditch Audio and Video Processing
Most modern Vizio television has several settings that might affect sound transmission. So when you encounter the Vizio audio delay soundbar issue, sieve through your menu for press such as movie and sports mode, equalizer settings, volume levelers, and dialogue enhancers. 
Furthermore, look for features such as virtual 3D surround sound. Turn all these features off. This should drastically minimize the delay or eliminate it. 
– Change Your TV's Audio Format
The lip-sync issue is common when transferring data from a TV to a sound bar via an optical output OR HDMI ARC. When the television sends the Audio to the soundbar, your soundbar takes a moment to process the signal before sending it out after the corresponding video has reached your eyes. 
However, the TV can do the Audio processing, offloading the task from the soundbar and allowing the two devices to stay in sync. When you experience Vizio soundbar delay after pause, go to your TV's Audio and see if you can alter the Audio layout to PCM rather than bitstream, Dolby Digital, or passthrough.
Nonetheless, a few models may not support DTS or Dolby Atmos, meaning this tweak may not work on such TVs. Again, if your soundbar has two speakers, for instance, a 3.1 or 5.1 soundbar, you lose sound surround, making the solution a non-starter.
– Change Analog Audio Out to Variable
If you have linked a speaker to your Vizio television via an Aux cable or RCA cable, check the analog Audio out settings on the TV. You can quickly solve this issue by switching the analog Audio out setting from 'fixed' to 'variable.'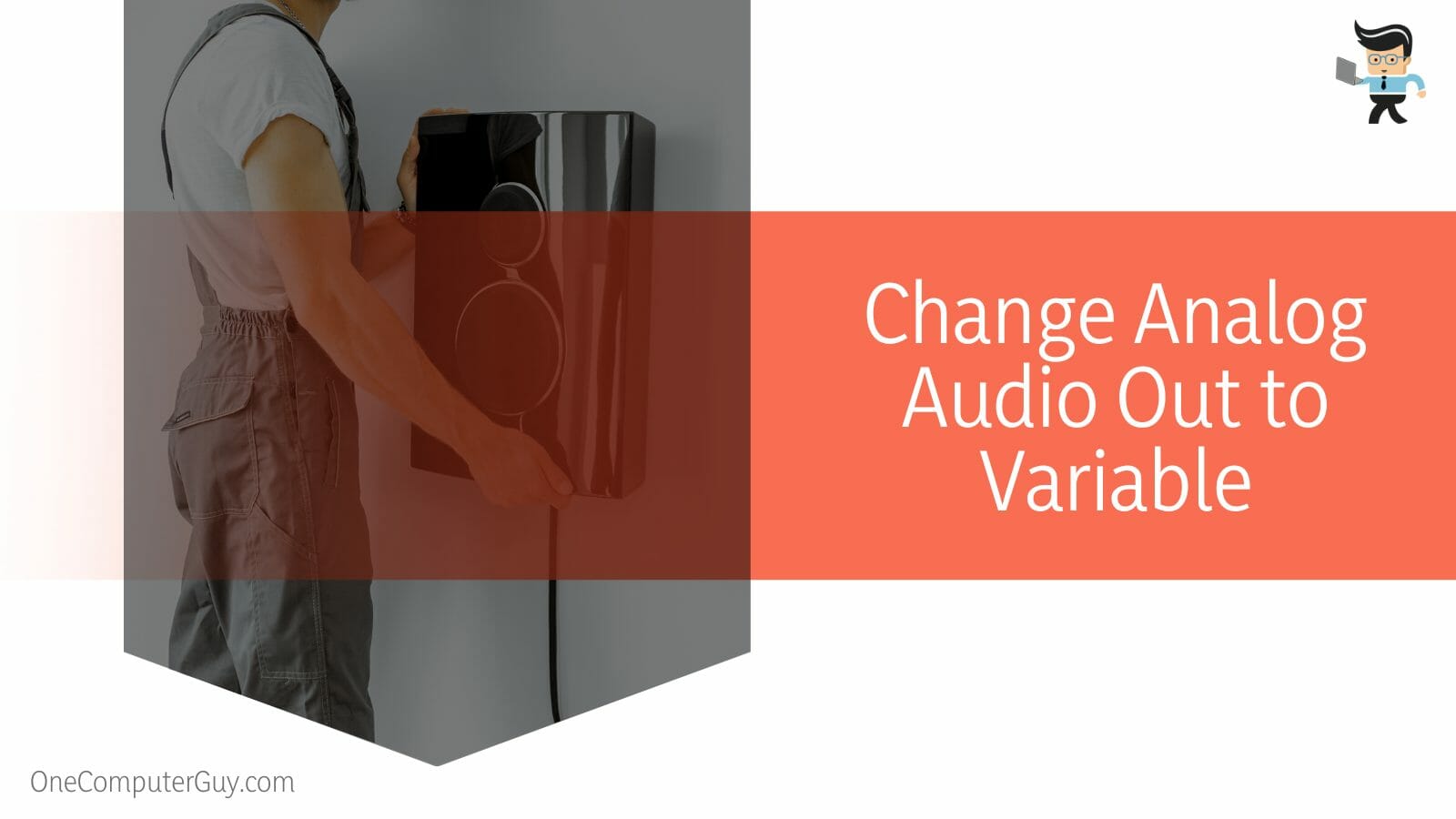 Here is the procedure:
Go to your Vizio television remote controller and choose Audio

Scroll to find the Analog Audio Out and switch it to Variable 
This fix works well if you have an external soundbar or speaker. 
Conclusion 
We have looked at how to tweak Vizio TV audio when your devices are out of sync. Here are the highlights:
Your Vizio television may have audio delay due to glitches, faulty HDMI port, wrong audio configuration, and outdated software.
To solve this issue, you will need to power reset your TV, adjust lip sync, turn off surround sound, adjust sound settings, and switch off Dolby digital.
Ensure that you have the latest HDMI cables for your latest Vizio television.
If the problem persists, contact Vizio.
If you encounter Vizio TV sound delay issues, follow the steps in this post to solve them. 
Ref:
https://www.forbes.com/sites/forbestechcouncil/2022/01/20/lag-got-you-down-how-latency-problems-are-plaguing-e-commerce-streaming-services-and-gaming/?sh=46f9d0ad16c7