Learning how to connect Roku to hotspot can be very helpful for those who wish to use Roku with their home network or smartphone hotspot.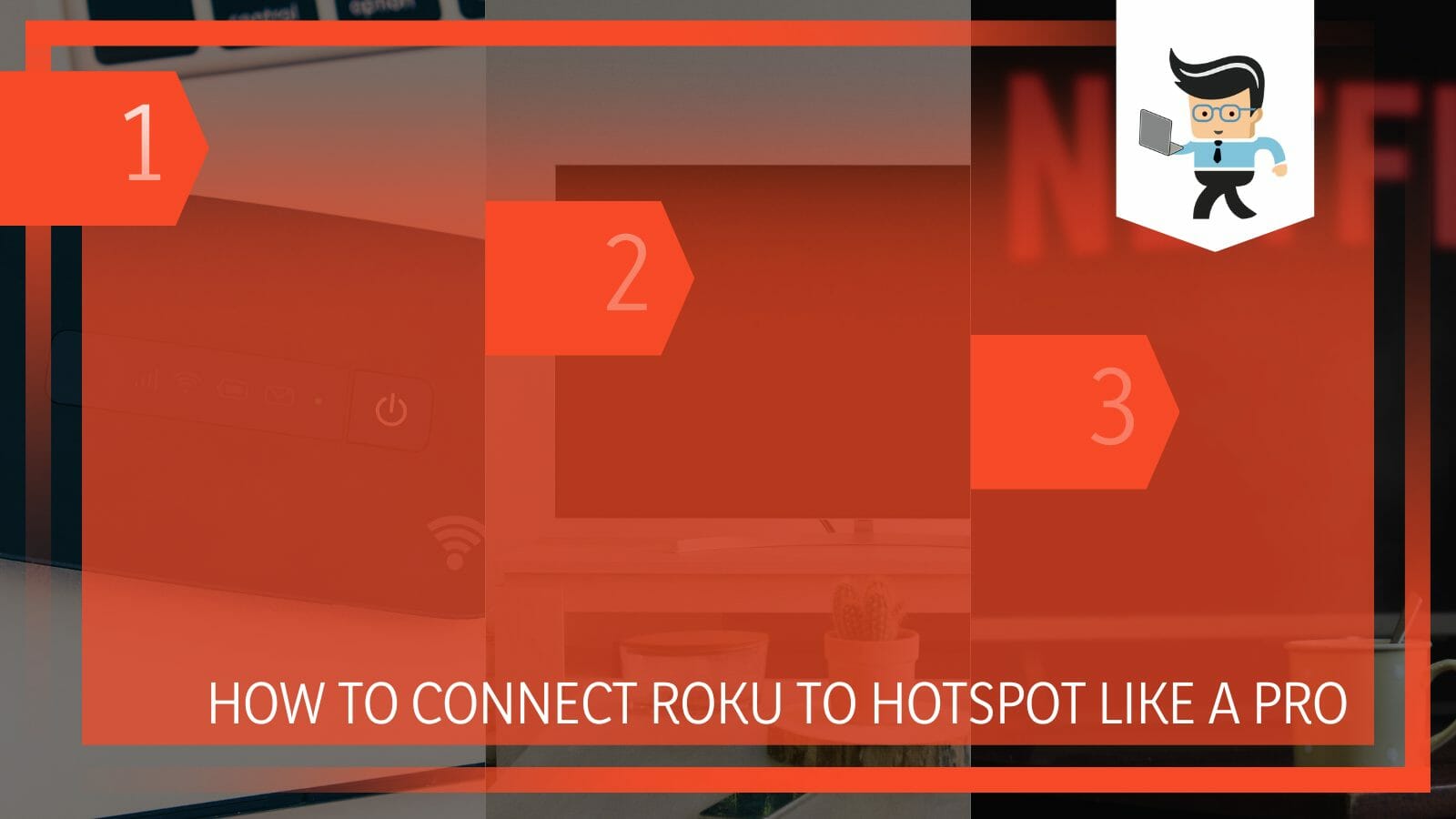 The process is straightforward since you only need an unlimited data plan on your mobile hotspot device. We will give you a detailed procedure in this post. 
How to Connect Roku to Hotspot? 3 Simple and Quick Steps
The quickest way to link Roku to a hotspot is first to turn on the hotspot on your mobile phone or mobile router. Power on your Roku and navigate to Settings, then to Network and select Wireless. You will need the Roku remote for this. 
Now scan for nearby wireless networks, choose your hotspot, enter your password, and tap on the Connect button. You need sufficient data and cellular network speed on your mobile hotspot device for the Roku service to work as usual. Otherwise, here are detailed steps to follow.
– Step 1: Turn On Hotspot
Go to your smartphone or home network and activate the hotspot. For most Android devices, you only need to swipe down from the top and tap on the hotspot button. 
However, if this option is not enabled on your device, go to the Settings app, tap Wireless & Networks or a similar option, and select Tethering & portable hotspot. Tap on the hotspot slider to turn it on – it should turn blue from gray. 
For a home network, you only need to restart your router to turn it on. However, this option only works if you disable the router's wi-fi via a web-based management page and choose After restarting.
Note that you use cellular data if you choose your smartphone's hotspot to connect your Roku to the internet. While this may provide better speeds or faster connection, the data can be depleted quickly. 
– Step 2: Make Hotspot Visible to Roku
Go to your Roku to change its network settings to recognize the hotspot you just created.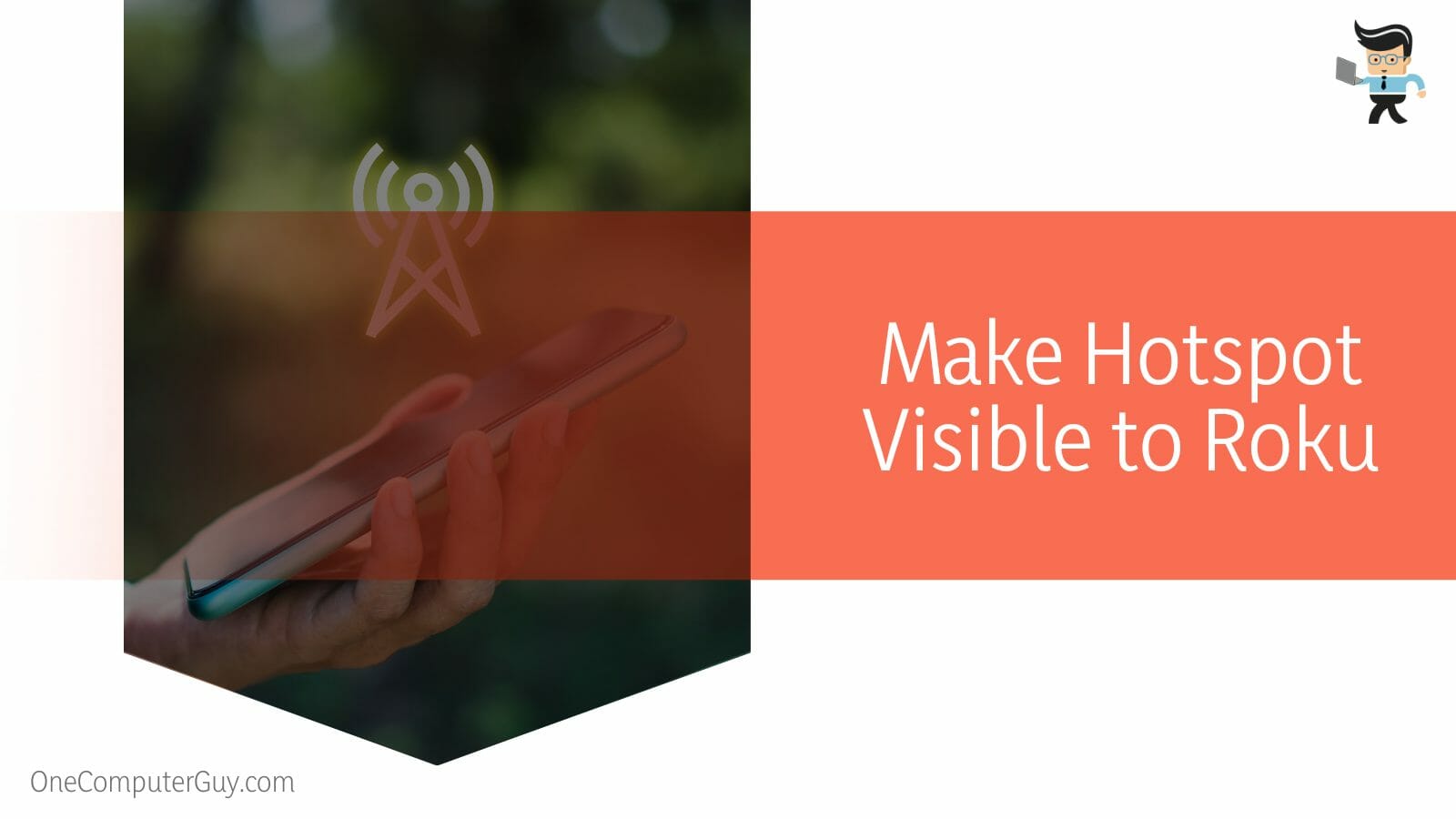 Follow the steps below to connect your mobile wireless Network to Roku: 
Get hold of your Roku remote and press the Home button. 

Scroll through the options to find Settings. Press that option and select Network 

Go to Set Up Connection and select Wireless from the options available. Activating this option makes your mobile hotspot visible to Roku. As a result, it allows you to connect to the wi-fi network easily. 

Let your Roku devices search for the available wireless Network. Within a few seconds, you will see a list of available wireless networks on your screen. If your Roku does not find the wifi hotspot, you will need to

rescan by refreshing the page.

 
– Step 3: Make the Connection
After a successful scan, you should see a list of wireless networks on your screen. Go through the list of networks to find your mobile hotspot. Usually, when using a smartphone, the Network will have the same name as your mobile phone. But if you renamed it, try finding the name on the list. 
Use the remote to select the Network to launch it. The hotspot network will request your password before you proceed unless it is an open network. Get the correct password and enter it in the field provided. 
Note that the password may appear on your smartphone's screen whenever you connect to a new device. If not, find it on the hotspot's setting page. So, you will need to go to your smartphone's Settings apps>wireless & Network>Tethering & Portable hotspot and select Portable Hotspot. 
Select configure hotspot and go to the section labeled Password. Click on the eye icon with a backward slanting slash to see your password. Write down the password, and then enter it on Roku. Select the Connect option on the TV screen to complete the connection. 
What if Roku won't connect to android hotspot? It could be a system corruption or a bug in both devices. You fix this by performing a network reset on both devices. 
How to Use iPhone Hotspot on Roku? Simply Explained
To use your iPhone as a hotspot on Roku, you will need to enable the hotspot and phone data on the iPhone. Go to Roku and enable the Connect to a Wireless Network option, select our iPhone hotspot, enter your password, and connect. 
The steps above work for both separate Roku streaming devices and Roku TV (TV with Roku inbuilt functions). Here is how to connect Roku to hotspot on iPhone:
– Step One 
Tap on the hotspot icon on your iPhone to enable it. To do so, tap on the Settings app and go to Cellular.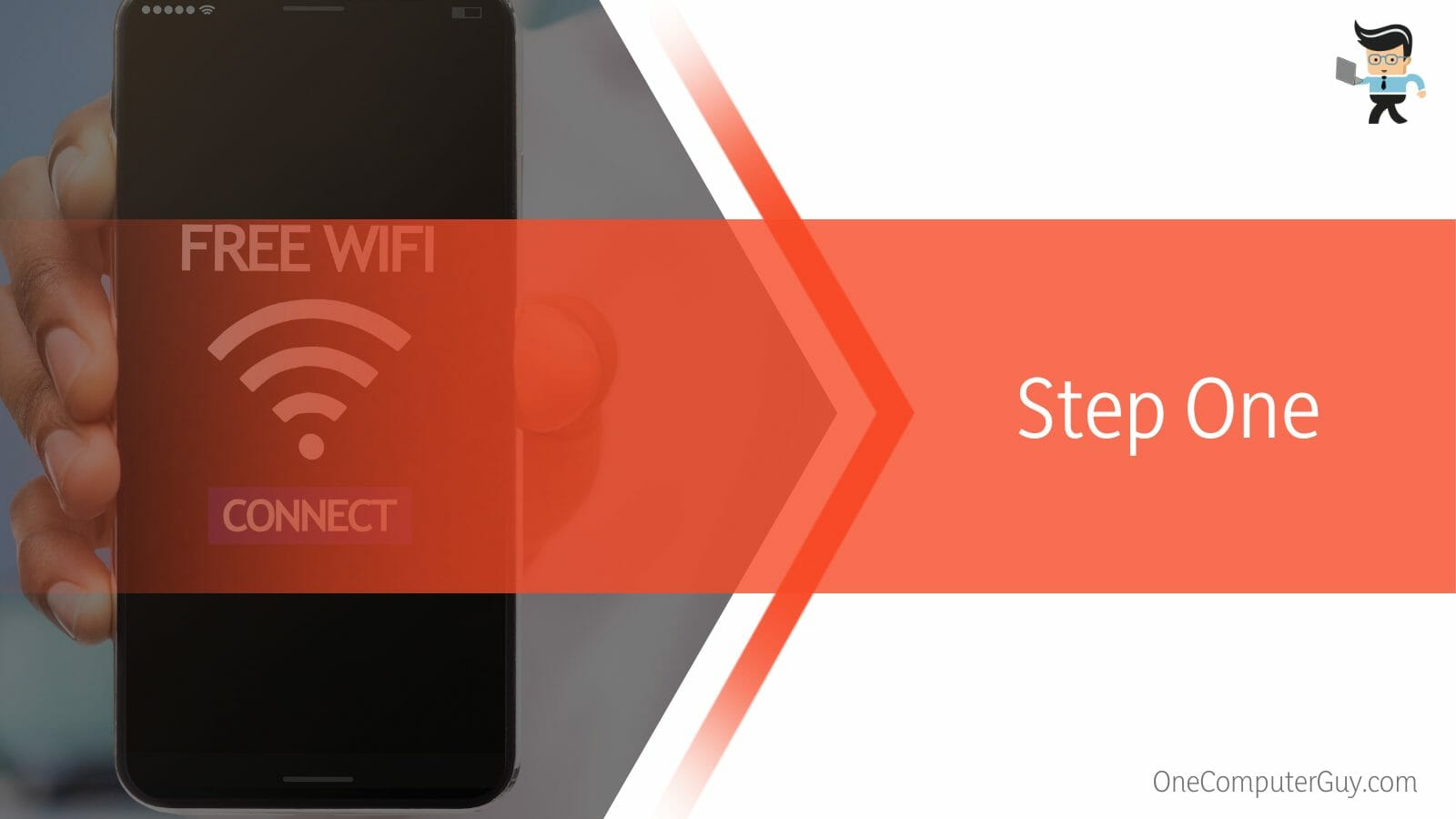 Select Personal Hotspot or settings and toggle on the Personal Hotspot. 
– Step Two
Since your iPhone will be the wireless network source, ensure that it has enough data. Also, it would be best to have the password for a flawless connection. 
So, buy enough cellular data for this activity. However, many people ask, will Roku work with Verizon hotspot? Yes, it will work with Verizon. But you will need to have unlimited data plans. Else, depending on what you are streaming, it may consume a lot of data. 
– Step Three
Switch on your Roku. If you have a Roku television, switch it on. Use the remote to access the settings sections. Select Network, and go to the Connect to a Wireless Network option. 
All wireless networks available will appear on the screen. Your iPhone should be among the devices. If not, rescan by refreshing the Roku television or devices. 
– Step Four 
Once your iPhone appears on the TV screen's list of wireless networks, select it. You will be requested to enter the password. Enter the Network's password correctly. You can enable the option to see your password as you type it by selecting the option, Show password.
Click Connect to finish the setup. If the password is correct and the iPhone setup is still alive, Roku will instantly connect to the Network and internet. You will first notice the latest software version download on the Roku, and then they will restart. 
Here is why Roku won't connect to iPhone hotspot: The password is incorrect. Again, it could be a network setting issue on both devices, so you may need to restart them. 
How to Link Roku to Hotspot Using the Roku App?
To link Roku to a hotspot using the Roku app, you must ensure first that you have a Roku app on your device. You can get it in the App Store (Apple) and Google Play Store (Android). Lastly, go into settings and link Roku with the hotspot.
Here is how to connect Roku to hotspot without remote:
Connect your phone to the same wireless Network as your Roku device 

Launch the Roku app and go to Devices. This option is at the lower right corner. 

Wait for your Roku device to pop up and tap on it. This action connects your phone to Roku as a remote. 

Tap on the Remote option and use the virtual remote to choose Settings and go to Network. 

Tap Set up connection, go to Wireless, and allow Roku to search for a new wireless signal. Once it finds it, enter the password and start streaming. 
How to Troubleshoot Hotspot Issues on Roku?
You can troubleshoot the hotspot issues on Roku by entering the password correctly because it could be the major reason why your Roku isn't connecting to the hotspot. After that, ensure that the device from which you are getting the connection is working properly.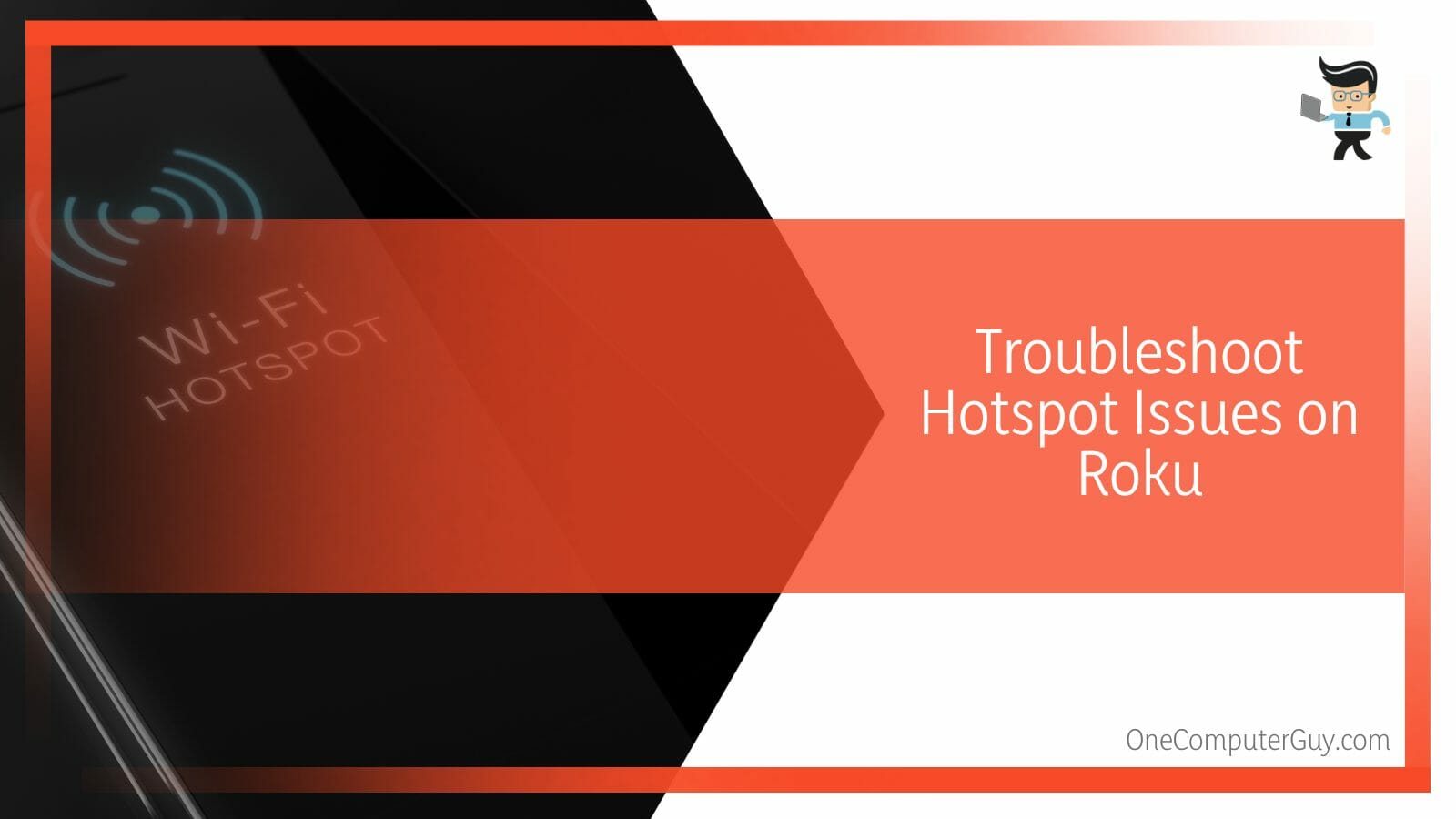 If your Roku wireless connection isn't working, you may ask, why won't my Roku TV connect to my hotspot? Usually, the problem lies within your devices and connection. Here are some important steps to take when facing issues with your connection:
Enter the password correctly:

Network passwords are case-sensitive, so ensure you get them correctly. Typically, you get the Roku hotspot password from your router or smartphone. If you want to enter capital letters, use the shift button on the onscreen keyboard. 

Ensure that your router or smartphone is working properly

: You can restart these devices to refresh their memory. This will cause them to give a network signal. You can also reset the network setting of the router and smartphone. 
Usually, the Roku Tv may display several types of errors. For instance, the inability to connect to a wireless network and "Loading, please wait." If these occur for a long time, carry out the above troubleshooting techniques.
Conclusion
We have given clear instructions in this post if you want to link your Roku to a hotspot.
Check out our key points:
You can use your mobile device (Android or iPhone) or a home network to create a hotspot. 

An unlimited data plan would work well, as streaming consumes more data.

If you use a Roku mobile hotspot, it will consume cellular data.

You may encounter connection issues that require you to restart your devices or change settings to fix them. 
These are clear steps on how to create a Roku connection via hotspot. Hopefully, you can use them without any issues.