Choosing between the GTX 1080 vs 980 Ti SLI can be a bit confusing, especially if you are wondering which would provide more optimal performance.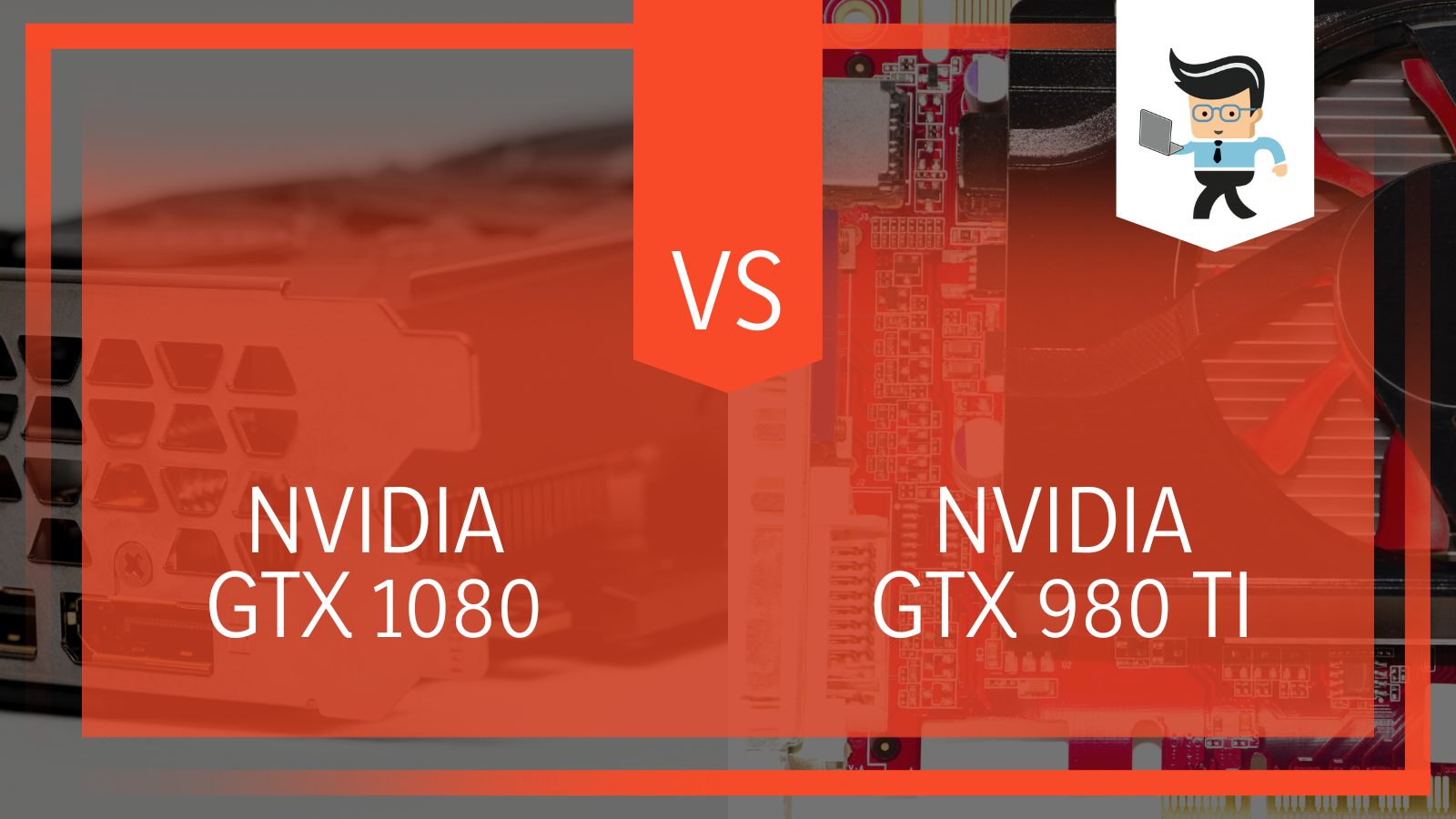 And since NVIDIA mentioned that 1080 provides more performance than two 980 Ti put together, many people are stumped on which direction to go.
In this complete guide, our experts will provide you with in-depth information about these two graphics card units and whether or not the GTX 1080 is indeed more powerful than the 980 SLI. Let's dive right in, shall we?
GTX 1080 vs 980 SLI Comparison Table
| | | |
| --- | --- | --- |
| Features | NVIDIA GTX 1080 | NVIDIA GTX 980 Ti |
| Architecture | Pascal | Maxwell |
| CUDA Cores | 2560 | 2816 |
| Core Clock Speed | 1607 MHz | 1000 MHz |
| Boost Clock Speed | 1733 MHz | 1075 MHz |
| Thermal Design Power | 180 Watt | 250 Watt |
| Supplementary Power Connectors | 8-pin | 6-pin + 8-pin |
| Interface | PCIe 3.0 x 16 | PCIe 3.0 x 16 |
| Recommended PSU | 500 watt | 600 Watt |
| Memory | 8GB | 6GB |
| Memory Clock Speed | 10GB/s | 7GB/s |
What Are the Differences Between GTX 1080 vs 980 Ti SLI?
The main difference between the GTX 1080 vs 980 Ti SLI is that the GTX 1080 features a newer architecture and improved systems that allow it to provide better support for newer technologies like VR and HDR than a single 980 Ti.
– Performance
Comparing the GTX 1080 with the 980 in SLI, you're likely going to get better performance from the 980 Tis despite NVIDIA's claim that the GTX 1080 provides better performance. For instance, in games like the "Witcher 3" where the 980 SLI provides an average of 56FPS at 4K, the GTX 1080 offers 54FPS.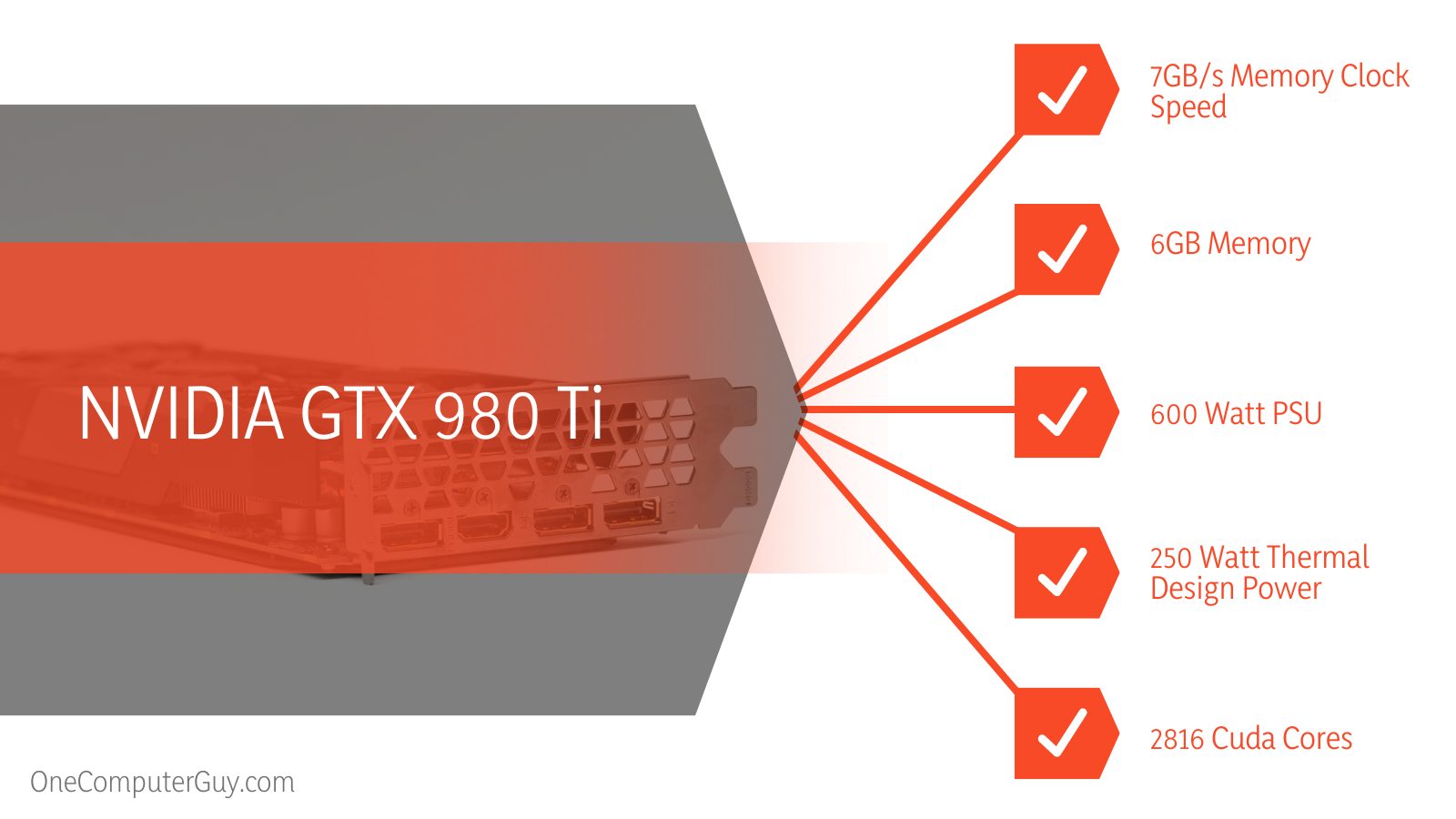 The GTX 980 Ti in SLI gets a score of 5764 and a graphics score of 5814 on 3D Mark – Fire Strike Ultra while the GTX 1080 gets a graphics score of 4993 and an overall score of 5065.
What Are the Characteristics of the GTX 1080?
The NVIDIA GeForce GTX 1080 provides exceptional graphical performance as it allows you to enjoy 4K and higher refresh rates at an excellent price point. It also provides better speeds than its predecessors and uses less power than the 900 series.
– Features
As we noted earlier, the GTX 1080's Pascal architecture is one of the major elements that separate it from the 980 Ti. Thanks to this architecture, NVIDIA was able to design the GTX 1080 with a chip that's smaller than the typical 28-nanometer chip used in the 980 Ti.
It is the brand's first card with a 15nm processor, which allowed the GTX 1080 to have more transistors, better efficiency, and faster performance.
All of these combine to provide gamers with better frame rates for newer game titles, excellent resolutions, and a better VR experience than what the 980 Ti could provide. And while the Turin-based RTX 2080 beats this card in every way possible, the GTX 1080 still dishes out a better performance than a single 980 Ti card with its Pascal architecture.
– Design and Cooling
The GeForce GTX 1080 may not be the best in terms of cooling but it still works excellently at 180 degrees Fahrenheit or up to 200 degrees Fahrenheit if you decide to wring out some extra performance and let GPU Boost do some extra work in the thermal space. You don't have to keep worrying about your graphics card unit overheating.
One of the most notable aspects of the 1080's design is its DisplayPort 1.4 connection. Many older graphics cards come with DisplayPort 1.2, which limits the GPUs from providing higher refresh rate monitors with top-notch performance.
With DisplayPort 1.2, you can only get up to 60Hz of 4K resolutions, which means that if you have a 144Hz display or looking to get good gaming performance at that resolution, you won't be able to, especially on higher pixel density screens.
DisplayPort 1.4 that's embedded on the GTX 1080 allows you to enjoy 4K at a better refresh rate as NVIDIA even mentioned that the GeForce GTX 1080 in SLI would be able to attain 144Hz at 4K resolutions.
Also, the DisplayPort 1.4 offers support for HDR as you can get 4K HDR at 120Hz and 8K HDR at 60 Hz refresh rate.
– Power
Another reason why the GTX 1080 is a fan favorite is that it comes with enough power to support the ports it's designed with. Embedded with up to 2560 CUDA cores, 64 ROPs, 160 texture units, a boost clock that runs easily at 1733 MHz, and 8GB DDR5X VRAM, this GPU provides enough horsepower to handle all you could throw at it.
Another way you could look at the power the GTX 1080 is packing is by comparing the TFLOPs it can produce with what its predecessors can manage.
While the 980 Ti can provide 6.5 TFLOPs and the GTX 980 can manage about 5.5, the GTX 1080 produces up to nine teraflops, which is a little less than twice what its predecessors are capable of.
This increased power shows in its performance as well as the 1080 offer more performance than single units of the 980 and 980 Ti, respectively.
– Performance
Many early adopters of the 4K Ultra HD resolution had a hard time finding the ideal graphics solution to provide the pixels with enough power. Rendering the greatest and latest titles at 60fps needed something powerful and the GTX 1080 was the solution.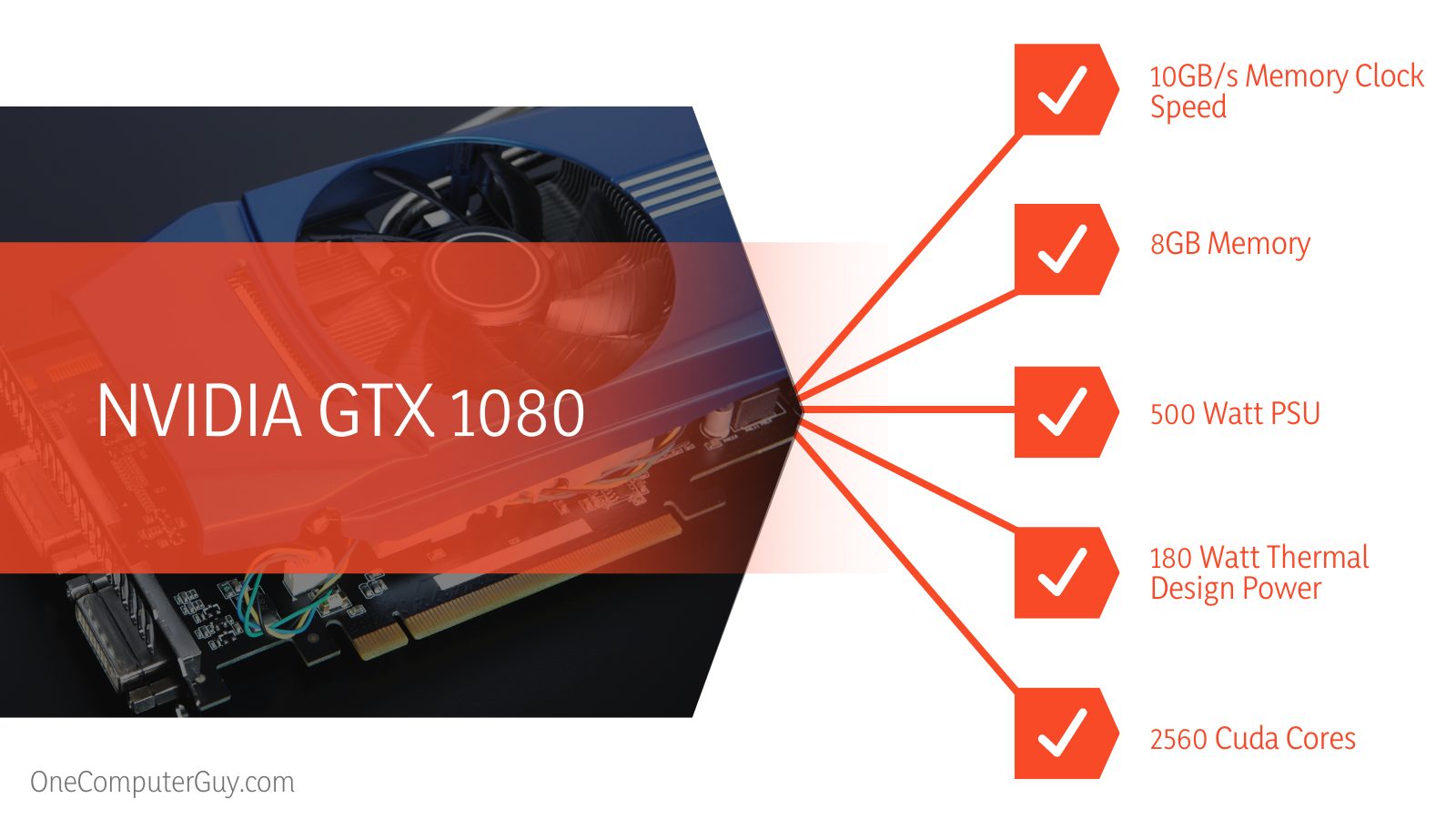 While many gamers considered using SLI and Crossfire profiles to achieve 60fps at 4K, game developers weren't supporting SLI and the support has dwindled even further over the years.
For instance, if you were looking to use an SLI profile to play titles like "Total War: Attila" at 4K, you wouldn't be able to and your extra GPU would be rendered useless.
– Capabilities
Being a single solution that can support 4K at optimal FPS made and still makes the GTX 1080 a viable option over an SLI setup. You'll get about 40 frames per second playing games like "Ashes of The Singularity" and "Far Cry Primal" at 4K with the GeForce GTX 1080.
For games like "Total War: Attila" and "Rise of the Tomb Raider," your FPS may get stuck in the 20s if you're playing at 4K but would go up with a lower resolution.
Also, factors such as the games being intensive on system GPUs and elements like anti–aliasing can contribute to a lower FPS. If you're not playing graphics-intensive games or using technologies like anti-aliasing, you're likely to gain better fps when playing 4K games on your GTX 1080.
– Downfalls
The Pascal architecture of the GeForce 1080 is the GP104, which has been improved and superseded since its inception. While the GP104 seems like a watered-down version of the Maxwell architecture, it has a lot more potential in terms of overclocking capabilities.
Also, while you get to enjoy a good GDDR5X memory, there's no HBM memory on this GPU, which may be a deal breaker if you're coming from an AMD graphics unit. Still, the GeForce GTX 1080 will provide you with a good performance as it packs up to a 10,000 MHz clock, 256-bit bus width, and 320GB/s plus its ability to play 1440P and 4K games with ease.
– Overclocking
Since the GTX 1080 has an improved memory set, more power, and more transistors than its predecessors, you may be wondering how far you can push it. Just like the 980, overclocking the GTX 1080 is possible and you'll be able to wring out up to 525MHz for the memory clock and about 260MHz for the core clock.
With this overclocking capability, you'd be able to enjoy an overall boost clock of 2,088MHz, which can take your resolution score up a notch. Also, you won't be expending much voltage and you'll be getting enough quiet and stability.
What Are the Characteristics of the GTX 980 SLI?
The GTX 980 SLI is essentially two 980 Ti hooked up to one system, which means that you will get twice the performance of a typical 980 Ti, which can be beneficial if you only play games that support SLI.
– Features
The NVIDIA GeForce 980Ti is considered to be the second most powerful GPU of the Maxwell architecture with the Titan X being the first. Endowed with VR Ready certification and 4K ability, this GPU costs less than 700 bucks and provides a performance that backs up the price.
While the GTX 980 Ti may share the same name with the 980, its performance is closer to what you'd get on the Titan X than the 980. The GeForce 980 Ti features 24 streaming multiprocessors, which are six more than what you have on the 980 and two short of what you'd get on the Titan X. Also, the 980 Ti comes with 2816 stream processors and six graphics processing clusters.
Since it uses the GM200 core, the 980 Ti features a 601mm2 die and 8 billion transistors. You get a boost clock of 1075 MHz and a stock clock of 1000MHz. While these speeds of the 980 Ti are similar to what you'd find on the Titan, the GTX 980 actually leads in this area as it features a boost clock of 1126MHz.
Also, while the Titan X has up to 12GB DDR5 RAM to work with its speeds, the 980 Ti only features 6GB RAM.
When playing casual games, you're likely to experience no difference between the Titan and the 980 Ti. However, once you start pushing them to the extreme, the difference will become obvious. While the Titan X is more tuned towards high-end computing, the 980 Ti does well for gaming.
– Cooling and Design
Unlike the GTx 1080 which has just one eight-pin connector, the 980 Ti features six and eight-pin connectors. The design of the 980 Ti is similar to the Titan X with both having a 267mm long aluminum design. The 980 Ti comes with four-way SLI support and it connects to the motherboard via a backward-compatible PCIe X16 gen 3 plug.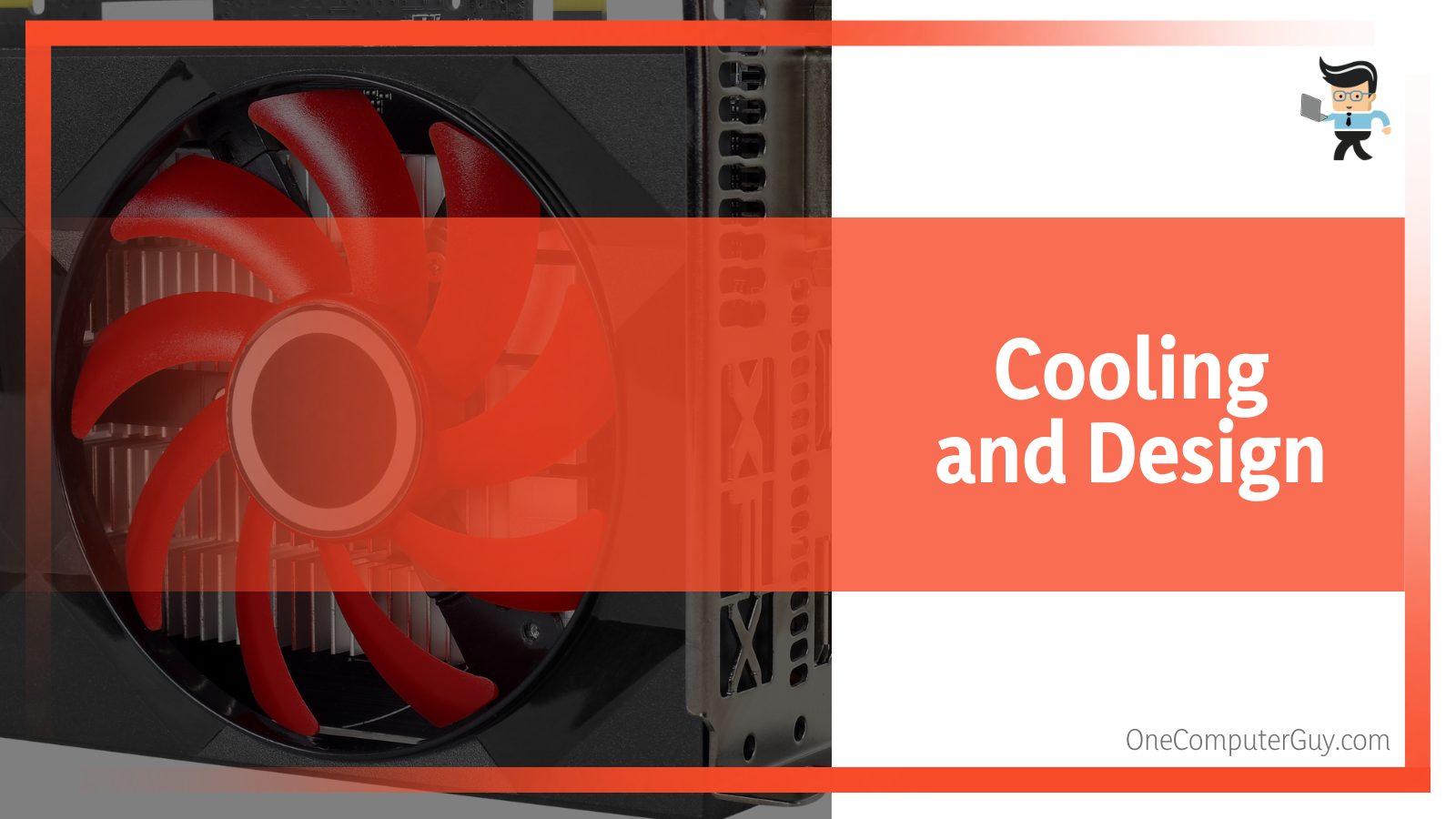 Thanks to its three DisplayPort 1.2 connectors, you'd be able to achieve up to 4K surround G-SYNC on this GPU. On the cooling side, the 980 Ti comes with a single blower fan in a closed housing. The fan pushes air out the back of the space, making the 980 Ti perform at a maximum temperature of 98 degrees Celsius.
– Performance in SLI
The GTX 980 Ti provides a lot of performance in SLI mode. It renders 497 million pixels at 4K, 124 million at 1080p, and 221 million pixels at 1440p, all at 60 hertz. The performance catapults even further at 4K surround as the 980 Ti does up to 1.49 billion pixels per second in SLI mode, and 1.99 billion pixels are rendered per second when you push it to 8K 60Hz.
Keep in mind that you'll need to make sure your game supports SLI to get the best performance from the 980 Ti in SLI mode. If your games don't support SLI, the power, speed, and performance you'd get would be produced by a single card instead.
With that out of the way, depending on your setup, you can get an average FPS of 82 on games like "Shadow of Mordor," 88FPS on "Autosport," 56FPS on the "Witcher 3," and 64FPS on "GTA V" all at 4K Ultra. You'll get even better fps when you play games at 1080P.
Conclusion
With our comparison above, you can tell that the 980 Ti in SLI offers more performance than a single GTX 1080 card. We recommend that you choose the 980 SLI if you can afford it, if you can build a multi-GPU setup, if your games support SLI, or if you have a 980 Ti and considering whether to go for the SLI or purchase a GTX 1080.
If your games don't support SLI or if you have no 980 Ti and simply want to get a GPU, we recommend that you work with the GTX 1080.
Not only will you be getting a single-card performance, but since the difference between the 980Ti in SLI and a single 1080 isn't much, you won't be missing out on much.