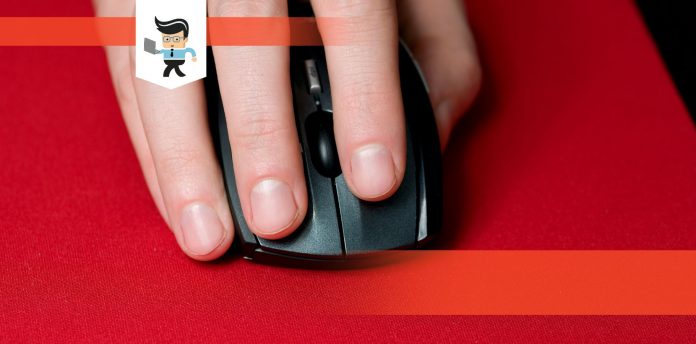 A G203 vs G403 comparison is necessary when you're faced with a decision between these two interesting mice options for your rig. That's because a mouse isn't just meant for serious PC gamers, but for any individual that spends extended hours in front of a computer.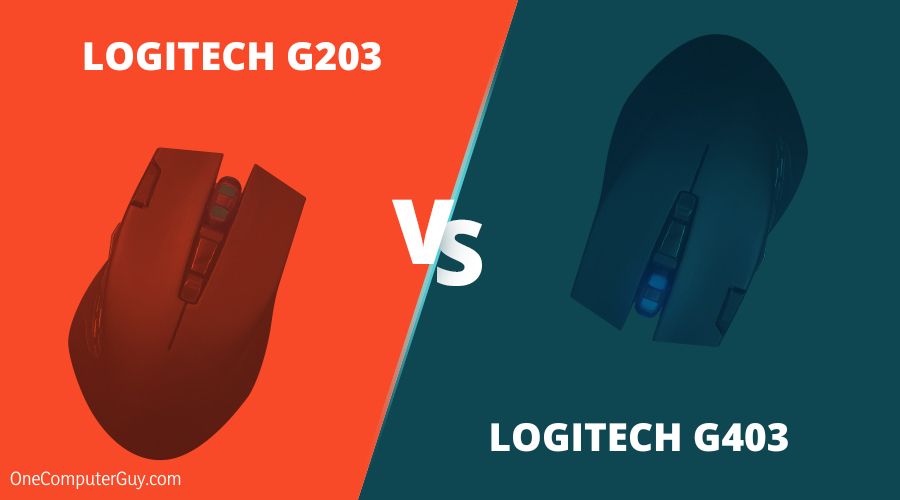 To that extent, a mouse that promises top performances, comfort, and speed is worth having because it is more or less an extension of your arm.
Our review team will present the unique features and other capabilities of these two options from Logitech so you can decide for yourself.
Key Specifications at a Glance
Product 
Key Specifications
Logitech G203 Prodigy

Connectivity Technology: Wired
Interface: USB
Movement technology: Optical
Movement resolution: 6000 Dpi
Buttons: 6

Logitech G403 Wireless Mouse

Connectivity Technology: Wired
Interface: USB, 2.4GHz
Movement technology: Optical
Movement resolution: 12000 Dpi
Buttons: 6
How Does the Logitech G203 Stack Up Against the Logitech G403
In many cases, a gamer is only as good as the tools being used. One of those tools is a gaming mouse, which can come in handy for different tasks and computer operations.
Over the past few years, gaming mice have continued to evolve. There are many options in the market, including wired and wireless options that sport even lower latency gamers would appreciate.
Whether you prefer the reliability offered by a wired connection or a wireless one, there's not much difference anymore.
If you're looking for the best gameplay mouse, you have to consider the shape and comfort the grip offers. You wouldn't want a situation where you keep trying to hold on while in the throes of battle.
Also, the best gaming mouse will offer a high point rate for smooth cursor movement that helps to track quick flicks. However, note that all mice come with their latencies unless stated otherwise.
These two Logitech mice will suit your gaming needs and offer some unique features and capabilities suitable for different types of games, including FPS games.
Our review team has examined and reviewed many gaming mice, but these two from Logitech offer hope to different rigs. You get classic designs, advanced button tensioning, and other capabilities.
We'll recommend both for all kinds of users, but there's the question of which one offers better performances between the two.
Pros
Comfortable shape and design
Excellent sensor
Functional lights and software
Smooth and light
Cons
Isn't well-suited to palm grips
The Logitech G203 specs represent a device that is one the most modest gaming mouse out there. It's affordable and offers excellent features for gaming that can serve other purposes.
It provides a good experience and performance with about six buttons you can customize and software that makes things easier for users. Faster speeds, a willing grip, and ergonomics make it quite the prospect for different users.
– Build and Design: Classic and Classy
A beautiful design is an excellent start for any device out there, and this one doesn't disappoint. The G203's design is inspired by the Logitech G100S mouse, one of the favorite devices for gamers and esports pros worldwide.
However, this particular Logitech mouse is re-engineered and optimized for gaming. It also offers a unique versatility that makes it suitable for other uses, thanks to its comfort and durable make.
– Speed and Accuracy: Cutting-edge Sensor
The Logitech G203 weight may be just three ounces, but it offers credible speeds for many functions.
That's because this Prodigy Series G mouse is made for an advanced gaming-grade performance featuring up to eight times faster response than typical mice. That means every mouse click and movement is near-instantaneous from hand to screen.
– Buttons: Advanced Tensioning
Logitech made this mouse produce advanced button tensioning, which reduces the force needed to click either left or right buttons. As a result, users get an exceptional click feel, response, and consistency over the six buttons featured on the mouse.
– Sensor: More Accuracy and Tracking Speed
A cutting-edge 6000 dpi (Dots Per Inch) sensor is used in this mouse and gives you incredible accuracy, tracking speed, consistency, and control on a wide range of games. That means what you're playing doesn't matter with the kind of performance this mouse is designed to provide.

– Overview
For the kind of performance this mouse enables, it's a great addition to a gaming rig. It will also suit users who want a fast response with each click. However, the Logitech G203 size makes it ideal for smaller grips.
Pros
Quick and offers speedy response
It has a familiar feel
Stylish build and comfortable design
Lightweight with cool ergonomics
Cons
The Logitech G403 size is much bigger and advanced than its counterpart above and is a simple wired mouse boasting some basic features for gaming. It's a mouse that also has a wireless version should you prefer a more mobile device.
You get a mouse that gives excellent comfort and customizable features for comfortable use for the design and shape. We must also mention that it has wonderful ergonomics users can enjoy.
– Build and Design: Lightweight Quality Design
A mouse you intend to use for gaming and other activities should offer you a better level of comfort and control. That's what we like with this device. It's also more significant than the G203 at 3.78 ounces, has a lightweight build, and offers rubber side grips for improved ergonomics.
It also helps you get a removable ten-gram weight if you want more comfort and control on the mouse.
– Speed and Accuracy: Superb Sensor
You get Logitech's most advanced sensor inside this mouse, which delivers unbeatable FPS mouse speed, accuracy, and consistency. It's all good and helps you stay ahead of the game when things get heated and a bit uncomfortable.
What's more, the Logitech G403 sensor provides advanced gaming-grade performance for up to eight times faster response – more than your regular mice. That means each click and movement on the mouse is instantaneous from hand to screen.
Also, in comparison to the G203, this one offers 12,000 dpi, which is double that of its counterpart.
– Buttons: Customize Your Responses
You get up to six buttons on this mouse, and they're all programmable and customizable. They combine well with the sensor to deliver exceptional performance over different games and regular activities.

– Overview
From our Logitech G403 review, it's evident that this mouse is more suited to gamers. It's streamlined to offer excellent responsiveness and also offers a flawless wireless experience.
G203 vs. G403 Head-to-Head: How the Top Features Compare
The main difference between G203 and G403 is, Logitech G403 offers a dpi of 12,000 and better performance, while G203 is more affordable.
DPI ( Dots Per Inch)
The DPI of a mouse refers to a measuring type that lets you know how sensitive a mouse is. The higher the DPI, the more reaction and accurate small movements you get from your mouse.
A higher DPI is not all there is to a mouse, and those who love shooting games will tell you a low-dpi mouse is better if you can't get a clean shot. However, the Logitech G403 dpi of 12,000 suggests that it's better than the G203. It also offers a sleek movement for your clicks on the screen.
Software
Software is essential to the number of commands you can give your mouse. It's also crucial to the customizations you want to make. It also tells you what device is connected to the onboard memory you have.
Both of them offer the same software, which helps to save DPI and button configurations you have per game, and it'll just automatically detect it as you go through. In addition, you can make button customizations on the six buttons on both mice coupled with DPI settings.
Build and Design
The G203 is a modest mouse and doesn't have many outstanding parts about it. The wired cable is also of the non-braided variety. It's also much smaller in size than its counterpart.
For the G403, you get a mouse that's more than three ounces heavy.
What's more, the back is designed in a way that encourages your palm to rest perfectly. The sides are also ergonomic so that you can have the perfect handle. Logitech also makes it possible to reduce the weight of the mouse when you take off some parts.
Buttons
Both of these mice offer six buttons, but the best part about them is that they're programmable and customizable. With the software in both, you can assign different functions to the buttons at your convenience.
G203 vs. G403: The Overall Winner
The Logitech G203 and the G403 Prodigy are fascinating options that help you get the best out of your activities. Whether that's gaming or doing some work, both of them offer quality performances. If budget is your reason for getting either mouse, then the G203 is the best choice.
However, if you're more about the kind of features and specifications a top mouse should have, the G403 winds the day.
The fact is that with any device, it's all about what you need personally. But our review has concluded that the Logitech G403 offers the best performance for gaming other tasks. It's more ergonomic, packs more DPI speed and accuracy, and offers programmable capabilities.