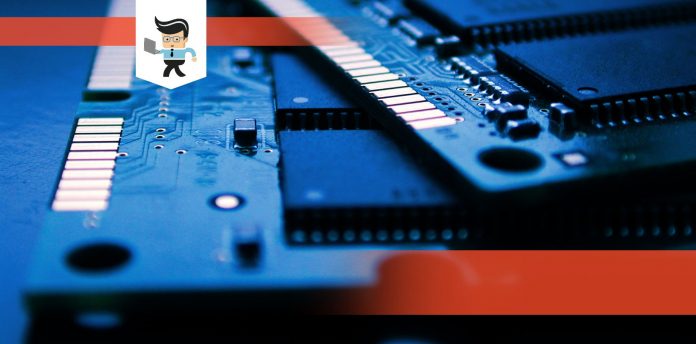 When comparing the Corsair Vengeance vs Dominator, you are opening up one of the biggest cans of worms in Internet debates. This is a significant conversation among Corsair fans, and you will find people firmly on each side of the fence.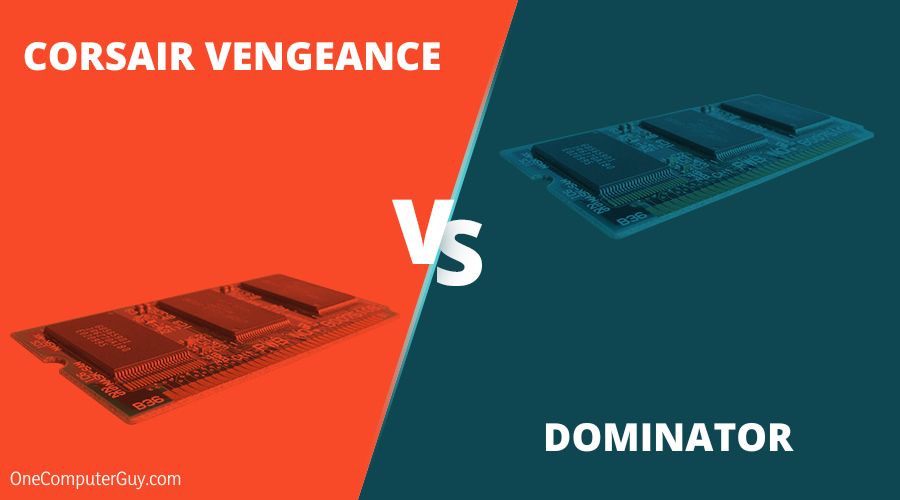 But which one is actually better, the Corsair Vengeances RGB Pro or the Corsair Dominator?
In this article, we will look more deeply into both and make suggestions for you.
Corsair Dominator Memory vs Vengeance
| | | |
| --- | --- | --- |
| | Dominator | Vengeance |
| Fan Included | No | No |
| Memory Series | DOMINATOR PLATINUM RGB | VENGEANCE LPX |
| Memory Type | DDR4 | DDR4 |
| Memory Size | 16GB Kit (2 x 8 GB) | 16GB Kit (2 x 8 GB) |
| Tested Latency | 16-18-18-36 | 15-17-17-35 |
| Tested Voltage | 1.35 V | 1.35 V |
| Tested Speed | 3200 MHz | 3000 MHz |
| Memory Color | BLACK | BLACK |
| LED Lighting | RGB | RGB |
| Single Zone / Multi-Zone Lighting | Individually Addressable | Individually Addressable |
| SPD Latency | 15-15-15-36 | 15-15-15-36 |
| SPD Speed | 2133 MHz | 2133 MHz |
| SPD Voltage | 1.2 V | 1.2 V |
| Speed Rating | PC4-25600 (3200 MHz) | PC4-24000 (3000 MHz) |
| Compatibility | Intel 100 Series, Intel 200 Series, Intel 300 Series, Intel X299, AMD 300 Series, AMD 400 Series, AMD X570 | Intel 100 Series,Intel 200 Series,Intel 300 Series,Intel 400 Series,Intel 500 Series,Intel X299 |
| Heat Spreader | Anodized Aluminum | Anodized Aluminum |
| Package Memory Format | DIMM | DIMM |
| Performance Profile | XMP 2.0 | XMP 2.0 |
| Package Memory Pin | 288 | 288 |
Corsair Dominator vs Vengeance: The Better Memory Option
When you compare the Dominator vs Vengeance series, you have to break them down into individual products, which makes it harder to get an accurate comparison.
Our experts have looked at the most popular products from these lines while keeping other products in mind as we navigate the review process.
The Corsair Dominator series has been around for a long time and it is one of the most beloved memory options on the market. There have been a few trips along the way, but the iconic memory has been used by almost everyone at this point.
The Dominator Platinum version is among the most loved due to its sleek design and optimized performance.
The Dominator comes with either two or four sticks that have capacities from 16GB to 128GB, with speeds from 3000 MHz to 4800 MHz. They continue to improve their offerings and some versions are harder to get than others.
The most popular option in the Dominator line is the Dominator Platinum RGB DDR4-3200 MHz.
Pros: Absolutely beautiful lights; great design; hand-picked parts; quality feel
Cons: Not the best for overclocking; can get expensive; it's hard to find certain speeds
The Overall Feel: The Dominator is a solid piece of equipment that can take some abuse. It feels like a premium piece with its all black design and the sleek looking fin that has become iconic. It features Dual-Path DHR cooling, which is a perfect option for gamers. It also adds some visual interest for those who want to use an open case.
There are 12 Capellis RGB LEDs, which is a premium brand. These LEDs last longer and tend to be brighter than others. They are small, creating a seamless look that is hard to find anywhere else. Their size means they use less power and don't impact temperature at all.
Size: This one is more aligned with traditional Corsair offerings in that it is small enough to fit into smaller cases. They are still taller than some other options, so they may not be a good idea for extremely low-profile cases.
Speed: There are eight Samsung memory chips within the Dominator. Each chip has a density of 8 Gb and a rated speed of 2666 Mbps. The Dominator performs extremely well and will give you exactly what you need.
Software: The Dominator line comes with the Corsair iCUE software to customize the lighting and give you some control over syncing.

The Corsair Vengeance is a great piece for anyone. It is known for being a workhorse and withstanding all kinds of abuse. It is a top-quality build that has some beautiful design elements. It was built with gamers in mind, but that doesn't mean that it won't work for anyone in the general public.
The Vengeance comes with either two or four sticks that have capacities from 16 GB to 128 GB, with speeds from 2666 MHz to 4400 MHz.
There is a reason why this is one of the most sought after memory kits on the market today, and why Corsair continues to make it despite the fact that they have released newer options.
Pros: Great for overclocking; good price; quality materials
Cons: It's a bit large; there are some cooling issues
The Overall Feel: This is really a beautiful memory option. The RGB lights are gorgeous and while they aren't the brightest, there are a ton of customization options. The Corsair Vengeance LED height is a bit tall, you won't be able to fit this one into a low-profile case. That makes for some beautiful designs, however.
It is really close in size, but it just feels a bit large for what Corsair usually offers. Everything else feels high quality and like they paid attention to how it all fits together. The feel is "clean cut" and subtle instead of high tech like with the Dominator.
Size: This is a big boy, but it will fit well within most cases.
Speed: Its speed is pretty great, particularly because reaching the highest speeds doesn't reduce its performance. While it doesn't reach the maximum speeds that the Dominator reaches, it is widely available in all sizes and it performs consistently.
Software: The Vengeance line comes with software that helps you personalize your lights. It doesn't have as many options as some other software, but it consistently works, is user-friendly, and is intuitive.
Overall: The Corsair Vengeance line is upscale and reasonably priced. It's a gift to gamers who love to overclock.

Corsair Vengeance vs Dominator: The Head to Head
It's important to note that both of these are great options for memory.
Let's compare them further based on the following categories to see which is the better option.
Lighting
If you are going for a beautiful option, then you won't have a hard choice to make. Both options have RGB LED lights, but the difference is clear.
The Vengeance doesn't have the Capellix RGBs, so something just falls flat. It may not seem like much, but when you compare them side by side, it's very noticeable.
Style
The Dominator is a beautiful piece of hardware, and so is the Corsair Vengeance. This is a category that will really come down to preferences. We tend to like the look of the Dominator just a bit more, primarily because of those beautiful LEDs.
Cooling
The Dominator's Dual-Path DHX Cooling tech doesn't only help with cooling, it makes the overall design really cool. Both of these memory options run cool, so unless you constantly overclock, you won't have any issues. Still, when you measure the two against each other, the Dominator stays cooler and is easier to cool.
Overclocking
For gamers who want to overlock, speed, cooling, and performance all need to be taken into consideration. The Dominator is clearly the winner on speed and cooling, and the performance is consistent as well. All of the parts of the Dominator are hand-screened to ensure a together performance.
In reality, however, they just don't perform as well as the Vengeance does. It needs more monitoring, but practical usage just isn't as good.
Speed
You can get the Dominator in speeds up to 4800 MHz, but it is hard to find those models on the market. The Vengeance is easier to get at 4600 MHz. Most people won't need speeds this high and both options have availability in the slower speeds.
Availability
As mentioned, there have been minor pipeline issues with some of the speeds and sizes of both lines. The Dominator Platinum is more widely available currently, and there's a pretty good secondary market for it as well.
Support/Warranty
Corsair is known for having a really great warranty process, so you won't have to worry about that with either option.
According to some reports from across the Internet, people have an easier time getting support for their Dominator memory, but that could be because it has been around for so much longer.
What Is the Main Difference Between the Vengeance and the Dominator?
The biggest difference is that the Vengeance LPX is the more mainstream option. You will find that there are just more versions of the Vengeance, more people have it, and more people use it in their builds.
This is primarily because there weren't any pipeline options, but it also uses a standard height and heat spreader, making it compatible with most builds.
The Dominator, on the other hand, is more robust and expensive. It is used in primary builds and is part of several kits that you can buy. There are some technical limitations with this one, particularly for gamers.
DDR4 Memory FAQs
1. Why Has DDR4 Become the Standard?
There are many reasons why DDR4 is the standard we suggest, but the primary one is speed. Memories need to be fast for performance, particularly in gaming. Additionally, it provides more consistent performance while using less power.
2. Is DDR4 Stable?
In the past, particularly when DDR4 was first released back in 2015, it wasn't all that stable. People had issues running it and it would stall sometimes. Now, most (if not all) of those problems have been abated. If you experience issues, it could be that you need to run updates.
3. Why Does Corsair Keep Updating These Products Instead of Building New Ones?
The short answer is that name recognition helps. The other answer is that they have found two really great product lines and they keep improving what is already great instead of trying to build something new.
In Conclusion
If you look at the above section, you can see that the Corsair Dominator is a really hard line to beat overall.
Aside from issues with overclocking, it wins in all other important metrics such as the following:
Performance
Speeds
Availability
Support
Appearance
This doesn't mean that the Vengeance isn't a great piece of technology. There is nothing wrong with it. In fact, if you need to overclock consistently, you may want to consider the Vengeance over the Dominator. They are close enough that if overclocking is important, you should switch sides.