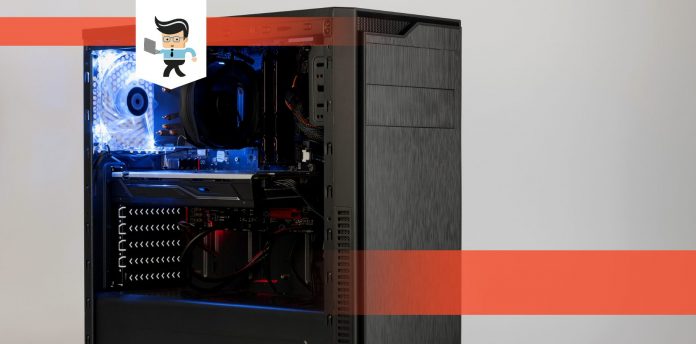 When choosing the perfect LAN party case, you need to consider many factors. For example, it's essential to consider the size, airflow ability, and cooling systems.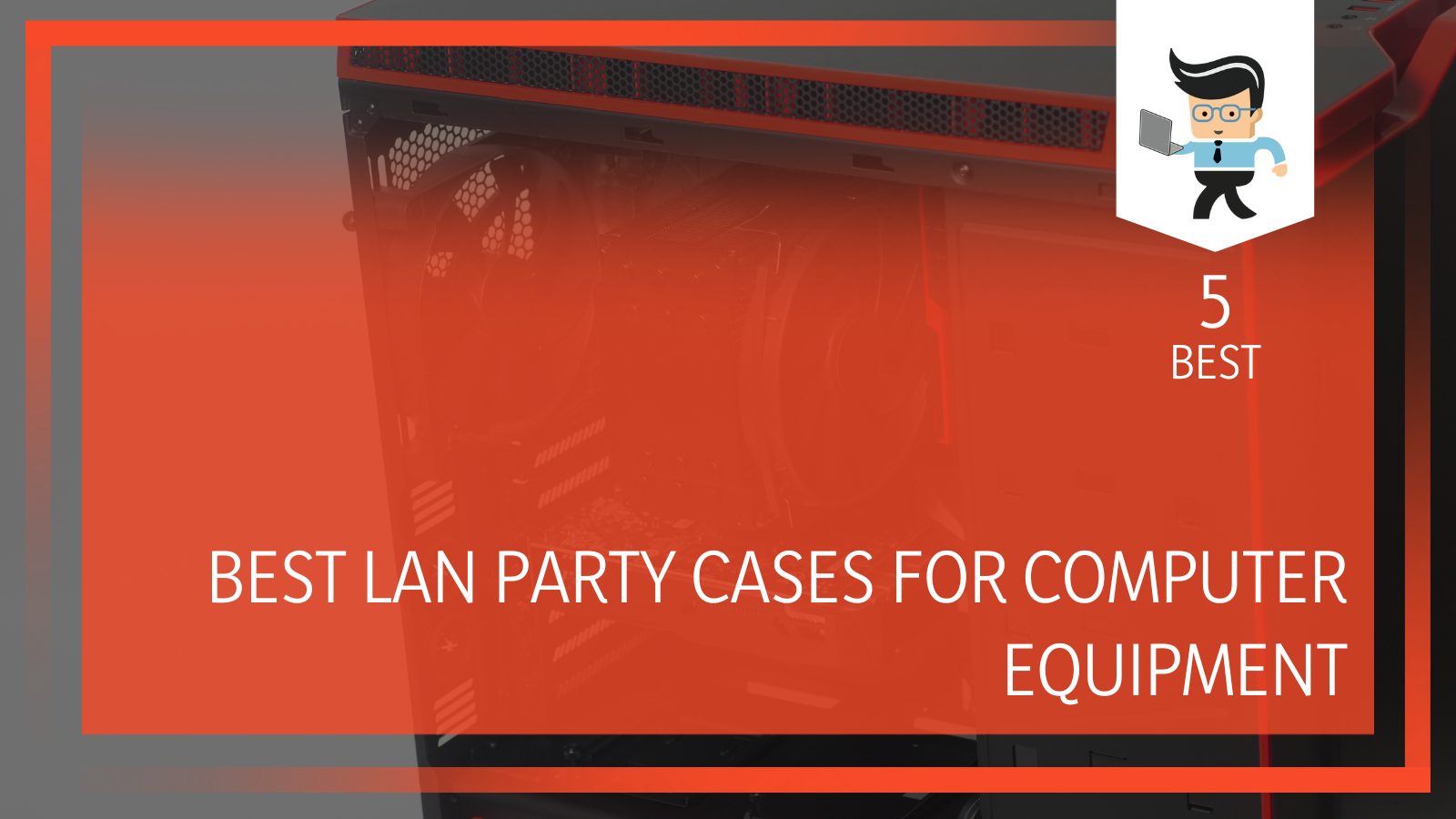 This article will help you understand and gain knowledge of five different party cases. It will help you decide which of the five would be most beneficial.
The table below lists some essential key specifications of LAN party cases. If you're in the market for a LAN party computer case, we recommend that you take note.
Pros
● Ultra-portable and flexible
● Sturdy open-air design
● Versatile in positioning
Cons
● No active cooling fan included
● Fragile tempered glass
● MINI-ITX only
The IN WIN D-Frame Mini has dimensions measuring 20 x 12.5 x 22.5 inches and weighs 16 pounds without any installs. This case is large and heavy, and is a very innovative and well thought-out design structure.
IN-WIN designed this case to have some features of an off-road motorcycle. Thus, it can withstand the stringency of transportation.
A feature to identify this is its solid aluminum tube structure. The D-Frame Mini also has rubber grommets. IN-WIN installed them throughout the length of the aluminum tube structure of the LAN PC case. This feature prevents it from slipping off and damaging the surface on which it's resting.
The D-Frame Mini features high-end graphics card support. These graphic cards range up to 340mm, and they have enough room to build a PSU up to 220mm.
Concerning its power supply, the DFrame Mini allows for ATX 12V, PSII Size, and EPS (up to 220mm)
The second benefit of the IN WIN D-Frame Mini is that a incorporates thermal solutions. It supports up to 4 x 120mm fans. The case has an open-air frame structure. This structure allows it to support excellent ventilation and prevents overheating. Ventilation is an essential feature of the PC case that the customer always needs to ensure is excellent.
It also has a tinted tempered glass feature installed. It's four times stronger than ordinary glass and protects your computer from falls. The tempered glass can absorb shocks as well as protect against scratches against sharp surfaces. You may have already seen this brand of case at LAN parties. If the people were to get rowdy and knock over the case, the contents would have very minimal damage, if any at all.
The D-Frame Mini-ITX Tower case from IN-Win features an open-air design. The design helps with the ventilation of the case. It has two 120 mm fans to help with the cooling of the internal chassis. The D-Frame Mini also supports a water cooling radiator up to 240mm.
You can also place the case in up to six different positions. In the more technical aspect, the case features three hard drive bays. These bays can house either 3.5-inch hard drives or 2.5- inch solid-state drives(SSD). The D-Frame can also house cards up to 340 mm long.
The front I/O is where things get a little more interesting with
power button
three USB 3.0 ports
Microphone port
audio /headphone port.
The I/O PCI-E slot X 8
As mentioned earlier, the D-Frame Mini-ITX is a creative piece of work.
Yet, some people might not like its peculiar D-Frame aluminum structure and its open-air designs. Although its appearance may be questionable, one cannot deny its ability to execute.

It has great features, from being able to turn on any side for operation and installation to the space that the case offers. Its positioning is exactly six-dimensional. When building the system, it is crucial to find the correct angle and positions to put your wires and cables. With the D-Frame, this is no real challenge.
This case is available in the colors; black, red, blue, green, and orange.
Being as high priced as the D-Frame Mini-ITX is, only persons who are willing to overlook the funky design might want to invest. It's for the computer nerd who likes offbeat designs. It will aid in your building and enhance the look of your final product.
Pros
● Does not use much space
● Built-in handle
● Fine mesh ventilation
● 200 mm RGB fans
Cons
● Wires may be challenging to organize inside.
The Cooler Master MasterCase H-100 is remarkable. It is a mini-ITX case that you can use as a small room PC, a portable gaming rig, and a desktop saver. It also has a compact layout, which uses space to decrease its dimensions.
The H100 has a mesh front panel that allows for excellent ventilation. This mesh panel also contributes to the filtering of dust. Behind this mesh front, you would find the 200 mm intake fan. It can also support a 120Mm or 140Mm radiator for liquid cooling.
The second benefit arises from its built-in handle at the top panel. This feature of the H-100 increases appeal to buyers because it means easy transport of the case. Most gamers value this feature.
Cooler Master made this case from hard plastic, mesh steel, steel, and tempered glass. These materials altogether contribute to the strength of the computer case.
The Cooler Master MasterCase H-100 has two expansion slots with a 2.5 inch and 3.5-inch form factor available space.
It also has an ATX power supply, which improves hardware. It results in efficient power being supplied to the system.

The I/O of the case feature as follows.
HDD LED
Reset button
Headphone and microphone 3.5mm jack
Power button shaped like Cooler Master logo with Power LED outline
2x USB 3.2 Gen 1 Type-A ports
The Cooler master MasterCase ranges in price from $60.99 to $74.99.
This case is available in the colors; grey, H100 RGB, H500 ARGB, and H500M ARGB.
The Cooler Master MasterCase is a unique and efficient computer case. It is ideal for persons who don't have a lot of space. It is also for those who need to carry computer equipment around often (such as LAN party enthusiasts).
Pros
● Water cooling radiator support
● Good airflow
Cons
● Cleaning the dust filters may prove difficult.
● RGB fans need separate controllers for full effect
● Not much space to hide extra cables
The Corsair iCUE 456X RGB Mid-Tower ATX Smart Case is a durable LAN party case with many unique features. You should also note that this case is only available in the colors black and white. It encourages good airflow within. Having an obstruction-free layout allows for air to flow. This air can now reach the most heated component parts of the case.
What particularly caught my attention was the attractiveness of the computer case. It is a real beauty, and if you buy the case in the color white, it further accentuates that beauty.
The internal design of the case is one to admire. It features routing channels and tie-downs placed in strategic locations. This feature is still very beneficial, and it is not present in all LAN party cases. The cabling and wire routing inside of the computer case is not the tidiest. The Cooler Master developers identified this. They then created a channeling route, which you can use as a guide for the cables. It also encourages good airflow.
The second benefit is the 4mm tempered glass, which you'll find at both the side and front panels. This glass helps to protect the case and its components from falls and damage.
The case also entails three Corsair LL120 RGB fans. You can also install up to 6x 120 mm cooling fans with airflow reaching peaks of 1500 RPM and 16 RGB LEDs per fan. We also feel the need to point out that the type of noise produced is manageable.
The third benefit is the dust filters. The Corsair mid-tower has three removable dust filters. The removable dust filter helps to prevent dust particles from entering the case. If these foreign particles were to get in, you would need to disassemble it. Then you'll need to get it cleaned and reassembled again. This task is a frustrating one for most. The presence of the dust filter minimizes the possibility of that ever occurring.

Storage for the Corsair iCUE 456X RGB Mid-Tower ATX Smart Case takes the form of a hard-drive cage. This hard drive cage allows for the 2.5-inch and the 3.5-inch hard drives. It also has two metal trays, which are for two 2 inch drives like an SSD. The CPU core can specify 160 millimeters. The GPU itself has plenty of space with up to 370 millimeters.
This case is available in the colors; white, black, red, and mirror black.
The price of the Corsair iCUE 456X RGB Mid-Tower ATX Smart Case ranges from $115.00 to $163.00 on the Amazon site.
The Corsair iCUE 456X RGB Mid-Tower ATX Smart Case is an excellent buy for people who desire bright and expressive visuals. If you also want exceptional cable management abilities, then this is the case for you. With transparent tempered glass, this is the case for gamers to show off at their LAN parties.
Pros
● Air pressure design
● Independent PSU vent
● Dual 2.5″ drive bays
● Uses a regular ATX power supply
Cons
● May be challenging to build
● RGB hub is too large, and its location is poor
The Silverstone RVZ03 is an evolution of the RAVEN Z RV01-E case. This case contains a mini-ITX motherboard and ATX PSU. The case also features a positive air pressure design. This design is one that contributes to dust prevention and cooling. It also maximizes its performance in a slim form factor. How? It has support for AIO liquid cooling.
The SilverStone RVZ03 is a thin console-like enclosure. This case is most often displayed upright, but you can also make it horizontal.
Another exciting factor is that it can support cards up to 13 inches (330mm) to fit most high-end GPUs. It allows for computing power far exceeding consoles. Along with the only removable side panel, there is a 120 mm fan, with the option to add a fan filter.
The CPU cooler limitation is 83 mm, whereas that of the PSU is 150 mm.
The case also has an expansion card limit of 13 inches long and 5.88 inches tall.
Its slim shape can fit into almost any area with a vertical or horizontal orientation. The case also provides an RGB controller for the RGB strip located at the front of the panel.
Now moving onto the front panel I/O. You will find:
Two USB 3.0 ports
one audio/headphone jack
one mic jack
Silverstone makes this case with a hard plastic and steel body. These materials give the structure a sturdy and robust feel. However, it may not be able to survive any hard and serious falls or damage.
The motherboard comprises a Mini-DTX and Mini-ITX.
The drive bay allows for 4x 2.5-inch drives.
The SilverStone computer case features a cooling system. The top executes 1x 120m (1x1500rpm 18dBA included). The bottom has 2x 120mm (1x1500rpm 18dBA included)
According to Silverstonetech, a 2.5-inch drive on the center bracket may be very difficult to install due to power supply cable interference. We recommend that you use a 140 mm deep or shorter modular power supply with a flat cable.
The power supply cable is 150mm at most. But it would be wise to use a 140mm supply due to varying connector locations and the unique structure of RVZ03. The case has an internal power cord extension, so try not to exceed 800W when taking your power from a 110V outlet (there's no limit for 220V).

This case is available in several colors.
On Amazon, the SilverStone Technology Slim Computer Case For Mini-ITX is in the under $130 price range.
This case is attractive and well put together. It is one that is sought after by many because of its design. I, too, would admit that if I were to buy a case solely for its design, this one would be on the list.
This case's general layout is for persons looking to build a sleek, slim form factor PC. It's for people who want their PC to look creative. They're great for persons who are looking for a revolutionary type of PC case.
Pros
● Great airflow
● Spacious
● Many color options
● Affordable
Cons
● Dark and few windows
● Quality control (QC) issues
The Nanoxia Rexgear Micro ATX Case is simple. According to customer reviews, it is easy to assemble and disassemble. This case's motherboard tray allows you to locate and move things around.
Whether it be graphic cards, RAM, or HDD swaps, the RexGear has plenty of space. This space is beneficial for cable management and increased airflow.
The second benefit of the RexGear Case is that it allows you to install as many as six case fans. You would observe this when using 120 mm fans or 140 mm fans. There is an air pressure vent located at the top of the case, which improves airflow. The case also features two fan controller knobs at the panel's front, which power six 3-pin fans.
The third benefit of this case would be its ventilation. The case features ventilation made of fine mesh, which takes claim over the entire front and most of the top panel. This mesh ventilation allows for excellent dust and foreign particle filtration. All this without restricting the ventilation of the case.
With regard to the I/O panel, the case features a manual ARGB controller. It also features:
2 X USB 3.0 ports
1 X HD audio port
1 X mic port
This case has a PSU mounting board that eases the installation of the power process.
This case is available in the colors RG 2 Black and RG 2 White.

The Nanoxia Rexgear Micro ATX Case is in the under $75 price range if purchasing from Amazon. It is a great case, from the vast array of colors in which it is available to the technical specification. Many have reviewed it as one of the best they have encountered.
This bulky yet sturdy design has many factors that most consumers are seeking. This computer case is for persons who don't want something too fancy. This one can carry out its primary functions, and it still looks good.
Buying Guide
Packing up for a gaming event or LAN party can be somewhat challenging if you don't own a portable PC case. A computer/gaming rig can be problematic to move around for such occasions. They seldom come with carrying handles, and they're bulky. In this review, portability was the ultimate spec we considered.
Here are some key features to know:
•  Weight:
A LAN party case with low weight is easy to carry around. You may need a heavier case if you have a lot of equipment.
• Dimensions:
The dimensions of your LAN party case should fit the size of your equipment.
• Cooling Type:
Air-cooled builds are your best bet. Your equipment will remain undamaged even after much vibration and shocks. It's essential to keep in mind if you will be moving your equipment often for LAN parties.
Best Case for LAN Party
Choosing the perfect LAN party case has proven itself to be a difficult task. When it comes to beginners, this may also be difficult for persons with no experience buying or building a LAN party case. If you're one of those persons, then this guide is for you.
Before we list the products below, we first want to ensure that you know some of the basic features of a good LAN box case.
When looking for the best LAN party case, you should take into consideration the handle. The carry handle is one of the essential features of the party case. The presence of a high-quality handle ensures portability. It also increases the convenience of being able to move your case from one place to another.
Another feature to take note of is space. The case should have enough space to fit all your desired gaming components. The party case should also be strong enough to handle the beating it may receive. LAN parties can get pretty rough, especially if there are many people in attendance.
The case should also be compact and lightweight. Most people look for one that is easy to carry and move around. Being lightweight would be beneficial for people as it makes the case easy to carry around.
Buying the best LAN party can be a challenging task and a frustrating experience. These LAN party cases are sure to meet your budget and your needs.
Conclusion
Still not sure about which from the ones listed above you should select?
We would recommend that you choose the Cooler Master MasterCase H100 Mini-ATX case. This brand shows continued good performance, based on reviews collected. It is attractive, well designed, and is a great LAN party case. The Cooler Master MasterCase is one of the best LAN party cases for a gamer.