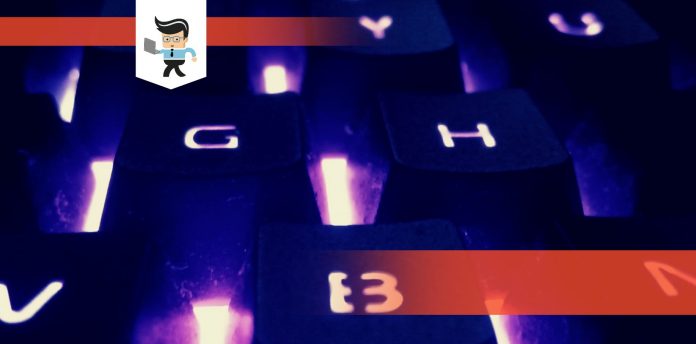 The importance of a hot-swap keyboard cannot be over-emphasized among the teeming community of hardcore gamers. It is particularly useful when it comes to eliminating the problems associated with the soldering of switches when building a mechanical keyboard.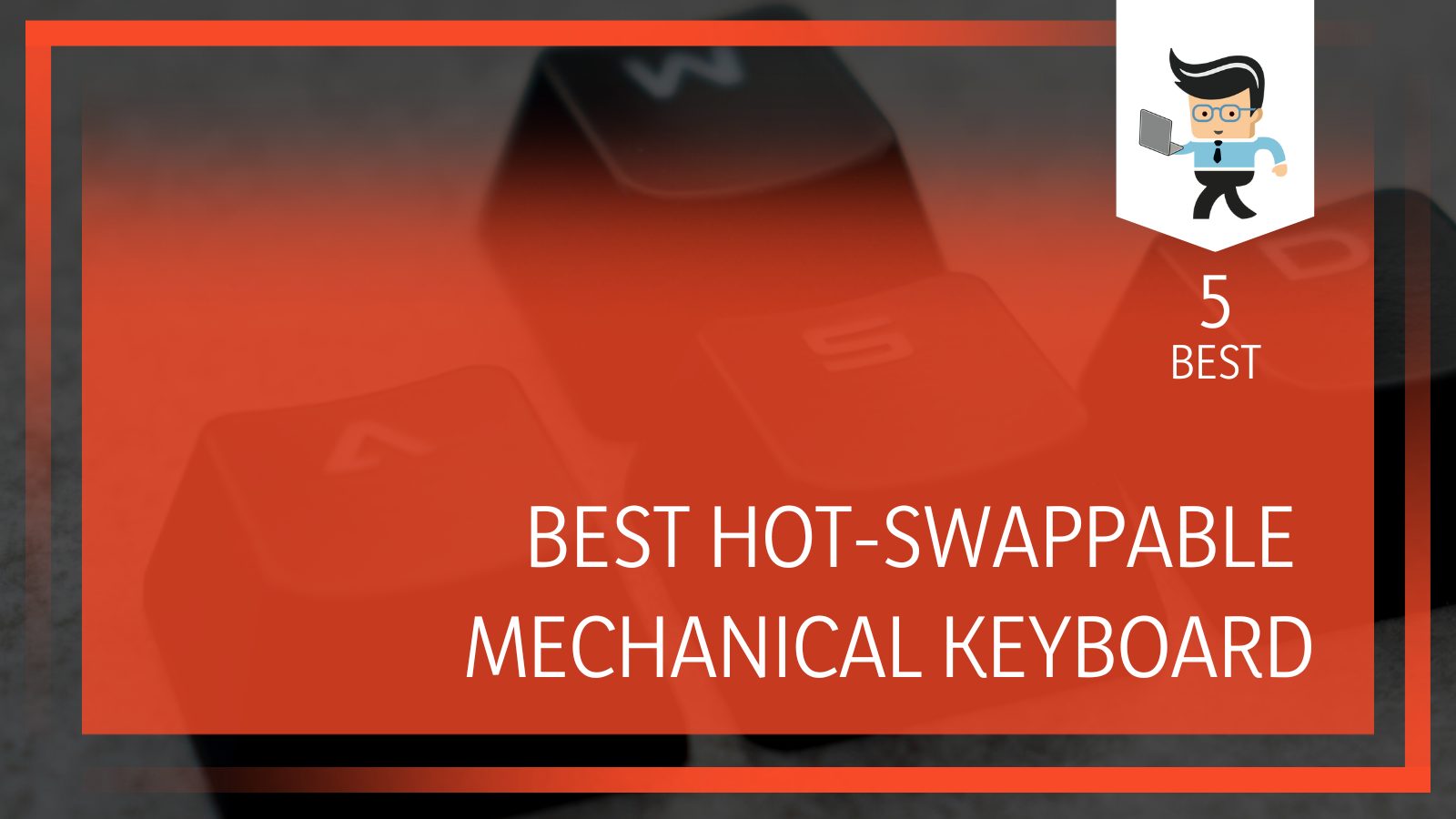 Without a doubt, this wonderful piece of technology will appeal to a lot of mechanical keyboard users. However, it is quite difficult to select the best from the wide range of options available on the market.
In light of that, we have come up with the best hot-swappable options for you. Read on to find out the most important information about these keyboards.
Comparison table at a glance
Best Hot-Swappable Keyboard: Our Top Picks
Pros
Ergonomic design
Customizable lighting modes add flair
Full-key rollover
Water-and dust-proof
Cons
With a brand name that sounds all so new, you could be forgiven to think it isn't worth it. First off, it comes with anti-ghosting capability and a full-key rollover that permits you to press multiple keys simultaneously.
This Abkoncore also comes with GTMX switches. You can replace these switches at any time since the keycaps are doubleshot injection keys. Thanks to its multiple lighting modes, you will have a nice time typing or gaming with this mechanical keyboard.
Further, it's possible to change the combination or assign them to specific keys.
The ergonomic design will help to promote some longevity, give you a chance to adjust things with the anti-slip pad, and achieve great performances. The USB is gold-plated while you have multimedia manual keys to provide on-the-go shortcuts for convenient operations.
Then there's the fact that it is also waterproof and dust-proof. That's not bad while you work, run some programs, or play your favorite games.

This is one fantastic hot-swappable mech keyboard that will serve a raft of needs. Whether you're an avid gamer or just looking to work, it's ideal for you.
Pros
N-key rollover
Strong Bluetooth connection
Brilliant RGB Backlit
Dust-proof and waterproof mainboard
Cons
This hot-swap mech keyboard is Bluetooth-enabled (you can also use wires) and has a Gateron optical switch to keep things going. As a swap keyboard, it is also ten-keyless, which makes it such a bright prospect for gamers.
The connection is very fast, so you won't lose ground on any task you're working on. What's more? You can also connect up to three devices simultaneously. This particular feature will appeal to gamers who want some music or want to run other tech stuff with their mechanical keyboards. It's simply perfect for work and gaming.
With its FN1/FN2/FN3 programmable mode, you can make changes to the keyboard functions via the driver, macro record, and more. More so, there's hardly any conflict of keys thanks to the N-key rollover feature.
With a waterproof and dust-proof main board boosted by thermal sublimation keycaps, oil, water, and other liquids won't damage it. This is perfect for busy workers and avid gamers.

While working, the millions of RGB backlight combinations available could liven up the keyboard's performance. On the whole, this hot-swap board is great for users who need help with a lot of activities.
Pros
Strong material build
RGB LED Backlit
Floating Keycap design
Cons
Sensitive cable
Echo sounds
This is a nice keyboard that is great for a lot of uses. Of course, it is hot-swappable and made of a sandblasted aluminum faceplate. As a result, it is built to last for a very long time. There's also a 6ft long braided non-removable USB cable to connect to your computer.
As a minimalistic design keyboard, you'll be comfortable using it for your gaming and typing needs. It has a floating keycap design, too, which is accompanied by a total of 104 keys. This is reinforced with keycaps made out of Doubleshot ABS plastic.
RGB Backlit features with 16.8 million colors mean you can make changes to your keyboard colors. This can be done through the GMMK software.

This is a keyboard with hot-swappable switches and is there for all purposes. You can easily swap out the switches without any attempt to solder them. Therefore, it's perfect for users who want to change their switches without spending extra money on another keyboard.
Pros
Cool lighting modes
Ergonomic and compact design
Detachable cable
Cons
This is another keyboard with hot-swappable functionality with a Gateron switch ready. No doubt, using it will translate to better accuracy and impressive feedback when gaming or typing. Further, with a detachable cable and cool data transmission speeds, it's all convenient.
You can change switches all within five seconds because you can simply replace them without soldering. This will help users customize their mechanical keyboard to no end.
With the acrylic casting body, there's a glazed appearance to showcase some appeal along with the cool RGB illumination. You can attach preferences to specific keys to either change colors or reduce brightness.
With a portable mini size, it's all compact and will increase the independent direction key control. The ergonomic design means users won't get tired any time soon while performing different tasks.

This is one hot-swap 60% keyboard you'll love if you appreciate something minimal but strong enough for different activities. It won't take up space on your desk, and you can customize it to your taste.
Pros
Strong Bluetooth connection
Different colors, lighting modes
Multi-device connections
Multiple customization options
Cons
Wired mode is incompatible with some devices
KEMOVE is a relatively new brand, but this fact doesn't detract from the great appeal this particular keyboard carries. It's high on quality with a sophisticated appearance and design.
The K61 Shadow keys' minimal layout will free up more space and give users an out-of-this-world gaming experience. The same goes for typing or running a development application with mechanical switches that are replaceable with 95% of other mechanical options.
Further, it has a multi-device wireless stable Bluetooth connection. This will help those who want to use certain devices alongside their keyboard and computer. It's all stable and works well with Windows, IOS, and other operating devices and systems.
More so, the Doubleshot keycaps have a high resistance to oil spills. At the same time, the light transmission is better than many mechanical options. This is a perfect blend of power, quality, and beauty for gamers and other users.
If you love to play around with lights and colors, this is the swappable keyboard for you. You have about 16 million colors to customize, including lighting effects.
There's offline software available for you to assign macros or commands to your chosen set of key combinations on four individual layers.

This keyboard will appeal to users who want a great deal of control over their options. You can customize the lights, chose whether to go wireless or not, and play around with lights while typing, gaming, or programming.
Buying Guide
With the products reviewed above, no doubt you're interested in getting a hot-swap mech keyboard for your needs. However, there are some basic things to understand and consider. This is the aim of the buying guide.
We are here to show you the advantages of hot-swappable mech keyboards and categories of people they are suited to. The features and specifications to look out for when opting for one are also very important. Possible questions you might have are also considered and answered here.
– Advantages of Hot-Swap Mechanical Keyboards
Here are some of the advantages and benefits of using a hot-swap mechanical keyboard:
Easy replacement of switches
This is one of the most important benefits of a hot-swappable mechanical keyboard. With advances in technology, you no longer have to solder parts of your switch to replace it. Once they are faulty, remove and replace them.
Many brands include keycap pullers that expose the switches so you can easily get them replaced.
With upgrades coming up by the day, you want something you can simply replace with better or higher quality versions. As such, hot-swaps give you the flexibility and ease to alter your initial buying decision.
You can integrate compatible switches
This means you get to have a personal feel with your keyboard. Customizing your keyboard to produce a better typing, gaming, or general experience, is a great advantage.
Switch repairs and other basic repairs are quickly done. As a result, most hot-swappable mechanical keyboards get to have a longer lifetime.
The simplicity of installation is another big draw. This makes smaller production runs possible, which is often a big advantage on the parts of manufacturers since they can cut costs of production.
– Users Hot-Swappable Mech Keyboards are Perfect for
There are some groups of people who would appreciate hot-swaps running with their computer. Perhaps you're one of them.
– Gamers, Programmers, Designers
Phew! That's a whole lot, right? Well, these groups of people would love the feel and dominant specs of a hot-swap keyboard.
For gamers, you'd want something you can game on without keycaps clashes, adequate actuation points, and better responses. The same applies to designers and programmers who want a customizable option.
They can build their keyboards accordingly, even if that includes mixing a couple of switches geared towards better performances.
– Mechanical Keyboard and Hot-Swap Newbies
If you ask about the best keyboards for newbies to start with, the chances are high that the answer will always be mechanical keyboards. Add to that hot-swappable switches, and you're good to go.
For one, these keyboards are fresher in terms of build, design, and cool features. Also, they're the safest bet when you don't know what to buy.
– New DIY Folks
Hot-swappable keyboards will also come in handy for those who would love nothing more than trying to prep up their mechanical keyboard by themselves (for the first time).
All you have to do is to get a swap PCB which doesn't need soldering and change the switches yourself! Welcome to the world of "Do It Yourself."
That wasn't so hard, was it?
– Heavy Keyboard Users
Typists fall into this category because of the sheer load of work they have to do. This also applies to people who do a lot of typing. What better way to get things done, and fast too, than by using a hot-swap mech keyboard?
When you've been typing for a long time and notice issues, you can simply remove the affected switch with a puller. After this, you can replace it conveniently. With some hot-swap mech keyboards, you can also assign functions to specific keys you're comfortable with. This way, typing is faster and more fun.
Hot-Swappable Keyboards: Key Features to Consider
Naturally, users would expect their keyboards to contain every possible specification. Here are some top features to help you decide on the best hot-swap mechanical keyboard to buy:
– The Keyboard Size and Layout
Perhaps even a newbie will have heard about keyboard sizes and layout. Well, for mechanical keyboards, there are different types of layouts, each with its own unique style and keycap properties. Here are some to consider:
These normally come with a 104, 105, or 108 key layouts.
Some of them come at 87%, 80%, 60%, 70%, etc. The basic thing to note about ten-keyless is that they have a compact layout and usually exclude some aspects.
This could be the Numpad on the right side of the kitchen keyboard or Function rows. As a result, the number of their keys is reduced to the intended number.
For instance, the Wormier mechanical keyboard is 60% TKL.
– Keycaps
The keycaps of products reviewed, and others in general, come in different materials and shapes. The popular material for mechanical keyboard keycaps is ABS, which is a lightweight variation of plastic.
However, it can wear or become smooth and shiny after heavy and constant use. There are others made with PBT, which are less common but have a knack for being more durable and grittier.
When you get a hot-swappable of any kind, remember that part of customizing it is changing the keycaps. You can opt for better-looking keycaps and add them to your keyboard. You can start with ABS, for example, and swap them for PBT-type keycaps later on.
– Backlight
This is always a nice addition to swappable keyboards, especially when you can exercise a great deal of control over them. Of course, this is not a requirement for coding, typing, or gaming, and it might add to the cost of the keyboard.
However, most users admit that having them isn't a bad idea, particularly if you're trying to customize the feel and look of your computer.
– The Wired or Wireless Question
Even though there are few wireless hot-swap mech keyboards, it is a consideration most users now consider. The fact is, they use batteries and will have to be charged for some hours. Also, they're not clearly improved although that is changing very fast. For wired ones, some brands have gold-plated USB cords. Generally, they are still better to have.
Is a removable/detachable cable better?
A removable USB cable is, by and large, preferable to one that's built in. This way, you can replace broken or damaged cables rather than changing the whole keyboard.
– Switch Options
Switches for your mechanical keyboards are mechanisms underneath each keycap. They work by determining the activation of a keystroke. Of course, there are many types of switches available for your keyboard.
These include linear, tactile, and click switches, all of which have unique keystroke behavior.
Depending on what you need your keyboard to achieve, your choice of switch matters. If you have a modular mechanical keyboard like the Glorious brand reviewed here, a linear switch is a good choice.
Other than that, all switches have their advantages and disadvantages. However, a hot-swap's sockets will make your choice worthwhile.
– Build Quality
Any mechanical keyboard with hot-swappable capabilities will cost some money, but the price shouldn't stop you from checking out the build quality.
To that extent, the materials used are very important if you don't want to chop and change within short intervals. Word has it that Doubleshot keycaps last longer.
– Programmability
Being programmable is one feature mechanical keyboards have over their non-mechanical counterparts. You can change the way they behave in a certain way that's different from their default setting.
This applies to keys, their functions, and other actions, but it also depends on the keyboard's compatibility with other operating systems like Windows and Mac.
A good example of altering default actions of some keys is swapping the function of your space bar or that of your shift key. Also, you can assign backlight functions to certain keys. Programmability is a flexible feature you want, especially if it helps to make gaming or typing much easier.
Frequently Asked Questions
1. What are hot-swappable keyboards?
When a keyboard is described as a hot-swappable mechanical keyboard, it means the PCB (circuit board) has special sockets to help you click the switches into place.
It also means you can pull them out when you have to without having to use a soldering gun or needing to touch them. As a result, there's less chance of you damaging your keyboard or spending many hours de-soldering them.
2. Will the sockets eventually wear out?
Like most good things, they also come to an end. The sockets are swappable after many uses, with some lasting for 100 cycles, while others could continue for about 1000 cycles.
Even though such sockets are strong, de-soldered switches can have a shorter lifespan. The same goes for forcing switches in when their pins simply do not fit.
3. Why would I need a hot-swap mech keyboard?
Hot-swappable mechanical keyboards are useful for many reasons, but if you know how to use a soldering gun to replace keyboard switches, then they're probably not for you.
On the flip side, if you love smooth and easy repairs without hassles, hot-swappable is the choice you need. With the features they bring to help you personalize your keyboard, getting them is a no-brainer.
4. Why are there so few hot-swap mech keyboards available?
With hot-swap mech keyboards, it takes a lot to produce them. Further, most manufacturers are testing the waters because the concept is still relatively new.
As such, they have to be produced in batches. They're distinctly different from typical mass-market keyboards, which don't cost as much to make.
Engineering expertise is also needed to make them what they are. For instance, component placement and routing have to be precise. What's more, a host of features, designs, and customization appeal drive up their value.
Conclusion
Hot-swappable mechanical keyboards are nice to have, especially if you're building a formidable PC. They are easy to change or swap, mod, or lube them, and set unique preferences. This makes them perfect for a host of users who want better typing accuracy and speed.
For this reason, our experts recommend the Epomaker SK61S for gaming experiences and much more. As great options, hot-swaps may cost more, overall, but their performances suggest that they're sure worth it.