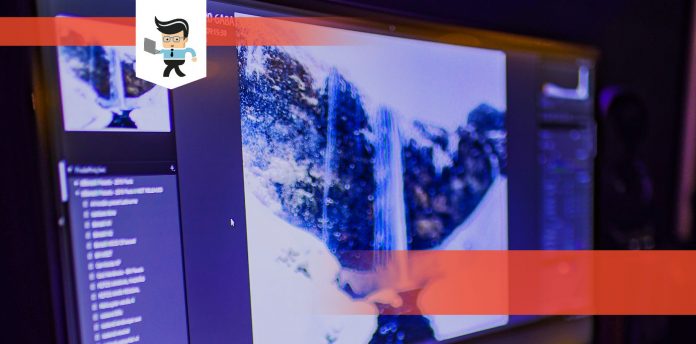 AOC CQ27G1 is a curved frameless gaming monitor ideal for gameplay, and gamers love its quick response time and low input lag. This mixed-use monitor also works for other computer activities.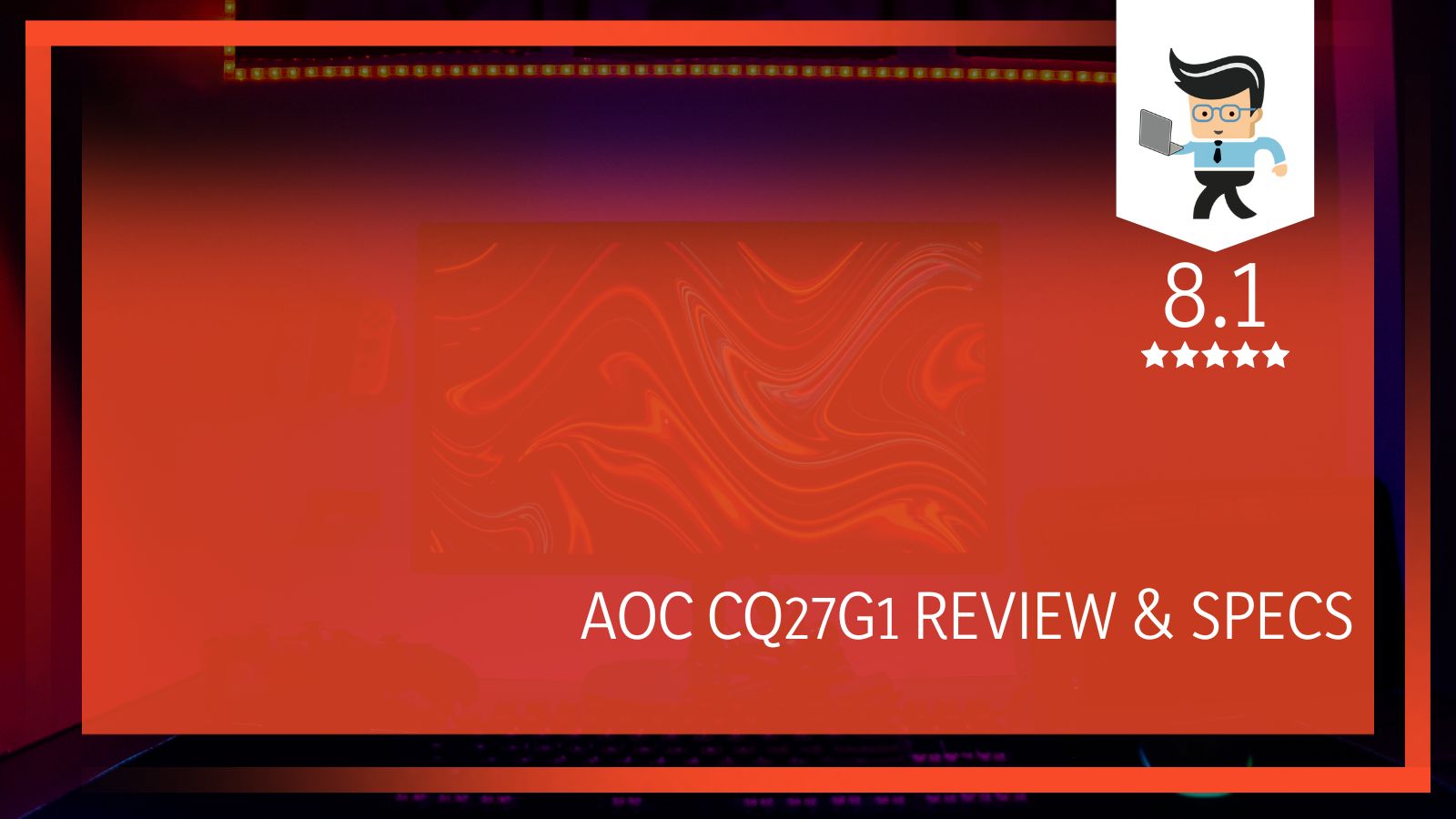 In this AOC monitor review, we give details of the product and its key features. We'll talk about the minimal screen tearing with VRR and FreeSync supported features. We'll show you why it's the best choice for a gaming monitor.
This monitor has an excellent contrast ratio, and gamers don't have to worry about poor viewing angles. It offers awe-inspiring color precision. It has a wide range of SDR colors, proper reflection management, and a reasonable price. Lack of supportive HDR is a little downside. But, the CQ27G1 performs well in average lighting.
Let's dive into the aspects that make this monitor unique. We'll see why it stands out amongst other gaming monitors.
Screen Size and Resolution
8.5
PROS
Very good input lag
Excellent contrast ratio with vivid detailing and vibrant colors
Impressive color precision
1440p and 144Hz screen display
CONS
Lack of HDR support
Moderate ghosting for dark scenes
– Critical specifications for AOC CQ27G1
AOC CQ27G1 gaming monitor has an incredible display and vibrant colors. The contrast ratio is also excellent, and it gives a smooth performance. It has a plethora of specifications that offer a great addition to a gamer's experience.
– Key specs
• 27″- Screen Size
• 2560 x 1440 Screen Resolution
• VA – Panel Type
• 4ms – GtG and 1ms MPRT – Response Time
• 144Hz- VRR- Refresh Rate
– Design
The display has a gamer aesthetic with the jagged edges on the stand and red accents on the back and front sides. It comprises no LEDS that keep it into the gaming monitor league.
You can tilt it to 21.5 degrees backward and 4 degrees forward, and it can swivel 34 degrees in both directions. It is adjustable to the desired height and is a curved frameless gaming monitor.
– Curved frameless monitors provide users with an immersive broad viewing experience. It gives no or minimal distortion to images viewed at screen edges.
– This monitor is ideal for any user who is looking for real-life image viewing. Use it for an incredible gaming experience.
– Ports
AOC C27G1 has a 1.2 display port and two 1.4 HDMI ports. The HDMI ports give accessibility to game consoles and other devices. The input-output options are decent, and the monitor has a VGA port. Thus, it offers accessibility to legacy and other devices. You also get an audio jack of 3.5mm.
– The audio port plays sound via the graphics card to headphones or speakers. I/O ports give versatility to gaming and other devices.

– It is for a gaming user who wants to access video through HDMI enabled devices. You can listen through the audio jack.
– Display resolution and brightness
The curved VA panel has a resolution of 1920 x 1080. VRR-Refresh rate is 144Hz with in-built FreeSync that removes any screen tearing. The display is 27 inches for a sharp display density. It has a high pixel density of 108 pixels per inch for clear viewing.
The AOC CQ27G1 brightness is 250cd/m2, which is low. Yet, as compared to its price and other specs, it's decent in brightness quality.
– Clear image quality with high pixel density and sharp imaging.
– This monitor is suitable for any user who is looking for an affordable price. The monitor also has decent features.
– AOC CQ27G1 Settings
The screen display has many variable settings, with buttons lined up at the bottom. These buttons allow control of the display setting. You can set it once to avoid cumbersome navigation.
Gaming settings
• Four overdrive pixel response times: Weak, Off, Medium, and Strong
• Medium preset for desktop games and video games
• Strong preset for enhanced performance in specific games. The downside is reverse ghosting due to pixel overshoot.
Standard settings include:
• Brightness
• Input source
• Contrast
• Color temperature -Manual red, blue and green
• 3 Gamma presets
– You have manual control of the settings as and when needed. AOC has provided lined buttons at the monitor's bottom.
– This monitor is suitable for gamers who may wish for manual control to often change the settings.
– Quality of Image
This 27-inch VA curved panel offers a color depth of 8-bits and a width of 122 percent color gamut. It gives you a rich image quality with vibrant colors. The contrast ratio is static.
The ratio of 3k:1 results in deeper blacks. The shades of dark and black are vivid but not as precise as compared to IPS models. The monitor's peak luminance is 250 nits.
Under normal viewing, the brightness may not seem as good.
– You can change the temperature of colors from sRGB/User from warm. It gives you a better image experience.
– This monitor is for the user who loves vibrant and rich colors in their image and viewing.
– This is the primary selling point of this monitor. The response time is quick, with a 144 Hz refresh rate. The refresh rate is the critical aspect that you can count on for fantastic gaming.
– The quick response time keeps your game refreshing and enthusiastic.
– It's for an energetic and active gamer.
– VA panels offer 178 degree wide viewing angles. These angles enable screen viewing without any contrast or color change. The screen resolution is 1440p with a pixel density of 108ppi. The picture quality remains clear, even if you're looking at it from a weird viewing angle.
– It gives a screen area for sharper text and image details.
– It's for a user who likes clear and precise picture viewing.
– Screen view
AOC CQ27G1 has a low-blue light integrated filter with a backlight that is free from flicker.
– Allow screen viewing for more extended periods without any headaches. It also helps you to avoid eyestrain.
– This monitor is perfect for users who have issues with longer screen time.
AOC Monitor Calibration
By default, Windows 10 offers a calibration tool. Open it by typing "Calibrate Display Color" in the search bar. You can judge the obvious calibration errors using the naked eye. Adjust the on-screen sliders to suit you. The on-screen directions will guide you through the color and contrast balance adjustments. You can also change the gamma and brightness settings.
– Performance
The performance of the AOC CQ27G1 is outstanding in the price range. Input lag is lower than 4ms, and the refresh rate is 144Hz, which makes the monitor enjoyable and responsive. There's a little smearing with quick-moving objects. With dark pixels dominating, the smearing becomes noticeable.
– This monitor offers quick response time, low input lag, and a high refresh rate. These advantages give you good gaming experience.
– This monitor is for a gamer who is not a hardcore FPS gaming freak.
– Blur reduction
AOC CQ27G1 display has an MPRT of 1ms, and it provides motion blur reduction. This feature minimizes the observable trailing in quick paced games. This action is possible because of backlight strobing. AMD FreeSync cannot be active at the same time as MPRT of 1ms. Enabling FreeSync will alter the refresh rate that suits the frame rate of GPU. Below 48 FPS, brightness levels fluctuate.
– You can set the strobing backlight frequency from 0-20. Go until you achieve a suitable brightness in the picture and clarity in the image. It eliminates stuttering and screen tearing when your FPS is 48-144 Hz Frames per second.
– For a user who likes a clear picture without any screen tearing.
– Gaming Features
• Shadow Boost– Enhances objects' visibility in darkness.
• Game color– Fast and flexible adjustments for color saturation
• Picture presets– RTS and FPS, along with three custom preset modes.
• Frame Counter-FPS or Frames per second. The monitor enables you to control your hardware and display your in-game information.
• Custom crosshairs– This gaming feature enables the personalization of standard white lines. It gives you a replacement that you can download online.
– No stuttering and clear image viewing. You also get quick response time with low input lag.
– For a user who wants quick and precise gaming. A gaming experience that does not permit shearing images during the gameplay.
– Price
AOC CQ27G2 costs between $250 and $280. Thus, it's affordable to many compared to its features and gaming experience. It comes with a 3-year warranty on pixel dead monitors and a 1-year warranty on the damage.
– The price is affordable, considering the features you get with this monitor.
– This monitor is for any user looking for the best gaming features and components. You also get excellent computer features not usually found in this price range. This computer monitor is worth much more than its price.
Conclusion
From the above AOC CQ27G1 review, it is easy to note that it is the best gaming monitor in this price range. It has incredible key features. This monitor offers some of the best gaming.
It offers low input lag, quick response time, and striking display features. The image quality is another excellent feature. Other significant aspects of this monitor include high resolution and contrast ratio.
We recommend AOC C27G1 for the best gaming experience. It has many gaming features, with the key ones being 1ms MPRT, VRR-Refresh rate, and FreeSync, which enable smooth gaming performance. It's an affordable option with crucial gaming features. You are sure to have a fantastic user and gaming experience with AOC C27G1.