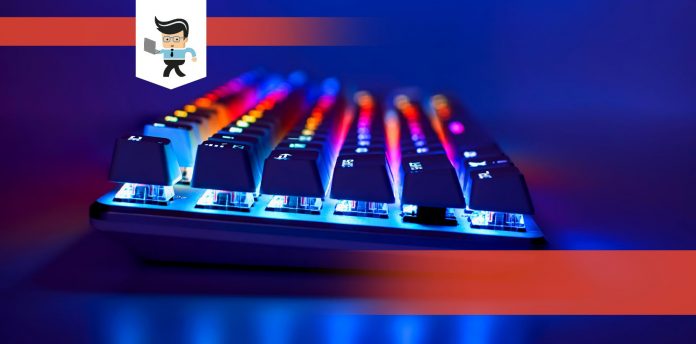 Looking out for great keyboards is one thing, but having to choose between the Ducky One 2 mini vs. Anne Pro 2 is another. That said, these are two top keyboards with a lot of capabilities you'd love. Whether you need for typing or playing games, they're both worth it.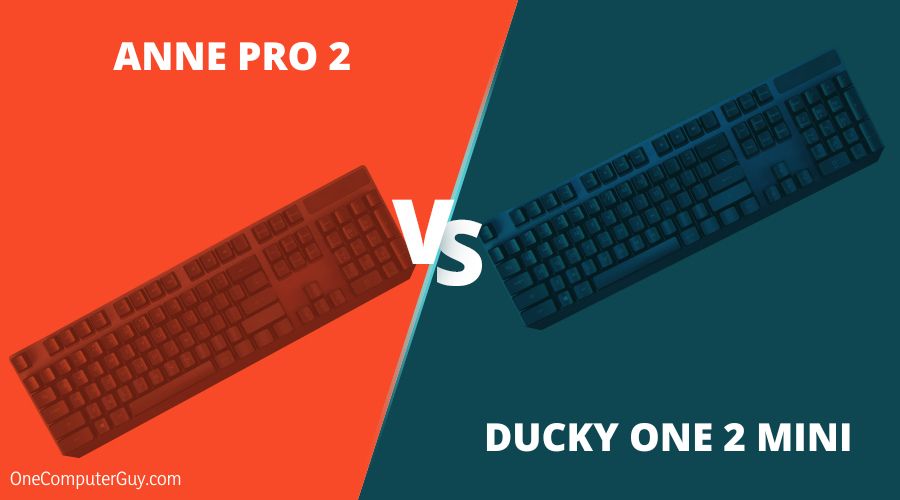 Read on to find out what our review team thinks of their specifications, pros, and cons.
Anne Pro 2 vs. Ducky One 2 Mini Comparison Table
| | | |
| --- | --- | --- |
| Properties | Ducky One 2 Mini | Anne Pro |
| Switches | Cherry MX | Gateron, Cherry, Kailh Box |
| Build Material | PBT | PBT |
| Keycaps | Doubleshot | Doubleshot |
| USB | Detachable Type-C | Detachable Type-C |
| Bluetooth connectivity | No | Yes |
| Software | No | Yes |
| Lights | RGB | RGB |
Comparing the Anne Pro 2 and Ducky One 2 Mini
This Anne Pro2 and the Ducky One 2 Mini are great mechanical keyboards. However, there are some differences worth pointing out. Sure, both keyboards are compact 60% keyboards, but the Mini is wired.
Also, both will give you an excellent typing experience with different switches. While the Ducky uses Cherry MX switches, the Anne Pro uses Gateron, Cherry MX, and Kailh Box switches.
In terms of software, the Anne Pro keyboard has two options available. Both will help you make a lot of changes on your keyboard. You can only do on-board modifications using the Ducky.
Further, the Anne Pro has a cool range of features which makes it a great choice for many uses, including RGB lights, Bluetooth connectivity, PBT Keycaps, and some great ergonomics. For the Ducky, the lights stick out as well, albeit not as shiny as the Anne Pro.
Both Anne Pro 2 and Ducky One 2 Mini keyboards also have great practical qualities with PBT keycaps and NKRO. As a result, you can press several keys simultaneously and have them registered by the computer. Value is another thing. You'll want to consider your budget when getting either. Here, the Anne Pro is considerably cheaper than the Ducky.
On the whole, the Ducky One 2 mini keyboard boasts a lot of quality and minimalism. As such, it's known for the price it commands. However, the build quality is where it stands out. Also, Ducky is well-known in the gaming community because of its durability
We'll now consider each of them comprehensively concerning their advantages and disadvantages.
Product Reviews
Pros
Different switch options
Bluetooth functionality
Simple key re-assignment
Customizable features via software
Cons
The Pro 2 keyboard has a very good build quality with a frame made of plastic. That does not stop it from feeling solid and built for many functions. Further, all the keycaps are PBT and have a solid feel and a matte finish.
If you press them, you'll notice that they all have a little alert and right wobble. However, you have to pay the utmost attention to notice it while typing.
The ergonomics on this keyboard may be a little drab considering what other mech keyboards offer. There's no featured wrist rest, and the incline settings of the keyboard are fixed. As a result, you can't adjust them to fit certain needs. Again, this keyboard is small or compact and will take a lot of getting used to.
The arrow keys are absent with the Fn key and the W, A, S, or D keys performing their functions. If you want, you could enable the "Tap" feature within the software to use the Right Shift, Fn, Right CTRL, and Context Menu for arrow keys.
Then there's the backlighting. Sure, it's outstanding, but you can't help feeling it could do more. All the keys are individually backlit, accompanied by full RGB and brightness settings. There's also a white internal frame to help reflect light.
Still, this isn't bright enough even for well-lit rooms and spaces. Yes, in such conditions, you won't need the backlights, but you'd want it to be excellent all the same.
One good advantage this keyboard has is its remarkable versatility. It has Bluetooth connectivity, which means you don't need a USB dongle if you have a Bluetooth-enabled computer.
What's more, the connection can take up to four devices that can be switched interchangeably. That makes it easy for you to multitask while performing some functions on your computer.
Many keyboards have a host of extra features to count on. However, the Anne Pro 2 mechanical gaming keyboard lacks a bit here. For example, while all the keys can be reprogrammed with the software, media keys, Numpad, arrow keys, etc., are absent.
However, it is possible to set the functions for other keys. Further, this keyboard has an auto-sleep function so that your 1900 mAh battery is conserved. If you're constantly on the move, this feature will help you, especially when you go wireless.

The Pro 2 is a very good gaming keyboard. It offers nice customizability of its RGB lighting. Also, there's the ability to reprogram every key to macros. Overall, it feels very well made, and its actuation force and pre-travel features are excellent.
However, we do have issues with its ergonomics, which are rather unremarkable because it is devoid of incline settings and palm rest. Above all, it's very suitable for those who aren't deterred by minimalist settings.

Pros
Full macro capability
Full RGB customization
Cherry MX switches
High-quality construction build and design
Cons
Short on switch options
Lacking software interface
This Ducky keyboard is one excellent keyboard. With a frame that is made up of solid PBT plastic, it gives off a durable appeal. Also, the board comes with a little flex, which is perfect if you want a keyboard for everyday usage.
Further, the keycaps used here are PBT Doubleshot which have a unique feel. The switch stabilizers featured beneath the keycaps are Cherry MX brand.
That aside, the keyboard has markings on it and a generic cable. At least the Type-C cable is detachable, so you wouldn't have to change the whole keyboard should it malfunction.
Unlike some other keyboards, this one has two incline settings with ergonomics we'll describe as straightforward.
Again, there's no wrist rest, and the straight makeup of the board means there's little room for ergonomic shape. If you're getting this keyboard to type on, it will help you get the job done quickly and accurately.
For a compact keyboard, this Ducky has amazing backlighting. There's a lot of support for full RGB lighting with a max brightness that's good enough to see colors even in a well-lit environment.
All you have to do is make use of and control all the settings on the board. That is because the software comes built in, without a need to download any interface.
This keyboard has virtually every one of its features built in or on the keyboard itself. We just mentioned there's no interface software, but there are two layers of hotkeys present. They include one with the Fn key and the other with the Fn+Alt.
Further, the switch options here are Cherry MX, which is the standard. Dip switches exist at the bottom of the keyboard to help you change the location of the Windows key, Fn, Caps Lock, and others

Overall, we think this is an excellent gaming keyboard which will fit any user's needs. A good reason for that is the low actuation force and low pre-travel speed. Further, this makes the inputs feel a lot more responsive.
It's also very well-built and will give off a great feedback thanks to the Cherry MX Brown switches. Even though you have to do everything on the keyboard, it is still cool for those who love customizable features.
Anne Pro 2 vs. Ducky One 2 Mini: Head to Head
The main difference between Anne Pro 2 and Ducky One 2 Mini is, Anne Pro lets you completely customize key bindings and choose from a variety of quality switches, while Ducky comes with extendable feet and full RGF lighting.
To have a clear picture of how both work, use this head-to-head comparison:
– Construction and Build Quality
It's harder to pick an outright winner here considering these two keyboards measure the same in terms of physical build and quality. For example, they both have keycaps made from strong PBT plastic. As such, they have a strong covering and base to last for a long while.
Further, the keycaps' material on both is ABS plastic. This material is very durable with its stiff qualities that ensure you'd be punching those keys for a long time. Another notable feature they both share is the Doubleshot keycaps.
As a result, the symbols on each key are solid plastic. Think of it this way: old keycaps used to have paint on them that would wear with use. With Doubleshot, that's far less likely to happen.
For the frames and overall structure, the materials used for both are also similar. There's a concealed steel plate which gives you a great typing base. Punching those keys will leave you getting the right responses you need.
Not to mention that steel adds to their lifespan. That makes both of them a reliable fit for any type of user. You'd want a keyboard you can trust while playing games or typing documents.
– Switches
With switches, it's important to have the best, no matter the brand of keyboard you pick. These two boards offer switches that vary, but at least you have some leeway while choosing. However, the Ducky Mini here lets you use only Cherry MX switches.
One positive thing here is that Cherry MX is the original brand and maker of the board's key switches. Other than that, there's no flexibility with the options you have here. That's not a problem for many users.
Any Anne Pro 2 review will point out that you get to choose from a list of quality switches. They include Gateron, Kailh Box switches, and any Cherry MX switch. As such, the range of selection gives it an edge over the Ducky. However, like many people who love Cherry switches, you won't notice a difference until you try another.
– Design Ergonomics
In terms of design ergonomics, both were made with good intentions. Further, there's little to separate them since they have the same dimensions. What's more, the Type-C detachable USB cable is a feature on both keyboards
Our view, though, is that the Ducky One 2 takes the winning spot and for good reasons, too. It has extendable feet, accompanied by two settings. As such, users can get comfortable positioning the board. The Anne Pro doesn't have this feature, which could have made it stand out.
– Backlighting
Backlight features have become the norm on many mechanical keyboards. The two on review here aren't any different and have quality lighting. However, we think the Ducky is much more amazing with the support it gives with full RGB lighting.
Add to that the max brightness which enables a lot of colors even in a well-lit room. Further, you have to control all the settings on the board with a ready-made software.
The Anne Pro here is also great with outstanding backlighting. That much is true, especially when you factor in that the keyboard has full RGB and brightness settings. It also comes with a white inside frame which helps to reflect light.
However, that is all for the backlighting because we feel it isn't bright enough. Sure, well-lit rooms and offices are already bright, but it sure helps if your keyboard can blend with that.
– Other Features
We have previously mentioned that this Anne Pro has some great features. While the Ducky One 2 mini keyboard does have a good build and offers standard features, we think it doesn't compare to the former by way of additional features.
The Anne Pro will offer Bluetooth connectivity. That will appeal to users who want to make use of the keyboard wirelessly. Besides, you can pair your keyboard with up to four different devices. It'll make sense to simply sit back or lie down across from your computer and get to work.
Another feature the Anne Pro offers is the software. With it, you can completely customize key bindings and make adjustments to macros and layers.
As a result, you have a much easier time in comparison to the on-board function on the Ducky. You can make changes you'll be comfortable with.
However, the Ducky One 2 mini has a little edge with the mouse emulation. Even if many users won't need this feature, it is worth mentioning. In terms of additional features, we'll stick with the Anne Pro here.
Conclusion
Both the Ducky Mini and Anne Pro reviewed here are worth having, so we'll do it this way. If you want a keyboard to help you play different types of games, the Ducky is a good choice. They're reliable and offer a great build and design quality.
For those on a budget, the Anne Pro will appeal. It costs less, and with the core features on offer, it is a great choice. Having Bluetooth connectivity and software to further customize the keyboard is an advantage.
Also, you get a good range of switches to choose from on the Anne Pro. That is its major selling point. It all boils down to what you want, but we'll lean slightly towards the Ducky keyboard because of its sturdiness, core features, and awesome RGB backlights.