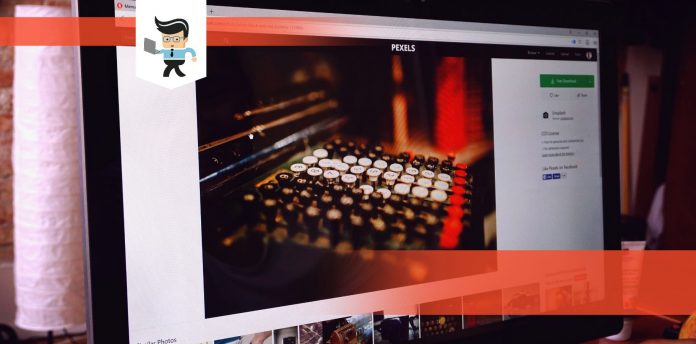 This Alienware AW2518HF gaming monitor review talks about all the technical specifications of this product. It also gives you the pros and cons of this fantastic gaming monitor.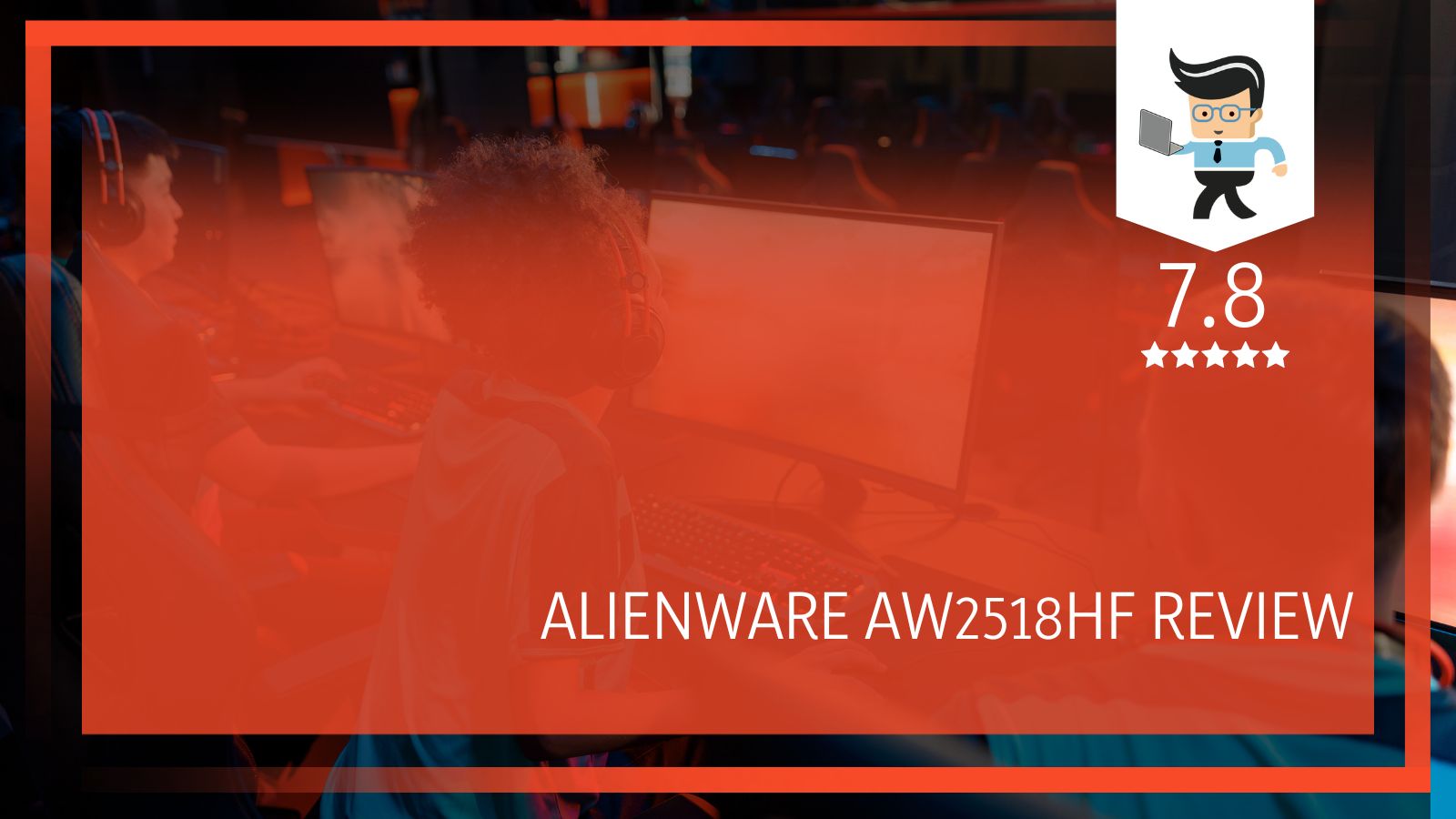 The market today has many excellent, above-par performance gaming monitors. Selecting the best one becomes a herculean task for most of us. That's why we have tried to narrow down your option to an Alienware 240hz gaming monitor. It will make things easier for you.
Alienware AW2518HF Key Criteria
Screen Size and Resolution
7
PROS
High refresh rate
Quick response time
AMD FreeSync and G-Sync capabilities
Excellent and vibrant colors and brightness
CONS
Weird port placement
No built-in speakers or USB-C port
Quite expensive for a 1080p resolution gaming monitor
The Alienware 25 AW2518HF has combined gamer-centric features and impressive build quality. It has produced an eye-catching design that is going to keep the gaming enthusiast excited for a long time.
And now for the main features of this AW2518HF Gsync gaming monitor. Alienware comes with a 240Hz refresh rate and AMD Free-Sync support technology. It also supports G-sync. The response rate gets as low as 1ms, and this makes it the best option for pro-gamers. It's especially useful for those who play fast-moving multiplayer games.
This Alienware monitor offers quite a stunning look. It has a complete high definition resolution, a low response rate, and its refresh speed rates are off the charts.
In this review, we have looked deeper into the gaming features of the model. We've found it to be one of the best options for pro-gamers and beginners in this field.
The design of the Alienware gaming monitor is futuristic and alien-like. That is why this monitor will stand out on your desk. Are you are a gamer who loves casual or competitive gaming? You're bound to notice a significant difference. It will strike you if you are switching from a 60Hz gaming monitor to an elusive 240 fps.
There is no doubt that the Alienware 25 AW2518HF gaming monitor is superior. It sports high-end gaming performance without costing as much as the usual Alienware products. Compared to the other Alienware gaming monitors, this is quite a cheap model. We discuss all the other special gaming features in detail in this review.
What do you think happens from the moment we talk about an Alienware 240Hz Gaming Monitor? People are most likely to assume that it is going to be expensive. The fact is it comes with a price tag of $300, which is quite a good deal. 240Hz gaming monitors are becoming popular these days. The 144Hz models are not sufficient, especially for professional gamers. And the main point of difference between a 144Hz and 240Hz is the price tag.
So, are you an avid gamer who is looking at future-proofing your gaming monitor ? The Alienware 25 AW2518HF gaming monitor is the best option for you. It sports a 1920 x 1080 resolution and many other gaming features.
– Alienware 25 AW2518HF Technical Specifications
The following are the AW2518HF specs that can help you decide:
• Screen Size – 25 inches
• Resolution – 1920 x 1080
• Panel type – TN technology
• Free-Sync Support – AMD Free-Sync tech
• Connectivity – DP 1.2, 4 x USB 3.0, 2 x HDMI 2.0, Audio out
• Desktop Type – Gaming
• Adjustability – Tilt, Swivel, Pivot, HAS
• Dimensions – 21.9 x 10.6 x 20.6 inches
• Weight – 13.47 pound
– Design
As for the design of the AW2518HF, you will love the sleek silver and black. The gaming monitor looks impressive as soon as you take it out of the box. Alienware gaming products are more or less the same in terms of design. We compared it to the other monitors at this price range, and this model looks a little understated. However, the sharp angles on the stand and the neck make it extraordinary.
If you check the monitor's back, you will find 3 LED lines and the famous Alienware logo beside it. You can configure all these to light up and display a wide range of colors. This configuration is possible through excellent AlienFX technology. You can also sync it with other products of Alienware. It is also compatible with the games you play.
The ergonomic design of the monitor hides all its ports along the bottom of the monitor. The ports consist of a DisplayPort, a power connector, a USB port, 3 USB 3.0 ports, and a line-out audio port. It also comes with a USB upstream port if you want to connect the monitor to the PC) and an HDI port. It's quite a good collection of inputs, though it doesn't provide the older type of connections, such as DVI.
The above-par quality design of the monitor comes with an ultra-thin bezel and a metal tripod. The tripod keeps the monitor steady and also conceals all the cables behind.
The ergonomic design of this Alienware monitor includes a 130mm adjustable height. There's also a 90-degree pivot feature with a 20-degree swivel feature, and you can tilt it from 5 to 25 degrees. The monitor also offers a 100 x 100 VESA mount compatibility. The monitor's screen has a special anti-glare coating, which gives it a matte finish.
– Performance
Now for the performance of the Alienware 25 Gaming Monitor. The AW2518HF is of above-par quality. It is simple to set up, and you will not need any tools for that. The 1080p display may not seem to be appealing. That's especially true when compared to the larger models with high resolution. Yet, you cannot overlook the fantastic picture quality of this Alienware monitor.
The white and black levels are also quite impressive. Thanks to the contrast ratio of 1000:1, the colors on the screen are accurate and vivid. The monitor uses a TN panel technology, and hence, the viewing angles may not be up to the mark. The vibrancy and color may fade a little if you view the screen from different perspectives.
Now, considering the performance of this gaming monitor, the reflexes are quite fast. That's because of the low input lag and the impressive refresh rate. You can still enjoy responsive gaming experiences with a competitive edge, which the AMD FreeSync adaptive technology makes possible. You will not notice any screen tearing, and all in all, the Alienware AW2518HF GSYNC does a fantastic job.
Movies and games appear beautifully on the enormous bezel-less screen. It does not compromise the image quality for high frame rates. The graphics card technology of this model has also seen a significant improvement. So, there is not too much compromise with the frame rates.
Are you a competitive gaming enthusiast? Then you're most likely to observe the 144Hz and the 240Hz dilemma. In short, this difference is clear but not like between 144Hz and 60Hz.
The major problem with 240Hz gaming screens is the cost factor. They cost 2x more than 144Hz gaming monitors. That's why novice or casual gamers may be better off looking elsewhere.
Alienware designed the AW2518HF 25 for the professional or a hardcore gamer. This group always wants to take advantage of every millisecond. If you're a serious gamer, then you should go for a 240Hz gaming monitor.
The TN panels sport one of the fastest response times for the minimum motion blur. The 1080p resolutions make it easier to let the PC system reach a higher frame. The Twisted Nematic or TN technology is not known for its representation of colors. It offers a 95% AdobeRGB and 96% of the sRGB Gamut range. These are standard numbers for the TN technology but not impressive.
Suppose you are playing a dark FPS title. The dark levels on this monitor's TN panel help. The response performance is also excellent, and it can generate up to 240 frames every second.
– Features
The gaming features of an AW2518HF gaming monitor are quite impressive. The OSD or On-Screen Display menu sports a plethora of excellent gaming features. Examples are the pre-calibrated screen pre-sets (RTS, FPS, RPG) and the three customizable gaming profiles.
Additionally, this OSD menu is easy to navigate and intuitive. The six OSD buttons are right at the base of the screen's bezel.
When you're not using the menu, four of these OSD buttons work as hotkeys for specific functions. You can also assign them for shortcuts in the Personalised section.
There are other useful gaming features, such as the Game Enhance Mode and the Dark Stabilizer.
The Dark Stabilizer brightens the screen. It gives three different levels of brightness, which allows you to spot your enemies even in the darkest areas. The Game Enhance Mode consists of three functions. The first is an FPS counter. Then there's a Display Alignment for multitaskers and an on-screen timer.

– AMD Free-Sync
Do you already have a graphics card that is compatible with Free-Sync? Then it's easy to synchronize the refresh rate of AW2518HF to the GPU. It will allow you to experience a dynamic refresh rate. It will also cut any stuttering and screen tearing without increasing your input lag.
If you are an NVIDIA card user, then AW2518HF is available with the G-Sync compatibility. Note that it is more expensive.
– Price
The Alienware AW2518HF 25 Gaming Monitor generally costs between $300-$350. At that price, it's one of the cheapest 240Hz gaming models. It sports premium gaming features for all kinds of gaming enthusiasts. Anyone can use the AW2518HF 25, from novice players to professional gamers.
Alienware monitor AW2518HF Review
What else can we say in our Alienware 25 gaming monitor review?
Alienware 25 240hz gaming monitor is fantastic. It plays and looks like most of the other Alienware products. It means you will be getting a stunning 25-inch thin bezel monitor with a high-end design. It's packed with several gaming technologies to improve all gamers' experience.
The response time is low, and the refresh rate high, making the Alienware AW2518HF a dream gaming monitor. Do you enjoy playing fast-moving games online, which require quick reflexes? This one is a reliable companion for you. It feels smooth, and you will not notice any screen tearing at all.
The modest weight and size of this product are most suitable for e-sports gamers. They cannot carry a massive display on the road.
Are you looking for excellent performance, brilliant gaming features, and eye-catching design? The Alienware Gaming monitor AW2518HF is one of the best in these categories. It is an easy recommendation for pro-creatives and gamers alike.
Alienware is one of the most popular brands. They promise to set the trend with their extra edges, curves in their design, and solid build. They also offer above-par performance like no one else can do. The same thing applies to this monitor. It sits on a sturdy tripod stand, which provides stable support.
The monitor is exceptionally well-built, with a thin bezel, and it weighs only 13.47 pounds along with the stand. Your monitor is safe and stable on this tripod. So, you can enjoy the game without any screen tearing or stuttering.
There are bound to be many wires and cables which you can hide behind the stand to keep things tidy. That way, you won't have to worry about the wires or untidy desk space.

Conclusion
The 240Hz gaming monitor offers TN technology. Enthusiasts do not consider TN to be the best when it comes to color representation. This area may be a little disappointing since all the other features make this the best model. This one small feature seems to hold back many gamers from buying this monitor.
The color representation is not quite mind-blowing. However, enthusiasts still applaud and appreciate the quality of blacks and whites.
All in all, the Alienware AW2518HF 25 is an outstanding monitor. It offers a fast response time a Free-Sync Compliant GPU along with G-Sync compatibility. It's perfect for all types of gaming enthusiasts. Do you have a large budget? Then go for the Dell Alienware 25 inch AW2518HF gaming monitor. You will future-proof your gameplay right now.