Ranked among the best priced, high-performance gaming monitors, we have found the HP 25x. This gem is one of a kind. Its ultimate gaming graphics, 25-inch screen display, and fast refresh rate make it so.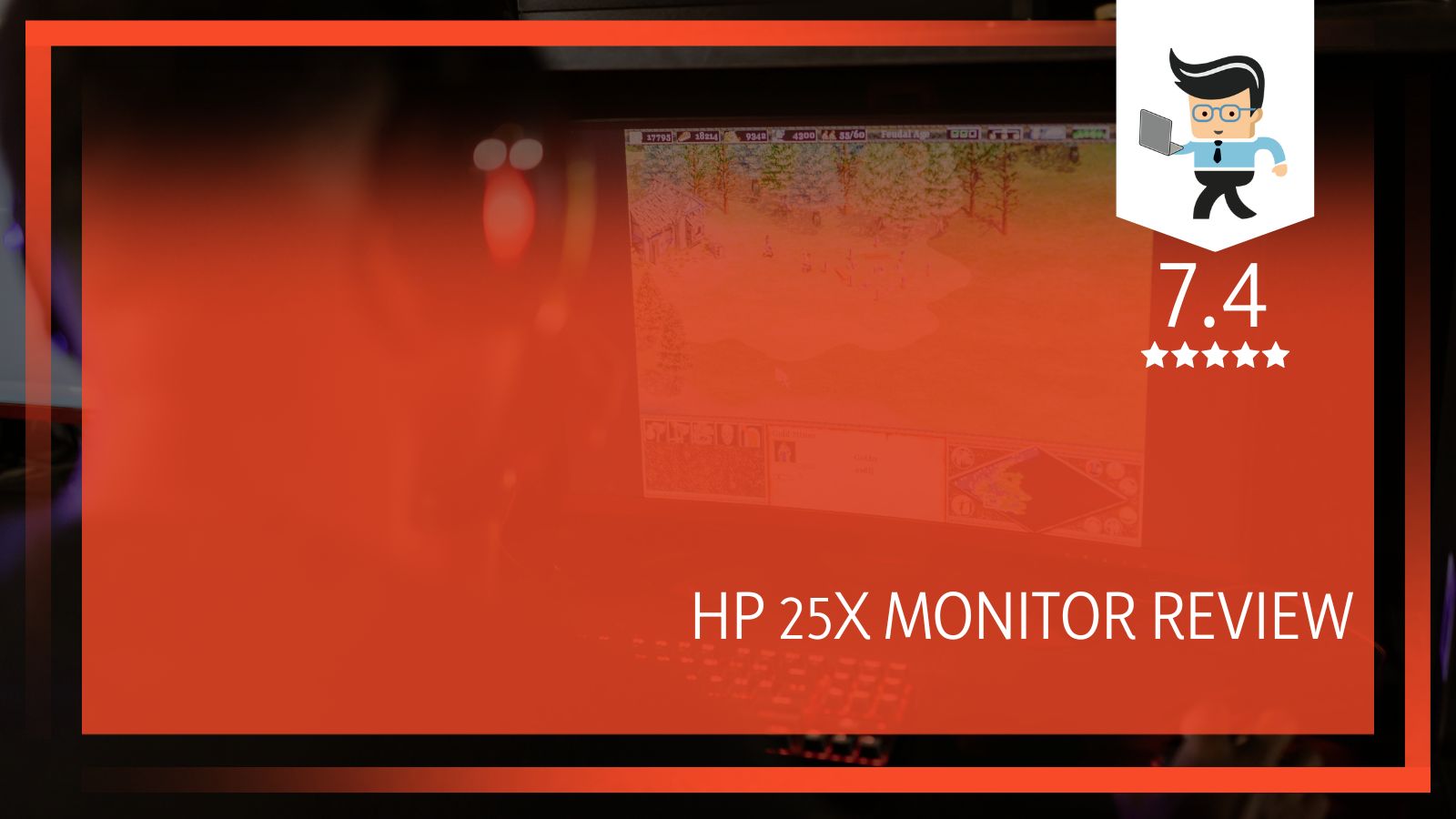 We have looked at all the essential aspects of this monitor to bring you this review. Here we go.
Product Highlights
This HP gaming monitor compares well with other high-priced top-ranking brands. We've listed some of the monitor's features below. HP has designed these features to take your gaming experience to a whole new level.
Full-HD Resolution (1920 x 1080)
144hz Refresh Rate/1ms Response Time
DisplayPort (1.2), HDMI (2.0) Inputs
AMD FreeSync technology
LED lighting
Swivel, Tilt, Pivot Adjustable
VESA Mount Compatible
Screen Size and Resolution
7
PROS
The price is low
The monitor can adjust to view either portrait or landscape
Ultra-fast performance
Brightness levels adjust
CONS
There are no built-in speakers
For lovers of the color green: no green lighting across the bottom as shown in the images
There is some backlight bleed-through that is visible on dark menu screens
– Full-HD Resolution (1920 x 1080)
The brightness of HP25x is also better than that of other monitors. Plus, the HP25x has an excellent density of 89 pixels-per-inch.
This 25-inch HP gaming monitor delivers smooth gameplay. There is no stutter or ghosting, only crystal imagery. Like any other monitor that offers HD resolution, the HP 25x reveals each detail as it should.
Sharp details and visuals give you an immersive experience, making you feel as if you're part of the gaming landscape. First-hand vision, as if everything is folding before your very eyes. This monitor gives bright images that you can see in well-lit rooms.
Say hello to the best gaming and video experience.
– 144hz Refresh Rate/1ms Response Time
What is better than a quick response from your device while changing between screens?
The HP 25x scores 4ms for the average response rate. It ensures effective synchronization with the high response rate. To get rid of ghosting effects, the minimum response rate of HP 25x is 1ms.
Experience the cleanest details from a screen that refreshes 144 times a second. The rate is more than twice the refresh rate of other standard displays in its class.
This monitor is perfect for the most profound action-packed moments of your gameplay. Images will appear smoother and crisper. Sharper objects and cleaner details will take your gaming experience to another level.
1ms response time gives you ultra-fast functionality to react with your online opponents. You will lead in fast-paced racers, strategy, sports, and first-person shooter games. This monitor's powerful performance will help you get the most out of your games and videos.
– DisplayPort (1.2), HDMI (2.0) Inputs
The ports built into this device allow the use of DVD players and other AV sources. Expect the best in clean, quality audio and video signals. DisplayPort is also essential for Nvidia cards to work with AMD FreeSync.
– AMD FreeSync technology
Experience easy responsive gameplay, which occurs when the refresh rate syncs with your GPU (graphics card). Stutter, lag, and screen tears are now things of the past.
Smooth transition and clear graphics are the new norms.
– LED lighting
This LED type of screen provides adequate backlighting for pixels, which improves the quality of contrast, brightness, and color. It also reduces energy consumption.
– Swivel, Tilt, Pivot Adjustable
You can adjust the monitor's height up to 100mm by tilting it to achieve the most comfortable game playing position. Its adjustability brings comfort to the neck and eyes to avoid strain. The ability to swivel allows horizontal and vertical viewing angles. These angles allow wide perspective viewing.
Horizontal viewing angle of 170 degrees
Vertical viewing angle of 160 degrees
You can relax and enjoy viewing or gaming for hours on end.
– VESA Mount Compatible
You can mount this 25-inch monitor on the wall using VESA brackets (sold separately).
Buying Guide
When buying a monitor, the first thing you need to consider is its primary purpose. Will it be gaming, office, or general use monitor?

We included this buying guide to assist you in your decision-making process. Use it as a guide as you search. After reading, many things will be more apparent in terms of what to consider when comparing monitors.
What to consider:
• Budget
• Panel Size and Resolution
• Refresh Rate
• Response Time
• Pixel Quality
Let's make it simpler for you:
– Budget
Another crucial factor to consider is how much money you plan to spend. Your budget will determine the price range of monitors that you will review. By keeping that in mind, you reduce your research time.
– Panel Size and Resolution
Bigger screens are always better for gaming monitors. As long as space allows, take the opportunity to search for big screens. Monitors in the range of 25 – 27 inches are adequate. A resolution of between 1920×1080 and 2560×1440 pixels is ideal. Please note that the bigger the pixel count, the sharper the imagery.
Remember also, the higher the resolution, the crisper and clearer the picture quality.
– Refresh rate
The refresh rate is the number of times per second that your monitor updates with new information or images. Hertz (Hz) measures the refresh rate. It is a critical factor to consider before you decide.
The bigger the rate, the smoother the images. For gamers, this rate is especially important. The ideal ratio is no less than 144 Hz for gamers and 75 Hz for regular users.
Competitive gamers should make speed a priority.
– Response time
For gamers, short response time is a priority. This measures how long the monitor takes to change pixel color for viewing. Long response time can result in a blurred view during gaming. It also delays the action, diminishing your experience while watching your favorite movies.
A time as short as 0.5ms is ideal for you, the average gamer, 1ms, even better.
– Image quality
Look for monitors with image quality. TN (twisted nematic) monitors give faster response times. They are also cheaper due to low image quality from side viewing angles.
IPS (in-plane switching) monitors give the best visuals and better color. VA (vertical alignment) panel monitors have better contrast. They are the best of both worlds.
– Pixel quality
The more pixels a monitor packs, the sharper and smoother the images will be. The name of the resolution will indicate the number of pixels a monitor has.
For instance:
RESOLUTION PIXEL
4K Resolution/Ultra HD 3840×2160 resolution
Quad HD/2K aka 1440p 2560×1440
HD aka 720p 1280×720
The points we've covered in this guide points to more of the prominent monitor features. Please be aware of them when purchasing your monitor.
FAQ – Frequently asked questions
People ask….
How do you get a 144 Hz refresh rate and 1ms response time?
For this, you need to go to your display settings. Use the Advanced Display settings. Under "Monitor Settings," go to Display adapter properties for display. In pop-up Monitor tab>Change dropdown to 144hz
For 1ms response time, go to the OSD menu. Under menu>Image control>Response time.
Can I play the console on it?
Yes, you can, through HDMI.
Can this monitor work with Playstation and Nintendo?
Yes, you can use HP 25x with Playstation and Nintendo with an HDMI cable.
What is the display type?
LED (Light-emitting diode)
How heavy is this device?
The monitor only weighs 12.60 lbs.
What is the operating system?
This monitor is compatible with Windows.
Choices are few. Only gray/green
Can I set up this monitor on a wall, and if so, what are the mounting standards?
The monitor is wall mountable (VESA)
The standard is 100mm x 100mm
Is the HP 25x a good monitor for gaming?
HP designed this device for gaming. It is a superior monitor with its high resolution, fast refresh rate, and lightning-fast response time.
Does the HP 25x monitor have speakers?
This model has no built-in speakers.
Does the monitor have G Sync?
Yes, it does.

Conclusion
This monitor makes everything look great. It's perfect for gaming, watching movies, or browsing online. It can handle the action and produce smooth, crisp imagery. This HP gaming monitor has all that you need for speed. It also gives you smoothness and comfortable viewing.
If you desire the upper hand in the gaming arena, then this is the device for you. Do you want an edge to edge immersive viewing that draws you deep into the action? Do you want lifelike image resolution?
Do you want a rapid response time and refresh rate? If your answer is "Yes," then your search is over. Choose the HP 25x 144hz monitor!