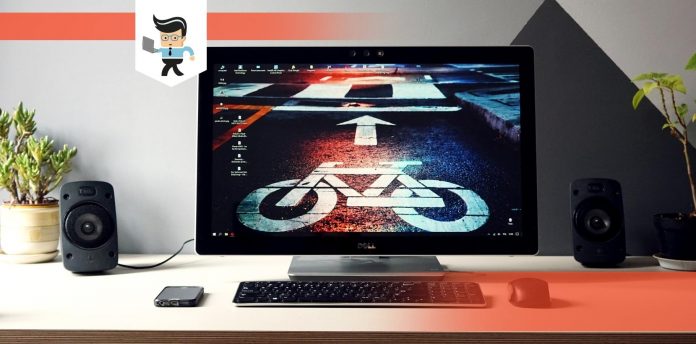 The Microsoft Surface Pro 4 vs HP Spectre x360 are two of the most popular laptops on the market. They both have certain pros and cons, but when we compare HP Spectre vs Microsoft Surface, which one between them is the better option and why?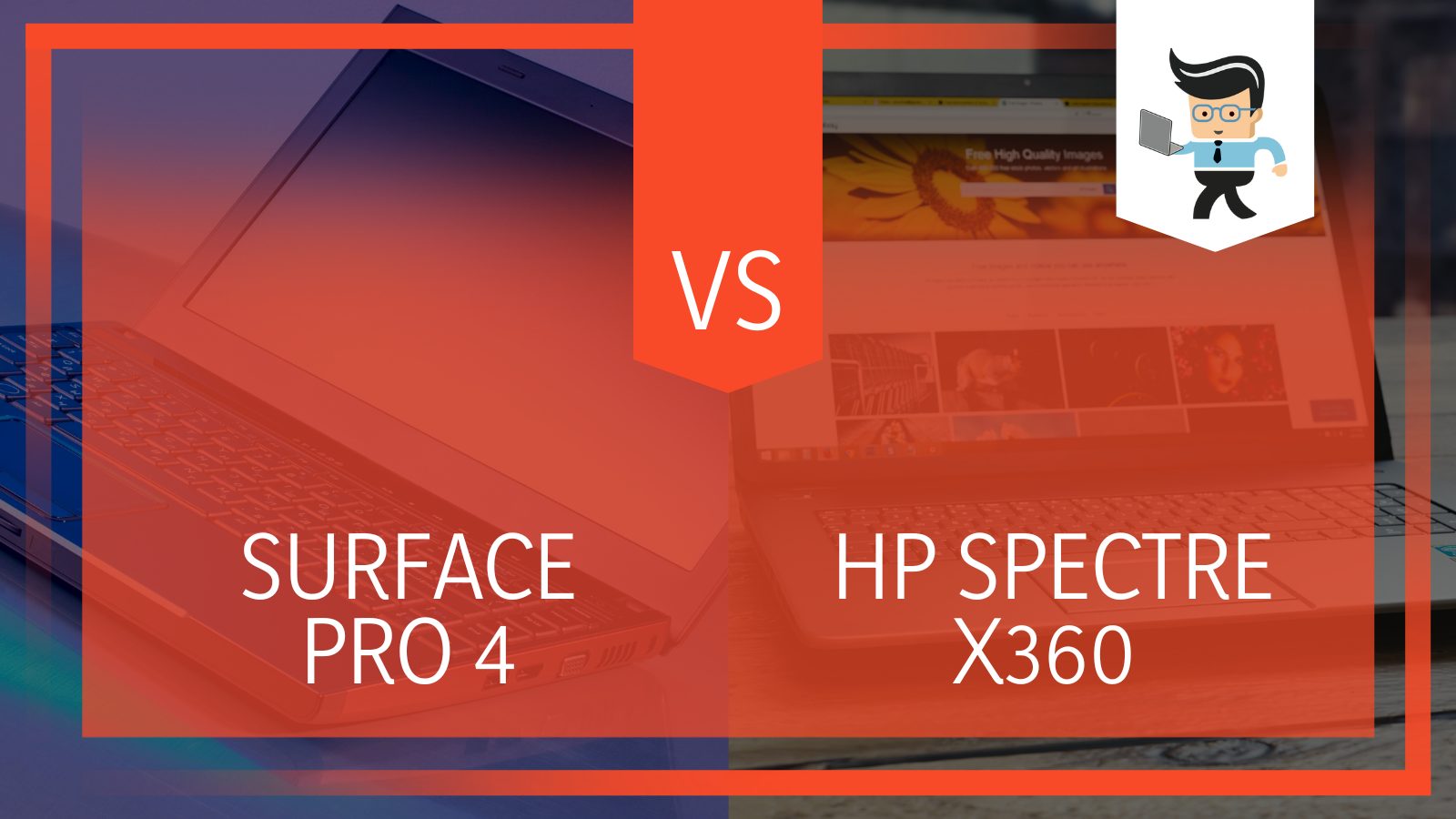 If these are the questions whose answers you're searching for, then you're in the right place. In this review, we will do a comparison of the Microsoft Surface laptop with the Spectre x360 in terms of display, design, battery life, performance, and connectivity so that by the end of this article, you'll hopefully have a better idea of which laptop is the right choice for you.
Comparison Table
| | | |
| --- | --- | --- |
| Feature | Surface Pro 4 | HP Spectre x360 |
| Display | 12.3", 2736 x 1824pixels | 13.3"/15.6", 1920 x 1080 pixels |
| Design | Magnesium body | Aluminum body |
| Battery | 5087 mAh | 4912 mAh |
| Performance | Superb, Core i7 | Superb, Core i7 |
| Connectivity | Single USB-port | 1 USB + 2 USB-C ports |
Surface Pro 4 vs HP Spectre x360
The main difference between the Surface Pro 4 and HP Spectre x360 is that the x360 is made to be used like a laptop while the build of the Surface Pro 4 makes it easy to use as a tablet. This accounts for the differences in ports, battery life, and displays of both laptops.
– Display
Winner: Surface Pro 4
There are many ways you can differentiate between two laptops to ascertain their quality, but in this article, we will be focusing on five parameters of the Surface Pro 4 vs HP Spectre x360 13 comparisons that'll help you understand the pros and cons of both these options. That way, you will be able to make an informed decision regarding the laptop you're going to buy. So let's take a look at these parameters, and see which laptop might be a better option for you.
Before we start comparing displays of Microsoft Surface laptops with the Spectre 360, you should keep in mind that the Spectre x360 comes in two size variations: 13.3" and 15.6". The Surface Pro 4, on the other hand, has a display size of 12.3" and doesn't have any such variants.
The Surface laptop display is a PixelSense display with a resolution of 2736 x 1824, and it features a 3:2 aspect ratio. On the other hand, the HP Spectre x360 comes with a 1920 x 1080 pixels resolution and a 16:9 aspect ratio.
If we were to couch it in simple words, the Surface Pro 4 offers greater vertical screen real estate for documents, text editors, and web pages due to its larger size, while the HP Spectre x360 is better suited for multimedia consumption and mundane tasks.
The display on the Microsoft Pro 4 is admittedly much clearer due to the significantly greater resolution, but the HP Spectre x360 doesn't look pixelated because its screen has more than enough resolution (1920 x 1080 pixels). Due to these factors, the contest for the better display in the Surface Pro 4 vs HP Spectre 360 comparison ends up in a sort of tie; but our vote leans more in the favor of the Microsoft Surface Pro 4.
– Design
Winner: HP Spectre x360
So how do these two laptops fare in the build and design aspect of this Microsoft Surface laptop vs Spectre x360 comparison? Starting off with the material used in the build, you can observe that the body of the Spectre X360 is composed of aluminum. The Surface laptop, however, is made of solid magnesium.
Being a convertible laptop, you can change the Spectre x360 into a tablet by simply rotating the screen. You'll need to keep in mind that this doesn't mean that the keyboard comes off when you rotate it. In fact, calling it a touch-controlled PC would be more appropriate.
The SurfacePro 4, on the other hand, is used with a type cover keyboard when you use it as a laptop. Since the Surface Pro 4 was built to be used more like a tablet, the Spectre X360 has more ports than it, hence its overall body is a little bit thicker. Another difference is that the Spectre X360 lacks a kickstand to support the screen when used as a standard laptop because it is not a detachable notebook like the Surface Pro 4.
– Battery
Winner: Surface Pro 4
The Surface Pro 4's battery has a rating of 5087 mAh, which is 9 percent less than the 5547 mAh battery in the Surface Pro 3. In spite of this, Microsoft has been able to extend the battery life of the most recent Surface laptop model thanks to software updates and a variety of driver improvements.
On the other hand, despite having a 4912 mAh battery, the Spectre x360's battery life is appalling. The Surface Pro 4 may be used for a full day if you use it sparingly; while using the Spectre x360 for longer than six hours is quite the feat.
– Performance
Winner: HP Spectre x360
When we make a comparison of the performance of the Surface Pro 4 vs HP Spectre x360, we can see that both laptops come with an integrated graphics card, an Intel Core i7 processor. Regarding storage space in both laptops, the Spectre x360 only has up to 512 GB SSD storage and up to 16GB RAM, whereas the Surface Pro 4 is available with up to 1 TB – 1000 GB SSD, also with up to 16GB RAM.
However, the x360's processor exceeds the Surface Go 4's processor despite having less storage. You can anticipate that the two laptops will operate similarly given their identical characteristics. Whichever one you choose, you can be confident that you'll obtain a high-quality computer because they are both excellent for office use.
– Connectivity
Winner: HP Spectre x360
The Surface Pro 4 is significantly outperformed by the Spectre x360 in terms of connectivity. In addition to one normal USB 3 port, the x360 has two USB Type-C ports that support Thunderbolt 3. People frequently refer to Thunderbolt 3 as "the one port to connect them all" because of its great adaptability and data transfer rates of up to 40 Gbps.
When compared to the x360, there is only one USB 3.0 full-size port available on the Surface Pro 4. Yes, there is a microSD card reader, a Mini Display Port, and an audio jack as well. However, there is just one USB port, which extremely limits the connectivity of this laptop. Case in point, if you plug in your USB mouse, there's no other port to connect your Pendrive or any other accessory.
– Pros:
Lightweight
12.3" display, and 3:2 aspect ratio of the display
Has an amazing battery life
Intel Core i7 processor for fast working
– Cons:
Only a single USB port
Need to use a type cover keyboard
The Surface Pro 4 is a brilliantly designed lightweight device that is great for personal and business use. With its 12.3" display and amazing resolution, it allows you to do your work very easily and without any hassle whether you use it as a tablet or as a laptop. Another thing that's really amazing about this device is its battery life. If you don't use it a lot, you can easily get by a whole day on a single charge; which is really helpful when you're on the go.

Performance wise, it is also a great option as it comes with an Intel Core i7 chip and up to 16 GB RAM, so you don't need to be afraid of experiencing any lag during your work, but does come with a predefined GB SSD based on the model you pick.
– Pros:
13.3" or 15.6" display
Three USB ports
Fast proceeding Core i7
1920 x 1080 pixels resolution; 16:9 aspect ratio; 2736 x 1824 pixels
– Cons:
Appalling battery life
Less bright display
Out of both these options, the Spectre x360 is by far the better option in our experience. Even though there are some aspects where the Surface Pro 4 is better, the Spectre x360 has many awesome features that make you want to choose this. The x360 has more USB ports, a larger screen size, an amazing Core i7 processor that pulls ahead of the processor in the Surface Pro 4, and even a better design aesthetic.

Even though the battery on this laptop isn't something to write home about, its other features mitigate this problem by a fair margin. This convertible laptop is great to use especially if you do not need to move around much and only need this laptop for studies or office work.
Conclusion
The Microsoft Surface laptop 4 vs HP Spectre x360 are both great laptops. So if you're looking for a Surface Pro 4 vs Spectre x360 comparison to know which one to buy, you'll need to keep in mind that they each have their own unique features, hence it really depends on what you're looking for in a laptop.
If you need a laptop that is lightweight and has a long battery life, then the Surface Pro 4is a good option. If you need a laptop that has a lot of storage space and is easy to use, then the HP Spectre x360 is a better option. Simply put, if you know your requirements, you'll be able to follow this comparison and be able to decide for yourself which laptop you like best.