Neither the Samsung G5 vs G7 monitors can be considered a slouch in the gaming industry with the specs and display quality they offer. With such high-quality features that these monitors boast, it becomes pretty challenging to make a choice between both monitor types, primarily due to the price tag on these monitors.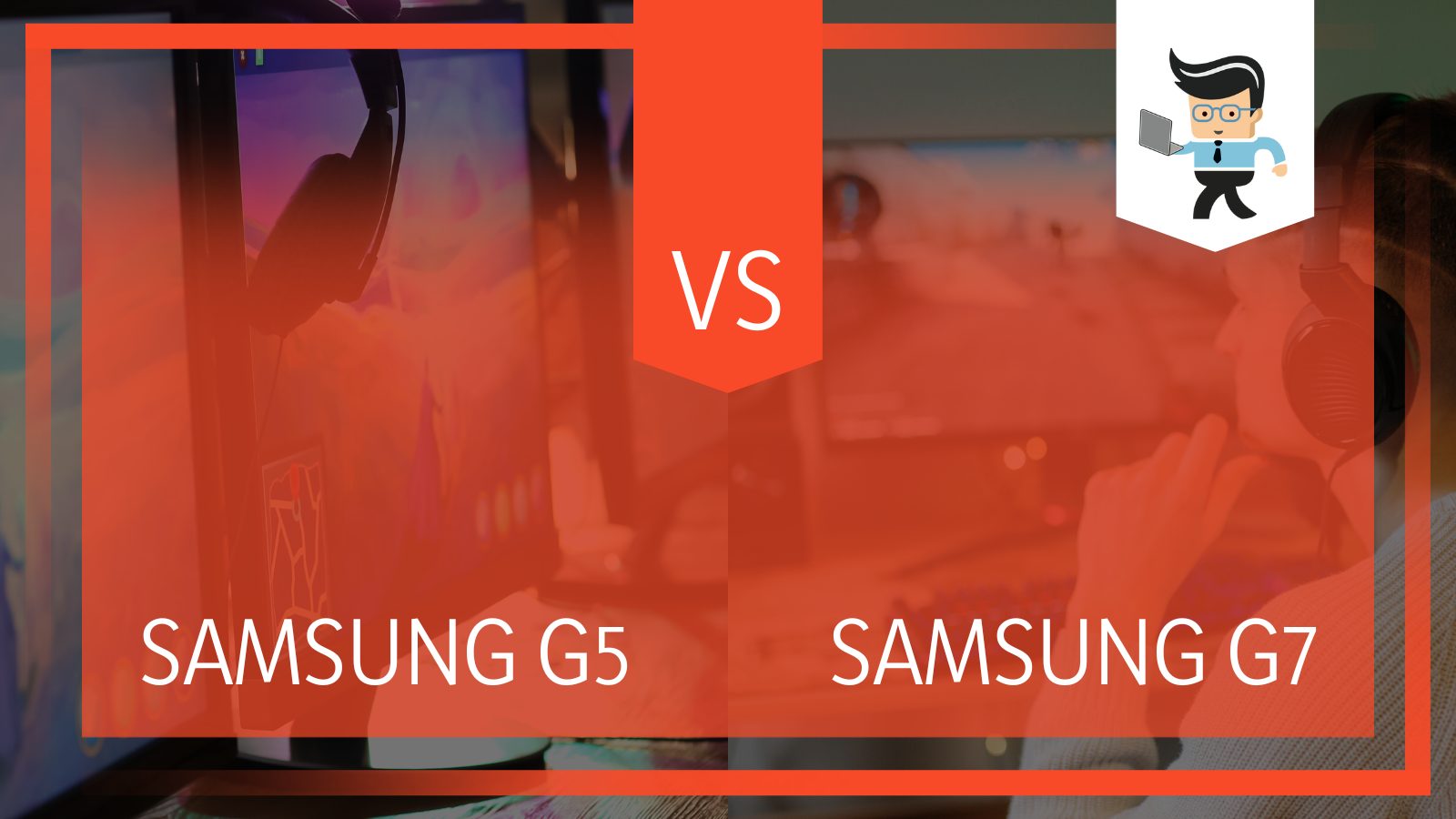 We'll be comparing the stats and features of the Samsung G5 vs G7 in this article, as well as sharing our thoughts on which monitor is better.
So if you've got the money to burn and you want to treat yourself to an excellent gaming monitor from Samsung, you'll find the details shared in this article more than helpful, so make sure to read this guide thoroughly.
Samsung G5 vs G7 Comparison Table
| | | |
| --- | --- | --- |
| Factor | Samsung G5 | |
| Design | Modern design with sharp curves | Similar to G5 from the front, different from backside |
| Build Quality | Very good | Excellent |
| Display | 2560 x 1440, 144 Hz | 2560 x 1440, 240 Hz |
| Motion | Has good motion | Has better motion |
| Picture Quality | Very good | Excellent |
What Are the Differences Between Samsung G5 vs G7?
The main difference between Samsung G5 vs G7 gaming monitors is that these monitors have varying sizes and refresh rates. The G5 boasts a good contrast ratio, fast response, high resolution, and good contrast ratio. The G7 has FreeSync Premium and G-Sync support as well as a really low input lag.
– Design
The Samsung Odyssey G7 is a gaming monitor with a contemporary design and a sharp curve. It has a ring on the rear and programmable RGB lights on the bottom bezel of its all-black body.
With narrow boundaries on three sides and a large V-shaped stand, the Samsung Odyssey G5 also shows a similar front design as the Samsung Odyssey G7. The back, however, is somewhat different because it appears substantially inferior due to its modest basic stand.
Additionally, it is devoid of the RGB illumination found on the G7. It has a fairly aggressive curve similar to the G7, which may annoy certain people.
– Durability
If you focus on the stands of both monitors, you'll see that in the case of the G5 monitor, the frame has wide-spaced but relatively narrow feet, giving you a lot of useful desk space. Unfortunately, it's a pretty simple stand that's constructed of flimsy plastic and wobbles a lot.
On the other hand, the V-shaped stand of the Samsung Odyssey Gaming G7 allows you to still set anything in front of it. It has a sizable footprint, and the frame generally does an excellent job of supporting the display.
– Ergonomics
Unfortunately, the Samsung G5 monitor has poor ergonomics. It could be challenging to arrange it in the best viewing position because it just has a limited range of tilt adjustment. Plastic with texture makes up the monitor's rear.
On the other hand, the G7's ergonomics are generally good, and it allows more adjustments than other curved screens.
It can be turned into a portrait orientation, which is unusual for a curved display; however, its tilt and swivel ranges are constrained. The monitor's back is made of textured plastic, and a ring of RGB lights is present.
The stand is used to manage the cables for both monitors. To thread the cords through the stand, you need to use the detachable cover made from plastic.
– Build Quality
If we compare the build qualities of Samsung G5 32 vs G7 32 monitors, you'll find that the Samsung G5 is quite well built. Despite being made entirely of plastic, it appears to be relatively durable. But when a G5 monitor is VESA-mounted, it tilts downward because the mounting holes for the VESA standard are out of alignment with the display's center of gravity.
Since the tilting hinge also causes a downward tilt of the screen to the minimum angle, it doesn't seem sturdy enough to support the display. Although it is simple to install, the stand has a cheap feeling and is challenging to take apart.
In contrast, the Samsung G7 32 inch monitor is of excellent make. It's made of sturdy, high-quality plastic.
There aren't any apparent problems with this monitor, but the angle of the curved gaming monitor doesn't seem to be consistent throughout; it appears to be more curved in the middle than at the sides.
– Display
The displays of both the Samsung G5 and G7 are nothing to scoff at either. Both G5 and G7 monitors come with a VA panel with a 2560 x 1440 pixels resolution. Variable refresh rate is also supported by both types of monitors, and they're also compatible with the HDR10 color format.
The most significant difference in both the G5 and G7 monitors and their variants comes in the form of screen size and resolution.
In the case of our chosen models, for example, the G5 had a 27-inch screen with a 144Hz refresh rate. The G7, on the other hand, is 32 inches in screen size and has a max refresh rate of 240 Hz.
– Motion
Now let's compare the motion sensing capabilities of the Samsung G5 vs G7 monitors. The G5 monitors have a max refresh rate of 144Hz, and this refresh rate remains consistent over both DP and HDMI.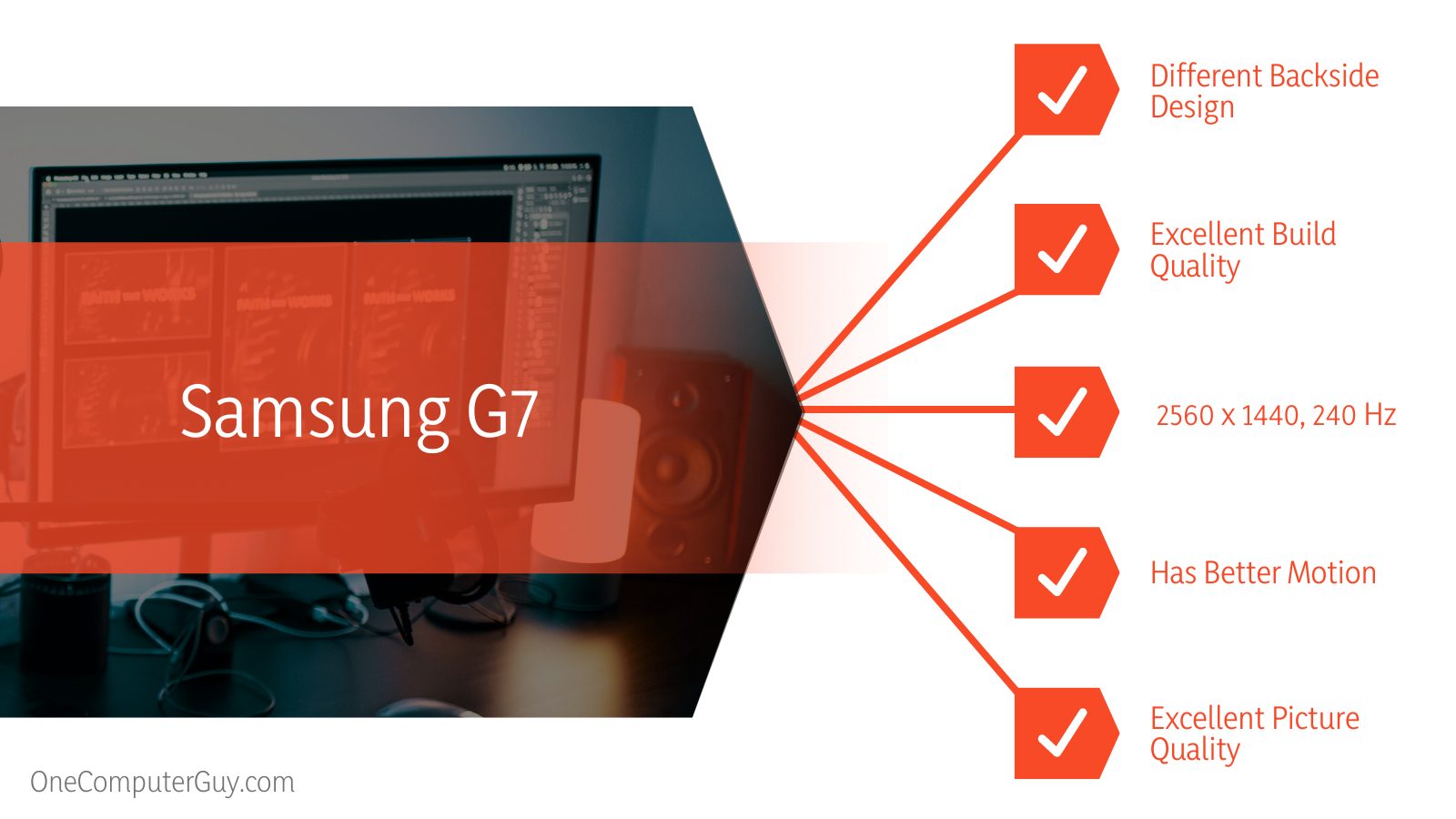 This means that you can easily use this monitor to play your favorite games at up to 144Hz without any problems.
The Samsung G7 Odyssey monitor is an even better and more fantastic option for gaming because of its super-fast 240Hz refresh rate.
Unfortunately, the frame rate over HDMI is only capable of 144Hz due to the lack of HDMI 2.1 bandwidth, so you won't be able to get the max refresh rate in those cases.
– Response Time
The Samsung G5 is a bit slower than the majority of comparable monitors on the market, but it has a reasonable response-time when operating at its maximum refresh rate, leaving only a brief blur trail behind quickly moving objects.
The amount of overdrive may be altered based on your preferences, much like with other monitors. Due to the Samsung G7's maximum refresh rate of 240Hz, motion appears incredibly fluid, and there is hardly any blur.
However, as evidenced by the 0-20 percent total response time, it has a higher ms response time in low-light conditions, which results in some artifacts called black smearing.
– VRR
Another feature that makes gaming a lot more fun on Samsung G5 vs G7 is the VRR, which is mostly used in conjunction with gaming via FreeSync or G-Sync. Ostensibly as a bid to lessen screen tearing, the Samsung G5 supports FreeSync Premium Pro straight out of the box.
It also functions with NVIDIA's G-SYNC Compatible functionality, albeit it is only compatible with DisplayPort, and this compatibility is not advertised by NVIDIA either.
The Samsung G7, however, is certified by NVIDIA to be G-SYNC compliant and offers native support for FreeSync VRR. The G-SYNC of the G7 monitor only functions over a DisplayPort connection, much like in the case of the Samsung G5.
– Picture Quality
There are many things to be considered while comparing the picture quality of monitors like Samsung G5 vs G7. one of the most basic of these happens to be the contrast of the monitor.
Since the Samsung Odyssey G5 has quite a high contrast ratio, in a dark setting, blacks seem to be black rather than grey. It's a little bit higher than the 2500:1 claimed by the company, although the contrast varies between different units.
On the other hand, the Samsung Odyssey G7 displays deep blacks, which is typical for a VA screen and has a significantly greater contrast ratio than the G5 does. It has a local dimming option; however, because the checkerboard test pattern leaves all the dimming zones on, it doesn't increase the contrast ratio.
– Contrast
You should also remember that both the G5 and the G7 are essentially classes of monitors, and the different monitors that fall under these classes sometimes have exceptions to the general information available about both G5 and G7.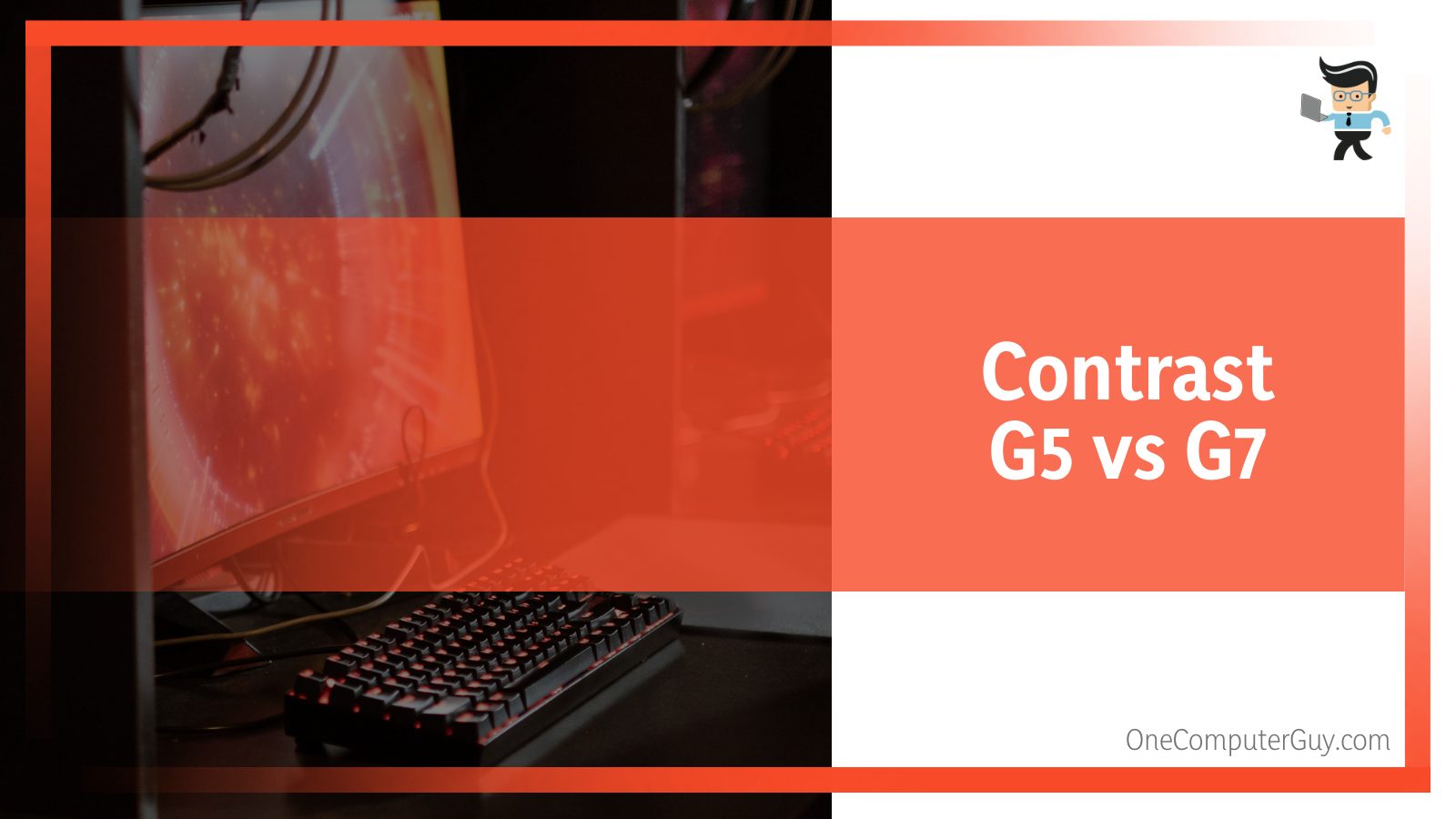 That is one of the reasons why there appears to be a sizable contrast difference between units, even if the contrast ratio of these classes is far higher than Samsung's promised 2500:1 contrast.
Local dimming is not a feature of the Samsung Odyssey G5. On the other hand, the local dimming feature of the Samsung is pretty horrible, just like most edge-lit displays. There are only a few vertical dimming zones, and when there are moving objects, it takes some time for each zone to light up.
– SDR
Another factor that determines the screen quality is the SDR. The SDR peak brightness of the Samsung G5 is pretty decent. Brightness is remarkably constant throughout various content, with the exception of the 2 percent window that is noticeably darker due to frame dimming.
It is best suited for a dark to moderately lit room because it isn't bright enough to overcome strong glare. Additionally, the Samsung G7 offers excellent SDR peak brightness.
Large, bright portions of the screen don't get extremely bright because it doesn't get bright enough to prevent glare and is inconsistent with various materials. These readings were taken following calibration with local dimming enabled and brightness at its maximum.
If you're sensitive to light and intend to use it in a dark room, the minimum brightness can be a problem.
The Samsung G5 monitor is best for general use as well as gaming. It has a sizable screen with a good resolution. At the maximum refresh rate, it responds quickly, although there is some observable blur behind moving items and black smearing behind objects with a dark background.

– Support
It supports VRR technology to lessen screen tearing and has an incredibly low input lag. Unfortunately, it isn't the best choice for co-op gaming because of its poor ergonomics and poor viewing positions.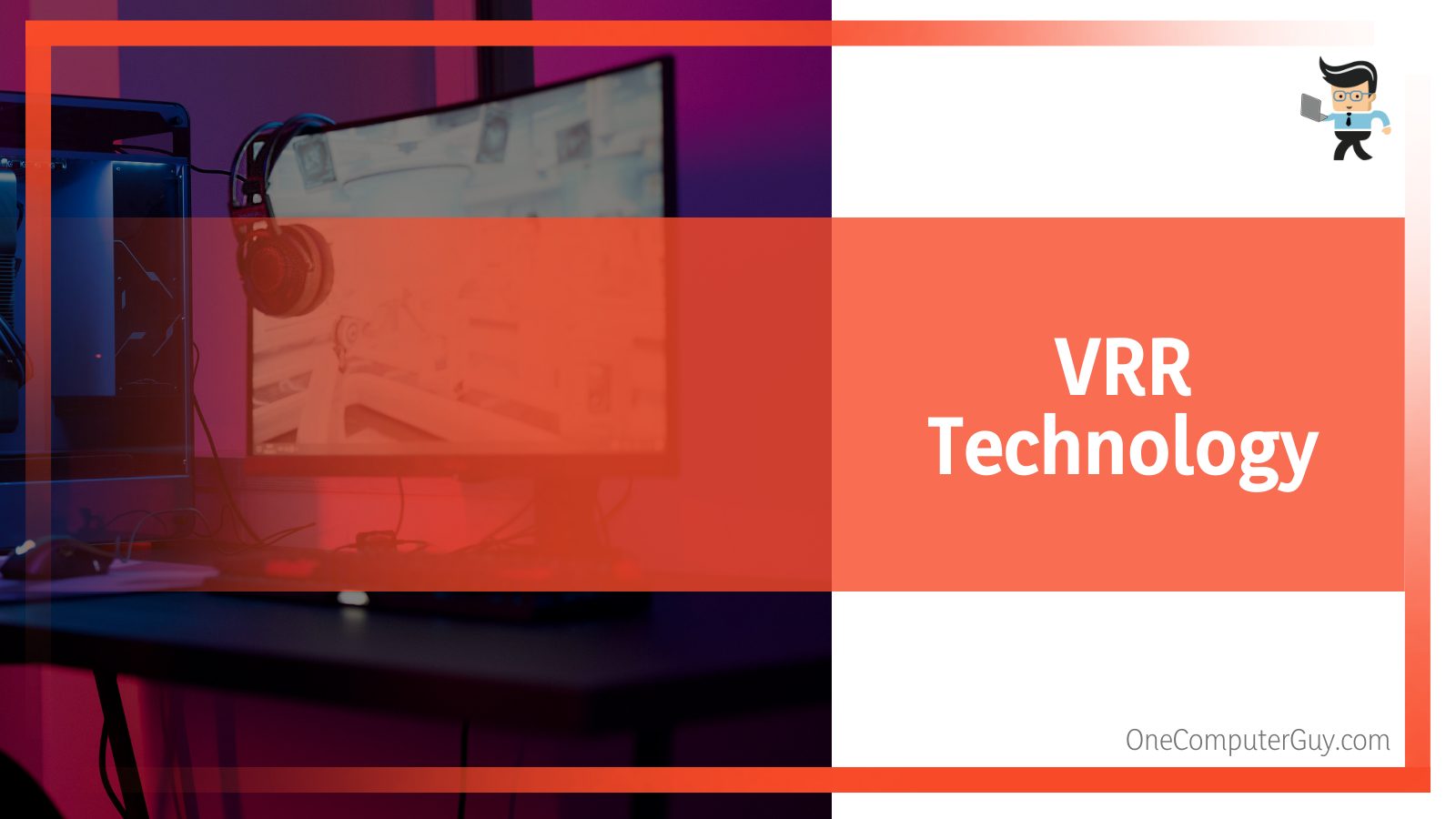 The Samsung Odyssey G7 is best for gaming purposes. It supports FreeSync and NVIDIA's G-SYNC and has a native refresh rate of 240 Hz. The response time is exceptional at 60Hz and, along with its maximum refresh rate, results in very little blur.

– Color
The good news is that it displays deep blacks if you wish to game in the dark despite its limited viewing angles, making it less suitable for co-op gaming.
Conclusion
After comparing both Samsung G5 and G7 monitors, we've reached the conclusion that the Samsung G7 monitors are usually better than the G5 ones in almost all aspects. The G7 monitors have the better build quality, a higher refresh rate, VRR support as well as FreeSync and G-Sync support.
Being able to play games at 240 Hz is simply marvelous, and its awesome contrast, SDR, and HDR ratings mean that you can easily play multiplayer games on the G7 without having to suffer from bad angles, which is what happens with the G5.