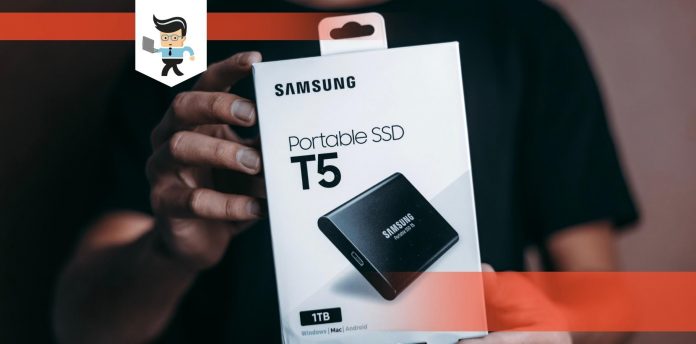 Samsung 960 Evo vs 970 Evo is always a sticking point among enthusiasts looking for quality SSD for their computers. With Samsung being one of the best with the Evo series, optimum performance is never far away.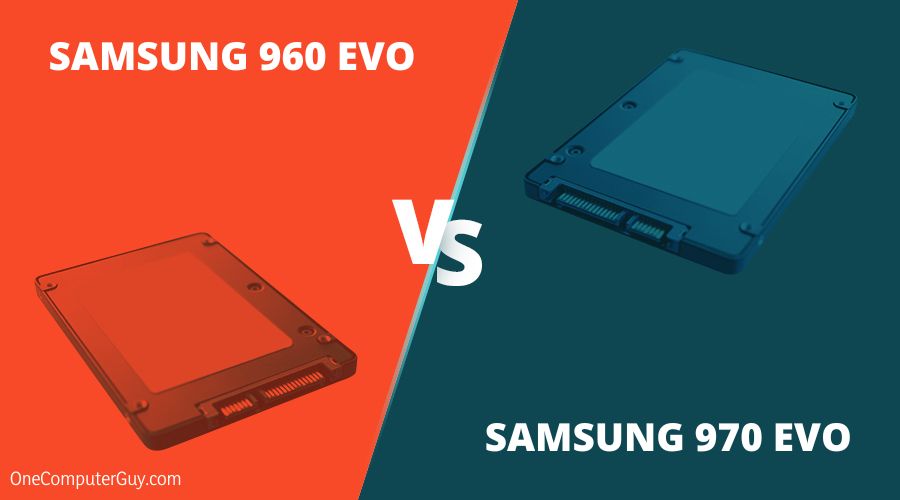 Our review of these two top picks is driven by a desire to select which one delivers a balanced performance. We'll compare their pros, setbacks, features, and other capabilities that help users make an informed decision.
Comparison Table
| | | |
| --- | --- | --- |
| Features | | |
| Read Speed | 3200 Mbps | 3400 Mbps |
| Hard Disk | 250 GB | 500 GB |
| Endurance Limit | 100 TBW | 300 TBW |
| NAND | 32 Layer TLC | 64-Layer TLC |
| Form Factor | Compact M.2 | 2.5″/M.2(2280)/SATA |
| Software | Samsung Magician | Samsung Magician |
Samsung 960 Evo and 970 Evo Comparison
The main difference between the 960 Evo and 970 Evo is that the 970 Evo has more storage hard disk size and read speed than the 960 Evo. What's more, the Evo 970 has a better endurance limit than the 960 Evo SSD.
– Speed and Memory
Winner: Samsung 970 Evo
There is no doubt that SSDs are having their time in the tech and gadget industry, and Samsung is one of the most popular brands. You'll get quality devices, including the two under review here.
The EVO series of SSDs from Samsung has the distinction of producing balanced performances to price ratio. But the game-changer is the launch of NVMe technology, which has seen demand for these SSDs grow. Analyzing the 970 Evo and 960 will help us understand their differences and potential.
In this Samsung SSD comparison, key features play a role in separating them. We use speed, memory, and overall performance parameters to pick a credible winner.
You get 3200 Mbps and 250GB of memory from the 960 Evo, but there are a couple of reasons why the 970 Evo is an upgrade. The latter gives you 3400Mbps for speed, which might be a little better but helps your PC work better.
The memory is also better, especially with the 3-bit TLC memory on this 970 Evo SSD. Also, it offers twice the size of the memory of its counterpart – 500GB. Both have the NAND technology, but the 970 Evo contains a sixty-four layer V-NAND.
– Performance
Winner: Samsung 970 Evo
A key difference between 960 and 970 lies in the performance of both SSDs. While you won't find a massive gulf in class, the 970 Evo trumps the 960 Evo. The former will outpace it on speed levels in the read and write categories. It has better benchmarks and a higher endurance limit – 300 TBW than 100 TBW on the 960 Evo.
Further, the 970 Evo has a more balanced performance. Two of them use Magician Software, but 970 Evo offers more security and encryptions and comes ready to boost your applications.
The main difference between the 960 Evo and 970 Evo is that the 970 Evo has more storage hard disk size and read speed than the 960 Evo. What's more, the Evo 970 has a better endurance limit than the 960 Evo SSD.
– Pros
Affordable price point
Quality small-file write speeds
Stable performance
– Cons
Not enough storage for big applications
All Samsung's SSDs are designed to follow a familiar pattern, and this 960 Evo is no different. It gives off excellent performances based on the credible specifications you'll find on it.
The price may be a bit iffy for some, but the drive is designed to work in any personal computer or computer application using the M.2 x 80mm PCIe drives.
– Overview
Our Samsung Evo 960 review shows that it's worth getting and wouldn't cost as much as other SSDs high up in the series. It's ideal for users, including gamers and business owners who want quality performances across different compatible devices.

– Build and Design: Nicely Carved
The EVO 960 is the flagship SSD from the company, which took over from its sibling, the Samsung 960 EVO Pro. In line with that, the design doesn't stray far from each other. You get a thin copper embedded within the 960 EVO.
Also, the thermal throttling performance has been enhanced from the days of the previous SSDs in the series. It's a sturdy base and covering which forms a platform for fast and balanced performances.
– Speed: Top-notch Support and Delivery
The Samsung 960 Evo speed contributed to exceptional performances at its level. You get sequential read speeds of up to 3200 Mbps and sequential write speeds reaching up to 1900 Mbps. As a V-NAND client, you'll realize that it's built for high-performance desktops and small-form PCs.
– Memory: Solid Performance
While this 960 Evo has the smallest memory size and capacity in the 960 series, it performs well when used within compatible devices. It has a digital storage capacity of 250GB which is enough for personal, gaming, and business purposes. However, the memory here is slightly slower than what's obtainable on the 970 Evo or other SSDs in the 960 series.
– Performance
There are more than a couple of positives to expect from using this SSD device for your computer. The first is that it offers a stable performance across different functions, including small-file write speeds. Also, the Samsung 960 Evo endurance limit at 100 TBW means you can get a lot done without hassles.
The Samsung Magician software delivers quality SSD management and will provide automatic firmware updates. However, the performance of this device can vary depending on system hardware and configuration.
– Pros
Strong performing SSD
Top-notch endurance
Exceptional software package
Long warranty
– Cons
Our Samsung 970 Evo review begins with reference to its 64-layer flash. It comes with a new flash and the same five-core Phoenix controller as the Pro Series model. However, the higher-priced 970 Pro delivers a sustained write performance for advanced workstation-class workloads. For the 970 Evo, you can expect it to operate more in mainstream applications. What's more, this SSD uses less-expensive TLC.
– Overview
Longer warranty, software package, massive endurance, and other key specs make the 970 Evo worth having. If you're a tech enthusiast, high-end gamer, or 4K content designer, the speed and memory capabilities of this device appeal.

– Build and Design: Reliable Form Factor
What you get from the Samsung brand on this SSD is a flexible design. From the 500GB to the 2TB SSD, there's a compact  M.2 (2280) form factor, which expands storage capacity and space for other components. You can accomplish more on your compatible device.
– Speed: Breakthrough Read/Write Speeds
The 970 Evo will give you 3400 Megabytes Per Second for speed. That's further broken down into sequential read and write performance levels of up to 3,500 Mbps and 2,500 Mbps, respectively. Like all SSD devices, speed is vital to enjoying any task or application. You won't be disappointed by the figures here, which slightly dwarfs its counterpart here.
– Memory: Useful Hard Disk
You'll find a 3-bit TLC memory on this SSD, which crams more transistors into each chip to bring the cost down. It will come at the expense of some speed. There's also a 3D V-NAND inside the 970 Evo that uses sixty-four layers, like the 970 Pro. However, it will take the controller more time to write data to a 3-bit chip.
– Performance: Innovative and Secure
The Samsung 970 Evo specs are top-notch. You can expect excellent performances. It's not a flagship drive, but you get quality speeds and will outpace many SSDs, including more expensive options. Also, it never lags far behind in other benchmarks and remains faster than the 960 Evo above.
The 970 Evo is designed to produce a more balanced drive that most people would be better off choosing. You'll also enjoy seamless cloning and file transfers using the Samsung Magician Software. The software is a great tool to manage and optimize data security via automatic firmware updates.
The dynamic thermal guard from Samsung will enhance heat dissipation since it monitors and maintains optimal operating temperatures. Secure encryption is also part of the improved performance from this SSD.
FAQs
1. How Should I Update the Firmware on My SSD?
The best and most straightforward way to update the firmware on your SSD is to use the Magician software. But the software is only available on some systems, like Windows operating systems. You can create a bootable USB drive or a CD with a Firmware ISO file available online via the Samsung website.
2. How Long Does a Solid State Drive Last?
While the lifespan of storage devices largely depends on how you handle them, some brands produce SSDs you can count on for years. Moreover, SSDs have proven to be more durable and long-lasting than HDDs. Some professionals point to the lifespan of SSDs reaching between five to ten years under normal usage.
The more tasks and activities you subject your SSD to, the more it affects the lifespan.
3. Are SSDs More Reliable Than Hard Drives?
Yes. With SSDs, you get devices that do not possess moving parts like actuator arms. Also, they are more durable than HDDs, and they are more resistant to accidental drops and other types of shocks that affect HDDs.
4. Is 970 EVO Faster Than 860 EVO?
Yes, Samsung 970 EVO is definitely faster than 860 EVO. The first has 3,300 MB/s write speed and a line of 3,500 MB/s read, while the read and write speeds of Samsung 860 EVO are up to 550 MB/s and 520 MB/s.
– Is the EVO 970 Good for Gaming?
Samsung's 970 EVO is quite affordable and fast, making it a perfect choice for gaming PC upgrades.
Conclusion
Top SSDs will give you enough speed and reliability and work well across various uses, including for any professional or business. These two SSDs from Samsung are worth having depending on the type of user you are and what you want either device for. You'll get SSDs that offer quality and efficient performances for various applications.
However, we'll stick with the 970 EVO, not just because it's an upgrade on the 960 Evo, but because it offers more features. You'll get more endurance limit fit for more demanding tasks, twice the storage at 500GB, and higher dedicated read/write speeds. If you deal with large files, games, and other applications that require crucial data, the 970 Evo is the best option here.