The results of comparing G Skill Ripjaws vs Trident shows that high-performing memory kits need not be expensive.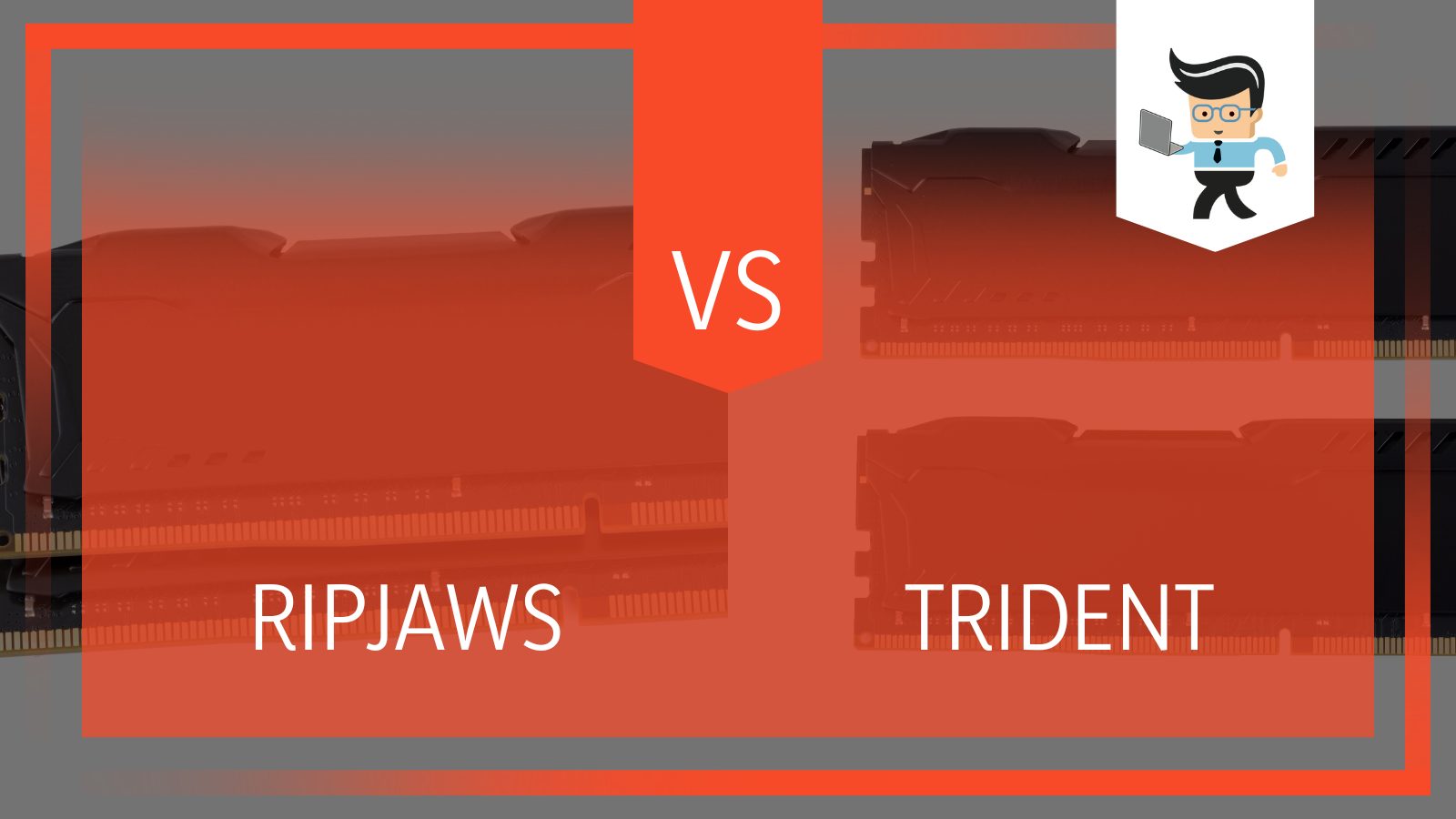 Memory kits are getting pricier nowadays, and people are looking for ways to cut spending. However, that should not be the case. These two kits from G Skills are highly reliable, low-cost options that come from a reputable name.
The G Skill Trident Z is a beautiful kit that, while powerful, does not blow it out of the water when it comes to power. The G Skill Ripjaws V, on the other hand, is mighty for its size and cost, but you have to take a dull package.
Both are great in themselves, but which one is better for your build? What should be your considerations before making a purchase?
Product
Key Specifications
G Skill Ripjaws V

Simplistic, easy-to-use memory kit
Specced at DDR4-3200 CAS 16
18-cycle tRP and tRCD

G Skill Trident Z

CAS 16 rating
Top-performing, programmable kit
Excellent DDR4-3600 timings and LEDs
Keep reading to see what our experts have to say.
1. G Skill Ripjaws V Review:
– Appearance and Specs
Overall, the Ripjaws V is a simplistic, easy-to-use memory kit that performs at more expensive levels. There is even more room for overclocking compared with memory kits at 150% of the price.
Unfortunately, it lacks most of the aesthetic features that some people look for in a product. There are some design features here, but they are relatively cheap-looking (the overall product is still the quality you'd expect from G Skill, just the stick-on design is cheap and will start to peel). This could become an inconvenience in the long term.
– G Skill Ripjaws V Specs
The Ripjaws from G Skill is specced at DDR4-3200 CAS 16. However, in testing, the full timing set has far less impressive 18-cycle tRP and tRCD, which is still worth the price, just less than most people anticipate seeing the name.
– Appearance
If you are the type of person who doesn't like RGB lighting, this is a great memory kit to choose for your build. There is very little pizzazz about this kit, including the fact that it is an unlit memory kit.
Most value-minded memory kits still have RGB lights and cut somewhere else instead, but that doesn't happen here. Most of the cost savings for the Ripjaws V were in its appearance.
There are some design details here and there, particularly in the heat spreaders that have a black anodized finish and stickers. However, it isn't enough to make this a display piece.
– Overall Verdict
The G Skill Ripjaws V is one of the best kits around for people looking for value. The appearance isn't as beautiful as some other products on the market, but it gets the job done and is powerful enough for pretty heavy workloads (which is what's important).
There are some exchanges for this price: you'll get no fallback settings between DDR4-3200 and DDR4-2133, no RGB lights, and limited tuning capability for the price and power.
2. G Skill Trident Z Review:
– Appearance and Specs
This is one of the more impressive DDR4 kits on the market today. However, there has been a lot of talk about whether or not the expensive price tag is worth it in the end. Here are some things that you'll want to note before making a purchase.
– G Skill Trident Z Specs
The specs are impressive, coming in the CAS 16 rating. The speed is breathtaking, at 16-16-16 with a latency that makes it quicker than the CAS standard it is currently rated at (CAS 7). Enthusiasts appreciate this speed, primarily because it performs in both quad-channel and dual-channel configurations.
– Appearance
The colors are muted, so this won't be for someone building for aesthetics. The cases are gray with black side faces that stick out. It isn't bad looking; it just isn't something to show off.
The white part is offset with RGB LEDs, which are controlled by Asus' Aura application. The lights can be individually controlled or can be grouped together to make patterns. It is fun to play around with, and the software makes it easy to do.
One of the most popular lighting features is the "heating" pattern that shows how warm the memory kit and case are. While not the most accurate, it can come in handy for gamers who overclock and push their builds and need a visual guide that something is going wrong.
Of course, G Skill also offers the Trident Z RGB control that is currently in beta. It offers a few different models like strobing, breathing, and static for the lights. There are some interesting and pretty patterns within this software as well.
– Overall Verdict
Overall, this is one of the top-performing, programmable kits on the market today. The high-quality modules and ease of use make it a great choice for builders of any level. The excellent DDR4-3600 timings and LEDs make it worth the costs.
However, people looking for a cost-effective bill may have trouble swallowing the price tag. Additionally, the 32 GB kit is limiting to some builders.
Comparing Ripjaws V vs Trident Z: The Final Winner
The main difference between Ripjaws and Tridentis, Ripjaws V has better specs while Tridentis Z has great lights and interesting settings.
It is important to note that both of these DDR4 kits come with G Skill's limited lifetime warranty. There is virtually nothing to compare because they are identical.
The warranty that G Skills offers is one of the best on the market today, and the customer service process is simple to navigate if you need a replacement or have any issues.
Specs
When looking at the specs, there are a lot of similarities, but just enough differences, which make each of them unique. Additionally, both have good specs for the price points they are offered at, particularly if you are looking for something for gaming.
There is enough here that it won't lag when you overclock. However, the Trident Z is closer to the other memory kits within its price point, whereas the Ripjaws V goes far and above what the other kits in its price category offer.
Appearances
As far as appearances go, there really isn't a lot to compare here. While the Ripjaws V isn't a bad-looking memory kit, it isn't anything that you will want to show off either. The stickers add a little bit of pizzazz, but they are rather cheap and can even start to curl in the heat. The heatsinks are interesting, but not enough to make up for the lack of lights.
The Trident Z is a different story because it has so many great lights and interesting settings that make it the perfect option to show in a case. In addition, it is well designed, and everything looks extremely high quality.
Availability
Both memory kits are widely available, but there is easier access to the Trident Z overall, largely because it debuts the new software. G Skills wants this technology to become a stalwart of their products moving forward.
Reliability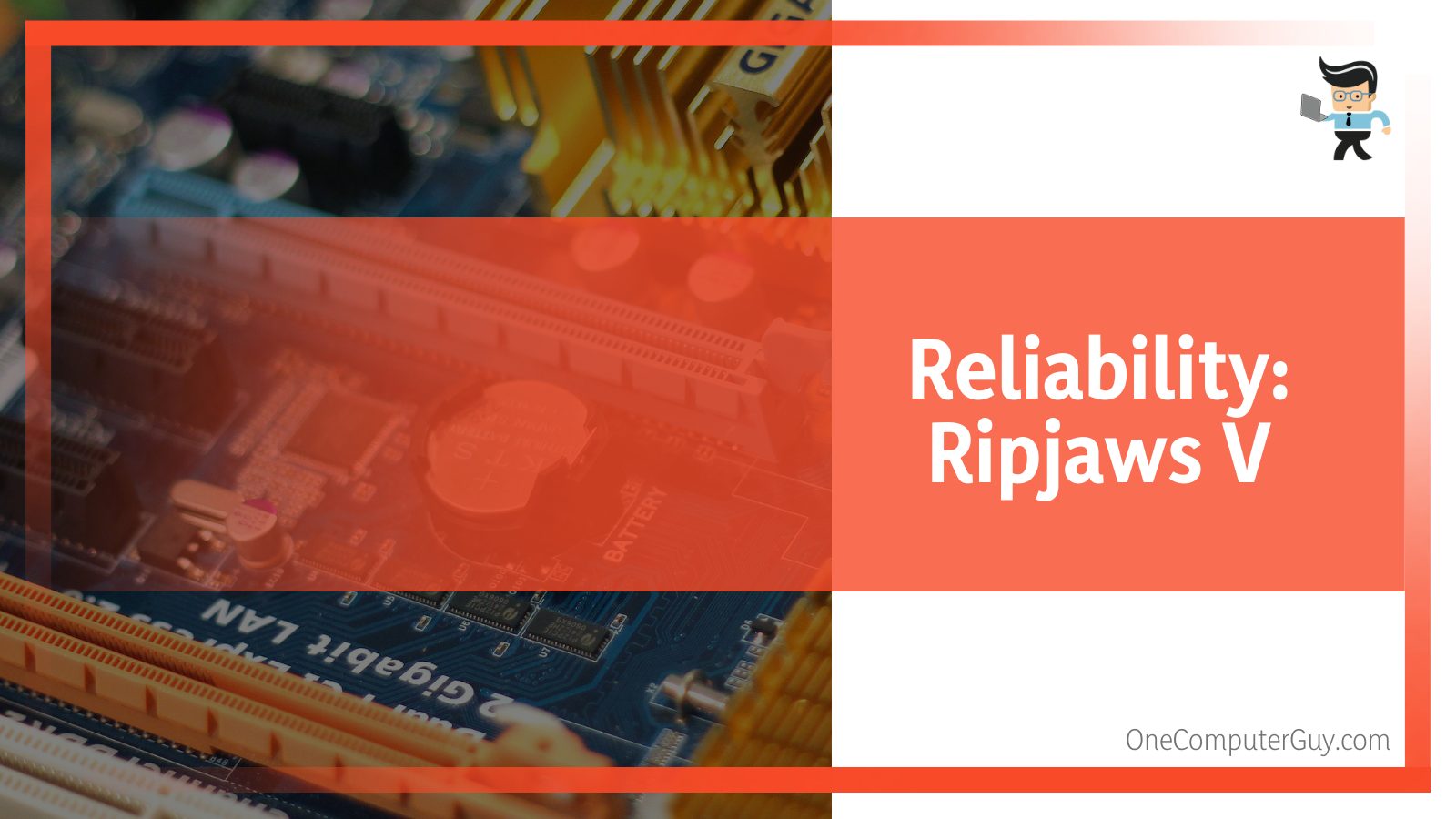 Usually, memory kits aren't going to be what breaks on a computer. Instead, it will be the motherboard or something like that. With both of these memory kits, you can expect them to have a long life. However, the lights on the Trident Z are likely going to burn out or malfunction after some time.
Consider that after some usage, you might end up not having the appearance you're going for, particularly if you overclock and produce a lot of heat. Take note of this if you are purchasing for looks.
Conclusion:
When comparing these two memory kits, it is important to think about what you really want out of a kit: a good kit that is beautiful to look at or a great kit that is boring and a little cheap-looking.
Luckily with the G Skills brand, you are going to get kits that perform up to the specs they list and last for a long time, that's a given. From there, you need to think about your build and what you want out of it.
If you have a glass case and you want to show off your build, then the Trident Z is going to be your best bet. You'll still get a lot of power along with beautiful LEDs. If you don't care about appearances and you just need something to power your games and building, then the Ripjaws V is perfect for you.
Overall, if you think that you could go either way on them, we'd always suggest going for the memory kit that will work better and harder for you: the Ripjaws V. Using this kit will ensure your needs are met and will help future-proof your build