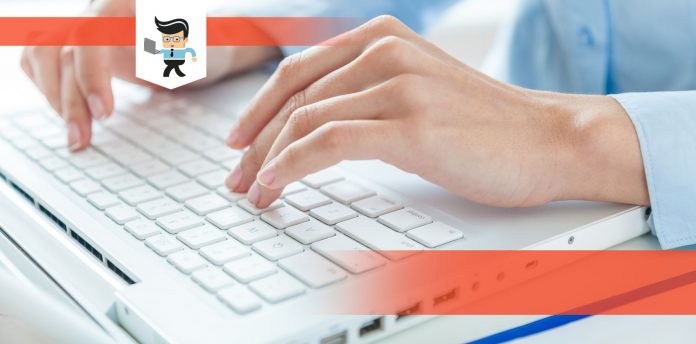 The Logitech K380 vs. Logitech K480 are two of the best wireless keyboards today. For a fantastic price, each provides everything anyone could want in a wireless keyboard. However, there are a few things that set them apart.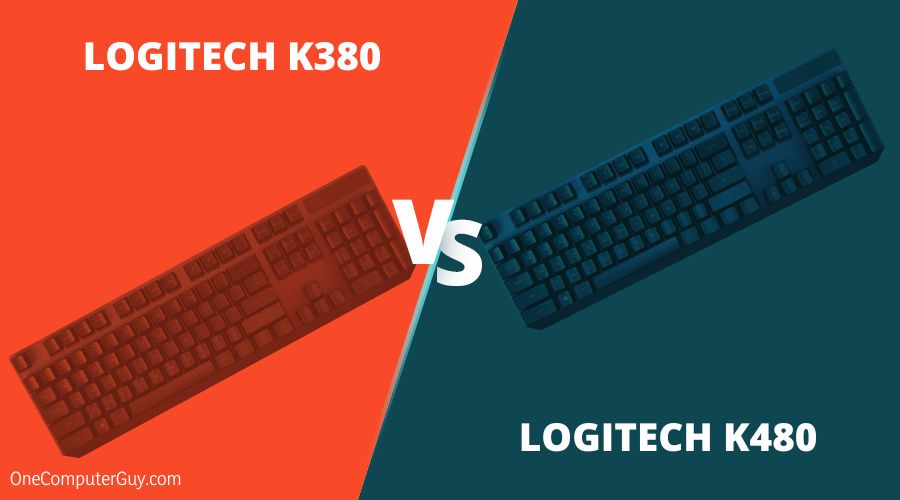 Here we will compare some of the best features of each.
| | | | | |
| --- | --- | --- | --- | --- |
| Product | Phone Cradle | Battery Life | Weight | Bluetooth Channels |
| Logitech K380 | No | Two years | 14.9 Ounces | 3 |
| Logitech K480 | Yes | Two years | 29 Ounces | 3 |
Pros:
● 3 connected devices at a time
● 5 color options
Cons:
● No backlights
● Missing Flow Technology feature
The Logitech K380 wireless keyboard packs a lot of value for the price. This keyboard has everything anyone could want in a wireless keyboard. With its lightweight design and three simultaneous Bluetooth connections, the K380 is a must-have.
What seems to be a common feature among Logitech keyboards, the K380 allows for three connections at once. You can switch these connections using F1, F2, and F3. You can connect and swap them quickly for a more streamlined device switching.
For a keyboard as light as the Logitech K380, it has impressive battery life. Under typical usage, the K380 battery can last up to two years. The keyboard is powered only by two AAA batteries as well. The batteries come included with the keyboard.

Finally, the Logitech K380 is compatible with nearly every device that supports Bluetooth. Whether you use ChromeOS, Linux, iOS, Windows, etc., the K380 will connect seamlessly. Using Bluetooth 3.0, there is almost no latency when typing.
Pros:
● Phone cradle
● Long battery life
● Flow Technology
Cons:
● A little heavier
● Bigger form-factor
The Logitech K480 is easily one of the best Bluetooth keyboards around. Packed with excellent features, it's a lot of value for cheap. Here are some of Logitech's K480's best features and why it's a must-buy.
The phone cradle is a fantastic feature for any mobile device. Typing on a tablet or smartphone is easy, without the need for a different stand. Most mobile devices fit pretty easily into the cradle as well. If you work on a mobile device, this is a neat feature.
Logitech's Flow Technology feature makes this keyboard. This feature allows for documents and clipboard items to be shared between devices. For instance, if you copy a word document on your Windows laptop, it will be saved to the keyboard's internal memory. You can then paste it onto any other connected device.

Just like the K380, the Logitech K480 can support three Bluetooth connections simultaneously. You can switch from one Bluetooth connection to the next using the toggle on the board's left. If you're on a smartphone, tablet, or PC, you can swap between them with ease.
Comparisons
The main difference between Logitech K380 and K480 is, Logitech K480 can connect to three devices simultaneously and features Flow Technology, while Logitech K380 is smaller, more comfortable and has extra color options.
The specs for the Logitech K380 and K480 are pretty lengthy. Both have some fantastic features for a great price. But how do they rank against each other? Here we will compare some of the features listed above and decide which one is better.
– Portability
When buying a wireless keyboard, this is probably one of the most important factors. You want something comfortable to carry with you. This portability is especially true now, as most businesses let their employees work from anywhere.
The Logitech K380's dimensions are 0.6 x 11 x 4.9 inches. It only weighs 14.9 ounces as well. While it is a minimalist keyboard, this is still pretty lightweight. This small size doesn't hurt usability at all either.
Despite being small, the keys still feel the standard size. Even those with more giant hands will have an easy and comfortable time typing on the K380. The keyboard can also comfortably fit into traditional backpacks.
The Logitech K480's dimensions are a little more prominent due to the phone cradle. The difference is marginal, though at 0.8 x 11.7 x 7.7 inches. It weighs quite a bit more than the K380 at 29 ounces.
While being heavier and larger, it is still extremely portable. Every inch of the keyboard is used for something, though. The phone cradle, extra internal memory, and Bluetooth switch are unique features that take up some space.
The K480 is just as comfortable as the K380. Its keys are responsive and perfect for hands of any size. It can also still fit easily into most bags, making it even really portable.
This category is difficult because both of these keyboards are fantastic for portability. The Logitech K480, while being a bit larger, is still pretty portable and uses all of that extra space well. The K380 has fewer features, so it is a lot smaller than the K480.
Because of the Logitech K380's small size, it pulls ahead in this category. Despite being pretty cheap, the board is small and extremely comfortable.
– Cross-Device Usage
Both keyboards come with excellent cross-platform features. Simultaneously connecting to more than one device is something most Bluetooth keyboards can't do. That is one of the many things that makes the Logitech K380 and K480 better than the rest.
The Logitech K380 and K480 both allow for three connected devices. This can be pretty much any Bluetooth enabled device. The K380 allows device swapping on the function keys. The K480 has a cool switch on the side that can toggle devices.
One difference between the two is the Flow Technology feature. The K480 has this, while the K380 does not. The Flow Technology feature takes device switching to a whole new level.
Many Logitech devices feature Flow Technology as it is beneficial. Users can copy something on one device using the Logitech K480 and then paste it on another with this feature. The clipboard is saved to the Logitech K480 onboard memory for transfer. This works between operating systems seamlessly.
The Flow Technology feature gives this category to the Logitech K480. Multitasking has never been more effortless. If you are looking for a great portable keyboard to use between multiple devices, the Logitech K480 is a fantastic choice.
– Colors
Personalizing your things is essential to some people. Some want all of their devices to match or just like a specific color. This may not be a dealbreaker for most, but it is worth mentioning.
The Logitech K480 only comes in white or black, which is enough for many prospective buyers. The lack of options isn't necessarily a bad thing, just something of note. There are plenty of silicone covers for the keyboard available online for cheap, though. They come in a variety of colors and can protect your keyboard from liquids or crumbs.
The Logitech K380 has an extra color option, which is a nice touch. The basic dark gray and off-white look great, along with an excellent rose option. There are also silicone covers for this keyboard and plenty of options in terms of color.
While certainly not a dealbreaker, having some color options is nice. The K380 only has one extra option over the K480, giving it this category. For those wanting a little additional customization, the silicone covers are worth looking into.
– Value
This category is a little more complicated, as both offer a lot for the price. Many keyboards with similar features would likely cost more, making these keyboards great.
The Logitech K480 is jam-packed with many features not standard in other wireless keyboards. Connecting to three devices simultaneously and Flow Technology are major highlights. The phone cradle is a nice plus that improves usability
The K480 is especially great for tablet or smartphone users. The phone cradle prevents you from having to buy a separate stand. The cradle is large enough for most tablets as well.
The K380 is a lightweight, cheaper alternative to the K480. There is no cradle or Flow, but it makes up for it with its small size. It is easily one of the most portable keyboards today. It isn't costly either.
In reality, both of these keyboards are pretty cheap. For having as many features as they do, they don't sell for too much. Finding the perfect wireless keyboard isn't going to break the bank.
Barely winning this category, the K480 offers a lot more for just a little extra. It is the better deal of the two, but both are still great options.
Conclusion
While the Logitech K480 wins in the comparison, it doesn't mean that the K380 is wrong. Both are pretty similar aside from a couple of features and price. If you are looking for lightweight, portable keyboards, these are your best options.
The Logitech K480 is jam-packed with some excellent features making it a must-have. The Flow Technology, along with the cradle, is excellent for those frequently using mobile devices. Out of all of the Bluetooth keyboards on the market, the Logitech K480 easily tops the competition.