Our HP Officejet 3830 review features an AirPrint printer that provides great value for occasional and moderate printer users. Whether you're in a small office or your home, it's a nice fit for tasks like printing, copying, and scanning.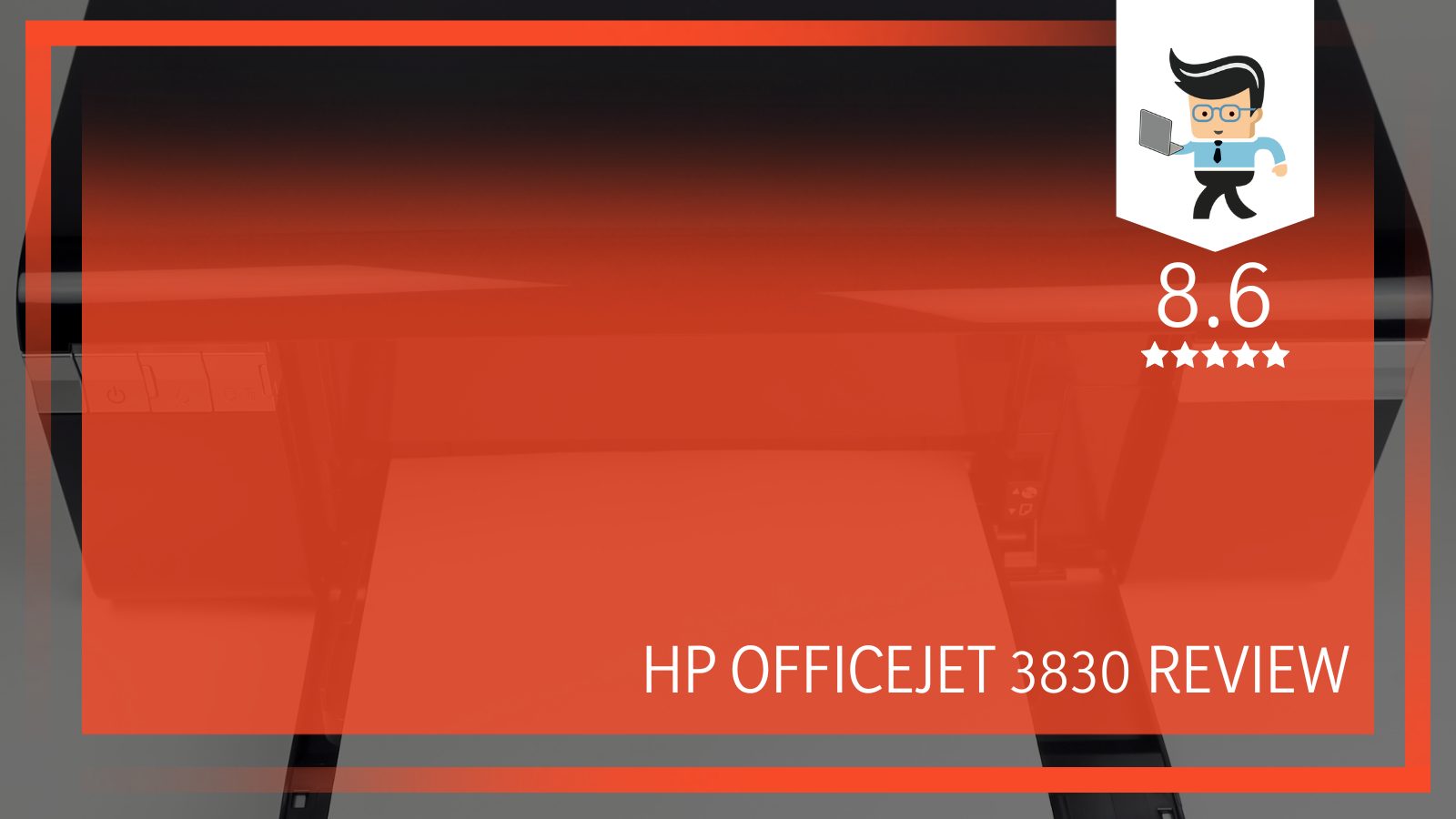 For a printer tagged for budget users, it offers a consistent and accurate performance over different functions. If you're thinking of getting one, let our review guide you! 
Officejet 3830: Key Specifications

 
Product 
Key Specifications 
HP OfficeJet 3830

Brand: HP

Printer Type: All-in-one Inkjet 

Connectivity Technology: Wi-Fi, USB 

Cartridges:  Two

Paper size: A4

Sheet capacity: 60

Print resolution: (color) 4800 x 1200 DPI 

Color printing: Yes
HP OfficeJet 3830 All-in-One Printer Review
The HP 3830 All-in-One Wireless Printer is an entry-level inkjet all-in-one (AIO). It's a machine capable of a world of functions, but like many AIOs in this class, it has many formidable competitors. 
While it's a printer worthy of its time in the limelight, it's not without some key elements, such as non-support for two-sided printing. You won't also get Ethernet networking and flash memory devices, among other outstanding features. 
What you can count on the OfficeJet 3830 to offer is its budget-friendly price and the fact that it costs less to use. Well, you'll have to choose HP's Instant Ink subscription program to have an efficient time running this printer. 
Overall, it prints well and is an excellent alternative to many printers out there. You can also enjoy the minimal sound it gives off during some print jobs. 
HP Officejet 3830 Key Criteria
PROS
Comfortable budget price
Impressive print quality 
Compact sized and portable
35-sheet automatic document feeder (ADF) 
CONS
You need Instant Ink for low running costs 
No auto-duplexes 
The HP Officejet 3830 all in one printer is an AirPrint printer that gives you the edge whether you're an occasional or moderate printer user. 
It's compact and portable and an awesome fit for small offices and homes that need printing, copying, and scanning tasks. One aspect of this device that stands out is its print quality and consistent performance. In the world of budget printers, this one features at the top. 

Product Features Breakdown
– Design: Lightweight, Compact, Useful
The design and make of the OfficeJet 3830 give it a look that much closer to a larger all-in-one machine. It will also carry out the same functions but on a smaller scale. 
To that extent, you can use this printer to copy, scan, print, fax, and perform other functions associated with high-end printers. You'll get all that at a lower price tag. 
The OfficeJet 3830 has a compact design, much like other all-in-one printers, and has small dimensions. The 11.3 x 17.6 x 2.9 inches of recorded size will fit nicely on many surfaces. 
Since the printer is wireless, you have more locations you can use around your home and office. It weighs about twelve pounds with a portable orientation one can easily move. 
At the top of the printer, there lies the document feeder used for copying and faxing. It's a useful feature that helps you make copies fast. When we tried it out, we noticed that the test model handled a consistent feed of a 100-page text-based document without fuss. Papers won't jam or overflow even though the device is designed to hold 35 sheets of paper.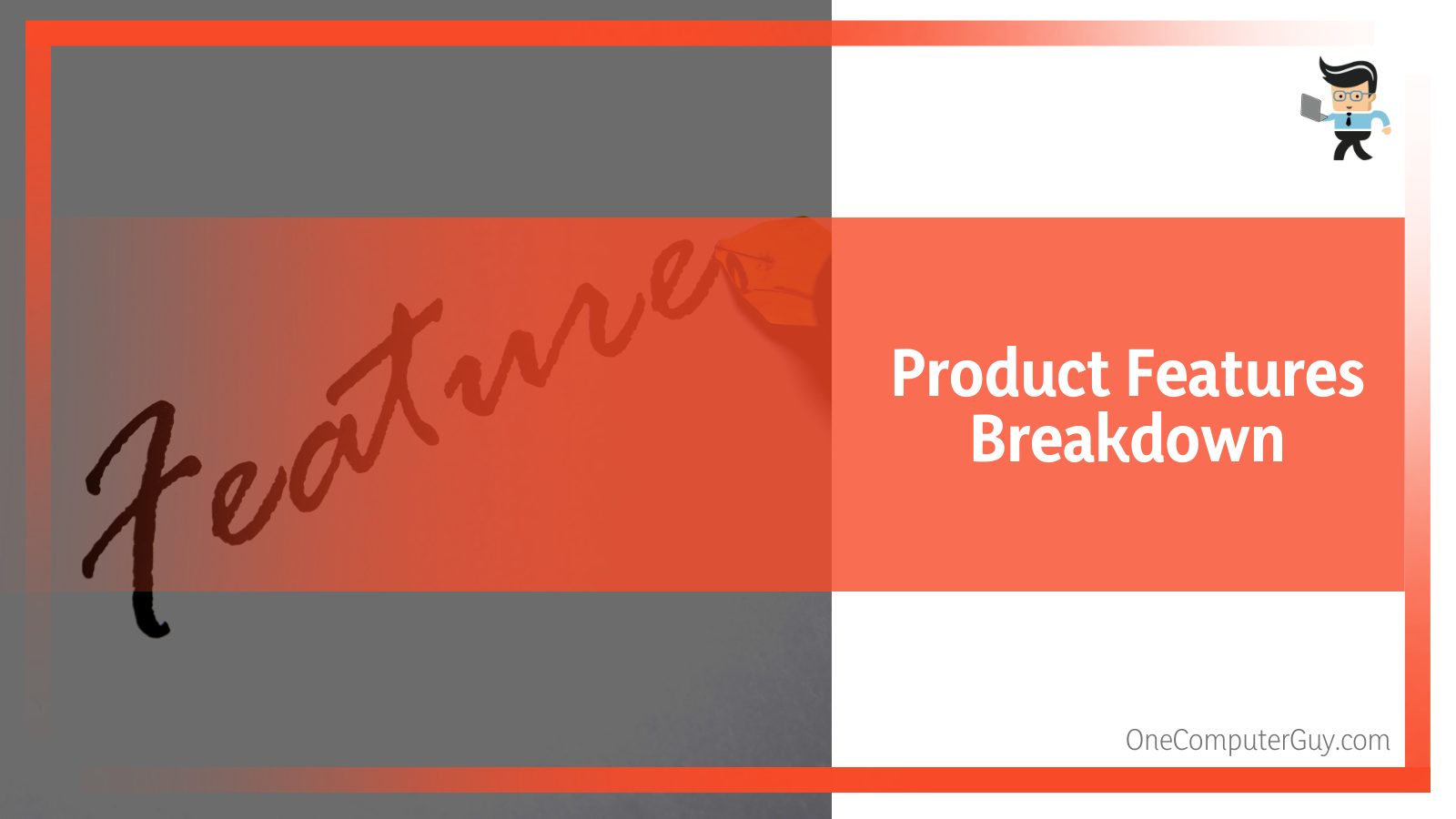 Further, the OfficeJet 3830 is an Inkjet printer that uses traditional tri-color and black cartridges. If you don't print color often, that's a nice thing, but you'll need just one ink tone to run low before getting a new one. 
As a budget printer, replacement costs for the ink can rack up fast when you print many color documents and photos. Heavy use could also affect the color output. 
There's a control panel on this printer. By all indications, this is a small but adequate 2.2-inch touchscreen that gives you a glance at the printer's status. You also get easy access to copying, scanning, and faxing. The setup menu also appears on the small screen. As part of the design, the printer comes with a couple of extras. 
For instance, the Printables section on the control panel prints simple documents like calendars, checklists, notebook-ruled paper, graphing paper, or blank sheet music. A template for Sudoku puzzles is also present here if you want to get busy passing time. 
– Setup Process: Easy and Straightforward

 
Perhaps stretching things when we say that the setup process is straightforward. However, this printer shouldn't take more than twenty-five minutes to put together if nothing goes wrong. 
Hp includes a setup guide that's all pictorial and easy to follow. If you do not insert the ink cartridges correctly, you'll witness a carriage jam, which might take longer to fix. 
Overall, the setup process is a breeze, and downloading and installing the HP software will help. It's simple to download and connect to the printer's Wi-Fi network. 
– Connection: Smart Connectivity
This hp Officejet 3830 all-in-one wireless printer gives you strong connections when it comes to connectivity. It's the only business-oriented printer in the HP lineup or other brands that don't have an Ethernet port. 
That's a downside considering modern-day uses for printers, and many AIOs are designed to offer solid support to less than five users. It's now an essential requirement for devices to connect via wireless connections. 
For USB connections, the OfficeJet 3830 will support USB for connecting to a single PC, including Apple AirPrint and HP ePrint. 
The printer also comes with many HP mobile apps for printing and scanning to multiple clouds, social media sites, and workflow profiles. But you have to stay connected to the wireless AIO. Note that a USB connection does not connect the printer to the internet so that it won't support mobile apps. 
– Print Quality: Gets the Job Done
This printer is capable of getting your printing job done without hassles. The printed documents we observed had a more than decent quality, whether in color or black and white. All the texts and graphic characters were well defined and crisp. 
You'll find that the colors were solid, consistent, and well distributed. The printer's perfect function leaves no print lines, smudges, or formatting issues that compromise the print quality. 
Further, the 3830 prints documents at a fast clip. Testing showed that printing black and white copies of a 100-page screenplay takes eleven minutes and twelve seconds to round up the task. That's an average of just over six pages per minute. 
For color-intensive documents like calendars and newsletters, we found that it takes an average of forty-five seconds to print a single-page color document. 
– Photo Quality: High-Quality Resolution
Photos are great on this printer, but that's not at some cost to your ink. Expect the ink to drain a lot from the tri-color ink cartridge if you want more quality.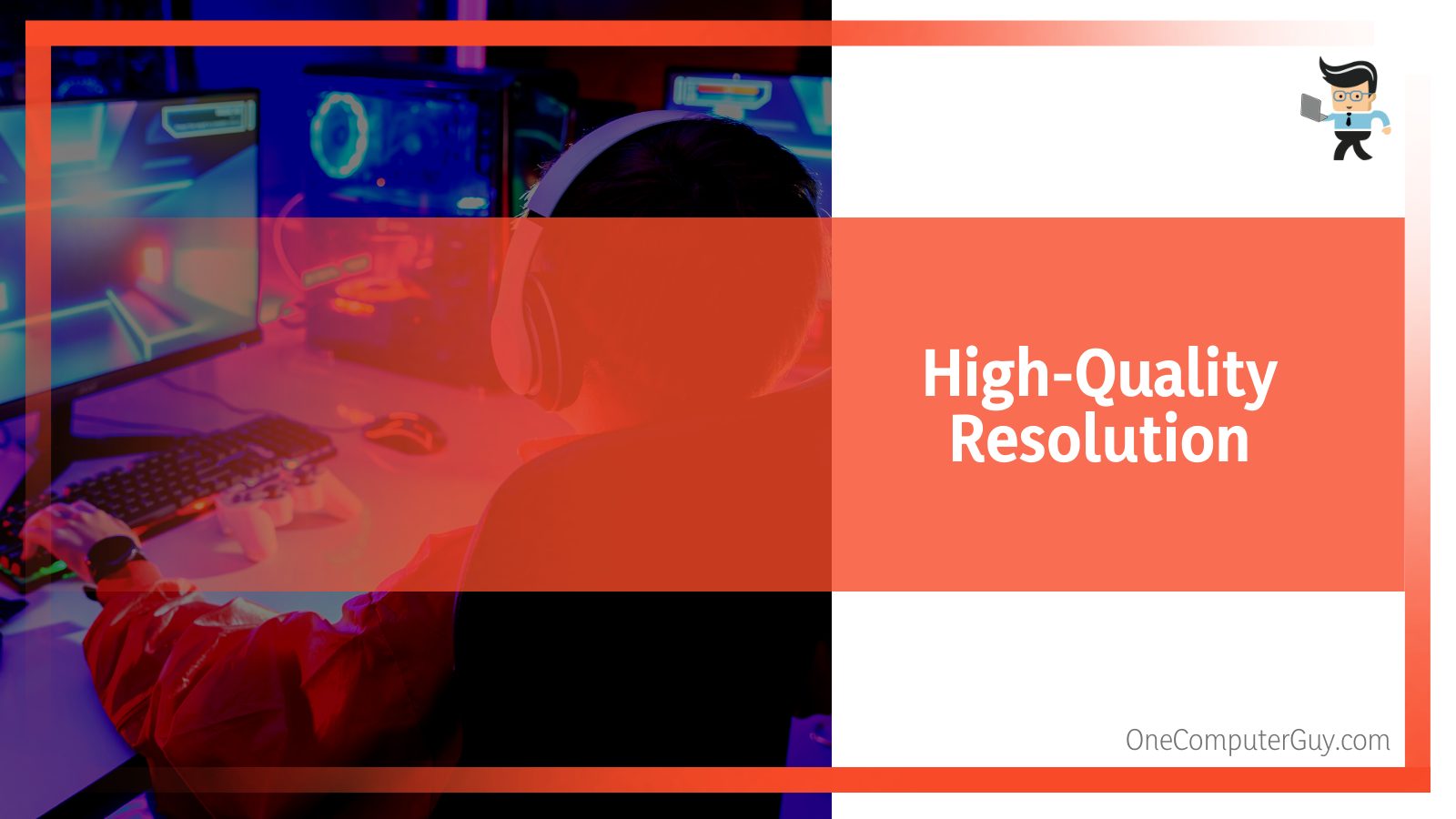 That will be fast, but you can count on printing at least a dozen 4×6 prints using this inkjet printer and three 8x10s in full color. It's possible to get a low ink warning on your computer when you print three 8×10 photos. 
Apart from the drained ink, the quality of the photos printed is not in dispute. The clarity you get is also astounding and will showcase every detail of the image you've captured. It's all about the ink you're willing to spare to get the color you desire. 
From the tests we conducted, the printing level of the OfficeJet 3830 is top-notch for a printer at its price range. Sure, the speed is slower than some others, but you still get your desired output and many pages within four minutes. 
– Copy Quality: Fast and Accurate Duplication
If color and photo printing drains a lot of ink, you'll love the fact that this printer handles copying differently. It's more efficient at copying than many AIOs we have come across due to its paper feeder on the top. 
The feeder allows the printer to grab one sheet, suck it into the machine, copy it, spit it back out. After that, it immediately grabs the next sheet. That's a fast and effective process. Our tests copied a hundred pages screenplay in just over six minutes and some seconds. 
Many printers lack a document feeder, and copying with such a machine would mean standing by to change out individual sheets of documents manually. If you're copying upwards of a hundred pages, expect to do so in at least one hour. 
– Wireless Wi-Fi: Make Total Wireless Connections
You have the option of using the OfficeJet 3830 as a total wireless machine. We already know that you can't physically connect it to a computer or network through an Ethernet cable. However, you can physically connect through USB with your cable. 
Apple products will work well with the AirPrint mechanism, which is convenient to use this printer. Whenever you set up the printer, any device running iOS or macOS will be able to use it without going through the traditional connection routines. It only takes a connection to the same Wi-Fi on the printer. 
Our tests on this AirPrint printer went fine when we sent documents to it from a MacBook Pro and iPhones. This Officejet quickly popped up on our list of available AirPrinters when we searched for it. 
It also responded well when we communicated a printing task to it. Another way you can send documents wirelessly to this printer is via Wireless Direct. When the printer is on, a network named "DIRECT-FA_HP OfficeJet 3830" appears on your device's Wi-Fi menu. When connected, you'll be able to print documents and photos at once. Moreover, Wireless Direct lets you connect about five devices to the OfficeJet 3830. 
Not all wireless options work on this printer, though. Unlike other AirPrint devices, the OfficeJet 3830 isn't enabled to use a memory card reader. 
The card allows users to print directly from it. However, this printer doesn't have the feature, which is fine considering the other qualities. 
– Scanner Quality: Good and Usable
Upon testing, we discovered that the scanner is simple to align and use. It gives you a good output scanning various types of documents. Even when we tried it with old pictures, the results were above average. 
However, it's not uncommon to have some imperfect scans. We experienced some cut-out detail, but you get a good scan of usable quality. 
– Software: The Complete HP Experience
The HP Utility software is what you'll use to interact with the Inkjet printer from your PC. The software is relatively straightforward and has a basic interface that many users will find easy to use. 
Even with a few roadblocks, you should be able to access any HP printer in your network and have information on the link you have left. You can also clean your print heads, align your printer, and run diagnostics. 
This printer with Wi-Fi doesn't need the HP Easy Scan application to send scanned documents and photos to your computer's hard drive. But it still gives you control over some more features, including a certain number of presets for photos, text, and color documents. 
The Easy Scan also lets you crop and straighten scanned items before saving them to your computer. Adjusting image values of scanned photos such as contrast and brightness is also possible. 
There's a mobile app you can use with this printer. That's the HP Smart app which is available on popular app stores. With the app, you can print documents and photos stored on your mobile device and save scans to your computer, mobile, or cloud service. 
Another positive of using the HP Smart app is that you get to connect to social media services. That way, you have access to all the photos you've posted on social media and have them stored in one location. 
– Instant Ink a Must Here
If you want to print many complex documents or photos using the OfficeJet 3830, it would be expensive without Instant Ink.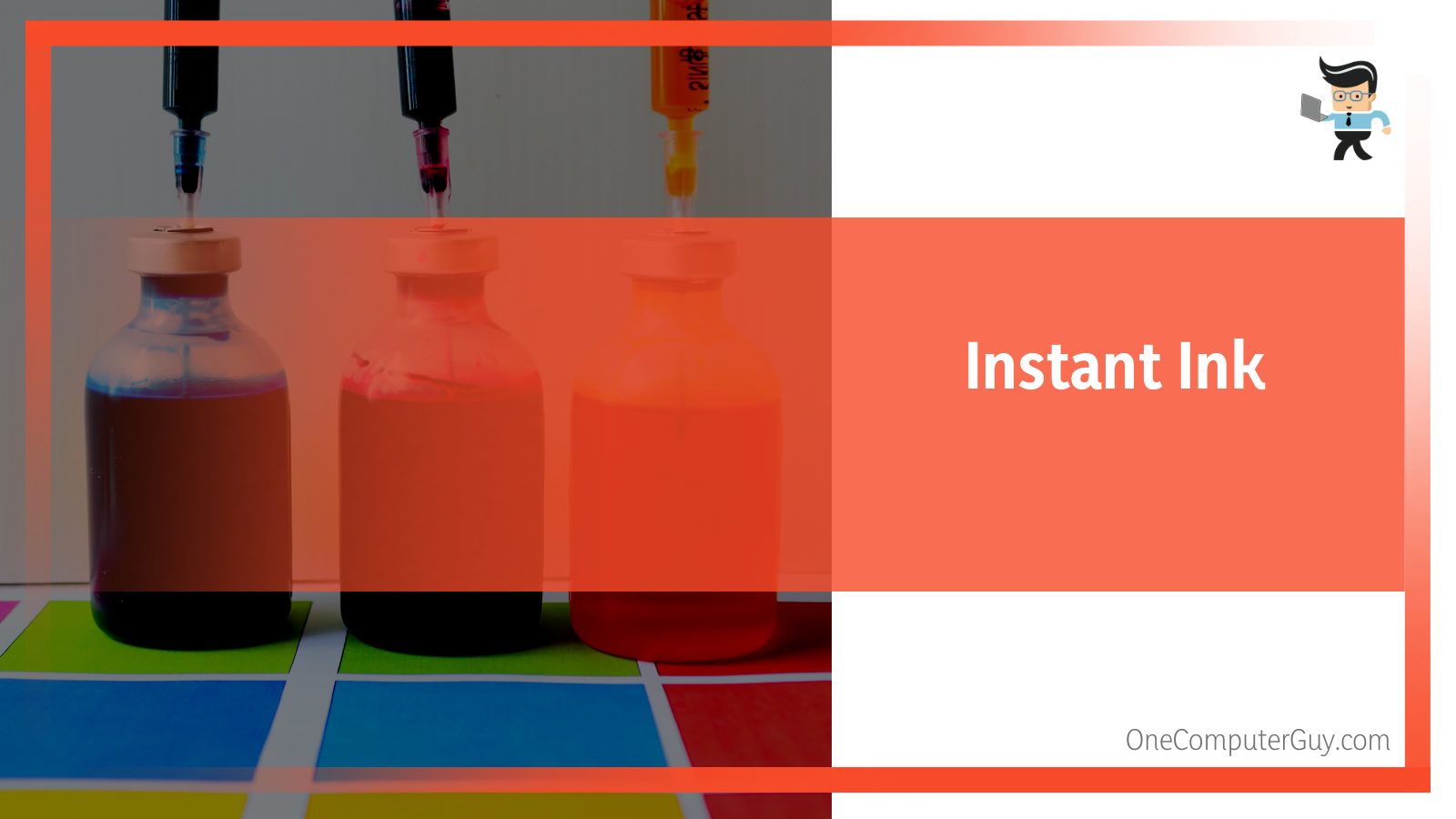 With Instant Ink, the printer monitors its ink usage and orders replacement cartridges as needed. That's why you can print up to 300 pages, which is a little over this AIO's recommended limit, or photos each month for as low as 3.5 cents per page. 
Overview

 
Our hp 3830 printer review shows it to be a low-priced, entry-level printer that prints well at an okay running cost. It's perfect for users that want basic copying, colors, and scanning features alongside the ability to print many pages. 
Frequently Asked Questions
– What to look for in AIO printers?
Printing Performance

: You have to watch out for the print performance or duty cycles. That's because speed is essential in many offices. So if you want to generate lengthy multiple pages or reports on a regular basis, print delays and slow page performance will be frustrating and cost you some money. 
Entry-level Inkjet and laser printers often have speeds of about twenty to thirty pages per minute for black pages, while color printouts take longer to produce. Always consider the manufacturer's list for page per minute totals after the first-page print. 
Wireless Connectivity

: A wireless connection is vital in this day and age. That's because, besides an Ethernet connection, a wireless LAN connection is the most important consideration for connections. 
Many wireless devices like networked laptops and desktops connected to the local network make printing and receiving documents easy. 
Also, wireless network capability is a requirement to print or receive scans from a multifunctional device. When selecting an AIO printer, ensure it's compatible with the existing wireless network unless it's a multifunction model. 
Print Engine

: Another factor to consider for an AIO printer is the print engine technology – Inkjet vs. laser. The HP 3830 is an Inkjet printer, and others like it have many advantages, including replacement cartridges being less expensive than lasers. 
They're also much smaller, take up little desktop space, and accommodate more print media variations. For laser printers, you get better print quality and consistent output. They're also quieter and designed to last longer than Inkjet, but they're much larger. 
– Does the HP Officejet 3830 print clear photos?

 
You'll get decent printed photos on the Officejet 3830, but that comes at a cost – more ink. However, the Instant Ink feature from HP should limit draining your ink. If you're not printing many colored pages, the print quality will be just fine. 
Conclusion

 
Without taking the costs involved in running this printer, we must say that the hp Officejet 3830 all-in-one printer is worth it even with Instant Ink. It is a low-volume and entry printer that can print around 250 pages per month. 
The 3830 comes off as a productive device with convenient features, including an ADF and a slick touch-screen control panel. That's why it's a sensible choice for small and home-based offices and student housing with minimal print and copy needs. 
Our verdict is that this printer is worth having for its level and the quality it provides.