When it comes to G Sync HDMI compatibility, the deciding factor is your graphics card. G-Sync will only work if your monitor is connected to a system that has a compatible Nvidia card, even if it is a third-party branded card. But what is it, how does it work, why is it becoming popular now, and how can you set up your monitor to benefit from G-Sync? Read on to know.

Is Nvidia G-Sync Compatible with HDMI?
G-Sync only works if the display or screen is connected to a system that has a G-Sync compatible card inside, including third-party systems.
The monitor should also support HDMI 2.1, and you should have an HDMI 2.1 cable. If you don't have a compatible card, get one to be able to benefit from G-Sync.
– How To Enable G-Sync
So, once you have a G-Sync monitor or TV that also supports HDMI along with a GPU that supports this technology, you can go ahead and change the settings a bit to get the technology to work on your display.
Using the HDMI cable, connect your display or gaming monitor to your GPU.
Open up the display's internal settings, look for variable refresh rate, and enable HDMI 2.1.
Then, right-click on the PC and select "Nvidia Control Panel."
Choose display and then "Set Up G-Sync."
Select "Enable" and click on "Apply."
What Is G-Sync?
Nvidia G-Sync is a display technology that has been around since 2013 and is used in certain laptops, TVs, and monitors to counter screen tearing, juddering, and stuttering, particularly when playing fast-paced videos or games.
– G-Sync Benefits and Uses
It's frustrating to see screen tearing on an image and can totally ruin the fun of playing or watching an action-packed thriller.
But it takes place when the game's frame rate is unable to match your monitor's refresh rate. This is where g-sync comes in.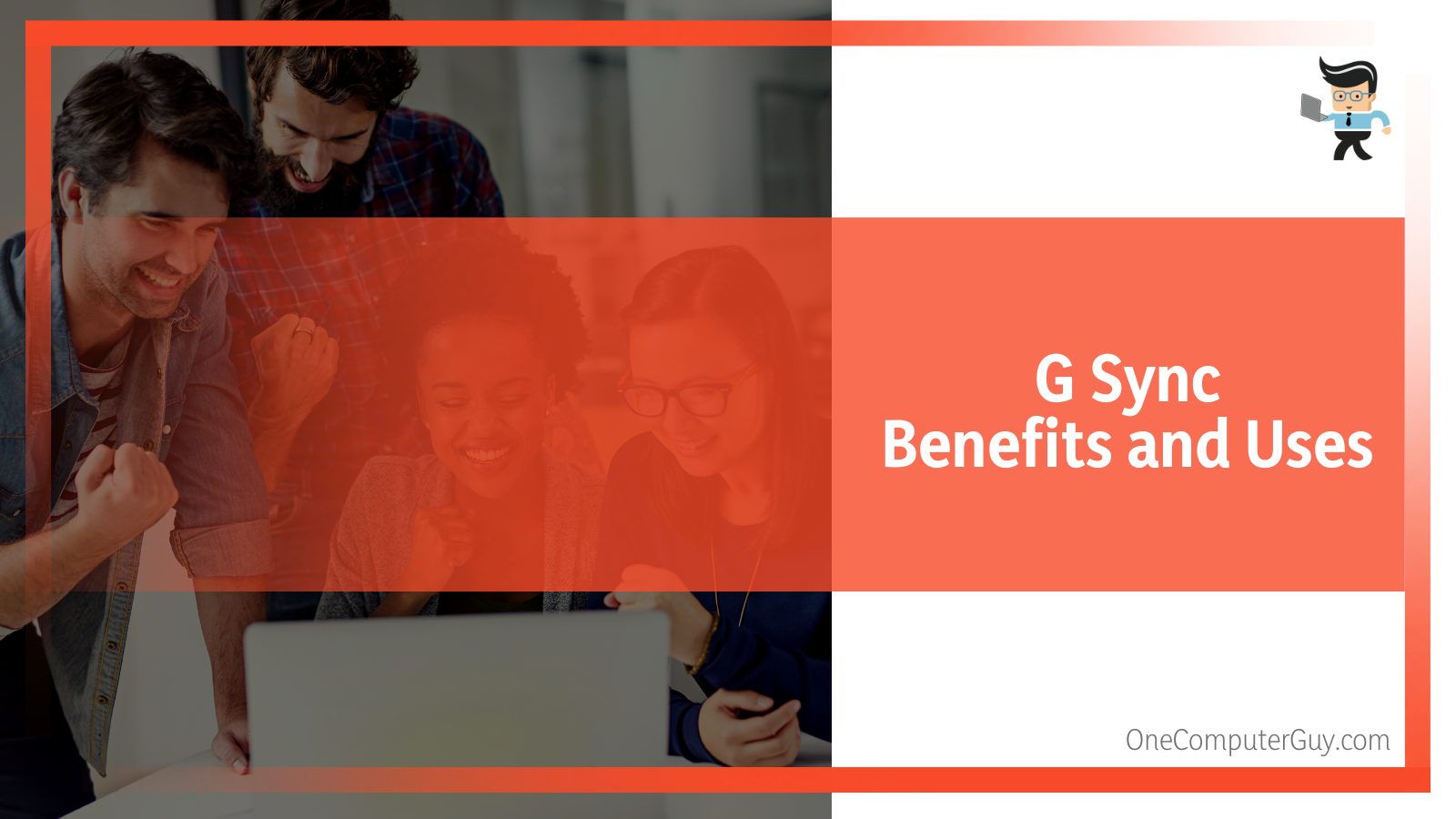 G-Sync compatible displays or TVs feature a VRR and are able to sync their maximum and minimum refresh rates with the frame rate of your system's Nvidia graphics card.
The refresh rate can increase and be as much as the maximum rate of the monitor.
As a result, you're able to see images as soon as they're rendered, and you won't see a delay between when you actually move the mouse and when the cursor on your screen moves.
You get other benefits, too. For instance, you can enjoy a better movie or gaming experience thanks to features that let you benefit from your display's full capability, seamless pictures, HDR content, and hardly any frame drops.
Different Types of G-Sync Classes
G-sync has recently started gaining popularity, but it has been around for a while now, and it has three classes: G-Sync, G-Sync Compatible, and G-Sync Ultimate.
G-Sync is the standard version, while G-Sync compatible is the cheapest of the three since display makers don't need to purchase Nvidia's hardware. And g-sync ultimate is primarily for HDR content.
We've already talked about g-sync. Let's quickly take a look at the other two classes.
– G-Sync Ultimate
Previously known as G-Sync HDR, G Sync Ultimate makes HDR content look even better than it does with G-Sync.
Unlike the standard G-Sync, this tier promises a number of things because of the advanced g-sync processors.
These include the ability to run HDR games and videos at the highest refresh rate at the maximum resolution and ultra-low latency.
Other benefits include maximum brightness of 1000 nits for HDR games and videos, DCI-P3 color gamut coverage, and multi-zone backlights.
However, know that these displays are usually big format gaming displays, which is why they are quite costly.
– G-Sync Compatible
Back in 2019, Nvidia started to test and approve certain displays to run G-Sync, including those that feature other kinds of adaptive sync technology like FreeSync.
Such monitors were then called G-Sync compatible. And while you get most of the benefits that you get with the higher-end ultimate tier, there are a few drawbacks.
For instance, there are a few things you can't do with these compatible displays. These include variable overdrive, overclocking, and ultra-low motion blur.
But that's about it. So if you're on a budget and can tolerate slight frame drops, you can go ahead and look for a G-Sync compatible display.
What Is FreeSync, and How Does It Compare With G-Sync?
AMD FreeSync is also an adaptive sync technology and gives tough competition to G-Sync. Both display technologies use VESA's adaptive sync protocol.
And just like you need the Nvidia graphics card for G-Sync, you need the AMD graphics card to be able to use FreeSync.
But there are certain differences.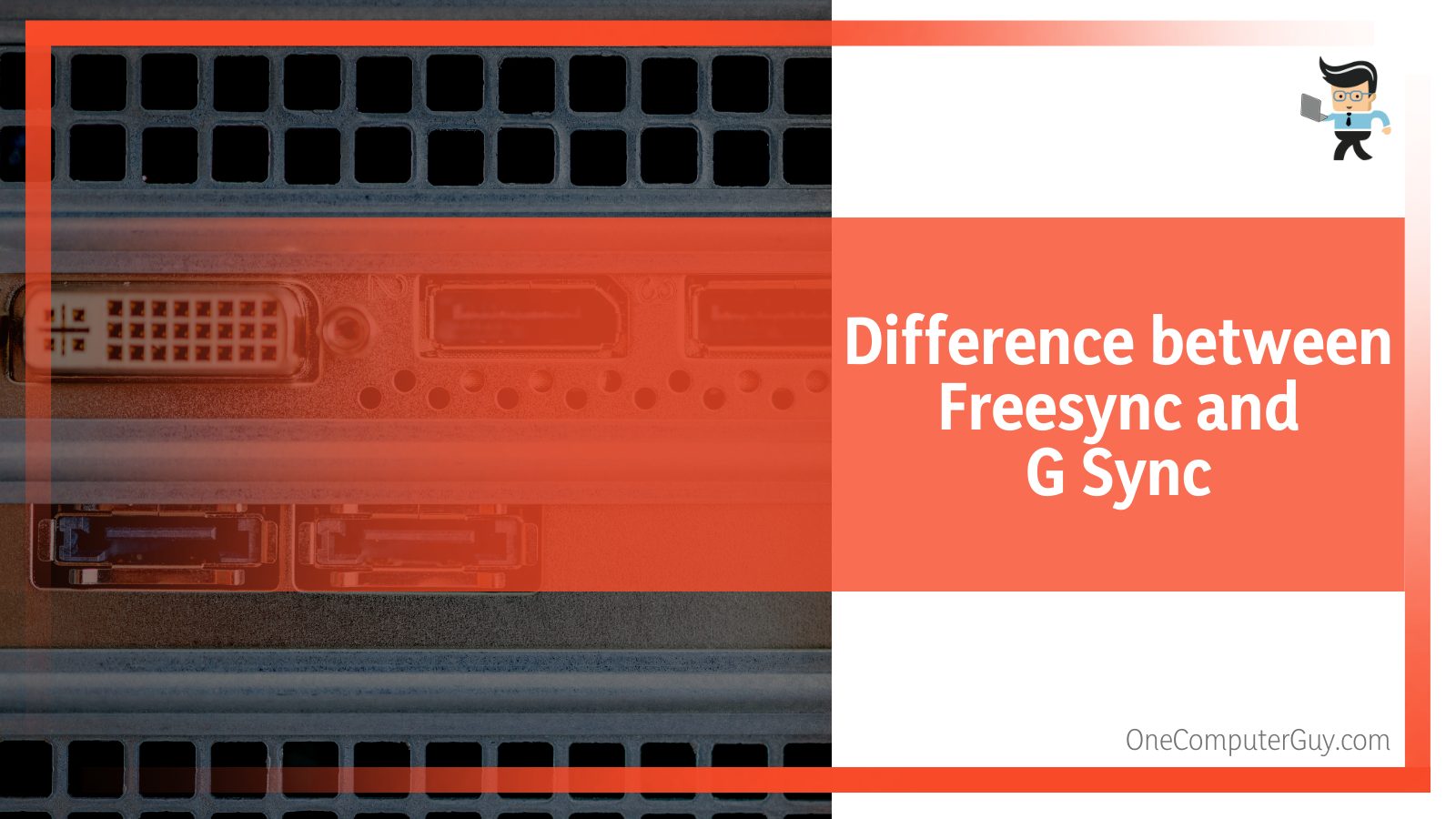 The primary difference between the two is that FreeSync works over both HDMI and DisplayPort (and over USB-C). However, G-Sync only works with DisplayPort, unless you use a G-Sync compatible gaming monitor or display. However, the company is working on changing this and soon.
And while both FreeSync and G-Sync are based on Adaptive-Sync, you need an Nvidia chip for both the ultimate and standard tier.
Monitor vendors must buy this chip instead of the scaler they'd purchase to get their monitor certified for both g-sync tiers.
On the other hand, FreeSync is open-standard. Plus, FreeSync monitors are cheaper than G-Sync displays.
You also don't need the Nvidia chip for G-Sync compatible monitors. Plus, most FreeSync-certified monitors are also G-Sync compatible.
Enabling G-Sync on a FreeSync Display With HDMI
It's easy to use g-sync on a FreeSync-certified monitor and just involves the following steps:
Open up the Nvidia Control Panel.
Go to Display and choose Set up G-Sync.
Check the option that says Enable G-Sync G-Sync Compatible and choose the options you prefer.
Choose your monitor.
Click on the option that says, "Enable settings on the selected display model."
Finally, apply the settings.
FAQ
– Does HDMI 1.4 Work With G-Sync?
G sync HDMI compatibility differs from model to model. While the initial G-Sync monitors only worked with DisplayPort, newer G-Sync models like the Asus ROG Swift units come with an updated module that allows you to use inputs over HDMI 1.4.
However, G-Sync is still limited to DisplayPort, while FreeSync is available over HDMI, too.
– Does HDMI 2.1 Allow G-Sync?
With the introduction of HDMI 2.1, one output cable allows gaming at both 8K 60 FPS and 4K 120 FPS.
It also allows VRR g-sync gaming at wider refresh rates and higher resolutions. It also introduces a number of technologies that further improve your gaming and streaming experience.
– Do Both FreeSync and G-Sync Work Over HDMI?
HDMI has a number of benefits for gamers, with the biggest one being that it supports both G-Sync and FreeSync. In fact, FreeSync technology has upported HDMI ever since it was introduced.
Most FreeSync certified displays support VRR technologies over HDMI long before HDMI 2.1 was introduced and VRR was adopted.
All this makes HDMI a great choice for a number of different purposes.
– Is DisplayPort Much Better Than HDMI for G-Sync?
When you compare G-Sync HDMI or DisplayPort, you're most likely better off using DisplayPort to connect your card to the monitor.
This is because it offers better bandwidth and complete support for adaptive refresh features such as FreeSync and G-Sync.
In fact, DisplayPort 1.4 is far better than HDMI 2.0, and the recently-announced DisplayPort 2.0 is expected to have higher bandwidth than HDMI 2.1 and thrice the bandwidth of DisplayPort 1.4.
– Does Samsung Odyssey Come With G-Sync?
The Odyssey series from Samsung includes excellent gaming monitors. It features a native 240 Hz refresh rate and supports both G-Sync and FreeSync.
– Does ASUS TUF Come With G-Sync?
TUF gaming monitors support FreeSync Premium and are compatible with G-Sync to reduce ghosting, tearing, and stuttering and provide a more fluid experience.
Conclusion
G-Sync can ensure a smooth, enjoyable gaming and movie-watching experience because of its ability to reduce problems like image stuttering, ghosting, tearing, juddering, etc.
And when it comes to its compatibility with HDMI, you're bound to have a good time.
So, let's quickly recap all that we've covered in this article:
G-Sync can only work if your monitor is connected to a system with a G-Sync compatible card and if it supports HDMI 2.1. It also works with third-party cards.
G-Sync displays feature a VRR and can sync both the min and max rates with your card's frame rate and can increase as much as the monitor's max rate.
There are three tiers for g-sync:

the standard tier, the ultimate tier, and the compatible tier.

The ultimate tier features advanced g-sync processes and is geared more towards HDR content.
Just like g-sync, another adaptive sync technology is FreeSync by AMD. Both work with HDMI, but there are certain differences between the two.
It's also easy to make g sync function on your HDMI-compatible screen; you just need to tweak a few settings listed above. Once you follow those, we're sure you'll be able to enjoy a better viewing experience.