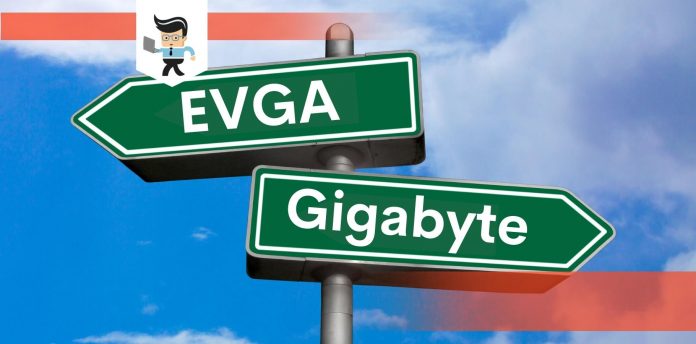 EVGA vs Gigabyte is a common debate that often comes up among computer users and, in particular, gamers, especially when it's time to upgrade the GPU or motherboard.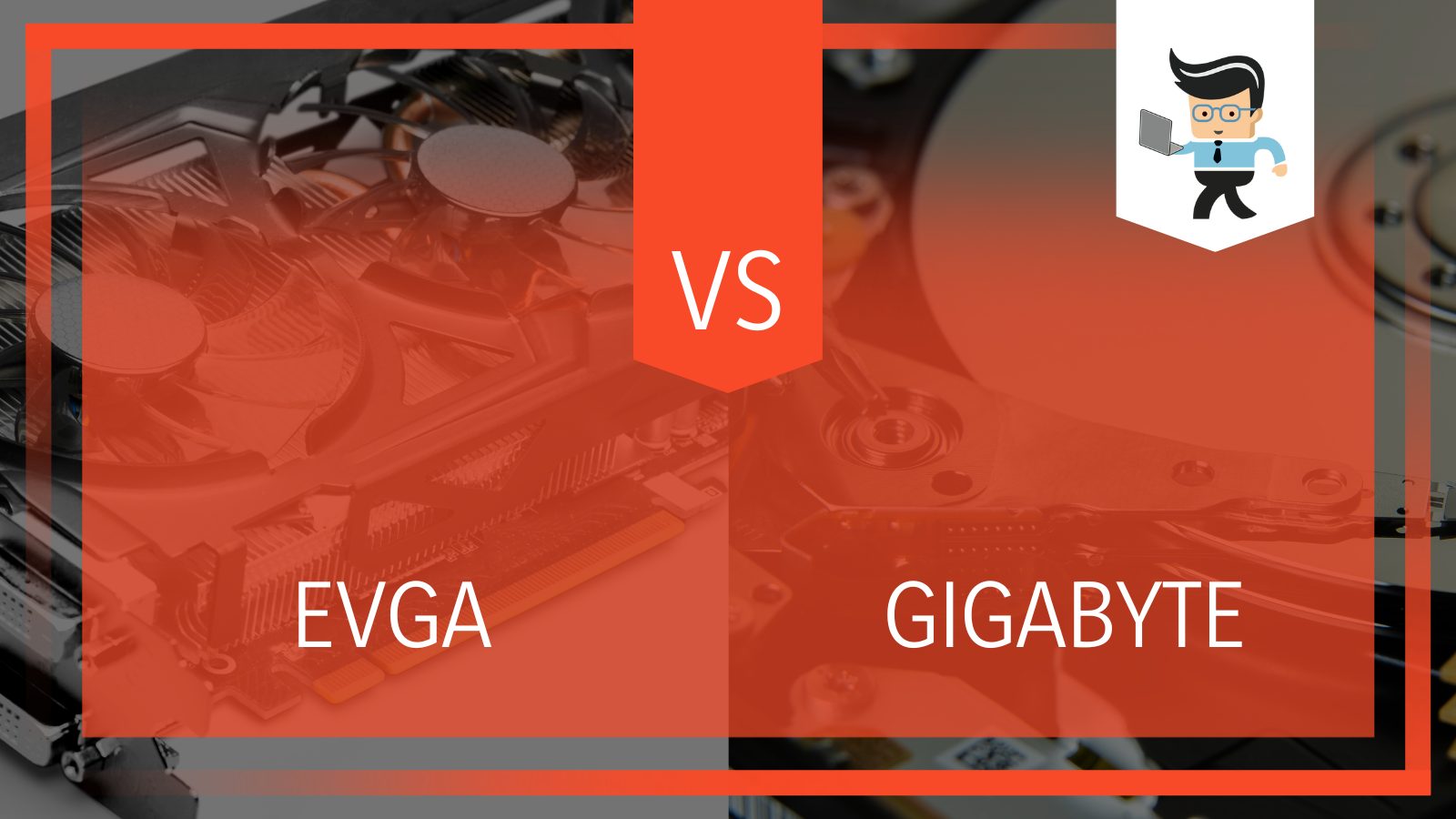 But if this is your first time upgrading your components and you're not sure which company you should trust, we're here to help.
In this complete guide, we're going to present all the differences between the two companies so that you have a better understanding of which one is better for you. With the help of our experts, you can make the right choice!
EVGA vs Gigabyte Comparison Table
| | | |
| --- | --- | --- |
| Feature | EVGA | Gigabyte |
| Cards | NVIDIA cards only | NVIDIA & AMD cards |
| Transferable Warranty | Yes | No |
| Product Variety | Less | More |
What Are the Differences Between EVGA and Gigabyte?
The main difference between EVGA and Gigabyte is that EVGA provides better customer service, superior support, and transferable warranties, while Gigabyte promises a wider range of products. EVGA only makes NVIDIA cards, while Gigabyte produces both AMD and NVIDIA cards. Both brands produce products of excellent quality.
– Product Variety
Now that you have a brief idea of how the two brands differ, let's go into more detail and thoroughly explore all the differences.
Let's first talk about the variety of products that both brands offer. In the past, both brands used to sell the same kinds of products, but things have changed since then. Currently, the products that both companies offer overlap only in a handful of areas. Primarily, these are motherboards, GPUs, keyboards, and mice.
If you take a look at both brands' websites, you'll realize that Gigabyte is the clear winner when it comes to variety in all categories. This is because EVGA operates more on a smaller scale and hasn't been in the market as long as Gigabyte has, which is the main reason for its lack of products, particularly when it comes to motherboards.
– GPUs
Neither of the companies builds or assembles the components needed for a functioning graphics card. There are only 2 main manufacturers that really manufacture graphics cards — AMD and NVIDIA.
Companies that "produce" GPUs, including EVGA and Gigabyte, both buy the important parts from AMD or NVIDIA. They add on some proprietary cooling technology and other similar add-ons, put it in some configuration or form factor, and sell the resulting product as their own, such as the EVGA GeForce RTX Ti FTW cards or the Gigabyte GeForce cards.
As a result of this, there's not a lot of difference in the performance of these cards from both companies. With that being said, even if there aren't many differences in the technology and performance, there are still a lot of differences in the cooling system, reviews, and selection. This can be better understood by comparing the different tiers of GPUs available.
– GPU Tiers
GPUs can be divided into three tiers: low-end, mid-range, and high-end tiers. Comparing how EVGA and Gigabyte perform in all these tiers can help choose which brand you should go for.
The EVGA GeForce selection of the 10, 200, or 700 series isn't very large. In fact, the different versions available are just very basic. These products don't have an advanced cooling system or some other exceptional features. Such bells and whistles are available on the pricier products.
Meanwhile, the Gigabyte GeForce collection is super impressive. There are at least 300 different kinds of NVIDIA GeForce 10, 900, 700, 400, and 200 Series GPUs in addition to the 50 kinds of AMD cards they offer.
So in terms of the low-tier GPUs, Gigabyte is the clear winner. Apart from offering both AMD and NVIDIA cards, the variety is also much larger. Gigabyte's catalog of midrange NVIDIA and AMD cards also gives users a lot of options to choose from. And while EVGA also has a decent collection, the versions and variety that Gigabyte offers are unmatched.
And finally, the high-end GPUs is the tier where you really start to see the differences in cooling systems and form factor, with the former having a much bigger impact on the GPU's performance. As you might have guessed, Gigabyte takes the cake when it comes to high-end GPUs, too. Their large collection of AMD and NVIDIA GPUs makes EVGA's lineup look absolutely poor. Plus, Gigabyte also has some cooling options that outperform EVGA's proprietary cooling systems.
– Motherboards
Our EVGA vs Gigabyte motherboard comparison shows that the former is the winner in this category, too. Even though EVGA initially started out by making motherboards, it has pretty much moved on since the website contains only a handful of motherboards. Meanwhile, Gigabyte has many different lines of motherboards designed for both enterprise and individual customers.
Its Ultra Durable, Aorus Gaming, and Gigabyte Gaming lines of motherboards include a total of nearly 1000 models while their IoT and WorkStation lines also include over 50 models. Apart from the wide variety, there's no evidence that EVGA has much better motherboards than Gigabyte. This is why we find Gigabyte to be the winner in this regard, too.
– Peripherals
In this case, Gigabyte also has a much larger selection of keyboards and gaming mice as compared to EVGA. Products by both companies are comparable in terms of form factor, price, and functionality.
However, it's important to mention here that neither Gigabyte's nor EVGA's keyboards or mice are known for being one of the best. This means that both companies produce average peripherals that are clearly outperformed by products from other brands by a long shot.
– Customer Support
The customer service and support provided by EVGA are much better than that provided by Gigabyte, especially if you're in the USA or some other English-speaking country. Since EVGA is based in America and has an American support staff, it's very easy and convenient to get the help you need to solve a problem.
You'll rarely find any bad reviews about people's experience with EVGA's customer support team. Of course, this doesn't mean that Gigabyte's customer service team is the worst, but it is definitely not as good when compared to EVGA's. This is particularly because Gigabyte's customer service is sometimes spotty and usually difficult to reach.
– Warranty Service and Terms
Both Gigabyte and EVGA provide a 3-year warranty on all their GPUs. The two have simple, standard warranty policies where they guarantee to replace or repair the GPU if it has some defect in either workmanship or material, causing your graphics card to create problems within 3 years of the purchase.
But what sets EVGA ahead of Gigabyte is the transferable limited warranty it offers. According to this clause, you can transfer the GPU's warranty to someone else if you sell the GPU to them. This is a very small difference, but one that sets EVGA apart from Gigabyte.
– Customer Reviews
Customer reviews present on different sites pretty much say the same thing, and it's what we've already talked about: EVGA has a smaller collection of products, but its warranty and customer service are commendable.
Some people also state that GPUs produced by Gigabyte have a more impressive cooling system. But apart from that, GPUs by both brands are quite similar in performance, are made using materials of similar quality, and also last for almost the same time period.
So, when it comes to choosing which one you should go for, it's up to you to decide whether you prefer a larger variety over better customer service or vice versa.
– Company Profile
In this section, we'll take a quick look at how these companies started and what they have to offer their consumers.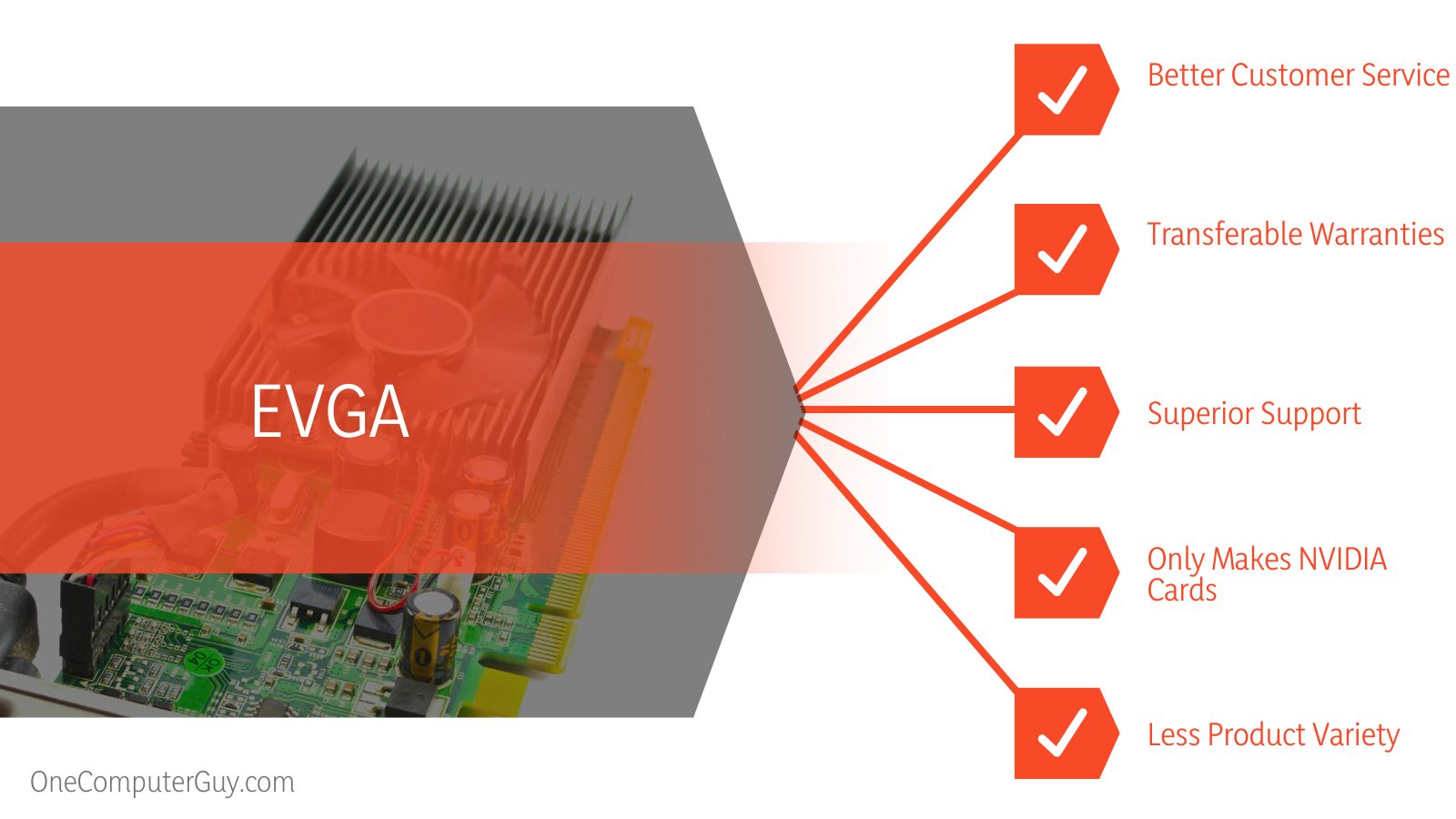 EVGA
EVGA came into being in 1999, but it didn't take long for the company to become one of the best. Just a few years after it was established, the company solidified its place as one of the best manufacturers of NVIDIA reference-designed motherboards and NVIDIA-based cards.
It was also one of the first companies that introduced new, innovative tech like factory overclocked GPUs, GPUs that could run in 4-way SLI, and motherboards that could support 4 GPUs in SLI. The company also started to produce Intel-based motherboards in 2009, but that was just the start.
In the last few years, the company focused on widening its range of products, introducing new innovations, and making existing processes better. As a result, its range of products now includes components like computer cases, liquid coolers, and power supplies as well as computer accessories such as keyboards and mice. They've also set foot in the premade gaming laptop and tablet computer market.
Of course, not all of its products have been successful, but the company's willingness to expand its range of products and take risks makes it one of the best brands today.
Gigabyte
Meanwhile, Gigabyte was founded in 1986 and soon went from a computer hardware company to one of the biggest producers of motherboards, so much so that in addition to consumer spaces, it also caters to industry and enterprise spaces.
Even though the company's main business is manufacturing motherboards, it has also entered the consumer market with electronics like PDAs, mobile phones, ultrabooks, desktops, and tablets. Just like EVGA, it also sells components such as cases, power supplies, cooling systems, keyboards, gaming mice, monitors, and optical drives.
But what distinguishes it from EVGA is that it also caters to enterprise clients with its lines of network equipment, server racks, and server motherboards.
What Is EVGA Best For?
EVGA is the best choice for those who often have trouble handling computer components and those who would definitely need customer support's help. It's clear from the comparison that EVGA has a much smaller and more focused business that prioritizes the English-speaking/North American market considering their customer service.
Even though Gigabyte has been present for a longer time and has a wide range of products, its subpar customer service will leave you in a bind if you run into a problem with one of your Gigabyte products. So if you prefer NVIDIA-based GPUs and are an American, it's better if you opt for EVGA.
– EVGA or Gigabyte 3080
A comparison of the EVGA GeForce RTX 3080 and Gigabyte GeForce RTX 3080 Gaming OC shows that the EVGA GeForce RTX 3080 is better because it has a higher texture rate, faster GPU turbo speed, and an additional HDMI port.
Similarly, an EVGA vs Gigabyte 3080 Ti comparison shows that the latter is better. For instance, when you compare the EVGA GeForce RTX 3080 Ti and Gigabyte GeForce RTX 3080 Ti Gaming OC, you'll see that the latter is more effective and relatively better, making it the better choice.
What Is Gigabyte Best For?
Gigabyte is the best option you should go for if you can't find a card in EVGA's collection or if you want an AMD card. It is also the better option if you want a high-end with superb cooling technologies, especially if you plan on overclocking your GPU.
And finally, if you're looking for a motherboard, Gigabyte is the better option since EVGA only has a very few limited options.
– EVGA or Gigabyte 3070
Different comparisons suggest that the Gigabyte is the better option. For instance, a comparison between the Gigabyte GeForce RTX 3070 and EVGA GeForce RTX 3070 proves that the former is better because of better dimensions, more memory bandwidth, and higher memory clock speed. It also has one extra HDMI port and RGB lights.
The same is true for EVGA vs Gigabyte 3070 Ti reviews. The Gigabyte GeForce RTX 3070 Ti Gaming OC is considered the better option primarily because it is cheaper, shorter, and has an additional HDMI port.
– EVGA vs Gigabyte vs MSI
All three brands take cards from AMD, NVIDIA, or both, overclock them, add some superior tech and cooling systems to them, and sell them under their brand name. So when it comes to choosing which brand you should go for, it depends on the model you're looking into. All three brands have premium models that outperform the others.
Conclusion
As you've seen in this EVGA vs Gigabyte review, both companies have some differences and similarities, and both have their advantages and drawbacks. But the main difference is that EVGA has better customer support and service and a transferable warranty clause, while Gigabyte has a wider range of products and superior cooling technology in its GPUs. Plus, Gigabyte has both NVIDIA and AMD-based GPUs, while EVGA has just NVIDIA-based GPUs.
So you can choose EVGA if you're sure you're going to need customer service's help somewhere down the road or if you plan on selling your GPU after a few months of use. In the case of the latter, having a warranty can help you get a better price.
But if you can't find the product you want in EVGA's lineup, you can turn to Gigabyte. Since a GPU, or even some other computer component, is quite a big investment, it's important that you do thorough research before making the final choice.