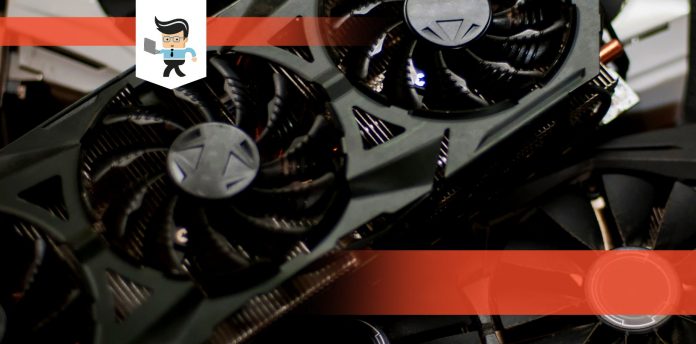 Without the best single slot GPU, you'll struggle with a lot of issues, including low frame rates, haphazard gameplay (if you're a gamer), and other unwholesome problems. A single-slot graphics card puts an end to all that and more, thanks to smooth graphical processing.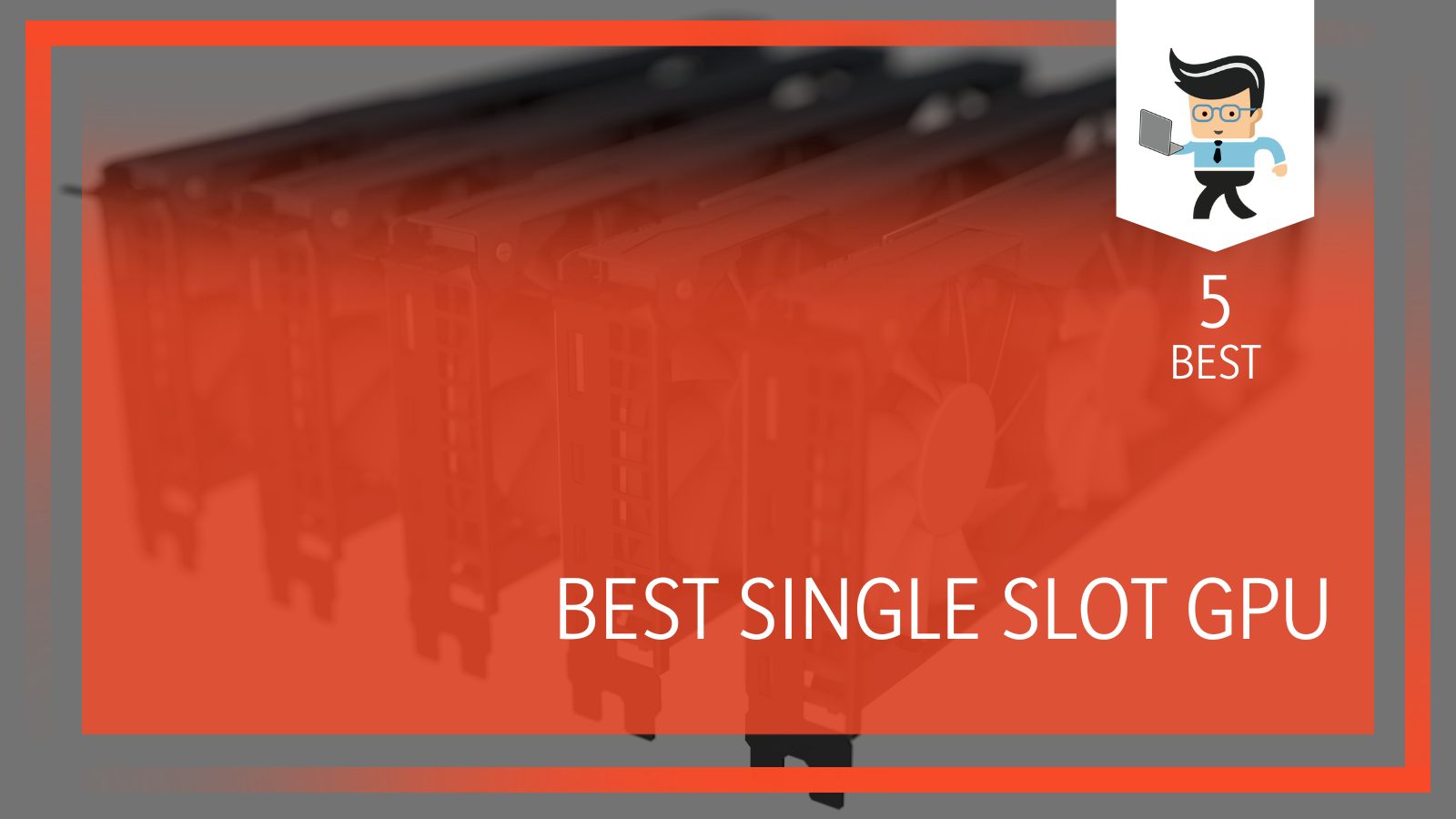 What's more, it's inexpensive to run single slot units, and they'll take up less space without sacrificing performance and efficiency.
If you're searching the market for one, our review of the best five picks will help you make an informed choice. Follow us as we get right to it!
Best Single Slot GPU: A Peek at the Key Specifications
Product 
Key Specifications 
Yeston Radeon RX550

Brand: Docooler
Video Output Interface: VGA, DVI, HDMI
Graphics RAM Type: GDDR5
Graphics RAM Size: 2GB (4GB)

EVGA GT 710

Brand: EVGA
Video Output Interface: DVI
Graphics RAM Type: DDR3
Graphics RAM Size: 2GB

PNY Quadro P620

Brand: PNY
Video Output Interface
Graphics RAM Type: L2 cache
Graphics RAM Size: 2GB

ZOTAC GeForce GT 710

Brand: ZOTAC
Video Output Interface: VGA, DVI, HDMI
Graphics RAM Type: DDR3 SDRAM
Graphics RAM Size: 2GB

PNY Quadro P4000

Brand: PNY
Video Output Interface:
Graphics RAM Type: GDDR5
Graphics RAM Size: 8GB
Best Single Slot Video Card: A Comprehensive Review
For a small PC case that has several vital and installed peripherals in other slots, going for a single slot video card is a given. You'll also benefit from having a GPU that doesn't consume much power or buying a high-end gaming power supply to run it.
Here are the best options:
Pros
Cool and quiet
Big esports performance leap over integrated graphics
It comes with a modern ecosystem
Feature cool media features
Cons
Doesn't have a miniature form factor version
The Yeston Radeon RX550 graphics card comes with eight compute units and 512 stream processors, but you don't need too much horsepower to drive esports or home theater PCs.
For operations, it makes do with a 1,100MHz base/1,183MHz boost clock and up to 2GB of GDDR5 memory with a 128-bit bus. 4GB models will also have this limitation in numbers.
These modest internals don't need much power since most of their power comes from your motherboard's PCle slot. There's no need for extra cables for those who just want to go straight to the point.
Features: Quality Connections
While it has esports gaming capabilities, thanks to the FreeSync variable refresh rate displays, the Radeon RX550 supports modern media technologies.
To that end, you'll find an HDMI 2.0b and DisplayPort 1.4 connections, which can handle 4K resolution and high-dynamic-range video. The GPU is also capable of HEVC encoding and decoding.
Performance: Superior Benchmarks
We already know that this single slot graphics card can esports gaming, but what else can it do for you as a user?
First of all, you'll require some compromises depending on the type of games you play. That's because you have to boost up the frames per second to run smoothly.
The RX550 will deliver a superior experience even than the Radeon integrated graphics in a pricier AMD APU. The tested games will surpass 100fps at far higher resolutions and graphics settings. Not bad!
The Radeon RX550 can also handle quality-sapping games like The Division and Rise of the Tomb Raider at low settings. If you have a vast range of tasks you need this RX550 for, you'll need a more potent graphics card. Until then, it can perform wonders on esports.
Expect modest power usage and modest heat dissipation from this card. Perhaps you have a PC using integrated graphics and want to get more out of your esports experience. This RX550 is the perfect option to deliver at all times.

Overview
The Radeon RX550 is built to add value to gaming, attracting esports gamers and home theater PC owners. Its pricing is a bit on the high side, but the performance you get makes that irrelevant. You'll hardly have issues streaming or playing those adventure games.
Pros
Simple installation process
Supports three different HD displays simultaneously
Top-notch performance
Nvidia's PhysX gaming technology is present
Cons
Will strain during intensive gaming
The EVGA GT 710 is available at a price many enthusiasts will find normal. It has just the right features you can expect, and it's worth it, depending on the variety of uses it's applied to.
With the advances in integrated graphics performances, the market for a single slot low profile graphics card like this one is diminishing. Modern CPUs ranging from Intel to AMD are now found with built-in graphics capabilities, which are more than adequate for most non-gaming purposes.
However, the EVGA GT 710 gives you 2GB of DDR3 memory, connected via a 64-bit bus. That's high enough for some performances, but not that high. But it is still faster than many of Intel's existing integrated graphics solutions.
Build and Features: Built for Quality Displays
The tripartite connections on the EVGA GT 710 give you each one of VGA, HDMI, and DVI-D outputs. What's more, if you have the right peripherals, you'll be able to display 3D content on supported TVs and displays with billions of colors and support for 7.1 surround sound.
The card can be output on all three ports simultaneously for multi-monitor setups. However, there's no DisplayPort available. The resolutions at 60Hz reach a maximum of 2560×1600 for digital outputs and 2048×1536 for the VGA adapter.
The EVGA GT 710 features a passive cooling and fanless design. With silent runs. You'll notice the absence of moving parts and increases in the long-term reliability over fan-based coolers, which can fill with dust and seize up over time.
The best part about this card is its ability to fit inside multiple PCs. It's as tiny as graphics cards come and follows that up with full height and half height brackets in the box. That makes it suitable for multiple PC form factors, although the thickness of the passive heat sink means the card will take up two PCI Express slots.
With six similar versions of this card, you can choose one that has a fan-based cooler instead or a 2GB version of a fixed full-height board.
The power requirements are another advantage that sticks out. You can go as low as 300W for power supply, and there's no need for special PSU connectors to connect the card.
Performance: Ten Times Better Than Integrated Graphics
According to Nvidia, this graphics card can perform up to ten times better than integrated graphics. But it's not a thrilling performance upgrade for gaming. When it comes to frame per second, all you get is a system just moving along, but not as fast.
You don't have to put so many expectations on this low-profile card because the truth is you'll need more to run more demanding titles. To enjoy how it performs, reduce the quality settings as low as you possibly can while sticking to a 720p resolution.
Even with such reductions, you'll be able to play some games without hitches and with smooth graphics using the GT 710.
If you're wondering if it's worth it, bumping up the quality of the card a notch from Ultra Low to Low reduces the performance by half. That may be manageable for some users, but running at 1080p with Ultra-Low settings is another option.
You won't be lucky with the performance on some games, while others will let you run in very low resolutions like 800×600, in which case you'll have some chance.

Overview
This graphics card is for those trying to build or repurpose a PC as a home media center. Adding the GT 710 will ensure compatibility with the latest displays. Since it's passively cooled, there's no fan to generate any noise while you're watching a video, gaming, or listening to music. You'll also get accelerated video playback options.
Pros
Favorable RAM size
Support for quality displays
Wide usage
Cons
The Quadro P620 combines a nice core, large onboard memory, and advanced display technologies to deliver outstanding performance for a range of professional workflows.
Users can brace up for 2GB of ultra-fast GPU memory, which enables the creation of complex 2D and 3D models coupled with a flexible single-slot, low-profile form factor.
This form factor and profile make it compatible with even the highest space and power-constrained chassis. There's support for four 4K displays with HDR color to give you an expansive visual workspace to view your creations in superior-quality detail.
Features: Configured to Suit Your Needs
The Quadro P620 is quite a common device in lower power workstations and servers as one of the most miniature form factor graphics cards you can get. While other similar graphics cards may grab the headlines, cards like the P620 have large installed bases and are adopted by many OEMs.
It comes with three drivers for computing its operations. It has a low profile, single-width form factor, which fits many chassis offering deployment capability. Then there are the four digital display outputs that many traditional servers lack.
But these outputs are essential for multi-monitor setups and running digital signage and office dashboards. The Quadro P620 will also offer application certifications that many organizations require for support.
Performances: Not the Fastest Card
From what's obtainable on this card and the features we covered above, you shouldn't expect this graphics card to be the fastest out there or in this review, even though it compares to other cards in its class.
It will run some modern games in low and medium settings. The downside of it is that it seems overpriced and doesn't come with enough features to justify the cost.

Overview
The Quadro P620 is suitable for users looking for a very low profile graphics card to complement their in-built integrated cards. The performance you get from it is average at best, and it's passively cooled.
Pros
Great for photo and video editing
Can run three different displays simultaneously
Minimal power consumption
Low-profile capabilities
Cons
Cooling is not efficient enough
While this GeForce GT 710 won't rank as the fastest single slot GPU, it does enough to make this list. The card features the NVIDIA GeForce GT 710 processor, the essential component in any graphics card.
Many people and credible sites rate processors by how they cope with games or how their chips run. This graphics card can run more than three hundred games with its low profile.
Build and Features: Designed for Simple Tasks
With a 25-Watt max power consumption, this device is engineered to enhance your entire PC experience with NVIDIA GeForce GT graphics cards.
You can also explore the option of upgrading to the new dedicated card for accelerated performance in demanding PC multimedia applications that integrated graphics can't deliver.
The GT 710 features advanced graphics technologies to help you enjoy fast web browsing, photo and video editing, and gaming. It is a simple way to get your PC up to speed.
Performance
One of the outstanding benefits of this GPU is the overall features and design qualities, thanks to a compact build that makes it ideal for smaller systems. As a result, it needs minimal clearance and will consume minimum power. You'll get optimal performance that moves ahead of traditional cards.

Overview
The ZOTAC GeForce GT 710 will perform well across some parameters, but the card won't handle many graphics-intensive video gaming. It's more suitable for users comfortable with basic web surfing and low-resolution gaming. However, you'll enjoy minimal power usage and optimized performances at its level.
Pros
Powerful performances
Minimal power consumption
Exceptional display quality
Cons
Around 2017, NVIDIA announced their newest professional line of Quadro graphics cards that leverage the Pascal GPU architecture.
One of them is the NVIDIA Quadro P4000, a middle-ground card specifically designed for mid-range and demanding professional applications. As one of the most powerful single slot GPU, it comes equipped with a 1792 CUDA core Pascal GPU, 8GB GDDR5 of memory, and advanced display technologies.
Power-wise, the P4000 has a max consumption quoted at 105W, which is noticeably less than some larger cards in the market.
Design and Features: Built for Quality Output
The P4000 is designed to provide more than a generous amount of display real estate with up to four 5K displays featuring HDR color support on one card.
Further, NVIDIA states that users can configure up to thirty-two 4K displays per system by connecting multiple P4000s through the Quadro Sync II2. This technology from the company allows users to synchronize the display and image output from various Quadro GPUs within a single system and across a cluster of systems.
That makes it an ideal feature for organizations that use many monitors to display analytics and other information.
Performance: Improved Performances
After tests and benchmarks were set to evaluate the performance of this device, we can say it competes well with the nearest similar-class GPUs. For example, it's similar to the NVIDIA M5000, which is a little ahead in class. But the P4000 is newer than it and features more unique components.
The P4000 has a draw time we measured at just over six seconds with an average FPS of 499.66, while the minimum FPS came in at 280.92 FPS.
Its price per performance is a good reason to be cheerful as it's equipped with a Pascal GPU and 8GB GDDR5, making for performance better than the higher-class M5000.

Overview
The Quadro P4000 is the perfect solution for professionals who need a graphics solution that excels under extreme workloads. It will boost the performance of your rig with impressive numbers and doesn't consume much of your power.
Top Benefits of a Single Slot GPU
When you want to invest in a high-quality graphics card, you have to ensure that it's more beneficial than not. You wouldn't want a card that sucks the light out of your system without delivering a credible and reliable performance. Whether you need it for gaming or something else, here are a couple of benefits you gain using single-slot GPUs.
– It Takes Up Minimum Space
Single-slot units are quite popular thanks to their minimal space-saving design. Their compact build and design make them the perfect fit for many systems without hassles.
– Enhanced Airflow
Since a single-slot card requires minimum space, it is a given that you enjoy improved airflow within the case. With large GPUs, you're worried about it blocking the effective passage of air. A small unit will guarantee the optimal performance of your system.
– Less Power Consumption
Unlike bigger and bulkier GPU options, their smaller counterparts are not power mongers. You only need minimum power to keep them running and functional.
Frequently Asked Questions
– What is a Single Slot GPU?
If you want a small device, a single shot GPU presents a compact solution because it takes up minimum space in your case and motherboard.
Many GPUs out there feature different sets of functions and specifications, but not all of them will suit your needs the same way. Since PC users have personal preferences and requirements, there are small, medium, and larger GPUs to choose from.
– Can I Use Two GPUs at the Same Time?
Yes. The latest motherboards come with multiple PCI slots capable of housing more than one GPU. If that's the case with your motherboard, then you can use two different GPUs on it simultaneously. You only have to make sure that the graphics cards are Crossfire compatible.
– How Wide is a Single Slot GPU?
A single slot GPU measures up to 2 centimeters in width. Many high and mid-range GPUs depend on more than one slot. But you can opt for the best single shot solution that performs much better and covers less space on a motherboard. In such a situation, you'll need to maintain entry-level graphics cards.
Final Thoughts
These are some of the best single slot GPUs on the market. They all have unique features but match up with some specifications. Depending on your needs and budget, it's only normal to choose the one that works for your PC.
Our team's decision bends toward the top-specced Yeston Radeon RX550 graphics card– thanks to its superior benchmarks and amazing real-life performance. The Nvidia-inspired devices also deliver excellent performance for gamers and media enthusiasts.
However, some budget options are on the list for you; the Quadro P620 should be within range. You can use other parameters like setup and benchmark performance to make your choice from these graphics cards and decide which works best for your needs.