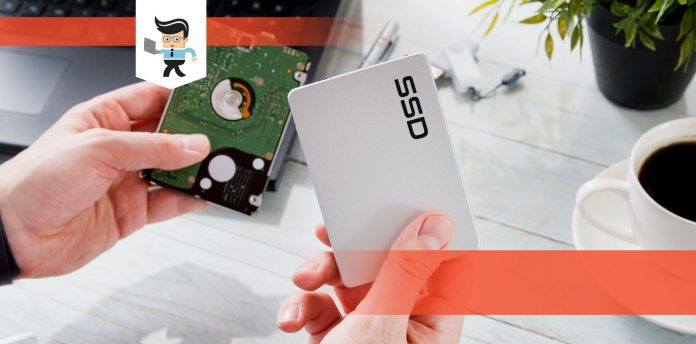 The Crucial MX500 vs Samsung 860 Evo comparison is bound to leave you scratching your head about which one to choose. When it comes to searching for options to update your system's storage, there's nothing quite better than SSDs, and these two are right up there with the best.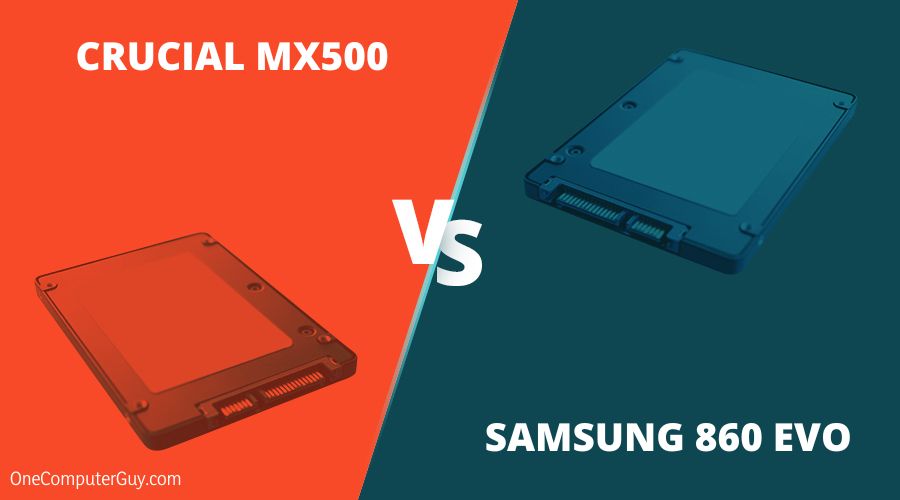 Whether you want a better gaming output or more trusted options among the plethora of SSDs in the market, these two will offer excellent value to any gaming build. Our review team is here to give you the load down on these great additions to your system and answer your questions about which one is better.
Samsung 860 vs Crucial MX500: Key Specifications
Product 
Key Specifications 
MX500

Brand: Crucial
Series: MX500
Digital Storage Capacity: 1 TB
Connectivity Technology: SATA
Hard Disk Form Factor: 2.5 Inches
Hard Disk Size: 1TB
Read Speed: 560 Mbps
Write: 510 Mbps

Samsung 860 Evo

Brand: Samsung
Series: 860 Evo
Digital storage capacity: 1TB
Connectivity Technology: SATA
Hard Disk Form Factor: 2.5 Inches
Hard Disk Size: 1TB
Read Speed: 550 Mbps
Write Speed: 520.0 Mbps
Samsung 860 Evo vs Crucial MX500: Which SSD Option Comes In Handy For You?
Perhaps you're looking at the best ways to update the old or weak hard disk on your computer system. One of the easiest ways to do this is by purchasing an SSD, also known as a Solid State Drive.
When you replace your hard disk with an SSD, it creates an instant world of difference to how your computer behaves. Depending on the specific characteristics of the SSD, you'll have the capacity to run downloads and open documents at a far quicker speed. You'll notice a general improvement in the overall performance and responsiveness of your computer system.
If you play games or do a lot of 4K video editing, a quality SSD is essential. It's a nice upgrade to have whether you want it for general use or computing.
But so many people often get their choices wrong when choosing an SSD. You'll need to look at the models and the brand behind them, and the features of the pack.
Presenting Crucial MX500 and Samsung 860 Evo
It's no surprise to anyone that some of the best models of SSDs are those built for the gaming industry. They come with premium ratings and have a rare mix of quality, performance, and affordable rates. That's a total package for gamers and hardcore computer users.
That said, this review comparison is about two highly-rated and longest-running SSDs in the market, the Crucial MX500 and the Samsung 860 Evo.
Our review team will compare these two SSDs to identify their similarities, differences, endurance, and performance. We'll also reveal which one is worth going for, considering their features and capabilities.
Pros
Easy installation process with less configuration
Easy to clone old hard drive
Lightning-fast bootup
Latest data protection
Cons
You may need additional equipment for cloning
The Crucial MX500 1TB comes across as one of the most sought-after SSDs on the market. As such, it's available in a range of capacities which could reach about 2TB.
Besides that, it arrives in two forms – the M.2 and the 2.5-inch variety, meaning it can accommodate just about any PC or laptop.
The MX500 also happens to be Crucial's first drive based on Micron's 64-layer 3D TLC NAND. That means it is designed to combine quality and speed, with sequential reads/writes reaching up to 560/510 MB/s and random reads/writes up to 95k/90k on all file types.
– Performance: Fast and Convenient Storage
With the Crucial SSD, you can start your system in seconds, store up to more than 1TB of data, and upgrade your setup with an SSD you can count on. Just like experts and other regular users, you can have an excellent platform to keep important stuff, including family videos, travel photos, music, and important documents on an SSD.
Users also get to enjoy the super-fast performance and lasting, reliable solid-state storage. It's a drive built on quality, speed, and security.
– Security: Safe and Protected
When you get any device, including an SSD like this MX500, you shouldn't have to worry about being safe or secure using it. That's why the Crucial brand makes its performance even more secure because the data comes protected by the AES 256 bit hardware.

– Overview
You get sequential reads/writes of up to 560/510 mb/s and random reads/writes up to this SSD 95k/90k on all file types on this SSD. If you're a gamer or serious 4K streamer, you'll like the seamless storage and performance. It's also safe to use, considering the AES 256 bit hardware-based encryption that keeps your data safe and secure from hackers and thieves.
Pros
Popular with different form factors
Fast sequential write/read speeds
Offers max data security
Perfect for steaming videos
Cons
Not sure compatible with some AMD motherboards
If there's ever a model of SSD closer to the MX500, it is the Samsung 860 Evo 1TB. Like its counterpart, it comes in different form factors and is also available in an extensive range of capacities, including from 250 GB to 4 TB.
The 860 Evo comes powered by Samsung's V-Nand technology. Many users enjoy the 860 Evo ranging from those who use it for everyday computing to rendering large 4K videos and 3D data.
That said, this SSD device also features Samsung's intelligent TurboWrite technology, which enables it to achieve sequential read speeds up to 550 MB/s and sequential write speeds up to 520 MB/s.
– Performance: Fast and Efficient Storage
There are many functions you can perform with SSDs, and this Evo is no different. It will perform well for personal uses, gaming and business alike. Also, with the innovative V-Nand technology, this SSD offers optimized performance for everyday computing.
– Security: Your Data Is Protected
In the same way as the MX500, the Evo is designed to keep your data secure thanks to the AES 256-bit hardware-based encryption. That's the same level of protection offered on the MX500 SSD.

– Overview
With a solid digital storage capacity and form factor, this SSD gives you vast space. It also gives life to computers when it boosts their speed and performance. It's great for gamers and steady 4K streamers as well.
MX500 and 860 Evo: Head-to-Head Comparison
The main difference between MX500 and 860 Evo is, Samsung 860 Evo has a 2.5 form factor coupled with the type of M.2 gum stick and offers more versatility compared to the Crucial MX500.
We will now look at the 860 Evo vs MX500 comparison with the key features and specifications as our main concern. After reading this head-to-head, you will surely be able to pick the SSD that works best for you. Let's get started!
Software
How an SSD operates depends on the kind of software the brand manufacturer provides to help you manage the drive. To that end, both of these models pack some of the best features in the business.
On the one hand, you have the Magician software on the Samsung SSD, a user-friendly and straightforward UI designed to make managing the Evo easy. It also comes with a range of features to help with storage, update, and your SSD's stability and performance.
The software in the Evo also lets you access your SSD's sequential and read/write speeds to ensure it is performing efficiently.
For the MX500, you get an SSD handled by Crucial's Storage Executive. It's a free downloadable tool that lets you speed up and monitor your SSD. What's more, Storage Executive also allows you to see how much storage (GB) you've used, download the latest firmware updates, and monitor your drive's temperature.
You can also use this software to activate the Momentum Cache feature, making many SSD operations up to 10x faster. On an interesting note, both softwares on these SSDs offer AES 256-bit hardware-based encryption to keep your data secure from hackers and thieves.
Capacity
Another vital feature to consider when buying either SSD is capacity in this Crucial vs Samsung SSD match-up. You'd want to know what's inside your SSD and what it's capable of handling.
For example, if you love playing games, it means you have to store up a lot of them in your system so you can always have fun when you want. In line with that, you'll need an SSD with a capacity that's at least 1TBor more than 500GB.
If you're asking why, the answer is that games are notorious for taking more space on your computer than other applications. Some of them could reach up to 100GB, and that's not considering their subsequent patches.
It then follows that an SSD with at least 512 GB or 1 TB capacity gives you a tremendous chance to store multiple games and other operating files. Both of these SSDs have the same capacity – 1TB.
You get to do a lot with your computer with this kind of capacity, including a large use of applications like photo and video editing. 1TB is a large enough capacity for different purposes, and you'll still have space left for more! You can also backup files, projects, important videos, and other data that is relevant to you.
Performance
In your bid to choose either the Crucial or Samsung SSD, performance is an essential yardstick.
How do they match up performance-wise?
The fact is that both of these SSDs have fantastic ratings and have stood out in the tech industry for a while now. As a result, we are sure both series will give you excellent speed and responsiveness across the board.
The Evo has a lower read of 550 MB/s and a slightly higher write of 520 MB/s. However, the random read/write speeds of these two SSDs are close.
The Crucial MX500 comes with a random read of 95,000 IOPS and a random write of 90,000 IOPS. Overall, there isn't much difference compared to the 860 Evo's random read of 97,000 IOPS and the random write of 88,000 IOPS.
The similar speeds also mean that both of them can take care of multiple operations simultaneously and with so much ease. If you're an average user or at the beginner level, you'll have a challenging time noticing the difference between the two SSDs.
Some More Details: Confronting These Two Brands
According to the Crucial brand, the MX500 will give users a "faster, cooler, and quieter computer" thanks to its adaptable pool of high-speed flash memory to generate blistering speeds. We also noticed that the MX500 has an integrated power loss immunity to preserve all your saved work when there's an unexpected cut in power.
For the 860 Evo from Samsung, the brand posits that the V-Nand technology will transform the performance of your computer. That includes all your applications, including rendering large-sized 4K videos and 3D data – making it a popular choice among entry-level and high-end gamers.
We also like that the Evo here offers consistent speeds, even under heavy workloads, thanks to the TurboWrite technology, coupled with a design to handle multiple applications easily. Samsung has also upgraded this TurboWrite buffer size from 12GB to 78GB with the 860 series, so you're guaranteed maximum efficiency.
Overall, it's hard to make a split decision on which SSD offers more in terms of performance. One thing is clear, though: Either the 860 Evo or Crucial MX500 will enhance your computer's response time.
Form Factor
Another aspect of an SSD to look out for is the form factor that goes with the model.
What kind of role does this play?
Well, the thing is, the SSD you get should fit into the chassis of your computer. If it doesn't, you've wasted a great deal of money. It sure helps to know the form factor of the SSD you want or ask about it to get some ideas.
The MX500 from Crucial and 860 Evo from Samsung have a 2.5 form factor coupled with the type of M.2 gum stick. With the Samsung variety, you get another version apart from the SATA – the mSATA design.
With that mSATA SSD, you get a smaller version than other standard SSDs. That makes it a superb addition for builds with much smaller spaces. As a result, our observation is that the Samsung 860 Evo offers more versatility than the Crucial MX500.
Endurance
On a general note, when you have an SSD with a large capacity, it means it can handle more by way of endurance. The Samsung Evo here has more advantage endurance-wise because it offers a minimal endurance rating of 150 TBW in the 250 GB version of the 860 Evo and an impressive 2,400 TBW in the 4TB capacity.
We are not discarding the Crucial MX500 here. It still boasts a good enough endurance, but we feel it's a little behind the 860 Evo. It will give users 100 TBW in the 250 GB capacity and 700 TBW in the 2TB version.
In the long run, both the 860 Evo and MX500 come with a 5-year limited warranty. That means whatever the choice of SSD you make, expect it to keep going for a long, long time.
Frequently Asked Questions
1. Does the MSATA SSD Hold Any Particular Advantage Over Others?
It depends on your views about them because they won't contribute so much to features and performances. What makes these SSDs ideal for many users is their versatility. They have a smaller build than other options and will fit in small spaces.
Conclusion: Which 1TB SSD Is Better?
Everything that appears on this review comes down to the main question – is the Samsung or Crucial SSD best?
The fact is that both of these SSDs have a lot in common, so the competition is a close one to call. When we think about the form factor and capacity of both, the 860 Evo comes to mind because it offers a little more choice, making it suitable for almost any PC or laptop and for any type of user, from beginners to experts.
The two SSDs also boast excellent performances across their sequential, random reads and writes. To that end, the average user will have a hard time noticing a difference between the two in terms of responsiveness or speed. With either SSD, your computer is guaranteed a significant boost.
You get user-friendly firmware on both, which keeps your SSD giving you optimized performances. Also, both have developed software to monitor your capacity, so that your data is safe with the AES 256-bit hardware-based encryption.
Flowing from all the above, we think either of these models will do a great job on your computer. However, we feel the Samsung 860 Evo offers more regarding its excellent endurance, range of capabilities, and much larger capacity to cope with high-intensity functions like gaming and 4K video editing.
That is why we'll go ahead to pick it as the stand-out SSD in this competition comparison.