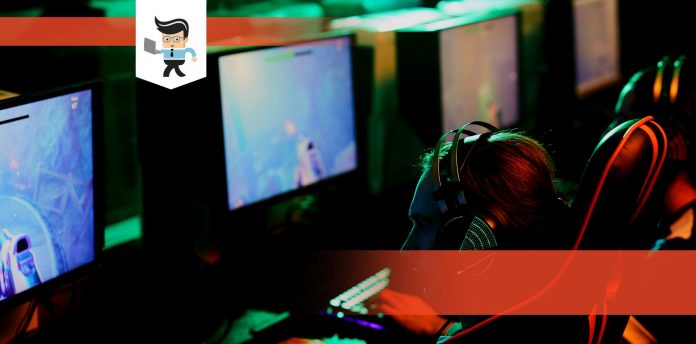 One must weigh several factors when selecting a budget 120Hz monitor. For instance, you will have to consider the speed, size, resolution, and of course, budget.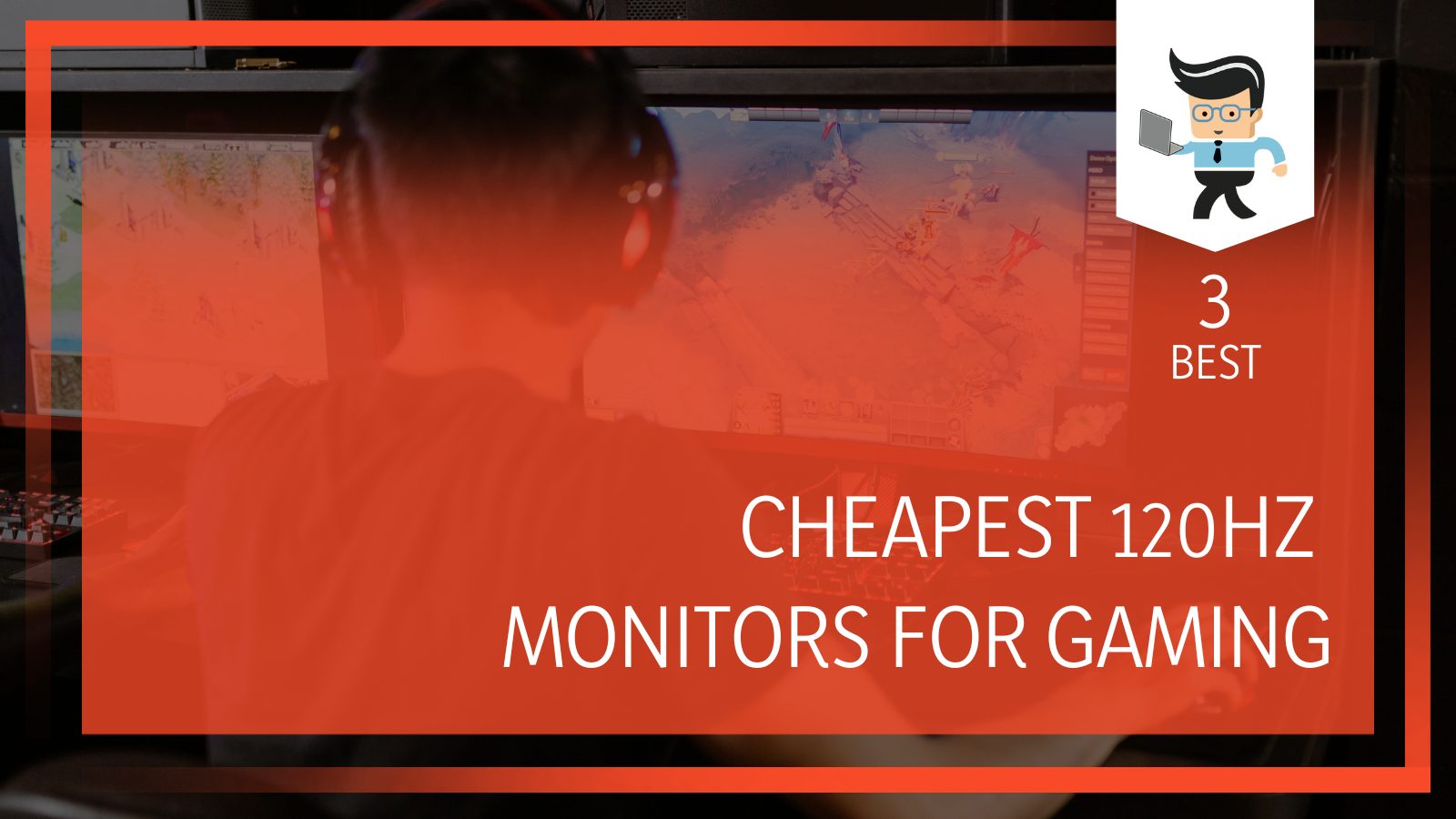 To help you, we've examined several monitors. In this review, we'll share the choices we picked with you and tell you which one is the ideal choice. Note that you won't find any 24-inch 120Hz monitor options here.
Yet, these are all great 120Hz monitors. They have a few differences, but only one is best for your rig.
Pros:
• 4K resolution
• Dual speakers
• Excellent connectivity
• Anti-glare screen
Cons:
• 10-bit HDR does not support 120Hz
• Tilt only ergonomics
The very first 120Hz monitor for gaming on this list is also the most affordable. It is an ideal monitor for gamers. That doesn't mean it cannot overcome productivity activities as well.
The Asus ROG Strix XG438Q boasts 43 inches of 3840×2160 native 4K LED resolution. It brings colors to life with its Vertical Alignment (VA) paneling. With a 120Hz refresh rate, images are buttery-smooth, and there's no ghosting in the videos.
ASUS has produced quite a legendary monitor for gaming, as it is one of the market's best values. Gaming monitors are usually costly. They have many features, such as a high refresh rate.
Yet, this monitor has set itself apart from the others, with its matte black bezels and enclosure. It has tilt-only ergonomics, an anti-glare screen, and flicker-free technology. It uses FreeSync 2 HDR technology with Shadow Boost.
The Asus ROG Strix XG438Q is also VESA compatible and comes with a variety of accessory cables. It gives support for variable refresh rates. You can use both AMD and NVIDIA graphics cards. This monitor also comes with 10W stereo speakers for clear sound.
It also has a response time (from grey to grey) of 4ms. It has a bit of text and fine detail blurring due to its rare blue-green-red layout. Modern operating systems are not quite sure how to handle this layout. Using ClearType in Windows may assist in resolving the issue. From a gaming perspective, this should not deter you as it is not a big deal. Its native resolution scale should not affect the gaming experience.
The first advantage of this monitor is its color precision. It is phenomenal because it carries the VESA DisplayHDR 600 certification. It provides a peak brightness of 600 cd/m2. Peak brightness is a measure of the light emitted per unit area. We often use this unit to specify the brightness of a display device.
The ASUS ROG Strix XG438Q also has a stunning wide color gamut. It comes with >90% DCI-P3 coverage and10-bit color depth at 60Hz.
We put the display to the test against an sRGB standard. That's where we found one disadvantage to this monitor. The greyscale is a bit more than average. It has a gamma curve of 2.4, which is well off the sRGB standard.
For more accurate performance, we recommend that you turn off the display backlight. Then adjust the color temperature and toggle the overdrive mode. Doing this affects gamma performance. This measure is the sharpness and detail of the images that appear on the screen. With those alterations, there will be significant improvements to the greyscale performance.
We also recommend doing a full calibration on the monitor. You can do it either via hardware or software. Calibration will fix issues such as the monitor's off-yellow performance. It also allows you to use sRGB accurate colors.
The ROG Strix is a great monitor for you if you prefer a bit of oversaturation and crisp, vivid colors. It essential to have clarity and sharp images in your gaming experience. The ASUS ROG Strix XG438Q will guarantee that you achieve this.
The ASUS ROG Strix XG438Q features slim, matte bezels and displays around 1.07 billion colors. Note that it doesn't support any height adjustments or pivoting, and it only allows a small amount of tilt.

The monitor's connectors are behind a removable panel, which also doubles as a cable routing channel. It also comes with a remote, batteries not included.
the ASUS ROG Strix XG438Q is an impressive gaming monitor. It sports a sleek design with matte black bezels and larger than life gaming display. It comes with a semi-adjustable stand. It is very suitable for gamers looking for deep shadows and is the cheapest model in this lineup.
Pros:
• Anti-glare screen
• No dead pixels
• No backlight bleed
Cons:
• Top left/right edges get noticeably darker over time
• No built in speakers
The Dell Alienware 1900R AW3418DW is perfect if you want a stylish, 120Hz curved monitor. It's the ideal thing for your gaming needs.
This high-end monitor gives you 34″ of immersive gameplay. Its sleek IPS panel comes with a 21:9 ultrawide aspect ratio. Thus, the screen is a lot wider on the horizontal plane. Its maximum refresh rate is 120 when overclocked.
It also gives you a wide 178-degree viewing angle. This monitor does not support 10-bit like its competitors. Yet, its true 8-bit still keeps accurate, vibrant, and consistent colors.
Its 3440×1440 UWQHD resolution provides a stunning picture. It has a high pixel density of 109 pixels per inch.
The ultrawide aspect ratio doesn't only benefit games. It helps with productivity as well. The wider screen angles can allow you to have a lot more open windows than on monitors with a 16:9 aspect ratio.
You can also use this monitor for professional photo editing. All you will need to do is a simple calibration. This calibration is to ensure appropriate gamma settings for optimal image quality.
It also has excellent ergonomics. The height, tilt, and swivel are all adjustable. Thus, you ensure maximum comfort at your preferred viewing angle.
It has a grey-to-grey response time of less than 4ms, which classes this monitor in a league of its own. This response time speed eliminates the dreaded ghosting most gamers fear. You can feel comfortable purchasing a monitor for seamless gaming.
There is far less motion blur of fast-moving objects on this IPS monitor. VA tends to provide deeper blacks due to higher contrast. From a gaming perspective, deeper blacks and sharper shadows may be necessary. Still, nothing beats a faster response time for more face-paced gameplay.
One thing that we must commend is how smooth gameplay is on this monitor. Kudos to Alienware for this 120 refresh rate monitor with G-Sync Technology. It offers higher frame rates without screen tearing. This feature is a game-changer – and we're not exaggerating.
Another commendable feature of the AW3418DW is that you can adjust the response time. It's easy to do, using the onscreen menu. You can choose between 'Normal,' 'Fast,' and 'Super-Fast.'

With faster response times, you'll get a lower input lag. Quick response time results in less time between commands and seeing changes onscreen.
Alienware has packed the AW3418DW with the best gaming features. It is the right choice for gamers who have professional needs. It can also double as a high-end office monitor for all your productivity needs.
Pros:
• Anti-glare screen coating.
• Excellent image quality.
• VESA compatible.
Cons:
• Expensive.
• Can have more ports.
• No built-in speakers.
Want a monitor that supports gaming, content, and productivity activities? Well, look no further. Dell has outdone itself with the AW3420DW. It is a follow up to the AW3418DW, but it is cheaper than the previous model.
This monitor is a 34″ savage. It offers an excellent 3440×1440 WQHD resolution for precise and detailed pictures.
It has an aspect ratio of 21:9 and a wide-viewing angle of 178 degrees. Thus, it allows easy viewing access from any angle.
For the features that this monitor offers, the price tag lies in the premium range. However, we can justify it. Let us break down the monitor in a full review.
The AW3420DW has Alienware's new design. To the rear of the stand is an oval-shaped RGB light ring. Alienware has accented it with an RGB head etched into the display backing.
You can find all the buttons for the onscreen menu on the right side of the monitor. These buttons, along with three others on the back, and a joystick, allow control of the RGB lighting. They also allow full access to quick settings or to navigate the main menu.
The bezels on this monitor are almost invisible. It has a sleek hard outer component and a slender panel border. It's seamless with the rest of the screen.
Compared to the AW3418DW, the AW3420DW weighs less. It is one of the first monitors to use Alienware's new Nano-Color IPS technology. This technology is a considerable advantage as it provides stunning color accuracy.
This monitor boasts 98% DCI-P3 and 134% sRGB presets, which eclipse its competitors' sRGB color spectrum for color accuracy for gaming. It's also ideal for editing videos or photos.
It also has a lightning-quick response time of 2ms. This response time is faster than most monitors on the market.
It also has a maximum brightness of 350 cd/m2, compared to 300 cd/m2 on the AW3418DW.
A super light plastic shield covers all its ports. That shield slides in and out of place for quick access.
The monitor also comes with native NVIDIA G-Sync, which is perfect for gamers. This feature fights screen tearing, stuttering, and juddering. It's a boon during fast-paced games or videos. Make sure your rig comes with a compatible NVIDIA graphics card. Then you are set for the most immersive gameplay experience ever.

Are you looking to merge into minimalist productivity and gaming setup? Then the Alienware AW3420DW is the perfect choice for you. It has an ergonomic design and a wall-mount option, and it gives you a flicker-free WLED backlight for extended hours of gaming.
FAQ
Why choose a 120Hz monitor for gaming?
A 120Hz monitor refreshes the image on the screen 120 times per second, offering a smoother and more responsive gaming experience compared to standard 60Hz monitors. This can provide a noticeable advantage in fast-paced games.
Does a higher refresh rate mean better picture quality?
Not necessarily. While a higher refresh rate can provide smoother motion, picture quality is determined by factors like resolution, panel type, color accuracy, and brightness. It's essential to consider all these aspects when choosing a monitor.
Will my graphics card support a 120Hz monitor?
Most modern graphics cards support 120Hz monitors. However, it's crucial to ensure your card can output at 120Hz at your desired resolution. Additionally, the game settings and the card's performance will determine if you can achieve 120 frames per second in games.
Are there any drawbacks to buying a cheaper 120Hz monitor?
While a cheaper 120Hz monitor can offer a higher refresh rate, some compromises might be made in terms of color accuracy, response time, or build quality. It's essential to read reviews and understand the trade-offs before making a decision.
Conclusion
Buying the best budget monitor for gaming can be challenging. These cheap 120Hz monitors are sure to meet your needs and budget.
Still not sure which is the right 120Hz computer monitor for you? We recommend the Dell Alienware AW3420DW. Its response time is out of this world, and it's curved for a more immersive experience. The ASUS ROG Strix XG438Q is another smart choice for updating your gaming rig.