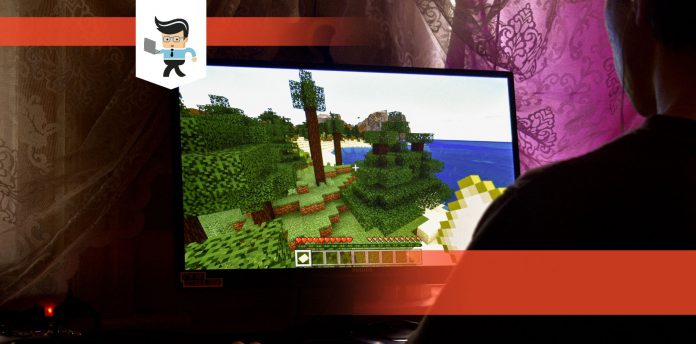 So you are shopping for a monitor, and which one is better, the BenQ XL2411Z or ASUS VG248QE? When you are trying to pick out a monitor, there are just so many things to look at that it can get confusing.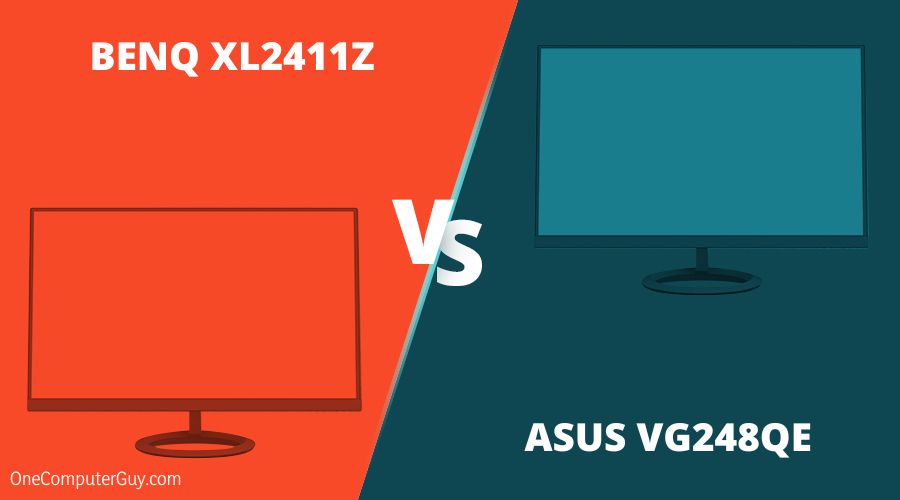 These two monitors often get compared because they are used by the same kinds of people for the same kinds of things. However, they aren't the same. You need to think through some different aspects of each before you make a final decision.
We will try to break them down and help you choose which one is the best option for you. Let's start by comparing just the specs:
| | | |
| --- | --- | --- |
| Monitor Name | BenQ XL2411Z | ASUS VG248QE |
| Size | 24″ | 24″ |
| Max Resolution | 1920 x 1080 | 1920 x 1080 |
| Refresh Rate | 144 Hz | 144 Hz |
| Panel Type | TN | TN |
| Response Time | 1ms | 1ms |
| FreeSync or G-Sync | No | No |
For most people, these specs won't really mean all that much. What you really care about is the nitty-gritty details about performance and how it actually looks. Let's get into that.
An Overview
The main difference between BenQ XL2411Z and ASUS VG248QE is, BenQ has been discontinued by manufacturers, so it's a matter of availability.
As mentioned above, the BenQ XL2411Zand ASUS VG248QE are both very similar.
You can see on the chart above that they both have 1080p resolutions, 144hz refresh rates, 1ms response times, and they both use the same panel.
However, this actually makes it much easier to choose between the two options. You need to focus not on the similarities, but on the differences. This is where you will determine whether or not the monitor is for you.
At the end of the day, we believe that the BenQ monitor is going to be the superior option for most people, but both are actually really great choices. They can both be a little difficult to get, so you may just need to choose which one is available or if one is on sale.
The BenQ has actually been discontinued by manufacturers (not because it wasn't good, but because it was updated), so you may have a harder time getting that one. Even so, it is still available on certain websites and is available for resale on some sites, so you can get it.
Overall Design
When making a comparison between any monitors, the overall design is probably going to be one of the biggest decision-makers. Now, whether or not the design of a monitor tends to be subjective in most cases. The best thing you can do is go online and look at images of the two monitors to determine which one you prefer. There are some limitations to what you can see online, however.
The ASUS VG248QE has a glossy finish that I really like looking at when it is sitting there. However, you should know that if you have kids, dogs, or you are going to move your monitor around a lot, it is prone to get scratches.
You can buy a protective coating, but that needs to be replenished every so often. The ASUS just looks a bit more expensive and has a premium feel to it, but you will have to pay to keep it that way.
That isn't to say that the BenQ design isn't serviceable. It is fine, it just tends to look a little cheaper. It also shows fingerprints more and won't clean up as nicely over time.
The picture is the most important part of the monitor experience, and the specs are similar for that. You are able to adjust the settings so that you can get the picture just how you want it. Right out of the box, both monitors have the standard settings, but you can change them however you want. You can either use the guide in the user manuals or look online to adjust your own settings easily.
One thing to note is that the BenQ monitor does have something called "flicker free" technology. This helps to prevent flickering or quickly shifts in the tone. It is good for people who spend a lot of time on their computers, those who get eye strain easily, and those who suffer from headaches.
According to the reviews that we've been able to read, both monitors stand up to the tests of time and continue working long after your warranty runs out.
BenQ XL2411Z vs. ASUS VG248QE: The Tech
When you look at the technology behind both the BenQ XL2411Z and the ASUS VG248QE, you know that they are very similar. You can expect them to perform in the same ways.
They both have a 1080p resolution, 144hz refresh rate, 1ms response time, and use the same TN panel.
These stats are why so many gamers choose to look at these two options, especially those who like to play faster games. However, this particular TN panel is known for picture quality that isn't up to par in many cases.
There are better options than both of these monitors when it comes to the tech, but you are going to pay more for them. If you are looking for something that is at the lower end of the spectrum in terms of price, these two are great. You will just have to do all that you can to ensure the picture quality stays stable.
As far as the connections go, the ASUS VG248QE has HDMI, DisplayPort, and Dual-link DVI-D connections. The BenQ XL2411Z does not have a DisplayPort connection. Whether or not you need the DisplayPort depends on what you do on your computer and how often you are going to use it.
DisplayPort is a pretty standard offering now, and it will prove to be even more important into the future. If you plan to use this monitor for a long time, especially for gaming, this is something to consider. If you are building your own system and want to use a newer graphics card, you will absolutely need a DisplayPort.
BenQ XL2411Z and ASUS VG248QE: Can They Be Improved?
If you are going to buy one of these monitors, there are a few different things that you will need to look at – the first being the connections. The connectors both seem to have some problems. You will need to ensure that the wires are not bent at all and that there isn't any pressure on the cords, or they will fall out or eventually stop working.
If I would buy one of these for my main computer, I wouldn't use the wires that come with these monitors. I would replace them with higher quality options.
Pricing
As far as price goes, they are usually both around similar prices. Like mentioned above, the ASUS tends to go on a sale a bit more often and you can sometimes even find "coupons" or codes on Amazon.
If they are both around the same price, I would go with the BenQ due to the flicker free tech. If one is significantly cheaper than the other, I'd pick the cheaper one.
Wrapping Up
Overall, it is really difficult to determine a better option between the BenQ XL2411Z and the ASUS VG248QE. They are really just so similar that it can be hard to find a real reason to pick one over the other. You should continue your search if you are looking for a monitor that has a really great picture. If the picture quality is something that you are willing to deal with, both are decent options for you.