1800R vs 1500R is a highly debated topic if you are looking to purchase a gaming monitor. Curved monitors built for PC gaming provide a broader field of vision, making your gaming experience more immersive and comfortable for your eyes.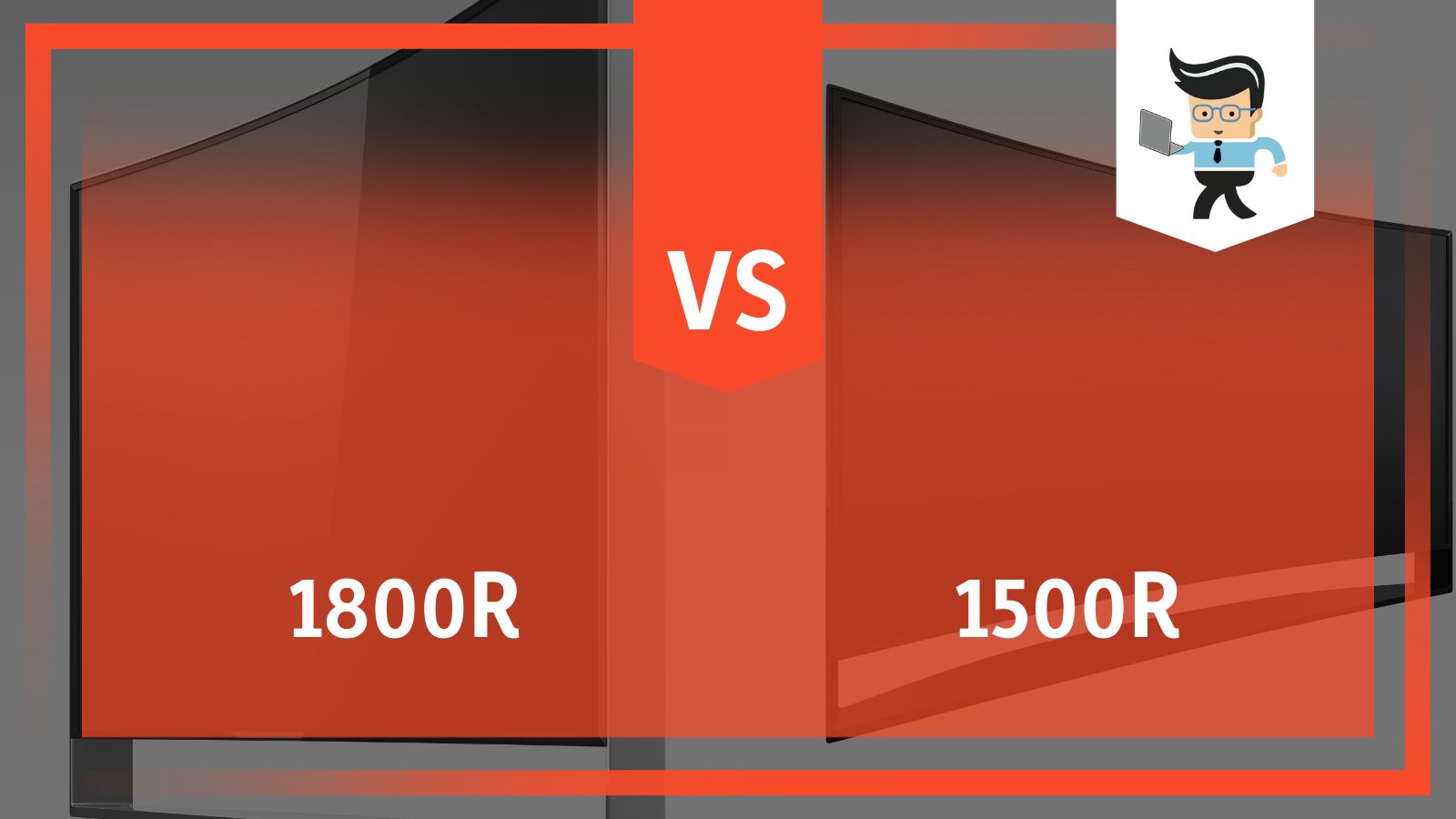 But with so many curved gaming displays on the market right now, how can you know which one is suitable for you?
When it comes to curved monitors, there are a few distinct alternatives on the market, and in this complete guide, we will go over some of the most crucial aspects to consider when buying a curved gaming monitor.
1800R vs 1500R Comparison Table
| | | |
| --- | --- | --- |
| Features | 1500R | 1800R |
| Curvature Depth | Lesser than 1000R | Lesser than 1500R and 1000R |
| Radius formed by the monitor | 1500mm or 1.5 m or 4.92 ft | 1800mm or 1.8m or 5.9 ft. |
| Gaming Performance | Great | Good |
| Immersion Performance | More Immersive | Less Immersive |
What Is the Difference Between 1500R and 1800R Monitor?
The main difference between a 1500R monitor and a 1800R monitor is that the 1500R monitor is more curved than the latter. However, the small curvature difference of these curved monitors would not make a significant impact in the viewing experience.
A 1000R display, for example, appears to be more curved than a 1500R panel. In the same way, the 1500R monitor appears to be curved more than the 1800R monitor. This R stands for the monitor's Radius of Curvature, and the higher the Radius(R) value, the less curved the monitor is.
A Native 1500R curve is the most intense curvature you can find on the current market. Compared to a regular 1800R display, a 1500R monitor can let you maximize the advantages of using a curved display, which means you can have even higher levels of immersion and comfort. 
Curved monitors are graded at varying levels of curvature including 1000R, 1500R, and 1800R. The number relates to the radius of a curved monitor (in mm), and the R stands for radius, for a better understanding of the nomenclature values. The higher the curvature, the lower the number.
Curved displays are currently available in a variety of screen sizes, although larger models are particularly popular. Curved monitor displays are excellent for gaming and give the gamer with a unique experience. The integration of curved screens to computer monitors is the newest trend. 
So, what are the primary differences between both options? Is there any advantage to picking one over the other? Let's compare the features of the 1800R and 1500R curved monitor to find out which one between them is right for you.
What Is a 1500R Monitor?
The 1500R curved monitor is a monitor with a radius of 1500mm or 1.5 m or 4.92 ft, which means this is how it would form a complete circle. The circle formed by 1500R is substantially larger than the one formed by 1000R, and the curvature is likewise less.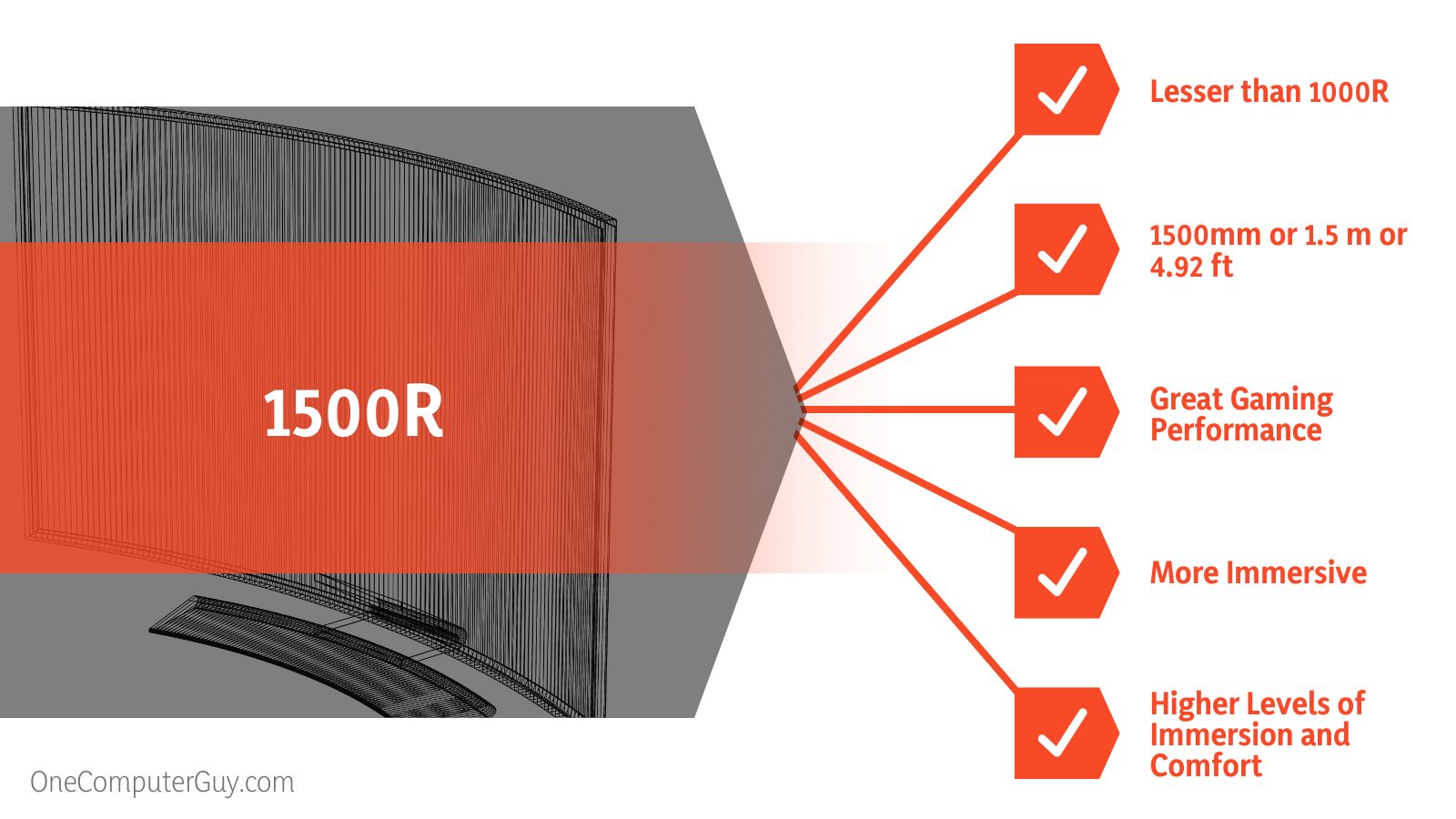 So, what is the ideal curvature, you might wonder? Because the human eye has a range of roughly 1000R, a curvature rate closer to 1000R is preferable. Until recently, the most recent curvature was 1500R, which is closer to the human eye than 1800R. A Native 1500R curved display is recommended for the most immersive gaming experience.
You need to ensure that you are viewing the Native 1500R display as there will be more even backlight and fewer backlight bleeding in comparison to no native 1500R display which are susceptible to defects resulting in an altered product life. It is important to consider this while buying a curved monitor.
– Advantages
Well, let's be honest – if you love being in the middle of the action, you are going to love the curved screen, period. The 1800R or 1500R curved screen positions you exactly where the focus is at, enabling you to leverage from your peripheral vision.
It enhances your viewing and watching experience and the case with curved gaming monitors is similar as well. The screen wraps around immaculately around the field of view, allowing you to see a wider surface area within a single glance ensuring better clarity and vision without causing any distortion.
The curve monitor offers a better field of view to the eye, enabling you to see clearly without shifting your eye. In consequence, the 1500R monitor will appear larger than a flat monitor, making you experience everything immersively.
– Viewing Distance
The best viewing distance for 1500R monitors is two to four feet away from the screen. When it comes to curved displays, sitting very near to the screen is recommended to get the most out of the curved screen.
Choose the distance that is most comfortable for you independent of the curvature for non-ultrawide or curved 16:9 monitors smaller than 30 inches.
– Panels
A universal curved display will only show its curvature without indicating if it is native or not. What makes a native panel different from a non-native panel? The present approach is to ensure mass production of 1500R curved panels due to advancements in manufacturing technology.
There are two types of 1500R panels: one with a native 1500R curvature and one with an 1800R curvature that was later made to make it 1500R. These two panels are diametrically opposed!
What Is a 1800R Monitor?
The 1800R curved monitor is a monitor with a curvature that would cover 1800mm, or 1.8m, or 5.9 feet. When comparing 1800R monitors to 1000R and 1500R monitors, the circle would form with a radius of 1.8m, which is substantially larger and has less curvature for the monitor.
In other words the 1800R monitor is less curved than the 1500R monitor, and is therefore less immersive than the former. When used for gaming, the 1500R monitor is usually preferred because of this reason.
– Advantages
Another important benefit of a curved display is that it is more comfortable to use. Because of its curvature, your screen will have significantly less glare. A curve display can also help you fit more into your field of view. This reduces eye strain, allowing you to operate for longer lengths of time on your display.
If you've ever gone to a movie theatre, especially one of the enormous IMAX cinemas, you will know that the sensation of an immersive experience is unparalleled when compared to watching at home. Now you know why these massive screens are curved and not flat.
– Viewing Distance
Similar to a 1500R monitor, the perfect distance for you to sit when using a 1800R monitor is two to four feet away from the screen. If you want a fully immersive experience, especially for gaming, you'll have to stay closer to the curve.
If you want to use the monitor primarily for gaming and prefer to sit more than five feet away from it (as with console gaming), a large, non-curved monitor is the way to go.
Frequently Asked Questions
– Curved vs. Flat Monitor – Which Is Better?
Without a question, curved monitors or panels are better since they provide a more immersive viewing experience than flat panels. This is due to the fact that everyone sees the world in 3D, and curved monitors do a better job at simulating this by creating the appearance of depth.
They also give you a wider field of view and allow you to view more of your surroundings. Curved monitors alleviate eye fatigue by giving a broader field of view, greater viewing angles, and less distortion.
Curved displays also offer more than just improved ergonomics. They add visual interest to workstations and are appropriate for a wide range of work contexts, including production studios, medical offices, creative firms, and software engineering labs.
– Can You

Watch TV on a Curved Screen?
Yes, it is definitely possible to watch TV on a curved screen! You can watch material on a 1500R curved monitor while sitting at an angle, just as you can watch content on a flat screen without facing it square on.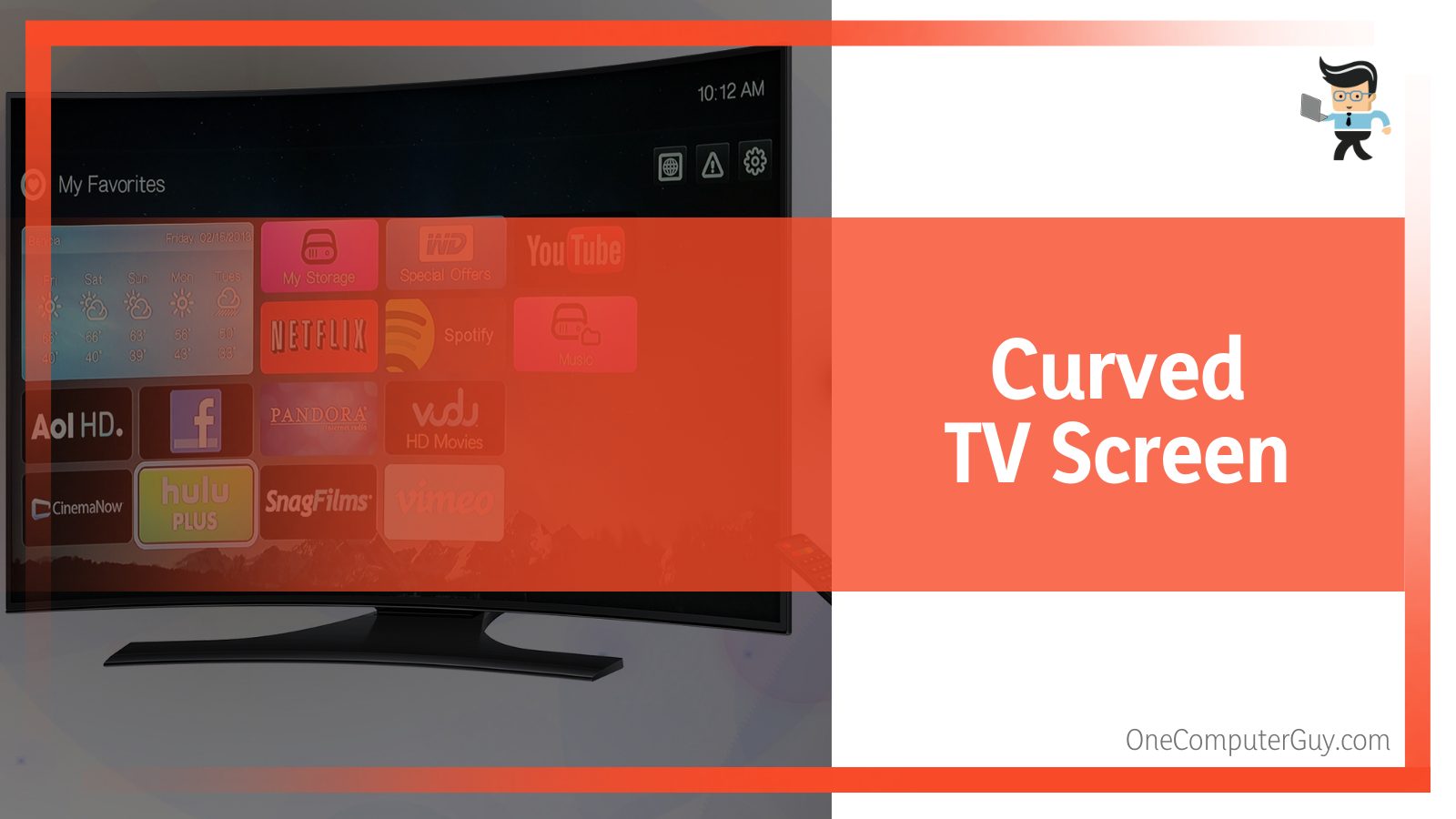 Conclusion
There are more and more curved screens appearing on the market each day, which means that buyers have more alternatives. It all boils down to your personal preference in the end, and it's possible that what works for others won't work for you.
The 1500R curved monitor is a monitor with a radius of 1500mm or 1.5 m or 4.92 ft, while the 1800R curved monitor is a monitor with a curvature that would cover 1800mm, or 1.8m, or 5.9 feet. This means that the 1500R monitor is more curved than the 1800R monitor.
Based on everything we've discussed so far, the best monitor curvature for you will be determined by your application.
If gaming is your primary emphasis, a more aggressive curve may help you by creating a more immersive experience, which means you will probably enjoy the 1500R monitor better than the 1800R monitor.
If you plan to use your monitor mostly for office work or photo and video editing, a curved professional monitor with a more conservative monitor curvature and a greater radius would be a better choice.
After reading this comprehensive guide, you now have an idea of the differences between a 1500R monitor and a 1800R monitor, the advantages of using a curved monitor for your setup, and the proper way to position yourself when using these types of monitors.