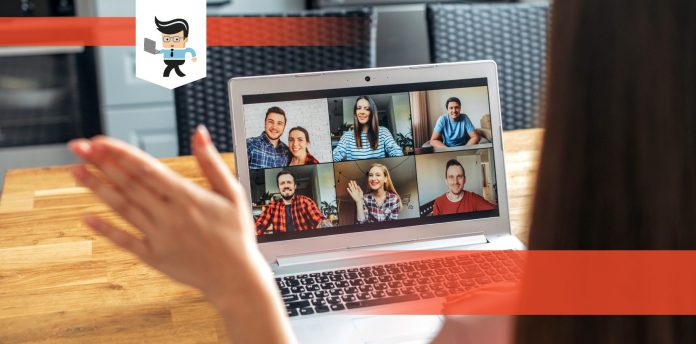 Today, we are dealing with the question: does zoom record your screen or just the meeting? Of course, a host may choose to record a meeting session on Zoom but recording your screen is tricky for the host. As you read the full article, you'll learn why your computer screen during a Zoom meeting is private.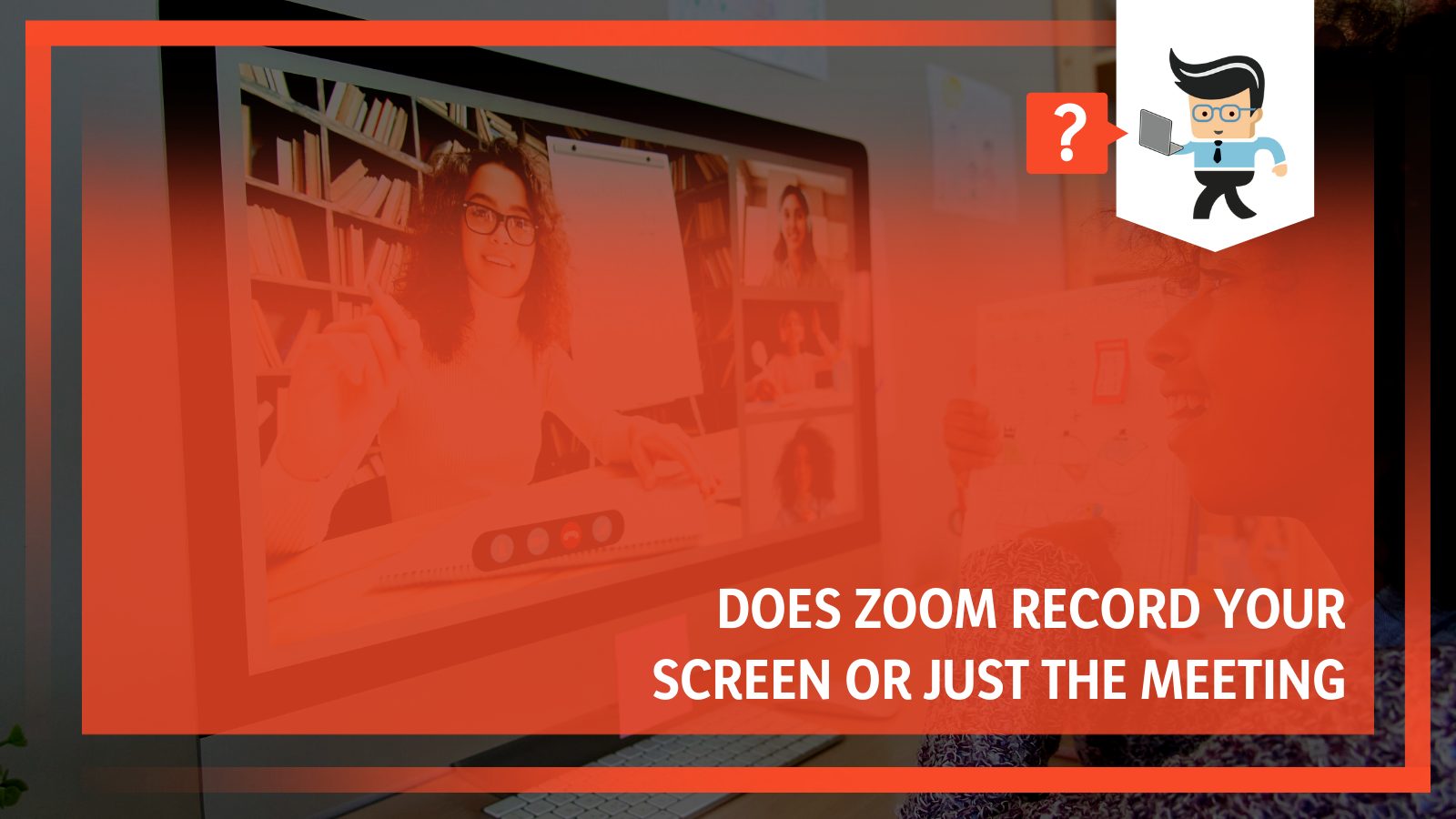 Does Zoom Record Your Screen or Just the Meeting?
Zoom does not record your computer screen during a Zoom meeting. That also means the host and the meeting attendees cannot see or monitor your screen by default. If the host or participants have to see your screen, you must permit them. 
All Zoom Recording Options the Host Has
People just joining a meeting cannot see you and therefore aren't able to record you. 
Zoom lets you share your desktop, screen, and other content during a meeting while your video is on. You can share the screen in a session while managing advanced screen sharing. 
The screen-sharing features in Zoom are meant to create a collaborative environment. The features give the users complete control of their screen during a meeting. So, a screen owner decides what other participants can or cannot see. 
During a meeting, your host and other participants can only hear your audio or see your video if you do not mute your microphone or turn off your video upon joining a meeting. 
A zoom host has two options when conducting meetings:
– Manual Recording
If, as a host, you have to record a meeting manually, here is the procedure to follow:
Start the meeting as a host on Zoom
Click on the Record Button on the Zoom application once the meeting starts 
Choose the option "Record on this Computer."
An indicator will pop out, showing that you are recording Zoom meetings. 
– Automatic Recording
Zoom automatic recording means the application captures the meeting immediately after the session begins.
So, how does the host start a meeting automatically?
In a Zoom application, head over to My Meetings.
Tap on Schedule a Meeting or check the list of Upcoming Meetings and click Edit this Meeting. 
Choose Record the meeting automatically and Choose whether to record on the cloud or locally.
Note that if you are recording a session locally, Zoom will not start to capture the screen soon as the recording begins. 
– Cloud Recording vs. Local Recording in Zoom
Recording locally means recording an audio or video meeting to a local computer. By contrast, cloud recording means zoom saves the recording on its servers/online storage/Zoom cloud. This option is more flexible as it allows audio transcription. 
When hosts choose automatic recording, they can record on the cloud or locally when the meeting starts. 
With automatic recording on servers, a host can join using a computer, mobile device, or telephone dial-in. However, for automatic local recording, the meeting will only begin when the host joins from the Zoom desktop application.
If you are under the Free/Basic tier, you can only use Automatic recording on a local computer.
Can Anyone Record a Zoom Session?
The host is the only participant who can record a Zoom session. Nevertheless, a meeting participant can record a session if the recording is enabled. That is to say, if a host permits you, you can record a session.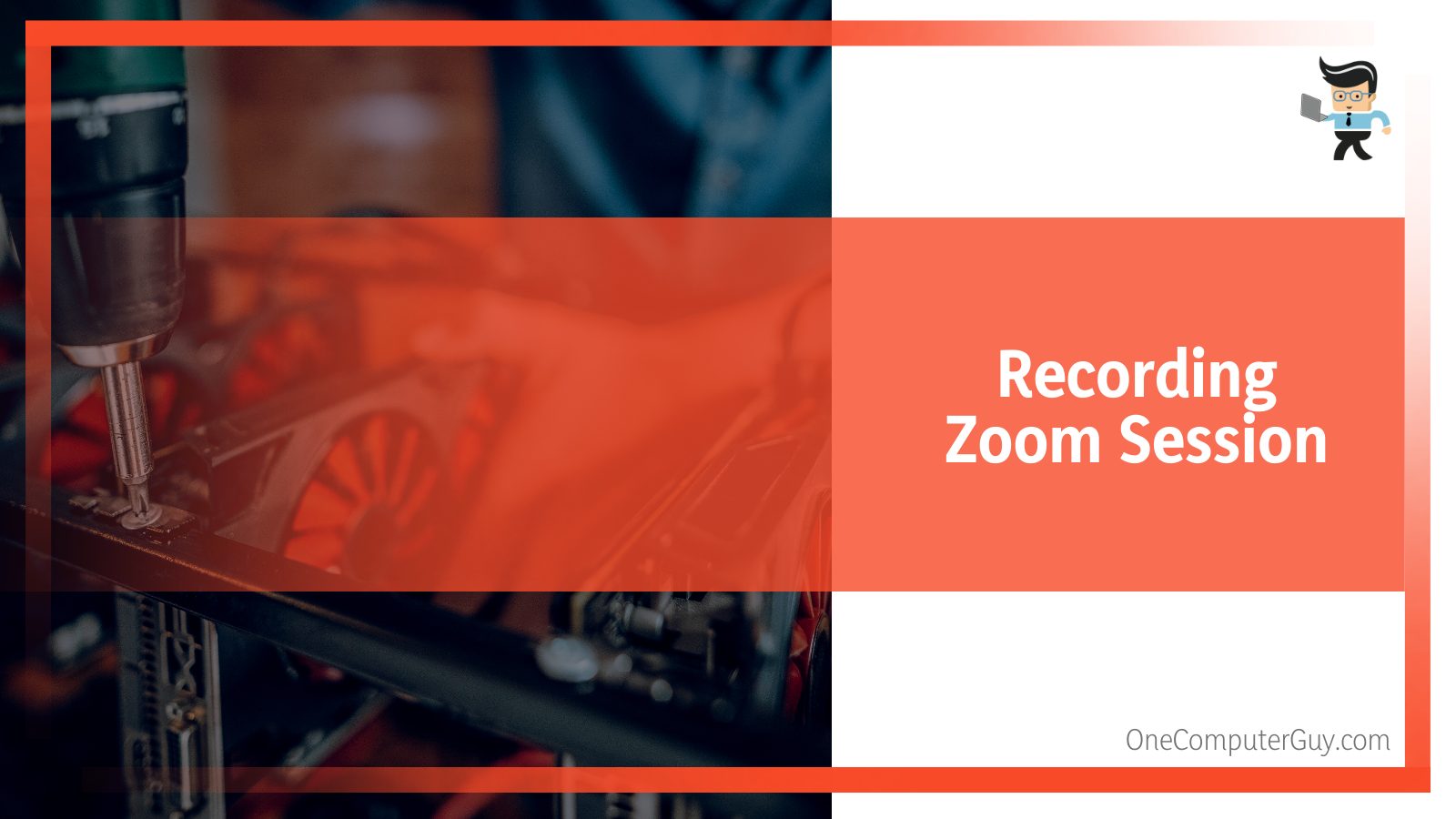 Zoom allows a host to designate another Licensed user on the same account to be an alternate host when scheduling a meeting. The alternative is to start a meeting on behalf of the host. 
The user will receive an email notification to notify him or her that he or she has been made an alternative host. This email contains a link to start a meeting. 
Under Cloud Capture, only the host, Co-host, and alternative hosts can record a Zoom session. All sessions set to automatic cloud/server recording capture begin immediately after the meeting. Any attendee wishing to record a meeting must be elevated to a co-host. 
Attendants of a meeting can record the sessions locally. But this is only after the host permits them. From within the meeting, the host clicks on the "Participants" tab and clicks on the "More" option next to the user he or she wishes to grant recording permission, and then clicks on "Allow Record."
The participant receives the notification of the new permission. Nonetheless, this will not automatically start a recording, but they have a right to record.
The host can revoke an attendee's recording privileges at any time during a meeting. 
– Becoming a Zoom Alternative Host
To qualify as a Zoom alternative host, you must have the latest desktop client for Windows, macOS, or Zoom mobile app. In addition, the alternate must be signed in to Zoom with the correct account.
To grant someone an alternate host responsibility, the host uses the procedure below:
Zoom app> Schedule> Advanced > Alternative hosts (enter name/email address)> Schedule> Calendar.
If the alternate host has not disabled email notification, he or she will be notified in the Zoom web portal. 
Note that the steps slightly vary when using Web or Mobile devices. Again, some features, such as "Allow alternative hosts to add or edit polls," are available on advanced Zoom versions. 
You cannot add an extra host to a session if you are not a licensed user. And, if you are on a Basic account, you cannot add a host because you are limited to one host. 
A host can also create a co-host position when attending a meeting, but he or she requires assistance managing the session. 
Account Management> Account Settings> Meeting> In Meeting (Basic)> Enable Co-host.
Recording a Zoom Meeting Without Host Permission
While Zoom has features to allow you to record any meeting, it is only possible to record a session if the host allows your permission. Again, you have limits if you are a host, for instance, not recording anything outside Zoom. 
So, suppose the meeting host has disabled the feature or has forbidden any participants from recording the session. In that case, you can only record that session using a screen recorder such as Vmaker recording software. These are third-party applications that let you record the contents of a screen. 
You need a practical screen recorder to record Zoom meetings without permission. Typically, it should record several videos without adding watermarks.
Does Zoom Notify Participants of Recording?
Zoom notifies all participants that a meeting is being recorded. You cannot disable this notification. The primary methods that Zoom uses to notify the attendees that a session is being recorded are an audio prompt, a recording icon with red light, and a recording consent dialog box.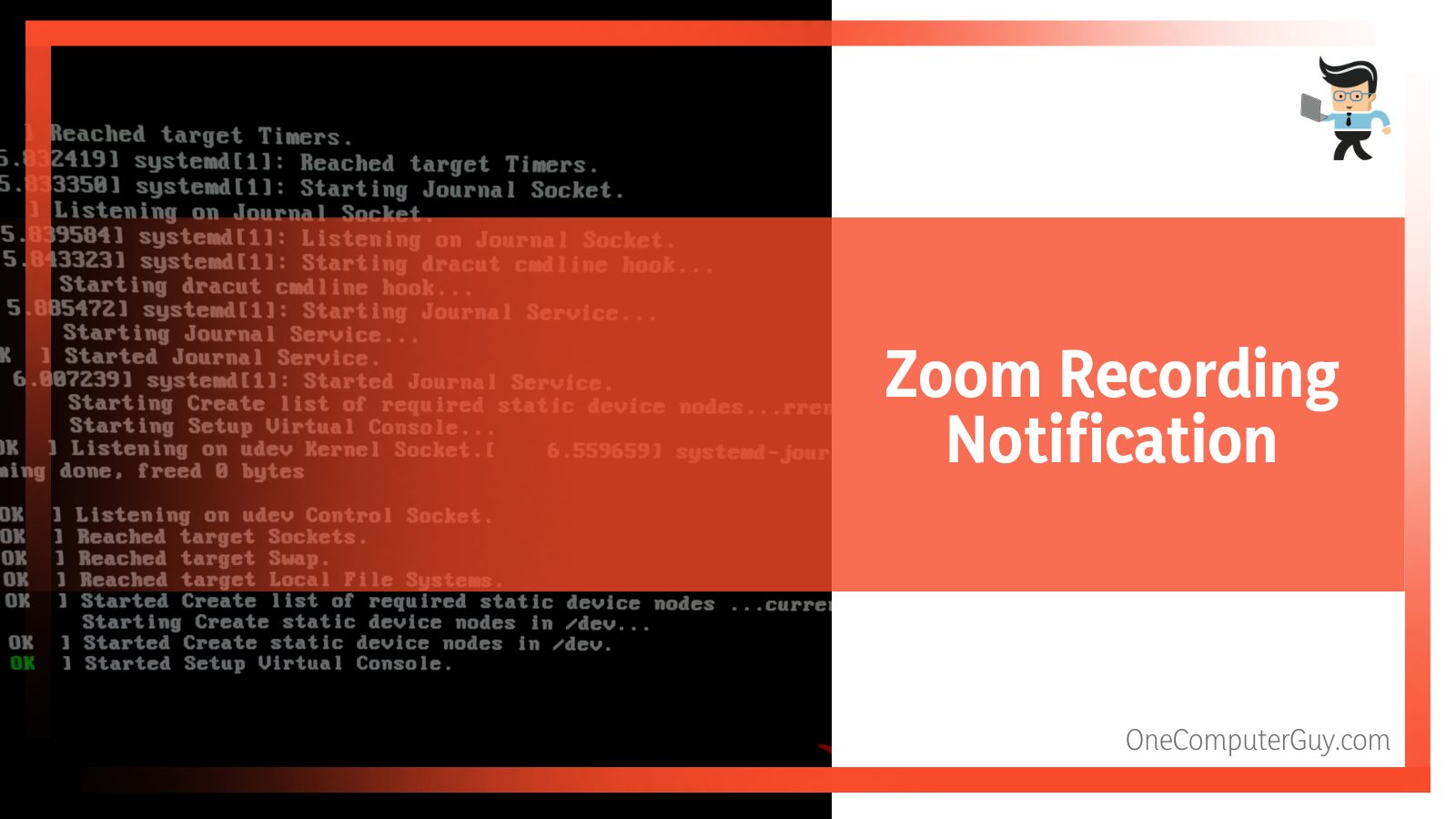 – An Audio Prompt 
The standard audio prompt you'll hear is "Recording in Progress."
You can disable this voice prompt if you are on a Basic, Pro, or Business with less than 100 licenses. That also applies to Free Zoom Trial accounts. 
Those participants joining a Zoom meeting via phone have an option to press one to consent to be recorded. They enable many audio notifications every time the recording is started, paused, or resumed from a pause or a stop. 
Without the alert, phone-only users would not know that session recording was occurring. 
– Recording Icon With Red Light in Zoom Window
On the zoom window, in the screen's top-left corner, you will see a circular red icon adjacent to the word "Recording." This is a sure sign that the meeting session is being recorded. 
If you are using a mobile device, there is a similar icon but with the abbreviation "REC" next to a red dot. 
– Recording Consent Dialog Box
Once a meeting starts, zoom users receive a recording consent disclaimer, whether the recording is manual or automatic. The consent disclaimer has two options: "Got It" or "Leave Meeting."
You receive these prompts the moment you join a session. So, even if the meeting has already started, you will still receive it. 
It's worth mentioning that admins and owners with Enterprise, API, Education, or Business Zoom account with 100+ licenses can entirely disable the disclaimer for participants' accounts belonging to their organizations. 
Besides, they can customize the Zoom recordings consent disclaimer notification. So, if your account is tied to your organization, you might not receive the recording consent dialogue.
But all guest participants must have the recording consent disclaimer; thus, they'll see the notification. 
What Does Zoom Recording Capture? 
Zoom will start recording anything audible or visible during a meeting. This application gives hosts many options when planning to record Zoom meetings. Therefore, they can record any data available to them. 
Sadly, you will not get a notification about features being recorded. Instead, you get a generic recording notification as stated above.
Also, hosts can save chat messages as well as save an auto-generated closed caption VTT file.
All private messages you send to the host can be saved on the cloud only with the local setting. But whichever recording format you use, the host cannot view or record private chats between participants. 
You will have fewer options when using local recording (on your device) than cloud/server recording. With cloud recording, the host can select any of the following:
Record a gallery view with a shared screen or an active speaker with a shared screen. 
Record the gallery, active speaker, and a shared screen separately.
 If it's an audio meeting, you have two options – first, an audio file for all attendees, and secondly, separate audio files for each attendee. 
The advantage of a separate recorded Zoom audio file is that it allows the host to isolate the audio feeds of each participant. 
Using separate files has some limitations:
Audio recordings are limited to only 200 participants. Anyone beyond 200 will not have their own audio file. 
All dial-in audio files are merged into a single file. 
Does zoom record audio with headphones?
Yes. In fact, you'll have high-quality audio if you use headphones.
In addition, recording in the cloud, unlike recording on your PC, only saves public conversations. It will only send messages that all participants see during a meeting. 
Zoom offers several ways in which you can share your screen. Regardless of the method, sharing your zoom screen means sharing different content, including your entire phone screen or desktop screen, a section of your screen using the resizable rectangular window, a whiteboard, or content from a secondary camera. 
In addition, screen sharing lets you share recordings saved on the PC's local disc, audio played from a device, or specific application(s)
When you share the whole screen, the meeting attendees will see everything you view on your desktop, smartphone, or tablet. This includes accessing other applications or opening files.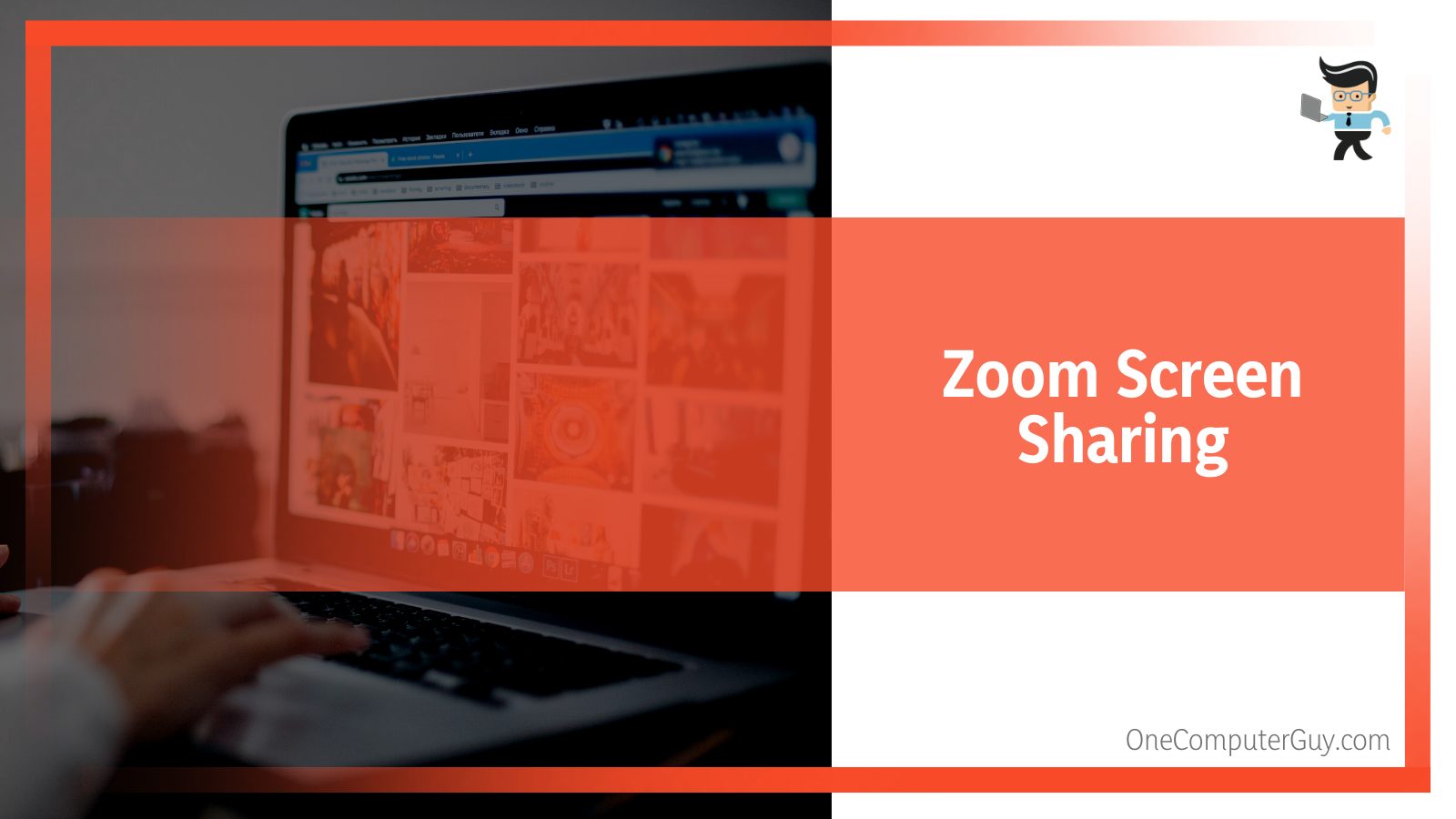 But if you are not sharing the host and meeting, participants cannot see installed apps on your mobile devices or desktops. Moreover, they cannot see what you are doing on your device. 
If your video is on, hosts and fellow participants will notice if you are doing something else during a Zoom meeting. In a class, a teacher can notice students who are not paying attention if you allow screen sharing. Typically, the teacher will see everything you are doing.
Consider disabling the video if you want privacy while on a Zoom meeting. However, this can only occur if the host allows it.
Stopping the video is easy. Click on the "Stop Video" icon. It is in the lower-left corner of your desktop or mobile client. What's more, mute the microphone to prevent the typing and clicks from being heard on the other end of the meeting. 
Zoom Attendee Attention Tracker
Zoom introduced the attendee attention tracking feature in 2018 to help teachers monitor if learners were paying attention during lectures. However, the tool can be used on other similar occasions. 
This feature was disabled on April 2, 2020, citing a commitment to improving the security and privacy of customers. 
The tool was basically controlled by the chat administrator, your boss, or your teacher. To track your attention level, this feature reports you if you click away from an active Zoom window for more than 30 seconds. 
FAQ
– Can Zoom Teachers or Bosses See Your Screen?
Bosses and teachers cannot see your screen unless you share it. You use the green share button on the desktop client to allow sharing. If you use the mobile app on iOS or Android, you still have to share your screen content with them.
No. Hosts and other attendees cannot open the apps on your mobile device or desktop when you share your screen. You have control over your screen and not any other person. They can only view what you choose to share.
Nonetheless, Zoom has the "enable remote control" feature that gives remote control access to your device. The feature lets a user be in charge of another attendee's screen during a meeting. 
You can request this feature, or an attendee can give it to you. Once you have the feature, you can control their keyboard, mouse, and text. 
– Can I Minimize Zoom While Recording
Yes. You can minimize while recording. Simply minimize to a small size and move the screen to the lower right side of your screen while recording. 
Even in a minimized state, you can view the whole Zoom control panel if you hover your mouse on the minimized control bar.
– Does Zoom Use Your Webcam to Record?
Zoom will use your web camera to record if you turn on the video. It will capture everything you share during a recorded meeting session. This includes public chats, private conversations with the host (PC recording), audio and zoom video feeds, and your screen. 
However, the host cannot capture what you are doing on your screen unless you share it. 
Conclusion 
Zoom is a popular video conferencing tool that rose in popularity during the covid pandemic. We have answered most of the frequently asked questions.
The zoom meeting recording is a crucial feature but if you are wondering if it records your screen, check below:
Zoom cannot record your screen during a meeting unless you give that permission. 
By default, it is only the host can record a meeting during a zoom meeting unless the record feature is enabled. Only individuals with co-host titles can record meetings even if it is enabled.
When you share your screen, the host can see everything you do. This includes the apps and files you are opening. Nevertheless, the host cannot access open your apps. 
Before the zoom meeting recorder starts recording a meeting, you will be notified. It can be through an audio alert or a consent dialogue box.
Hopefully, now you should be able to get the zoom recording settings right for a flawless experience.